The soft and cooling appeal of slate or gray-colored decor is hard to miss out on when thinking of decorating a space at home. One cannot miss the amazing transformation it brings to the kitchen area. Usually, kitchens are renovated with subtle tones of wood. 
But with slate colored kitchen cabinets, homeowners bring freshness and modernity into their cooking space. 
Be it blending in with white or creating a smooth industrial effect; slate colored decor can change the whole outlook of the kitchen. 
By installing similar or contrasting colored quartz countertops in the kitchen, homeowners can easily achieve the contemporary vibe they have been going after for renovating their kitchen. To learn about how to design a kitchen with quartz countertops, check the Caesarstone website. 
Let's check out why one should choose this color:
Why choose a slate colored decor?
source: pinterestt.com
Slate is the darkest shade of gray. Most often, it is mistaken for the color gray, but it is different from it. The color slate got its name from slate rock which is a lighter shade than charcoal and has touches of blue, brown, and red. Its neutral tone fits in well with all the other colors. 
Due to this, it gets incredibly fun to decorate the kitchen with the subtle accents of this color. No matter whatever theme one is planning, slate colored decor can fit in well everywhere. From kitchen ceilings and floors to cabinets and countertops, one cannot go wrong with slate color. 
Here are some fancy slated colored kitchen cabinets that homeowners should definitely check out:
Slate colored kitchen cabinets designs:
Continue reading to learn about some tried-and-true (yet modern) slate kitchen cabinet ideas for homeowners:
Huge charcoal cabinets: 
Who knew kitchen cabinets could also become a place to hide away appliances? Homeowners who want to keep their kitchen minimal and chic looking should go for large slated colored cabinetry. With a huge cabinet, one can easily hide appliances like a refrigerator, dishwasher, dryer, or oven inside it. 
For creating a monotone effect, one can get a similar slate stone countertop to go with it. Make sure to keep the flooring of the kitchen in a subtle wooden shade to complement it to create a comfy and homey effect.  
Monochromatic style:
source: pinterest.com
Nothing can beat the look that slate color offers. For homeowners who want a monochromatic effect, the color gray is best suited for them. Its minimalistic vibes can make the kitchen look dull to gorgeous in seconds. From countertops to kitchen cabinets, homeowners can use the color gray for every nook and corner. One can also go a step forward by adding gray-colored cabinet handles to maintain uniformity. 
Slate cabinet with brass accents:
Slate is a color that can fit well with any shade. Be it yellow, green, or red; homeowners can easily change the whole vibe of the kitchen by introducing poppy colors with slate colored kitchen cabinets. In addition, by adding brass accents to the kitchen, one can easily achieve the look they are going for. Cabinet handles, faucets, and stove hoods, there are plenty of places to which one can add brass accents.  
Dark and light slate-colored kitchen:
A combination of light and dark slate colors on kitchen cabinets is something different and unique. Homeowners usually prefer to have a single-toned cabinet. 
But combining dark and light tones can create a beautiful artsy combination. Add some slate colored glossy tiles on the walls to make the kitchen light up. To break the monotony, add on some bright-colored furniture and change the whole vibe of the kitchen. 
Slate cabinets with wooden accents: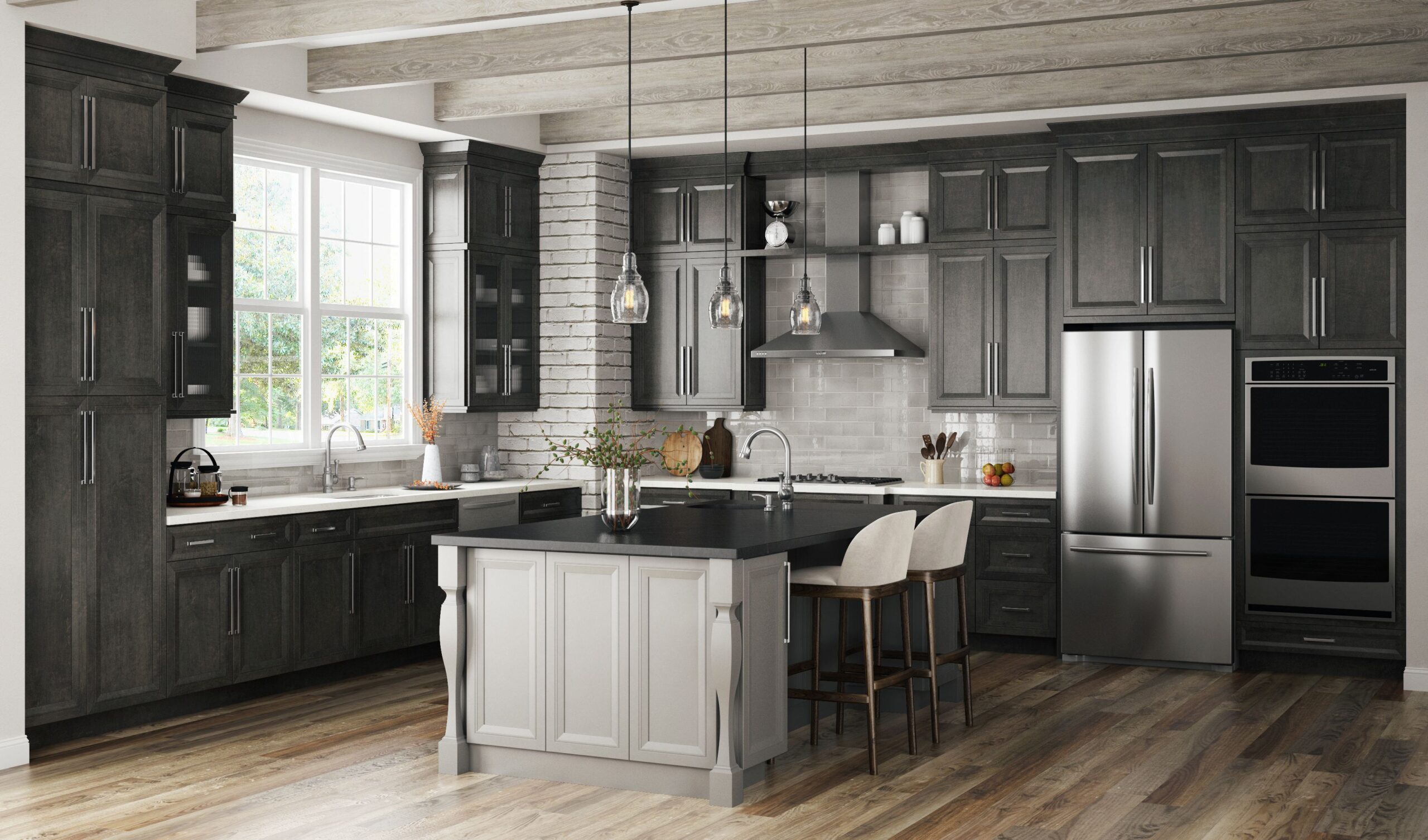 source: pinterest.com
Homeowners who find a kitchen with slate tile and colored cabinets boring can add wooden accents to the cooking area. Going in with lighter wood tones would fit in best with the slate-colored kitchen. If dark-tone wood is something one wants to go with, the dark slate color will compliment it the most. Add the white or light-colored countertop to make the darker cabinets and wooden pop more. 
Colorful furniture:
Kitchen design ideas with slate colored cabinets might sound gorgeous for some, but for others, it might be all dull. So how to make the kitchen all bright and exciting? Well, adding on some brightly colored furniture is one way of doing it. 
Colors like green, yellow, and orange are attention-grabbing tones. Furniture in these colors will make the kitchen look beautiful and won't steal away the shine of slate colored kitchen cabinets. 
Warm slate colored kitchen:
Nothing looks more royal than dark shades of a slate color. The tidiness, neatness, and warmth this color brings are hard to beat. Homeowners can add the darkest shades of slate to the cabinetry section to create a mesmerizing-looking kitchen. In addition, put in some light-colored flooring to the cooking area to finish the kitchen renovation. 
Statement tiles: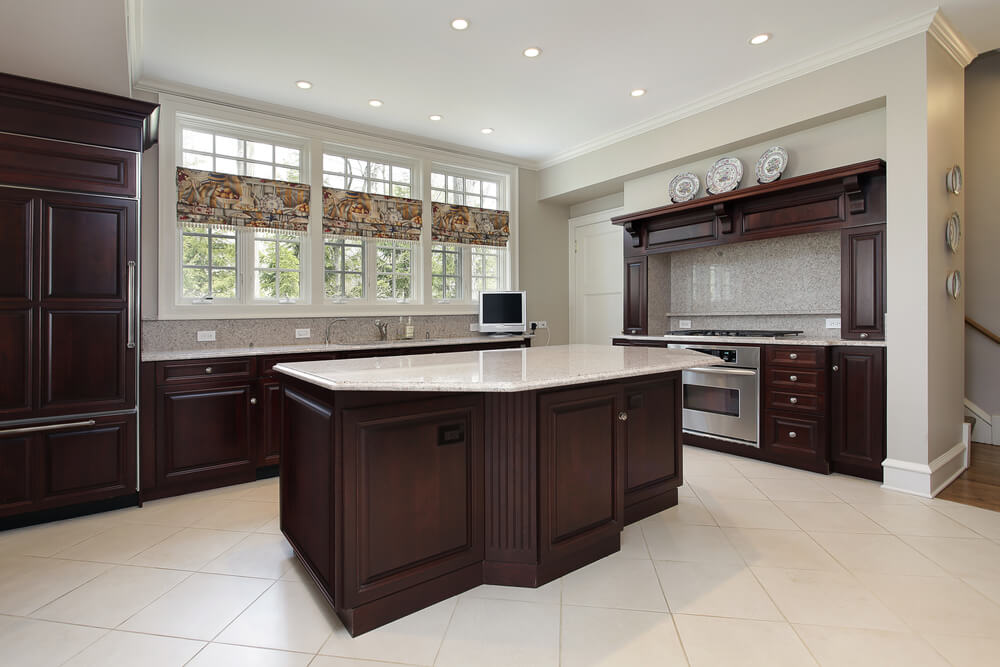 source: pinterest.com
How can one make a kitchen look aesthetic and artistic in one go? Well, statement tiles are one way of doing it. It's all up to homeowners and the interiors of their kitchen and what kind of tiles they want to use. It can be wooden textured or mosaic patterned. 
One can also have a kitchen with slate tile and colored cabinets. This is one of the rarest combinations that anyone can find at home. Ensure to fill in some accessories that give a vintage look to compliment the slate tiles.  
Slate cabinet with matte finishing:
Anything with a matte finish can change the whole look of space within seconds. By customizing it with matte finishing hardware, one can create a timeless-looking kitchen in no time. Add on some beautiful bright-colored tiles with some bold patterns to make a floor area pop. 
Also, homeowners can have a kitchen wall and furniture of slate color to go with the kitchen cabinetry. Put on some accessories to complete the whole renovation of the kitchen. 
Nine different slate colored kitchen cabinet ideas — Conclusion
The above-mentioned kitchen design ideas with slate colored cabinets will create nothing less than magic. 
These designs are quite easy to replicate and make the cooking area look beautiful and interesting. Homeowners should try to add something like this to showcase their values and personality well.