Stylish lighting is a unique part of any décor and it clearly shows the style and luxury the designers and owners strive for. Of all the lighting and lamps in the house, floor lamps possess a special place as it transforms the look of the home and makes it ultra-luxurious and classy. Get the modern look by these modern and contemporary floor lamp design ideas at Live Enhanced.
source: wayfair.com
This metal floor lamp will help you step up the lighting game with this industrial style pipe body having a cage-like holder that has the beautiful lamp in it. The metal cage is an industrial-inspired look to make the place look sleek and modern. To add more features to this floor lamp, add a dimmable feature to the lamp and a white fabric drum shade inside the cage and lastly, a matte finish to complete the look.
source: loganfurniture.com
Glass and mirrors are the all-time favorite features when it comes to lights and lamps. Adding a beautiful mini lamp inside the cute glass lamp holders that are affixed on a black pipe body can make this floor lamp nothing less than a gorgeous centerpiece in the living room. It also comes in handy when you want to have a dim and cozy atmosphere inside the house.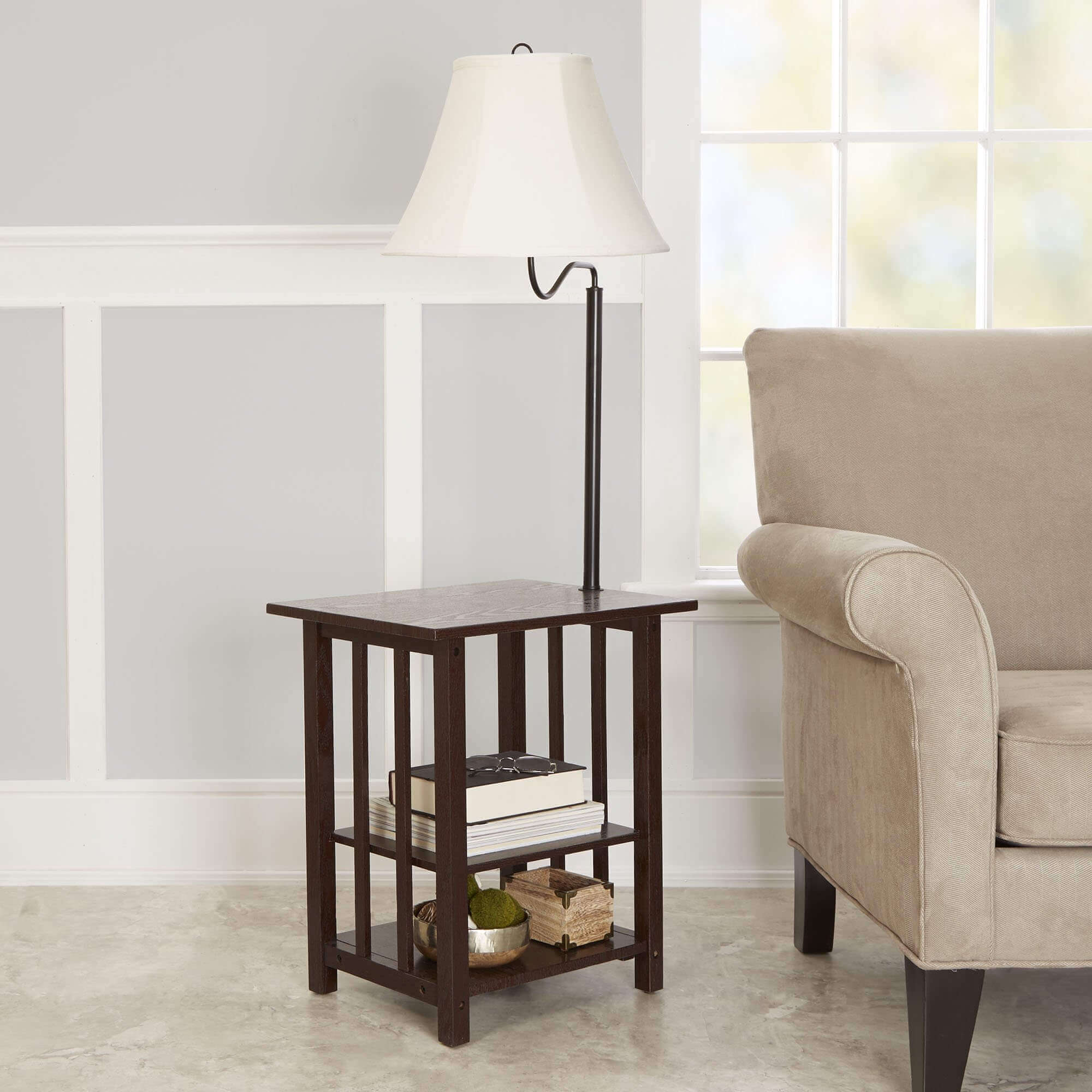 source: walmart.com
source: amazon.com
The sleek and shiny metal rod especially of the silver touch and a drum shade that is semi-transparent and made up of polyresin is something that is a perfect décor that adds beauty when kept next to your comfortable couch or work desk or your bed. Go for the natural colored drum to make the floor lamp look more stylish.
source: trendir.com
source: aliexpress.com
It is not always necessary to go for a huge floor lamp with a bulky drum to make a style statement. The modern and contemporary design is all about going modern and stylish with the minimal and polished additions. This can be well suited for the column floor lamp that has a built-in LED lights made up of metal and plastic. This floor lamp looks artistic as well as stylish and can be used for residents as well as commercial décor.
source: outrageousinteriors.com
source: pearedcreation.com
Create a perfect blend of the traditional and industrial modern style by going with the simple illuminating floor lamp having the black metal rod and a sculptural base. The hanging feature of the open cage metal shade makes it look like a lantern and gives a traditional touch with the modern design.
source: jonathanadler.com
source: wayfair.com
Adding modern features is what all you need to make the place feel wow. Add the unique five armed floor lamp to the living room and you can get rid of all the excessive additions that make the place bulky. Plus, these multiple armed carbonized steel body floor lamps are handy when you need more light in the room. Make your floor lamp match perfectly with your minimalist modern white décor by going with the cute fluffy floor lamp. This feather head floor lamp that is fluffy as the cloud makes your room all glowing. You can choose to have artificial feathers or natural goose feathers and make the place look dreamy and alluring.
source: pastperfectsf.com
source: connox.com
Tripod floor lights are another addition that acts as a subtle base and adds a modern and sleek look to the complicated designs. This authentic design with a small lamp at the top with a geometrical frame towards the end adds more artistic features and can work wonders if you are going for that kind of interior. 
source: lightology.com
source: overstock.com
Instead of going with one or two huge floor lamps, there can be an appealing décor by mixing and matching multiple lamps of the same design that are floor lamps as well as the table lamps. Add these lamps at different places by mixing with the invisible lights and it will make the place look dreamy.
source: hivemodern.com
source: wayfair.com
Column floor lamps are the newest addition to the stylish lamps. These column floor lamps can look best at any place whether it is a living room or bedroom or the reading area. These columns can be customized, that is, you can have bulbs at every level or can go for lamps at selected levels and display showpieces at other levels.    
source: lampsusa.com
source: plowhearth.com
source: housebeautiful.com