Now that Halloween is right around the corner, it's time to get started on planning your next celebration. No matter if it's a small get-together with just your immediate family or an event that's open to all visitors in your neighborhood, you'll want to pick a theme that's fun for everyone of all ages. And don't worry—these ideas won't be too scary or boring!
Halloween party themes abound, so there are many options. Try concentrating on a second theme in addition to spiderwebs and other exciting, traditional Halloween decorations like black and orange. A party themed around a not-so-scary monster or a terrifying enchanted woodland will be fun for kids. 
A circus theme is a great option for a younger crowd, and it's a great opportunity to include younger siblings by having them play the parts of the animals! Hold a costume contest after inviting attendees to attend dressed in costume. Adult assistance needs to adopt character. Get imaginative with these Halloween party themes for families.
Halloween Party Themes For Families
Since it's October and approaching Halloween, you undoubtedly already know how we feel about this holiday. We adore it to the hilt. We just can't get enough of the festive snacks, costumes, and events. What's best? A simple Halloween party is a great way to enjoy the holiday, have fun, and strengthen relationships with your children and tweens. We have some fantastic Halloween party themes that you may use to throw a modest gathering for your family, a few close relatives, and neighbors or a huge party for all of your friends.
Halloween Candy Theme Party
source: pinterest.com
Keep it nice during trick-or-treating! Why should Halloween be a day when only trick-or-treaters indulge their sugar tooth? Throw a delicious party of your own rather than stealing candy bars from the children's Halloween bags. Make a homemade display so that visitors may stuff their goodie bags with the sweets they want to bring home from the Halloween celebration.
A Monster Ball Theme For Slightly Older Crowd
If you're hosting a party for older guests, decorate with plenty of ghoulish décors like painted pumpkins and witches' brooms. Have your favorite movies and games on hand (like popcorn and Candyland). Take it to the next level by inviting everyone to come in costume for a contest complete with awards for the best costumes!
Backyard Bonfire Theme
source: pinterest.com
Looking to host an outdoor event this Halloween? Try a bonfire. You can decorate the area with hay, and pumpkins. An assortment of fall-themed decorations will add a Halloween hangover to the decor. Settle around the fire for ghost stories before everyone pulls out their essential ingredients for s'mores: graham crackers, marshmallows, chocolate bars, and other treats.
Spooky Movie Night Theme
Watching movies with your family is the best pastime. A list of family-friendly Halloween themes is incomplete without watching a movie together. So why don't you arrange a movie night in the celebration of Halloween this year? First, set up the theme and select a movie, and afterward start preparing for the essentials. Kick off your Halloween celebrations with the perfect setting. Spread out on blankets in the family room or the backyard, and watch your favorites on your TV or projected on the wall.
Make it an event with extra-special Halloween-themed food. Like popcorn with Sweet and Salty Caramel Apples. Choose a movie or two from the list of Halloween movie recommendations based on kids' ages.
DIY Costume Contest Theme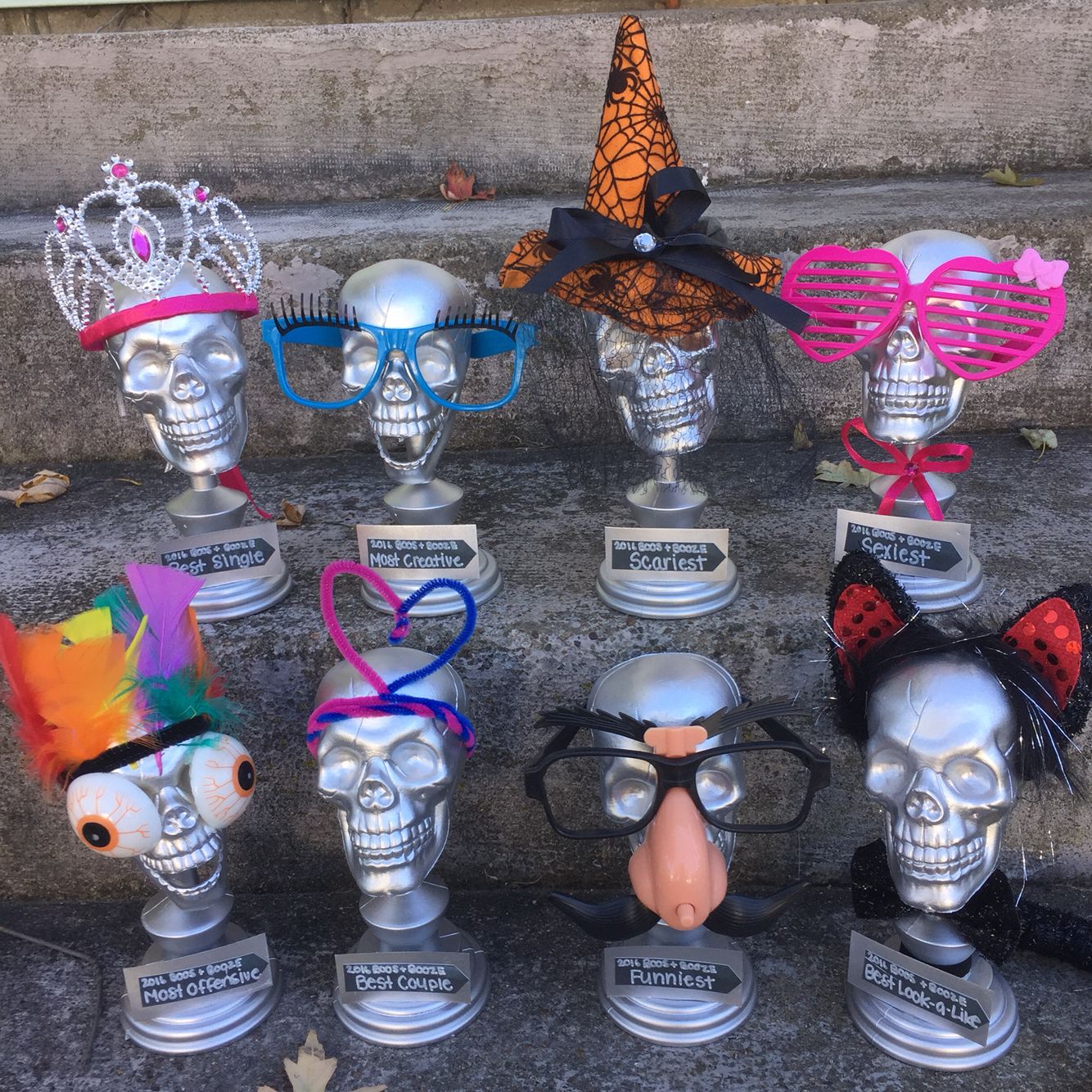 source: pinterest.com
Get your friends and family together to make costumes and props for a Halloween party game. Kids in the family can make masks. Everyone gets slips of paper with three to five Halloween monsters or characters on them. One at a time, everyone draws a slip and reads it out loud. Then goes around the house looking for costumes and props to bring their imagination alive. The person who makes the best costume wins!
A Character-Themed Party
It will be a lot of fun to throw a themed party if your kids are crazy about Harry Potter or Monsters, Inc. You may all dress up as the characters, create mouthwatering dishes with a theme, and decorate your homes accordingly. The entire group will have a memorable Halloween since they'll enjoy joining in on the excitement.
Make It A Fall Festival
DIY Decoration Theme
source: pinterest.com
Considering throwing a party early on in the day? Decide to make it one that includes Halloween crafts. Create several stations where people may make spaghetti skeletons, pumpkins decorated with bright leaves, and green slime filled with bugs. You can all go trick-or-treating together once you're done. Handmade craft is the best piece for decor especially for family Halloween party themes as the time spent together making those props or characters are worthy to cherish in the future.
Halloween Snaps Selfie Contest Theme
Take lots of shots to capture the fun! To relieve you of one of your many responsibilities, ask a buddy to take the photos. Alternatively, keep your phone close by and start snapping away. Take a staged photo of each visitor in addition to candid ones. Place a festive "photo booth" in a room's corner. Send party images to attendees' parents after the event or create an online slide show using digital photos to recall the excitement. Post your selfies-snaps on social media to get amusing remarks. Last but not least, the family photo with the most likes wins!
Final Thoughts
source: pinterest.com
When choosing Halloween party themes for families, be a bit creative and bold. Yes, change might be frightening, but isn't that what the holiday is all about? Try a "Cabinet of Curiosities" party theme if you want to go in a spooky direction by setting up scary objects such as skulls, items inspired by taxidermy, and branches along the center of your dining table. If cobwebs and fake eyes make you uncomfortable, embrace Halloween's sweeter side with a lovely candy cart motif. Whatever the theme of your Halloween party, it will undoubtedly be a memorable evening for your guests. Happy Haloween!