Pigeon Forge, Tennessee, is an ideal place for a thrilling getaway. A few miles north of Great Smoky Mountains National Park, the town is bursting with many fun-filled activities. Whether you love to engage in outdoor pursuits or are more into indoor activities, the destination caters to all types of tourists. 
But sometimes, planning a trip can be stressful and time-consuming, especially if you are doing it for the first time. We have you covered on this. Stick to the following guidelines to enjoy a stress-free vacation in Pigeon Forge: 
Set a budget 
source: pinterest.com
Creating a budget and going on vacation seem like two contradictory things. The former connotes stuffiness and boredom, while the latter implies freedom. However, in reality, setting aside money for your trip can make it easier to travel to the places you always wanted to and make the most of your time.
You should allocate enough funds to cover your vacation expenses, including transportation, food, lodging, activities, entertainment, and buying souvenirs. Set realistic numbers for how much you expect each of the things to cost. It is advisable to over-plan than under-plan. This will allow you to treat yourself to a few nights out on the town when you do not feel like cooking and let the kids pick out some trinkets from their favorite store. Also, do not forget to budget for small, unexpected costs that might crop up during your trip.
Consider renting a condo 
Condos can be good value for money, especially when traveling with a large group. It is because they are very spacious. Typically, condos in Pigeon Forge TN are large enough to accommodate everyone on your trip. The large queen and king-size beds in the elegant bedrooms feature plush mattresses, perfect for unwinding after a day of sightseeing. 
Besides, they are furnished with high-end fixtures and fittings and feature luxuries like hot tubs, gourmet kitchens, Wi-Fi, flat-screen TVs, and more. While hunting for the right condo, consider location as well. Try to find condos in the area that are close to the Pigeon Forge Parkway, Dollywood, or the Gatlinburg Strip. If you yearn to be nestled in a resort or perched on the banks of a river, look for condos in those particular spots.
Schedule your trip at the right time
source: pinterest.com
Most travelers don't enjoy crowded places when vacationing. If you're in the same majority, our top advice for planning a vacation is to go during the off-season. 
Pigeon Forge is a fantastic vacation spot for families, thanks to its abundance of fun amusement parks and scenic attractions. Families travel in droves to Pigeon Forge as soon as school closes for summer. Therefore, summer is typically the most popular time for tourists to visit this destination. So visit between January and April to avoid the inflated prices, extended wait times, and gridlocked roads. Check before booking, as some attractions are closed during the winter.
Alternatively, if you are dead set on witnessing the leaves change color, you might have better luck visiting in early to mid-September. 
Write down a vacation itinerary
Why not just follow your whims and see where they lead you? That may seem exciting, but waiting in line for tickets can eat up valuable time. Or you risk missing out on wonderful attractions you were unaware of. That is where a well-thought-out itinerary comes in handy. It guarantees you see the stuff that most interests you. 
For example, while many shows allow same-day ticket purchases, premium seats often sell out quickly. A detailed itinerary means you can save time and money by purchasing tickets in advance. 
Set aside some downtime 
source: pinterest.com
Ideally, you and your family will want to explore all of Pigeon Forge's incredible sights and attractions. That said, you must not cram an excessive amount of activity into a single day. Tucking your kids in too early is a bad idea. Schedule some downtime in your condominium for the afternoon. No matter what they do – sleep, play video games, or watch TV – your children will be ready to face the rest of the day with renewed energy. 
Avoid overpacking 
Do not just throw your entire house in your bags when packing. It could account for a lot of stress. One way to pack efficiently is to look at the vacation itinerary. For instance, you should pack all the necessary hiking equipment if you plan to spend most of your time in the Great Smoky Mountains National Park on the trail. Likewise, if you intend to spend most of your time strolling the Parkways and checking out the attractions and eateries, you can pack lighter and more comfortable clothes.
Ensure you do not rush through packing. No matter how last-minute your trip may be, you should still give some serious consideration to what to bring along. Not giving yourself enough time to pack can make you cram your bags full of unnecessary items and weight.  
Be flexible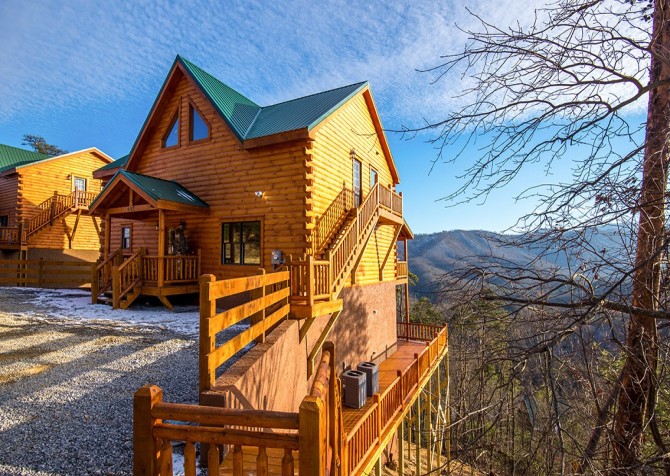 source: pinterest.com
We have kept the most important advice for last: be adaptable if you want your trip to be stress-free. Your vacation preparations are limited to selecting an accommodation, purchasing attraction tickets, and arranging an itinerary. However, you might be caught off guard because it could rain all day when you plan to explore town. There could be other suchlike setbacks along the way, and things may not go according to plan.  
But that is hardly the worst thing that could happen! Also, remember you are on vacation. It is time to kick back and have some fun. Things you cannot change should not stress you out. 
Conclusion 
The stress of day-to-day life shouldn't matter when you're away with your loved ones on vacation. Regrettably, stress can creep in and spoil the fun, even when trying to relax and unwind. That is why we have enlisted tips to ensure you can enjoy a stress-free vacation in Pigeon Forge. Consider following them to the T.