If you're a perfume collector, it's no secret that displaying your ever growing collection of scents is as important as wearing them. Some may think it's excessive – shouldn't they be stored away and kept out of sight? Absolutely not! Instead, turn your treasured fragrance collection into an eye-catching display with these simple tips. Let's make sure everyone appreciates how fashion forward you are with our guide to stylishly displaying perfume bottles at home. But figuring out how to display perfume bottles so they look beautiful – but not cluttered – isn't always easy.
So let's start with the basics; whether it's in your bedroom or bathroom, there are lots of creative ways to showcase your favorite fragrances while making sure they stay safe. Read on for our top tips on how to put together the perfect display of perfumes at home.
For more perfume hacks you may also follow Beautinow's perfume magazine.
Keeping and Showing Your Fragrances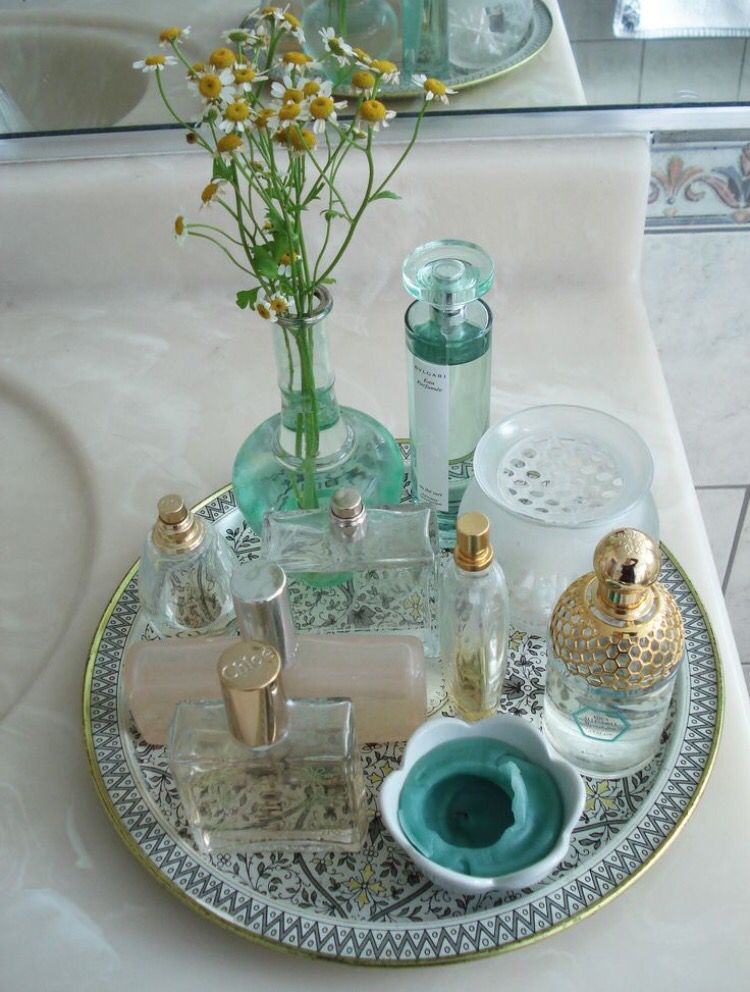 source: pinterest.com
It might be challenging to come up with inventive storage options that also go with the aesthetic of your space, whether you possess five or twenty perfume bottles. You must consider three factors: utility, space conservation, and aesthetic value.
As most olfactory connoisseurs are aware, perfume bottles need to be kept in a cold, dry environment. They degrade more quickly in heat or sunshine, which can reduce their lifespan by years. Even while keeping your fragrances in the bathroom may make sense if you want to apply one just after taking a shower, the humidity and steam can eventually ruin them. Instead, choose a place that is cool, dark, and out of direct sunlight to showcase your fragrances. If you are unable to do that, your only alternative is to preserve the bottles in their corresponding boxes, each of which is rather lovely in its own right.
The things listed below can be used to present your fragrances creatively.
Cake plate
The most popular and elegant way to store and show your fragrances is probably to place them on a lovely cake stand. The stand may be positioned on any countertop surface, even the drawer of your dresser. You may even purchase additional bottles, depending on how many you already possess and your desired style. The most attractive cake stands are made of glass, but there are many more options you may try. To discover vintage and antique ones, go to the local thrift store.
Reflective Tray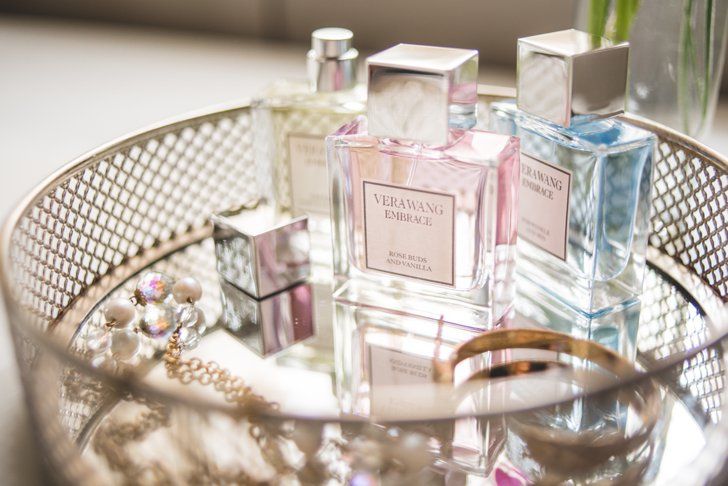 source: pinterest.com
If you've spent any time browsing Pinterest for chic storage ideas, you've probably seen this trick. Imagine how flat mirrored trays may improve your scent display. They can make even the most unattractive goods appear gorgeous. Put your favorite perfumes in a line on a mirrored tray and keep it close by for quick satisfaction. You will like how delicately this storage method is done, and the mirror brings out the beauty of the glass bottles. As an alternative, you might want to consider marble trays.
A wall shelf
This is a great alternative if you want the joy of carefully arranging your perfume collection without adding clutter to any current surfaces. Simple shallow wall shelves are readily available at many furniture stores, or you can opt to discover something special at a thrift store. As you'll be putting large glass bottles on top, give priority to a streamlined and durable design.
Transparent chest
When it comes to your priceless perfume bottles, safety comes first. If you worry that they could shatter, you might find the concept of putting them on shelves and stands disconcerting. Don't worry, though; we have the ideal storage option for you. Any clear box or chest, whether made of glass or acrylic, will be great for both showing and shielding your fragrances from dust and other environmental elements. Keep an eye out for beautifully made transparent chests that would be suitable residences for your scents. The nicest thing is how convenient and simple it is to keep these boxes.
Wall Shelves / Cubes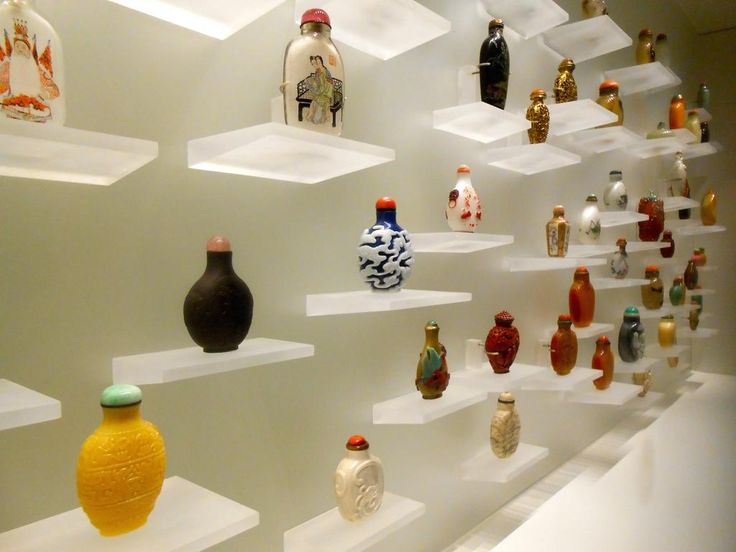 source: pinterest.com
Wall cubes are a good option if you don't have much room in your home but don't want to sacrifice on aesthetics. They take up little room and let you keep your fragrances out of harm's way. You don't have to take extra precautions to store them back because you can readily retrieve them at any moment.
You might be wondering why you should make all of this effort because sealed cabinets and cupboards are ideal for protecting your fragrances. Yet consider how frequently a perfume bottle has disappeared into the shadows in such areas, never to be seen again. When the fragrances have been displayed, you may take the further step of writing down their names and where they are kept in an online document so that you never have misunderstandings.
Despite the fact that fragrances should be proudly exhibited, keep them out of direct sunlight.
Conclusion
So there you have it, the top five ways to display your perfumes. Take pride in displaying your precious bottles with elegance and grace whenever visitors come around. Say goodbye to cluttered surfaces with perfumes battling for space among other miscellaneous items. The only thing you have to do is start planning today! Now is your chance to infuse jazziness into any room with this timeless art of displaying your masterpieces.No matter what option you choose, none of them have to cost a fortune or take up too much space.
At last, whether you want an elegant reflective tray or an eye-catching wall shelf, make sure it's appealing to you. So how do you display your perfume at home? Feel free to share in the comment section, so we can keep this conversation!