Do you have a large family? Are you looking for ways to dazzle them in the dining room? There are various styles, features, and colors one can decide to go when furnishing the dining room. Amazingly, furnishing a dining space for a large family is not challenging; sure, you may need to work doubly as hard to create something that works for a large group, but it is doable.  
The dining room is a multi-functional room in the home. It is an entertainment space where meals are served and enjoyed, but that is not all. A dining room is a workspace where you can work, and kids can do their homework; therefore, furnishing it is not just a task to tick off your list of things to do. That said, here are some pointers you can use when furnishing a dining space for a large family. 
Furnishing ideas you can implement for your dining area
Try a bench and chair combo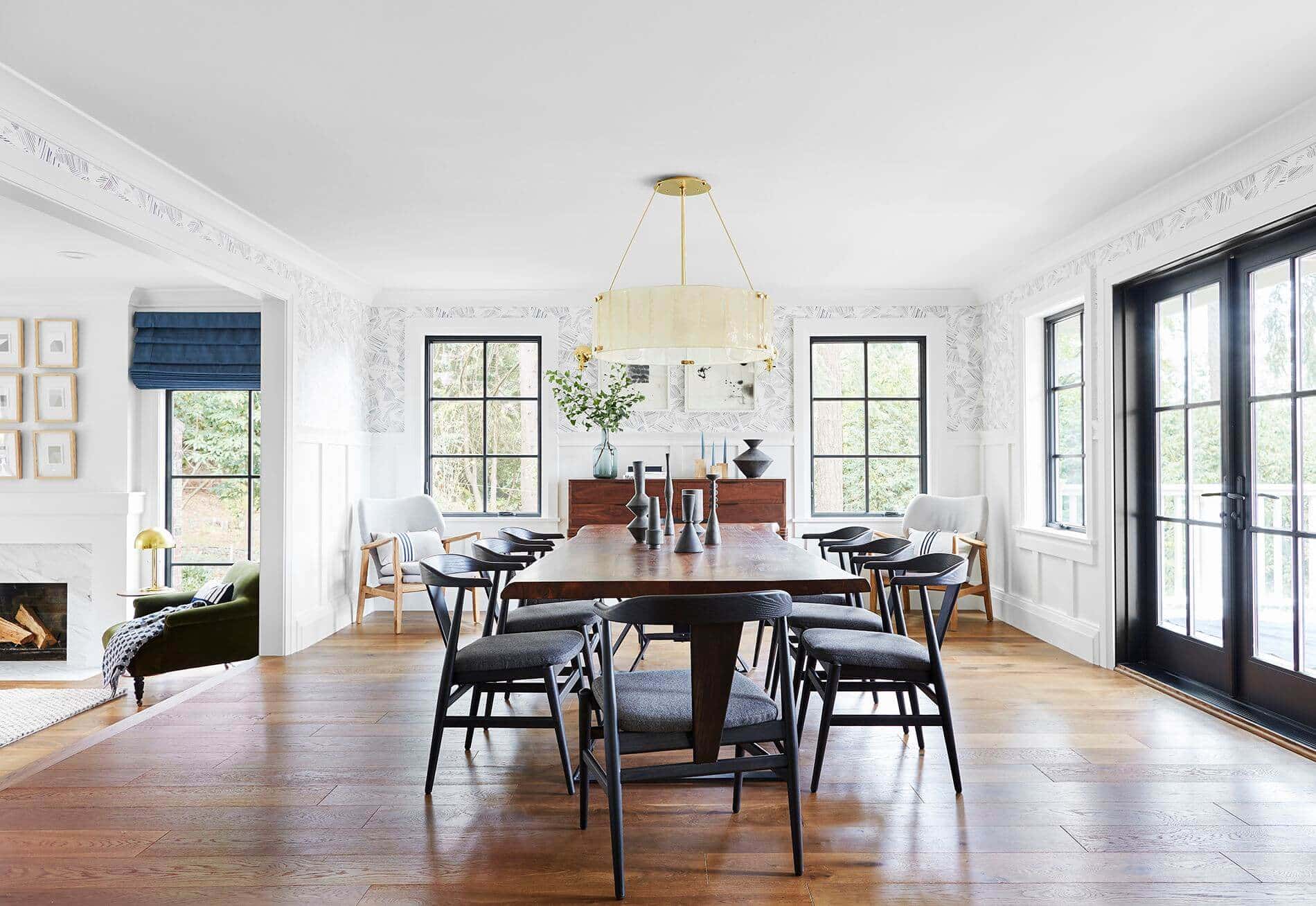 source: mydomaine.com
Chances are you are trying to maximize the available space if you have a big family to cater to in the dining. Adding a bench to your dining table is one way to do this. Benches are not set for a specific amount of people; therefore, you can squeeze in more bodies at the dining space. For comfort and an element of décor, you can add some faux fur throws on the bench. 
The answer to your family dining needs could be as simple as getting a bigger table. Larger dining table provides a greater seating capacity; thus, you can ensure every family member will be accommodated at the table. If space is compromised, get a brand new extendable dining table that you can pull out when required and put back when not in use. 
Switch out the chairs for the benches
source: hearstapps.com
Have you ever considered the switch to all benches at the dining table? If you want to maximize the space you can, you can implement this for your dining space. It may feel unconventional; however, it works magic, especially if you have an open-plan kitchen. Match the benches to the kitchen scheme to create cohesion. 
We love round dining tables and, if not for their versatility, then for their flexibility. Regardless of the shape of your room, a round dining table will fit right in. you can add it to your square or rectangular room to provide contrast or go with a circular room for cohesion.  Round dining tables check the boxes of function and form. They take up less floor space; however, their lack of corners makes it possible to squeeze in a person or two on the table without feeling uncomfortable.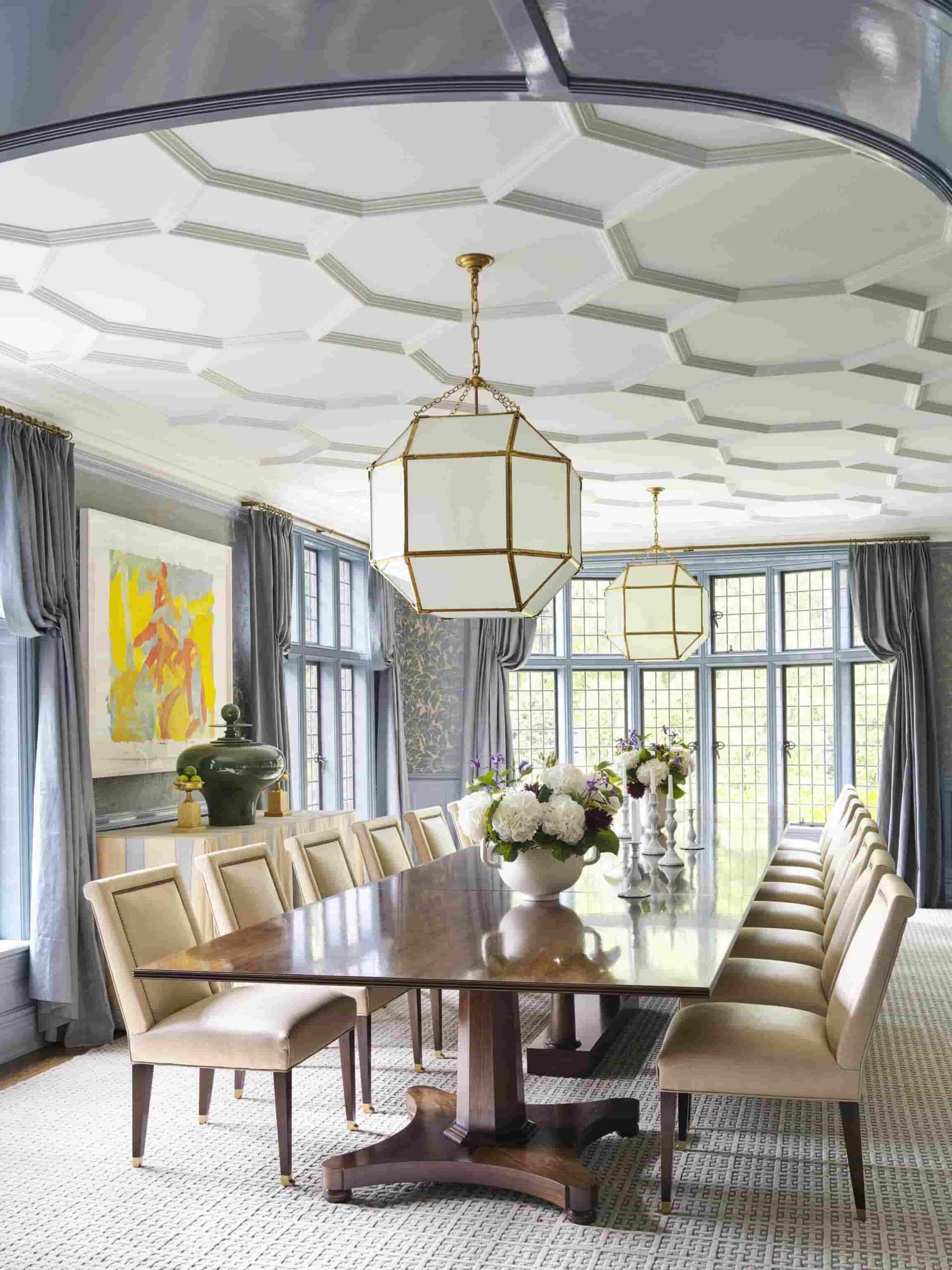 source: hearstapps.com
A large dining room table is the easy way to go when catering to the needs of a big family; however, finding chairs for the table is the tricky part. Mismatching your dining chairs could work, allowing you to get chairs that fit your dining space. Just remember to paint them in one color for cohesion.  
Playing around with lighting can serve more than just brightening up your space. There are lighting tricks that can make your room feel spacious and impressive. For instance, scones can create the impression of ample space when installed in a room with high ceilings. 
source: mydomaine.com
Is space an issue in your dining room?  Are your dining chairs taking up more space than necessary? Narrower chairs create more space which allows you to fit more chairs, thus more people. Some linen cushions may be just the thing that has everyone begging for a seat at the table. 
There's nothing like some décor to bring some life into an otherwise dull dining space. A wall décor, like art or even a mirror, adds a hint of decoration to the room. Apart from the visual appeal, a large mirror creates more space, making the room feel and look less cramped. 
Final Thoughts
source: hearstapps.com
Let's be honest; it'd be impossible to scratch even the surface of styling the dining room in one post. The different furnishing options for the dining room are numerous, but for starters, you need a guide to determine what works and what doesn't for your big family. These tips will help you furnish your dining room to a space that makes for large family meals and gatherings.