The kitchen is one of the essential spaces in the house. This is a part where your family gathers to prepare, cook, and share meals. Thus, the kitchen has been referred to as the "heart and soul" of the house.
However, kitchens see a lot of tearing and wear as they undergo an accumulation of grease, oil, and other problems. Repairing these problems is challenging. Therefore, it is vital to transform the kitchen elegance. An elegant kitchen can create heaven where the family can gather anytime, fusing comfort, beauty, and convenience.
On that note, here are seven unique items to enhance your kitchen's elegance.
1. Bonfire grills
source: pinterest.com
Bonfire grills have gained popularity over the past few years. They are perfect for families who enjoy grilled meals on the weekends. Most of us have a location for the bonfire grill, whether in a kitchen's corner or a full-fledged outdoor kitchen. 
Furthermore, bonfire grills of every kind are welcome nowadays. They are portable, smokeless, and simple to maintain. Food prepared is fantastic and far healthier than food cooked in a pan. One can choose them for indoor barbecuing as they generate less heat and smoke than gas barbecues.
2. LED lighting cabinet
Technology is constantly evolving; therefore, LED lighting no longer has a cold, unwelcoming appearance. On top of that, kitchen lighting is crucial for safety, ambiance, and versatility. Sometimes the lighting is insufficient in the kitchen, coming only from the ceiling to the middle of the room. If there is one lighting source in your kitchen, consider recessed lighting a more contemporary light source. For versatility, try installing chandeliers under the cabinet to highlight counters and pendant lighting over kitchen islands for modern lighting fixtures.
3. Display Some Art
source: pinterest.com
Your home looks much livelier with art than being 'simply' a kitchen with cupboards, worktops, and appliances. Naturally, you won't want to spend much money on artwork that will be kept in a messy environment. For this reason, you can get the digital printouts and get them framed for your kitchen. 
When choosing artwork for your kitchen, keep the following in mind:
Select items that complement the kitchen's decor 

Select affordable and unpretentious paintings

Your artwork should be framed so that you can regularly clean it

To avoid fading, keep colorful items out of direct sunlight

Avoid bringing in large pieces of art or installation art that will obstruct your ability to perform culinary tasks
4. Include some flowers
How to improve your kitchen's elegance without doing a major redesign? The simplest and most affordable thing to bring color and freshness to the space is purchasing some fresh flowers. A favorite vase should be dug out, and flowers should be bought or collected from your backyard. It's incredible how this tiny addition can make your kitchen and mood brighter.
5. Add open shelves
source: yellowbrickhome.com
The open shelf in a kitchen is the best way to organize utensils elegantly. The shelf area will feel much more open, with a few frames on one wall holding cookbooks, storage jars and bins, and everyday dinnerware. It has a straightforward yet appealing appearance that instantly grabs the attention of any visitor entering your home for the first time. They don't have to bother asking anyone if they need to find something in the kitchen, which helps them feel more at home. 
In addition, you can enhance the appearance of open shelving by placing all of your most exquisite dinnerware there. Instead of allowing them to hide in the shadowy crevices of your cabinet doors, it is far preferable to let others see your collection.
6. Boost your metals
The materials utilized in outdated kitchens, especially the metals used for kitchen hardware, were popular decades ago. It could be time to reconsider your drawer pulls and lighting fixtures when manufacturers release new materials and design trends follow suit. Matte aluminum, stainless steel, brushed gold, and copper is some of the metals popular in contemporary kitchen designs; consider using these materials for your cabinetry hardware, pendant lighting, and range hood options.
7. Give people a place to sit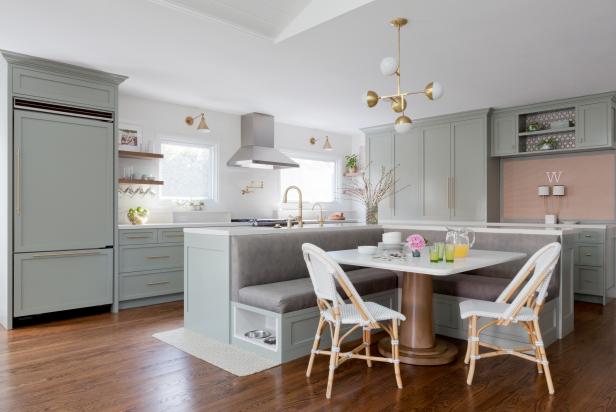 source: hgtv.com
Your kitchen is probably the busiest room in your house and where guests are most likely to gather. This is acknowledged in contemporary kitchens by the addition of chairs. Seating can give your kitchen a new look, whether you decide on a banquette or bench at a window side table or countertop stools and chairs at a breakfast bar. Busy families drive the need for seating in your modern kitchen with kids doing homework to parents hosting friends while cooking.
Bottomline
The kitchen is the center of activity in your home. This place is used for everything from hurried breakfasts to family feasts and having tea with friends. The kitchen should be a place you love being in, whether you're cooking, cleaning, or dining, and an elegant kitchen may help achieve that. These items will assist you in creating a kitchen that you'll love, whether you're remodeling an existing kitchen or building a new one.