Halloween goodies don't simply have to be candy; there are so many other possibilities that it would be negligent of you to restrict yourself to the usual bag of different chocolates. To make this Halloween especially decadent, these gift baskets provide a range of sweet and savory foods. Do not find random Halloween gift basket ideas on google. We have got you covered with some exciting options.
Offer a selection of gifts to the adult who still has that child inside of them for the most ardent Halloweeners. Instead of giving conventional items as gifts, try some new ideas for Halloween 2022. Pack varieties of candies with some snacks in a gift basket. Add some extra fun with Halloween accessories.
These eerie baskets and delicious snacks will not only make excellent gifts but will also make excellent Halloween décor. So let's check out the best Halloween gift hampers for this fall season.
Halloween Gift Basket Ideas For Kids
Halloween Goodies Pail
source: pinterest.com
The kiddies dress up in their Halloween costumes at this time of year to go out and hunt for tasty Halloween sweets. To celebrate Halloween with your favorite trick-or-treaters, the "Tricks or Treats Halloween Goodies Pail" is the ideal present. This goodies bucket, which is filled with all the sweet treats that children would like, would be well-liked.
It includes Halloween Jack-O-Lantern and other miniature Halloween candies like Nestle Crunch, Baby Ruth, Candy Corn, Mini Oreos, Snickers, Kit Kat, etc. Indulge the kids in a fun treat with this sweet Halloween Gift hamper.
Witches Brew Halloween Cauldron
This gleaming black cauldron will certainly spice things up this Halloween season. Your young goblins will appreciate this Halloween present since it is filled with all the Halloween sweets. It includes Hershey's Mini Chocolate Bars, mini Reese's peanut butter pumpkin, Happy Halloween gift hamper of candy corn, Rice Krispie treat, Halloween potion bottle of powder candy, Witches Warts candies, Halloween marshmallow peeps, etc.
Boo To You Halloween Box
With the help of this charming Halloween gift box, you may cast a spell on your favorite children's trick-or-treaters this season. This gift box will be a success for people of any age because it is filled with all the Halloween delicacies that everyone enjoys.
Treat Jars Spooky Basket
source: pinterest.com
Make a DIY basket spelling out "boo" out of goodie jars to keep things straightforward. Each jar should be filled with yellow and orange candy before the printed labels are attached. Perfect Halloween hampers for this fall season.
Halloween Gift Basket For New Borns
They might be allowed to consume sweets, but they can still dress up and celebrate Halloween with their parents and other siblings. Costume sets are great to give as gifts. You can add some sweets, snacks, and candies to this Halloween gift hamper. Apart from that, if you wish you can add some of the toys and newborn accessories with it.
Disney Halloween Basket
Mickey can be made creepy, yes! Put Halloween cookie pops, a plush Mickey blanket, felt puppets, and other goodies in the red and black containers. Choose characters from "The Nightmare Before Christmas" if Mickey isn't your style.
Halloween Gift Basket Ideas For Adults
Spooky Movie Night Gift Box
source: pinterest.com
As Halloween draws near, there is a chill in the air, and frightening movies are unquestionably on the menu for any spook. With the frightening movie night gift package, you can give them a night to remember. It's the ideal movie box, with everything the candies, munchies, and popcorn need for a spooky evening. Not only that, but you may also choose to include a gift card so they can stream their preferred movie.
Halloween Sausage And Cheese Gift Box
Don't rely on a large bowl of candy to keep everyone fed throughout the evening if you're entertaining some pals for Halloween this year. Everyone will be happy with the spread provided by the sausage and cheese gift box.
Halloween Toys And Treats For Dogs
Since your dog is unable to participate in trick-or-treating, make sure they have lots of treats for Halloween. Your pet is sure to enjoy the toys, biscuits, and colorful bandana included in a Chewy box.
Personalized Halloween Baskets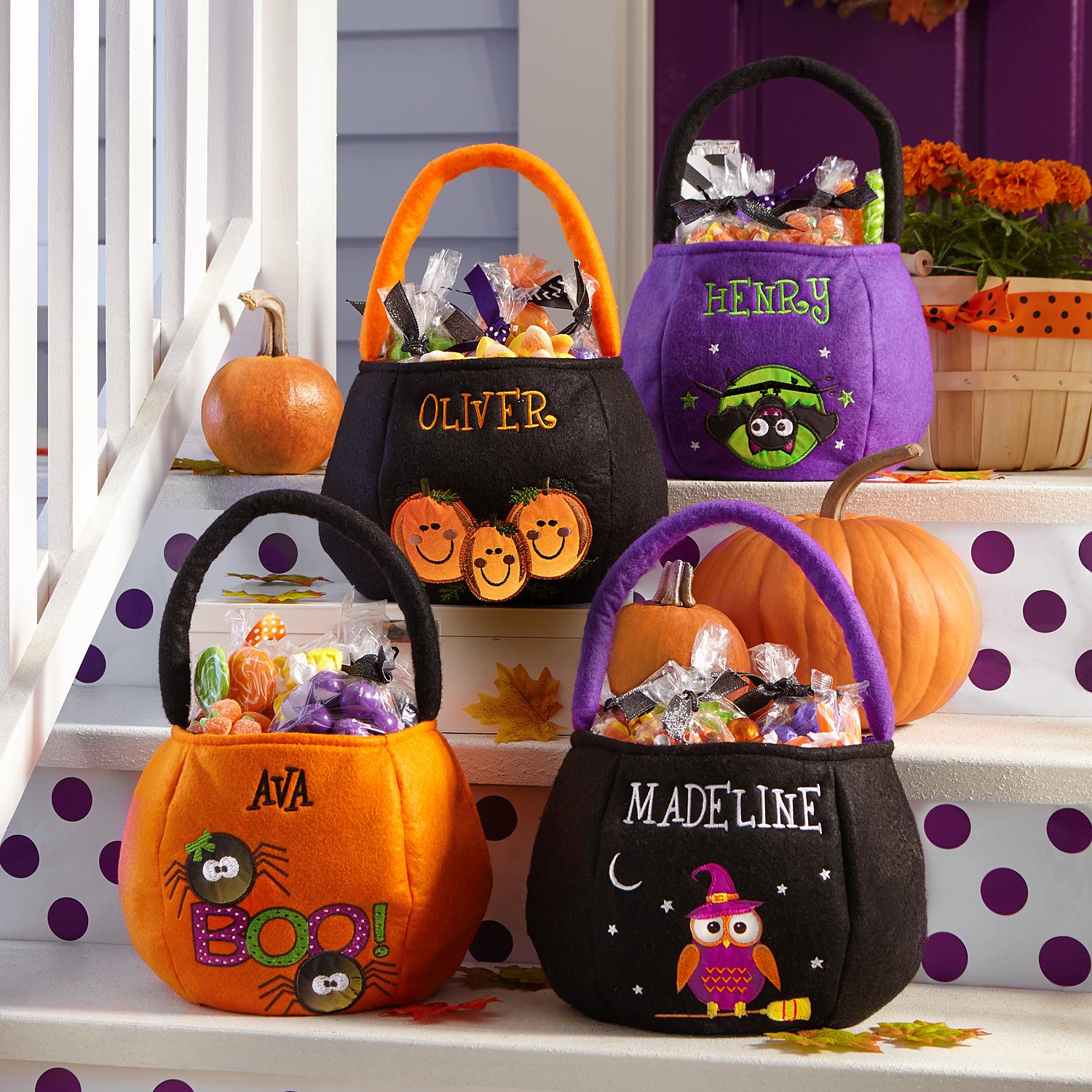 source: pinterest.com
Everyone likes personal touch in gifts. Likewise, Halloween hampers should also be crafted with personalization features. You can craft the names of your guests on every basket. A personalized name tag, glow-in-the-dark accessories, and fun Halloween stickers will make a perfect bunch of Halloween gifts.
October Fest Spooky Basket
When they open this cottage-chic present and find all the October delicacies inside, your neighbors or friends will scream with delight. Use a wicker basket and stuff it with biscuits, Halloween treats, gourds, spices, hazelnuts, and whatever else you like!
Family Craft Halloween Basket
Fun activities abound in this basket. Pick up some craft kits from the shop and fill in the blanks with candies and snacks to recreate it. You may add some cards with short stories, poems, or Halloween stickers. Some fun activities for kids may include color filling and drawings. The whole family will take advantage of this Halloween hamper.
Conclusion
Everyone appreciates opening a gift basket full of sweets, regardless of the occasion, so they're sure to adore these creepy basket ideas. There are buckets, baskets, and treat bags waiting, filled to the brim with Halloween goodies like eerie books and pajamas, toys, and candles. These creative Halloween gift basket ideas will make you clear about your gift shopping list. Happy Halloween!