What is the best way to celebrate Halloween 2022?
The holiday has become synonymous with candy, costumes, and parties. How would you like to give something unique and fun to your kids this year?
You can celebrate the spookiest day of the year in a number of ways.From crafting and decorating pumpkins to baking treats and organizing costume contests, there are lots of things you can do to get into the spirit. While having fun on Halloween, children also anticipate surprises. However, have you explored various possibilities to present to children, particularly during Halloween 2022?
Don't always give sweets, candies, or chocolate hampers to kids. Halloween gifts for kids can be so much more than just candy. If you're looking for something other than candy to distribute this Halloween, take a look at our selection of treats. Kids will be giggling with happiness and glee as they open this assortment of thrilling Halloween goodies, and it will not let them down.
Halloween Gift Ideas For Kids
Halloween Watercolor Box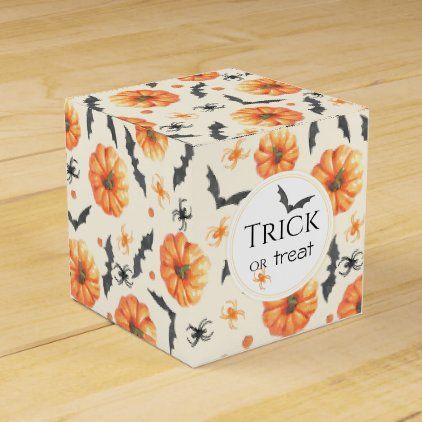 source: pinterest.com
Make your Halloween party creepy with the help of these party boxes! The boxes may be completely personalized, so they can also be used as a little gift box for your child's friends, loaded with treats or pranks. 
They are produced with non-toxic dye-based ink on premium, professional, matt 240gsm white cards. You will receive these flat-packed, and they will easily pop open. Glue is not required. The box is closed using the side tabs. Kids will be super happy to receive this gift and you will also be satisfied after finding out about this beautiful Halloween gift for kids.
Halloween Water Bottle
This cup is perfect for easily and precisely calculating your kids' daily water consumption. Perfect for cycling, camping, running, and other types of outdoor or indoor activities. Strong locks on both lids prevent leaks and dust entry.
You may hydrate more rapidly with this water cup since it features a mouth hole with a swift water flow. It's portable and easy to clean. Your kids may take it with them and use it whenever and wherever they choose. Additionally, it will work as a token of remembrance for Halloween 2022.
LED Gloves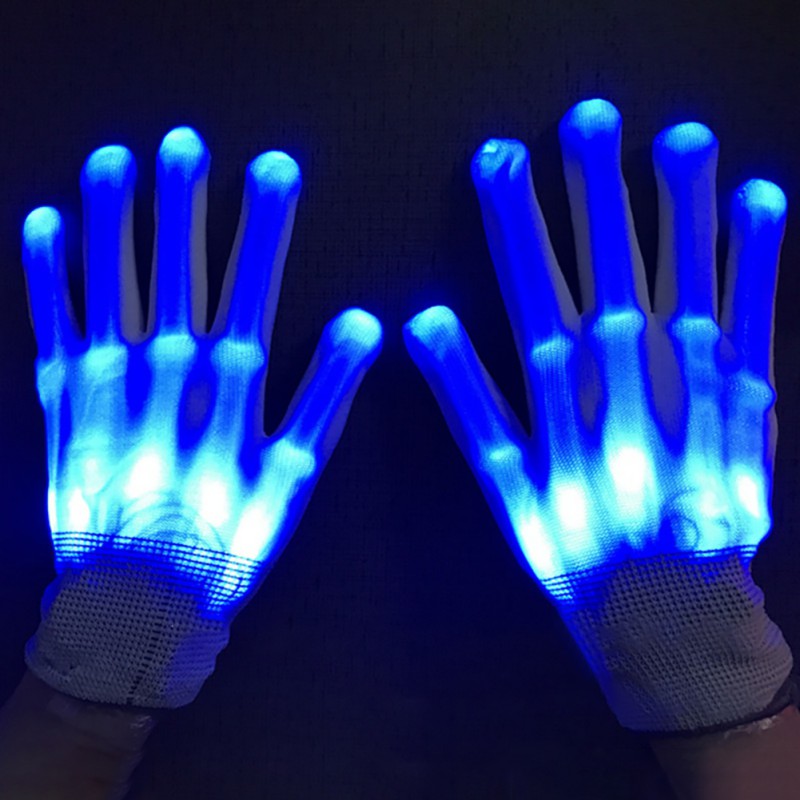 source: pinterest.com
The LED Light Up Gloves from Illuminated Apparel will make your night more cheerful. Perfect for parties, festivals, and creating spectacular light patterns in the dark! To impress your friends, record your light show with your video camera.
Wearing these gloves will make your artwork look brighter, regardless of how dark the surrounding area is. Thus, it would glow brilliantly in a pitch-black space! Your lovely kids will be amazed and delighted by the striking design. 
Pumpkin Suncatcher Kit
You're going to a Halloween party, right? Looking for Halloween gift ideas? Find the exciting suncatchers here. You may create a charming suncatcher with the help of this arts and crafts kit! Just add scissors; everything else is provided. You'll create a happy pumpkin, which you can then decorate your window with and allow the light to shine through for a charming effect.
Suncatchers have a diameter of around 5 inches and are composed of black cardboard. With the supplies given, kids may easily create lovely suncatchers. Don't you feel that it is the best Halloween gift for a kid?
Personalized Halloween Crayons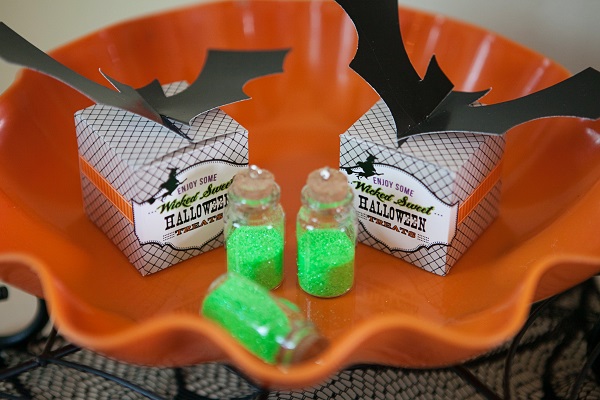 source: pinterest.com
Each initial box decorated for Halloween will include a custom label with the child's name on the front, a transparent poly bag, and a Halloween ribbon tied around it. Two Halloween crayon figures, one personalized initial, and one gift with a Halloween theme are all included. These characters will vary until you decide the ones you would desire for your kids.
Kids Halloween-themed T-shirts
This attire would look amazing in all of your kids' activities and Halloween pictures. It is soft and pleasant to the touch and is made of premium cotton. Your Halloween and fall attire will look wonderful with this stylish dinosaur t-shirt. It is an appropriate gift for kids and fits everyone in the family. The most incredible unisex travel shirt you've ever seen.
Halloween Bubblewands
You can make playing with bubble wands more fun for your children. Both boys and girls will be charmed by the bright beauty. The bubble blower wands come in a range of appealing designs and colorful colors, and they light up from tip to tip to brighten your child's day.
Pumpkin Kids Bag
These simple candy bags are perfect for Halloween events and trick-or-treating with the help of small hands. There could be visible glues and threads, and they are one-of-a-kind. It is simple for kids to tote when trick-or-treating, collecting candy at costume parties, or using it as a bag for daily necessities. These versatile and useful gifts for kids must be there in your wishlist.
Halloween-themed Kid's Drinkware
source: pinterest.com
This colorful tumbler that they received as a Halloween gift would be a hit with your kids. High-quality, double-walled stainless steel keeps hot beverages hot for up to 3 hours and cold drinks cold for up to 6 hours. This tumbler includes an easily detachable sliding closure tab for cleaning and a translucent screw-on top for a tight fit. Every tumbler comes with a white straw. No vinyl or sticker will peel off over time.
Halloween Jigsaw Puzzles
This year's Halloween may be a little unique, but that doesn't mean it has to be any less thrilling. This puzzle will guarantee that it stays that way. Puzzle pieces are made of durable cardboard, which has the design pressed directly into it for a smooth, long-lasting finish. During non-use, a little box keeps everything organized. The best individualized Halloween gifts for kids to offer.
Coffin Favor Boxes
source: pinterest.com
These will look amazing during the classroom Halloween celebration and make wonderful party favors for your adoring kids. They are composed of premium cardstock and will be sent to you assembled. You just need to add your favorite Halloween treat at this point. You may fill them with candy corn, little chocolate boxes, lollipops, and even toy spiders.
Personalized Halloween-Themed Kids Mug
Due to their lightweight design, these mugs are perfect for kids to enjoy snacks, hot or cold beverages, ice cream, or cereal. It is a pleasure for them to do so knowing that it is exclusively theirs. You can either give these mugs as it is or fill them with candy as a cute little Halloween gift. 
Conclusion
You should take advantage of Halloween to offer your cherished children a present. It's a chance to express your affection and concern for them—or even for yourself. Choose one or two presents from the list above, and you can be sure that the children who attend your Halloween party will go home happy.