Welcome to the land of joy in suspension! The place to be if you want to up your relaxing game is with hanging bed designs. These clever designs provide a special fusion of coziness, flair, and whimsy. 
There is a great hanging bed design out there just waiting for you to find it, from cozy outdoor havens to lovely inside getaways. So let's discover what makes a hanging bed design unique and prepare to enjoy the bliss of suspended calm as we dig in. Prepare to sway, swing, and nap in luxury!
Lofted Bunk Swing Beds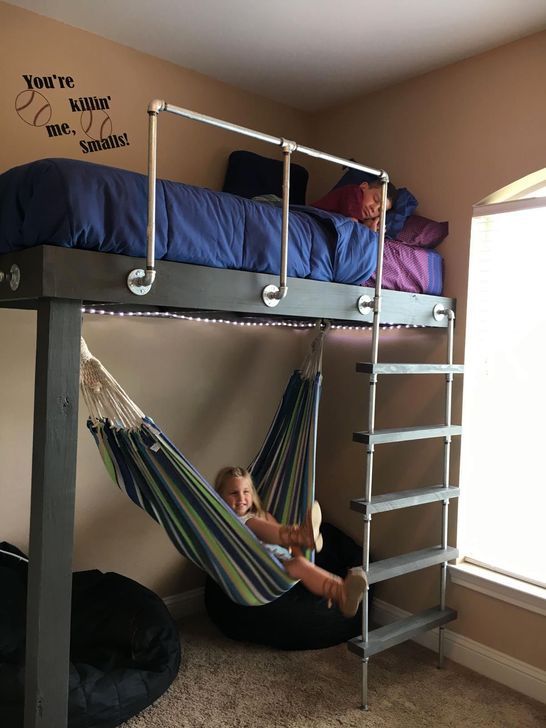 source: pinterest.com
The lofted bunk swing beds offer a unique and innovative take on the concept of a hanging bed design. With their elevated structure and playful swinging motion, they provide a creative solution for maximizing space and adding an element of fun to any room.
These beds combine the functionality of traditional bunk beds with the enchantment of a suspended sleeper, making them a captivating choice for both children and adults alike.
Vibrant Suspended Daybed
The vibrant suspended daybed is the perfect choice for people seeking a captivating hanging bed for the bedroom. Its airy construction and suspended form create a sense of weightlessness and relaxation, making it an ideal spot for unwinding and daydreaming. With its vibrant colors and comfortable design, this suspended daybed adds a touch of style and tranquility to any bedroom decor.
Reclaimed Timber Swing Bed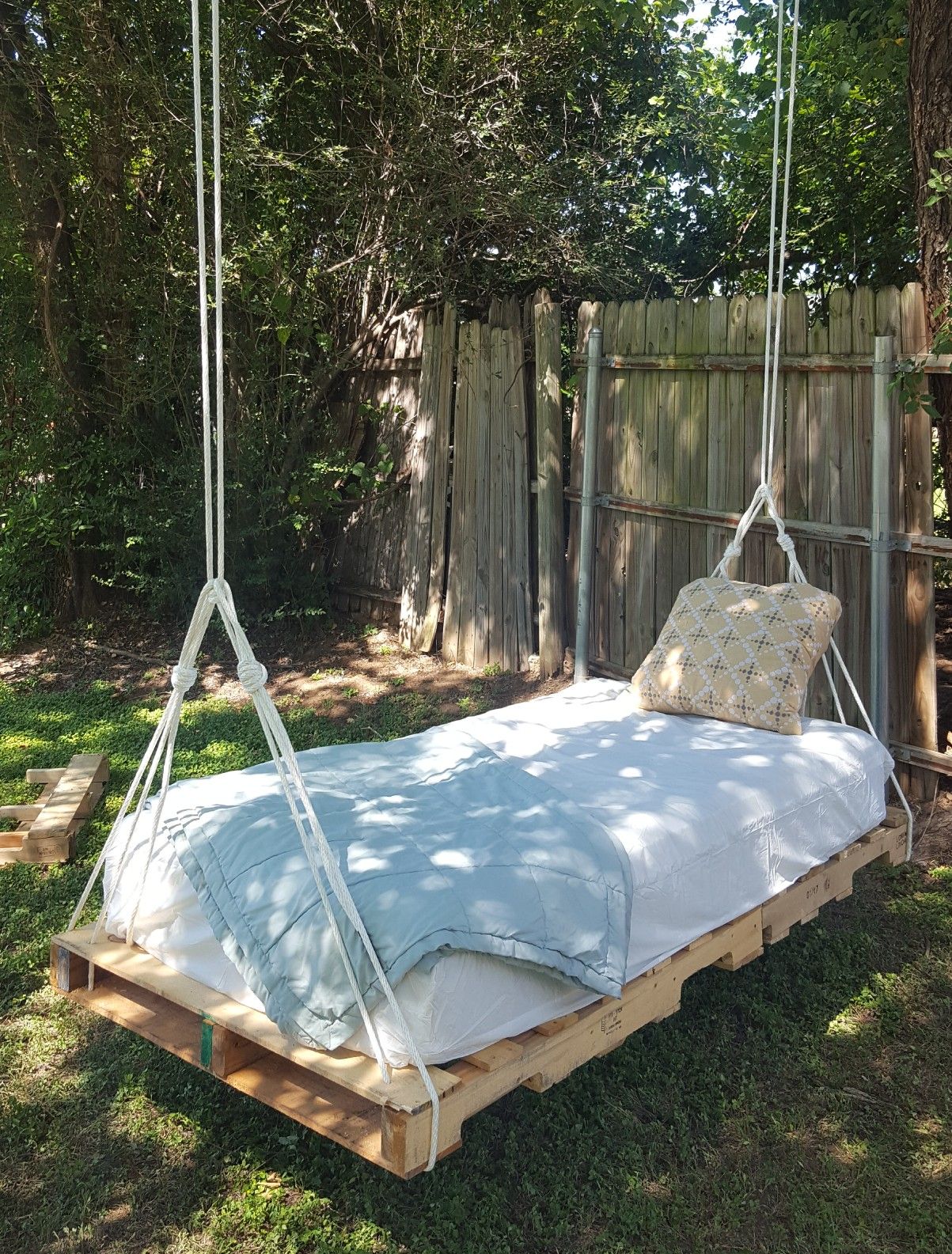 source: pinterest.com
The use of reclaimed wood in the construction of this bed gives it a rustic, green appeal. Its natural appearance and swinging motion make it ideal for outdoor relaxation. Put this comfortable hanging bed in your area of "me time" like the backyard or front yard.
Vintage Swing Bedstead
With its elaborate craftsmanship and curving lines, this bedstead, which was inspired by ancient furniture, provides a sense of elegance. It infuses your room with timeless beauty while taking you back in time. If you have a vintage taste of choice, this swinging daybed is perfect for you.
Pendulum Hammock Bed
This hanging bed design softly sways to create a calming ambiance by combining the comfort of a hammock with the coziness of a bed. It provides a peaceful environment for resting and sleeping.
Drifting Tree Canopy Bed
Immerse yourself in nature with this comfortable hanging bed, which has an overhead canopy-like construction that simulates sleeping beneath a tree. Picture yourself drifting off to sleep in this enchanting bed, cocooned by the soothing sounds of nature.
Timber Suspended Bedstead
Enjoy the beauty of nature while floating on this suspended bedstead. Feel the sense of resting in a cozy forest retreat among the treetops.
Serene Nesting Swing Bed
Nestle into this swinging daybed for optimum relaxation. Experience its warm embrace, which softly cradles you and creates a tranquil retreat for afternoon naps or languid days spent with a good book.
Rainbow Porch Daybed
source: pinterest.com
This rainbow-colored porch hanging bed will add a blast of vivid energy and style to your outdoor environment. It offers a beautiful and inviting environment in which to relax and enjoy the warm weather. Furthermore, create memorable moments with your loved ones in a rainbow of colors.
Outdoor DIY Swaying Bed
With this DIY swaying bed, you can let your imagination run wild and create your very own outdoor hideaway. Feel the gentle swing, listen to the rustling leaves, and find comfort in a setting adapted to your taste, where relaxation and tranquillity await.
Rustic Drifter's Bed
Embark on a captivating journey with the rustic drifter's bed, as it embraces weathered wood and earthy tones. Allow yourself to be transported to distant memories and uncharted territories, where you can drift into dreams of extraordinary adventures, while enveloped in the warmth of nostalgia and the boundless promise of new horizons.
Levitating King Bed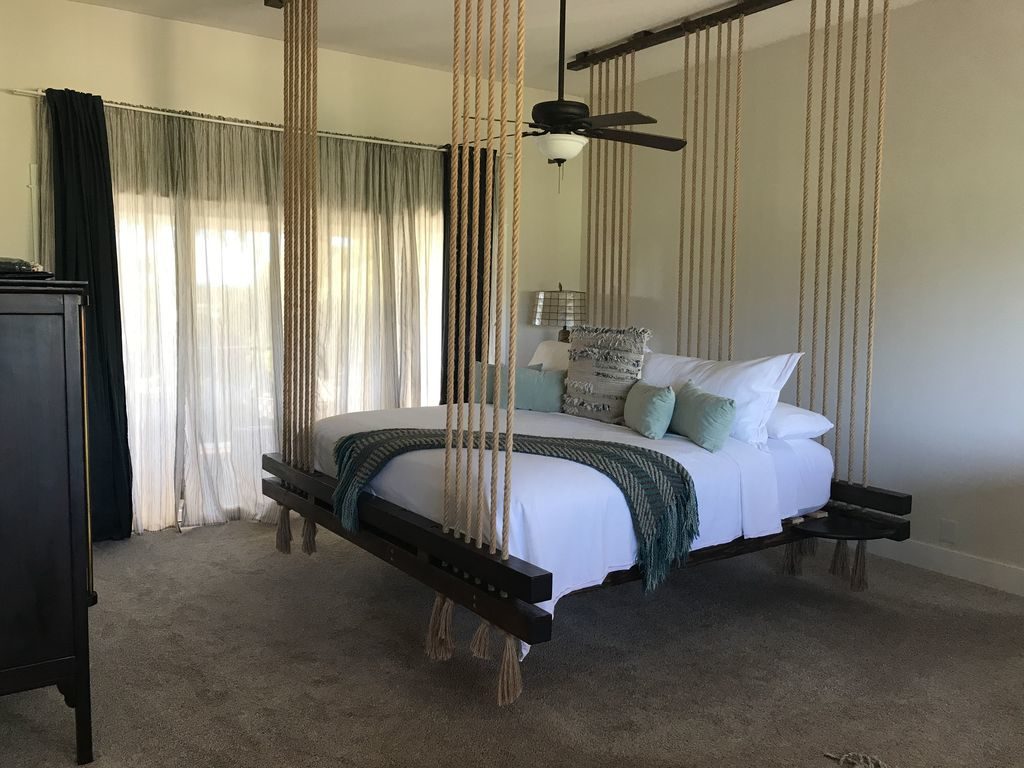 source: pinterest.com
Be amazed by the levitating king bed as you lose yourself in the height of luxury. Allow yourself to luxuriate in a royal nap that defies gravity and inspires amazement as it glides by with ease. Transform your bedroom into a place of elegance and fantastic beauty with the help of this charming centerpiece. This comfortable hanging bed will go beyond the every day and beckon you into a realm of wonderful dreams.
Minimalist Coastal Retreat Bed
Enjoy a relaxing seaside escape with the minimalist retreat bed, whose simple lines and pale colors evoke a calm coastal atmosphere. The essence of the seaside whispers peace, encouraging you to escape the commotion and discover tranquillity in a simple hanging bed design. Transport yourself to sandy shores and unwind in this refuge of simplicity.
Nautical Hanging Bedstead
With its hanging design, this bedstead has a hint of beach appeal. This swinging daybed produces a special sleeping environment with a nautical theme that softly sways in the wind.
Airborne Dream Bed
This lovely hanging bed for the bedroom will give you the impression that you are floating on air since it suspends itself so easily. Additionally, it provides a dreamy and ethereal sleeping atmosphere that stimulates creativity.
Twin Aerial Beds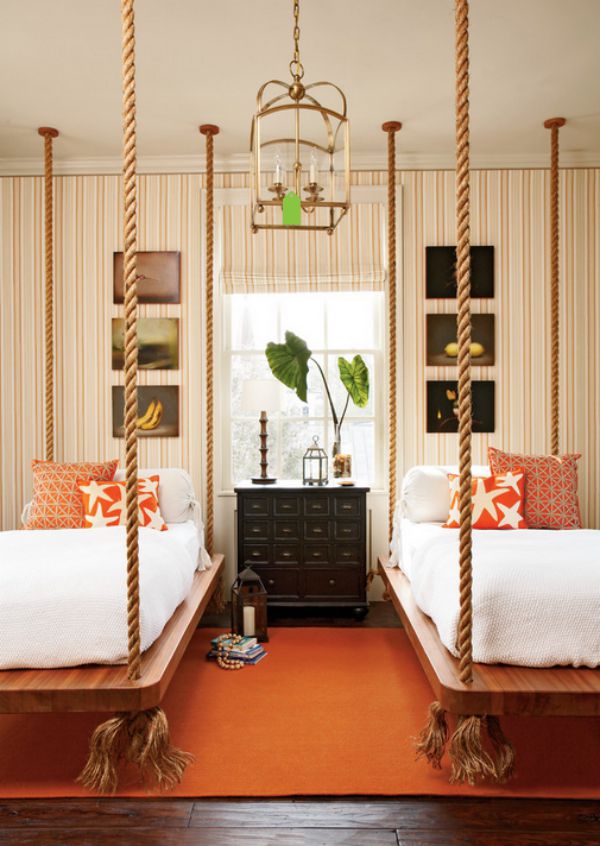 source: pinterest.com
These floating beds offer private luxury in a communal setting. Individualized sleeping experiences are possible because of each bed's autonomous floating. This hanging bed also keeps a close connection.
Bouncing Canopy Bed
This bed has a canopy shape that softly bounces, resulting in a relaxing and entertaining sleeping environment that makes you feel as though you're being held in a cloud of comfort.
Space-Efficient Suspended Bed
With this suspended hanging bed design that optimizes room arrangement, make the most of your space. It provides a special and effective remedy for compact living areas. Additionally, it still offers a cozy and comfortable sleeping place.
Infant Cradle Swing Bed
Baby swing beds like this one gently sway infants into a restful sleep. Additionally, its flexible design provides adults with a tranquil area for relaxation.
Conclusion
In conclusion, these alluring hanging bed designs provide a special fusion of comfort and allure. Whether you're looking for a cozy outdoor getaway or a tranquil inside haven, the ideal design is just waiting to boost your level of relaxation.
So embrace the enchantment, discover your own floating hideaway, and be ready to go to the pinnacle of tranquility and joyful sleep.