Wooden maps are a completely handcrafted decor piece that is intended to create an exquisite and natural ambiance. A great way to add a personal touch to your spaces.
In addition, there is no doubt that plain walls look so boring, and adding pictures to walls is an old trend that has faded. Therefore, spruce up your space with minimalistic wall decor ideas and update your room walls with the trendiest wooden world map. 
It doesn't matter if you want to hang a wooden world map in your living room, office, kid's room, or dorm room – they're always classy. Fortunately, there are now several options to choose from. Here's a complete guide to wooden map decor ideas and so much more.
Best World Map Art Ideas:
3D Wooden World Map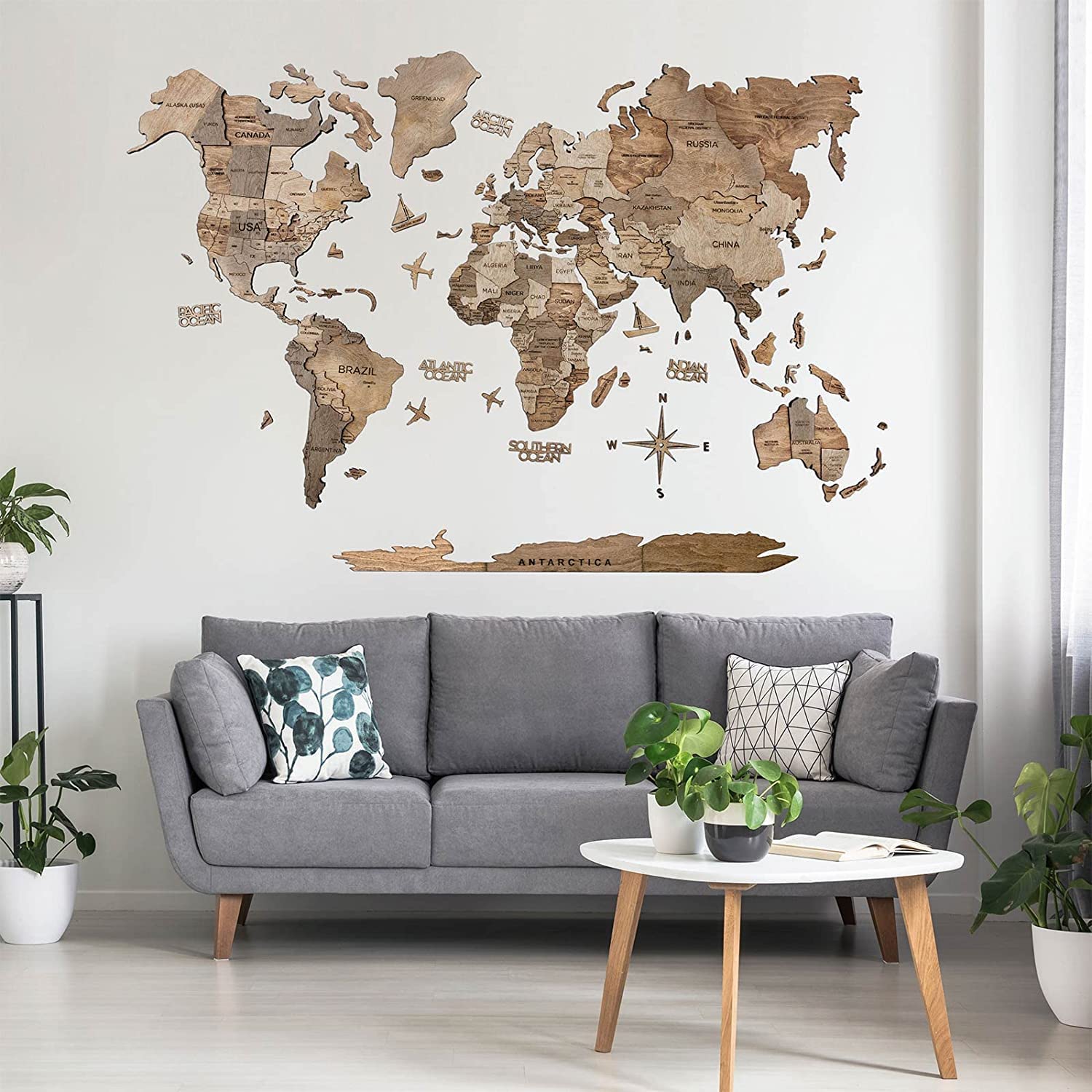 source: pinterest.com
The 3D Wooden World Map is an excellent method to showcase the entire world on the wall of your bedroom, corridor, living room, workplace, or cottage. Maps have always had a special allure that draws people's attention. These massive art pieces are made of stacked wood panels. These provide a fantastic 3D effect that will add life to any wall.
Printed Map Art Frame for Little Ones
On this piece of wall art, cute animals and iconic locations symbolize each country. We felt it would look fantastic in a child's or teenager's room, in fact, it would look fantastic anywhere! This simple-yet-interesting poster is available in a variety of sizes, color schemes, and frame options, and it will complement any decor.
Woven World Map Art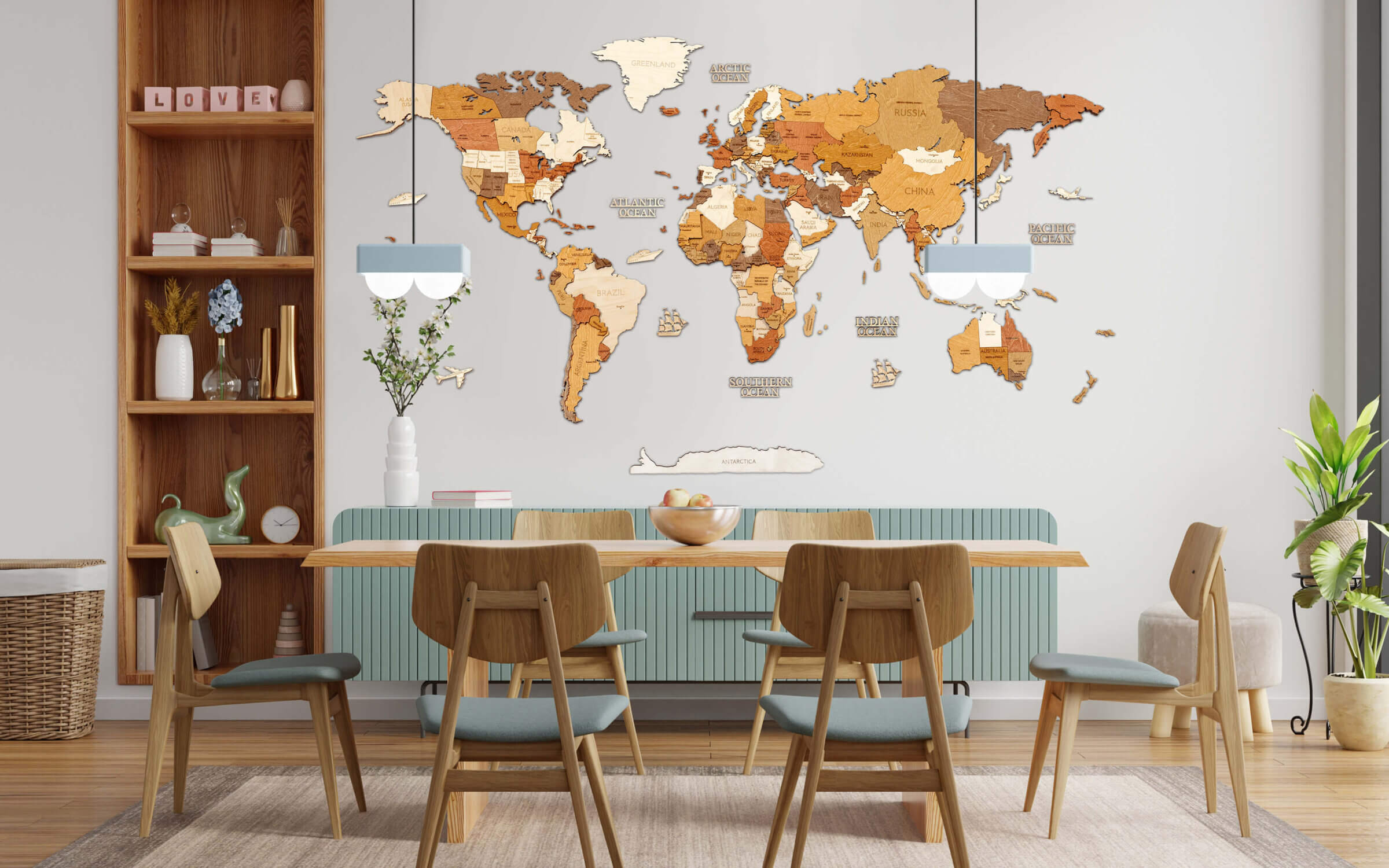 source: pinterest.com
There's nothing better than the texture of a beautiful tapestry in a room. Its fringe and the various yarns used to weave the wall hanging make it one-of-a-kind, and we absolutely love the soft muted colors it features.
Scratch-off World Map Art
It's super cool how this map can be scratched off. On the black background of the map is a gold background with a set of scratch-off countries (much like the scratch-offs on a lottery ticket). After scratching off the places you've visited, vivid colors appear beneath. Additionally, there's a section at the bottom where you can scratch off geography trivia.
Metal World Map Wall Art 
The intellectuals and travelers alike will be enthralled by this idea. A first glance might suggest that it's just an abstract wall decoration, but if you take a closer look, you'll discover that it's a metal stick world map. Our recommendation is to paint it black, as we believe it will complement this type of metal decor.
Decal World Map Art
Want to replace a hanging item with something more unique? Decal art is getting increasingly popular, and we think it's awesome! What's not to appreciate about something that's inexpensive, simple, and appealing? Furthermore, it will not damage your walls! This printed map is available in four sizes and a variety of colors. 
LED World Map Art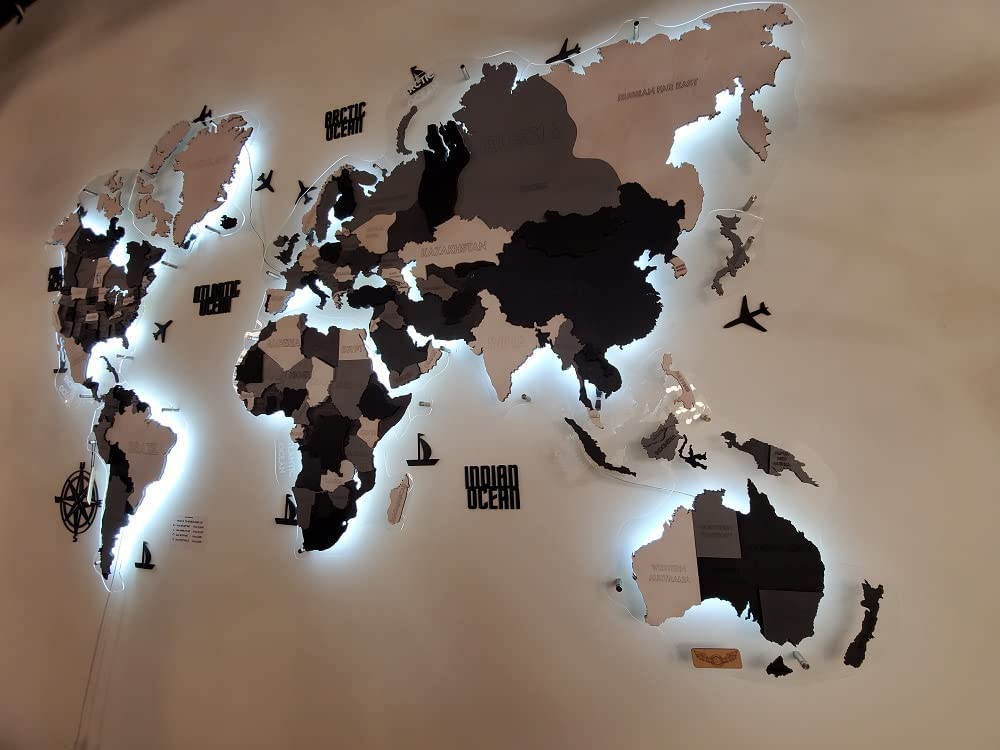 source: pinterest.com
We are proud to present one of our most creative and original maps. This map is designed to play with the map's silhouette, giving it a pure and minimalist approach. It's a great idea if you're looking to decorate your favorite room in a unique way. Additionally, LED lights are mounted on the back to create a magical ambiance.
DIY World Map Art
Last but not least, a DIY world map decor idea is a cost-effective option. To make your map, paint it with acrylic paints on a piece of cloth or ivory. Add a personal touch by pinning places you've visited or want to visit. Making your room look interesting by covering its walls with maps is a great way to grab the attention of your guests. So browse our ideas and pick the one that best fits your style!
Finding the Right Wooden World Map: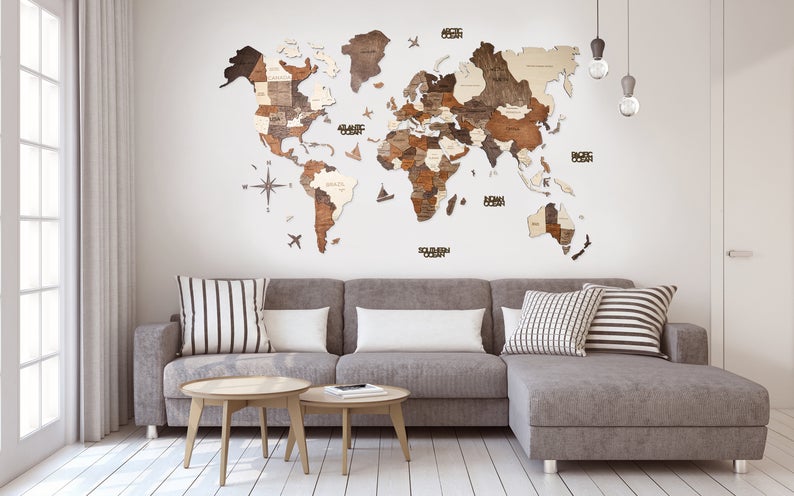 source: gifterworld.com
Nowadays, it is more and more common to decorate a home with a wooden map. Its main purpose is to decorate. Moreover, it has a powerful meaning! You can add professional design flair to your space with a wooden map. The following ideas will help you decorate your home in a stylish manner:
Measure the size you need: Make sure the map is not too bulky. The map should not be wide enough to hang above the sofa. There may be a slight difference in width between it and a bed. Don't forget to leave enough space between the furniture and the ceiling if you want your room to look spacious.

Color: Even though the wooden map is made of wood, it is not bound to have a single color. You can select from many different colors, as well as those unique to each state or country. There are a variety of color palettes you can choose from. 

Illuminated or not: If you want an illuminated world map in your living room or bedroom, you can choose one with an LED light. In addition to having a warm glow, it can also be used as a night light in place of a lamp. 

Pins: Put colored pins on your travels to mark your destinations. It's even possible to pin your favorite adventure photos on the neutral map. Be careful not to overdo it.
Features of Wooden World Map Wall Art: 
source: pinterest.com
Then let's consider the major features of the wooden map on your wall after selecting your ideal world map wall art. There is more to this piece of art than just beauty. Numerous advantages come with it. The following are the most obvious perks:
Easy to install: The map is easy to adjust on your wall without hiring an expert. The only thing you need to do is find the perfect spot.

Cleans easily: Instead of paint that can become dusty without being able to be cleaned, wooden maps just need to be wiped.

Educative: The piece of art in your room can teach you about all the countries or states. There are a variety of luminous maps available, each highlighting a different aspect of the wood–water, fauna, or flora. It's also a great way to complete your homework.

Inspiring: Your wall map offers you multiple vacation ideas. Planning and achieving results are made easier with it. It is always a good idea to place small decorative flags on places you have visited.

Eco-friendly: There are no harmful substances used in the construction of the map. It's still a good idea to check it out before purchasing. It is okay to ask about the materials from the seller. 

Interior decor: Pick the wood color according to the walls. The addition of a light or warm wooden map will make your white walls look cozier.
Installation Tips for Wooden World Map: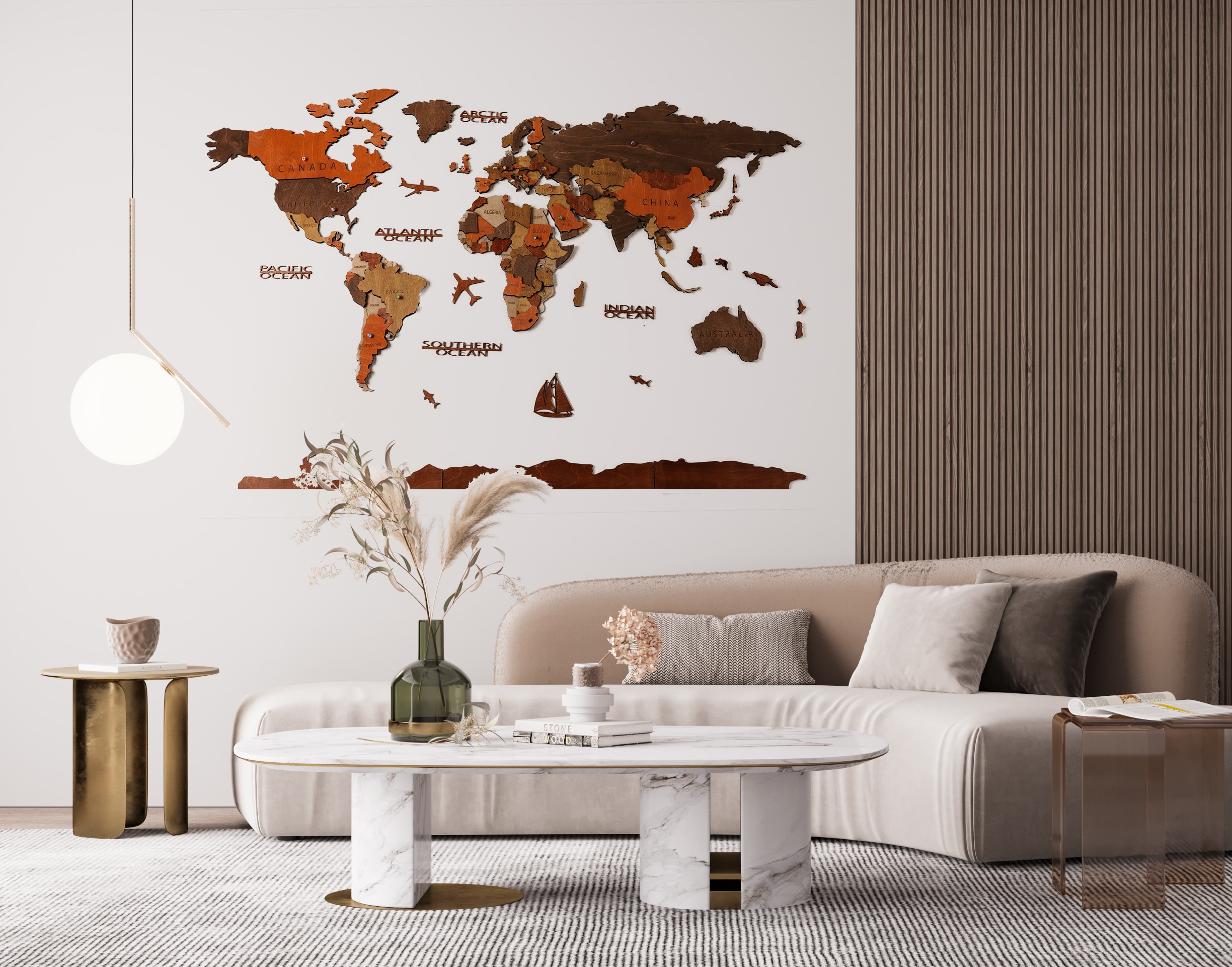 source: cozexs.com
In order to ensure that your wooden world map is attached to the wall correctly, a couple of tips will help make the process easier.
Don't rush, take your time: There will be a lot of wooden pieces you will need to attach to your wall, and each one will have its own precise location. Normally, this process takes at least two hours, but if your kids are involved, it could take even more time.

A template is a must:  By using corner templates, you can make sure your 3D wooden map is aligned with the ground and has enough space on the wall.

Don't overuse the tape: When attaching the pieces to the wall, make sure you don't use too much double-sided tape. The tape is strong enough to hold large wood pieces even if it is a small strip. 

Use a real map: Make sure you are placing the pieces correctly by downloading a map app on your phone.