For people who don't know about pegboard, pegboard is a board having the regular design of small holes, it's ready to go choice for garage storage because the board has a lot of space with many holes & a variety of hooks which is useful for neatly organizing tools. However, in recent years, crafters bring the trend of various uses of pegboard. Some popular uses for pegboard include headboards, craft organizers backsplashes, flexible artwork displays, etc. 
You might think pegboards are common and simple elements but now it's more stylish and versatile, plenty of crafters homeowners say that pegboards are the true workhorse in the house let's see that it's true or false! 
So Here Are Genius Ways To Renovate Home With Pegboard at Live Enhanced.
Pegboard in Kitchen 
source: houselogic.com
Fun & unusual usage of pegboard is to organize kitchen tools, homeowners can hang kitchen items on pegboard like spatulas, saucepan, etc, it's not just stylish or neatly organized but now it's easier to find,  instead of putting spatula in a drawer and seconds everything looks like it's before wrecked &  finding tools for an hour, it's better to organize with pegboard.
If you have a pegboard at home but it looks simple no need to buy new ones, paint them and style them as you want, flow with creative DIY ideas.
Home-Office 
In covid-19, we all know the importance of the office at home and with storage, issues might be its not possible to create an office at home. As we say before now it's easy to store after reading this, it is helpful to homeowners who work from home, kids need to study. Pegboards will make your work easier and neatly organize things you want.
You can go for more DIY ideas like a homeowner just needs a table chair and pegboard, hang your working tools as per your choice and create a stylish organized home office.
Workout from Home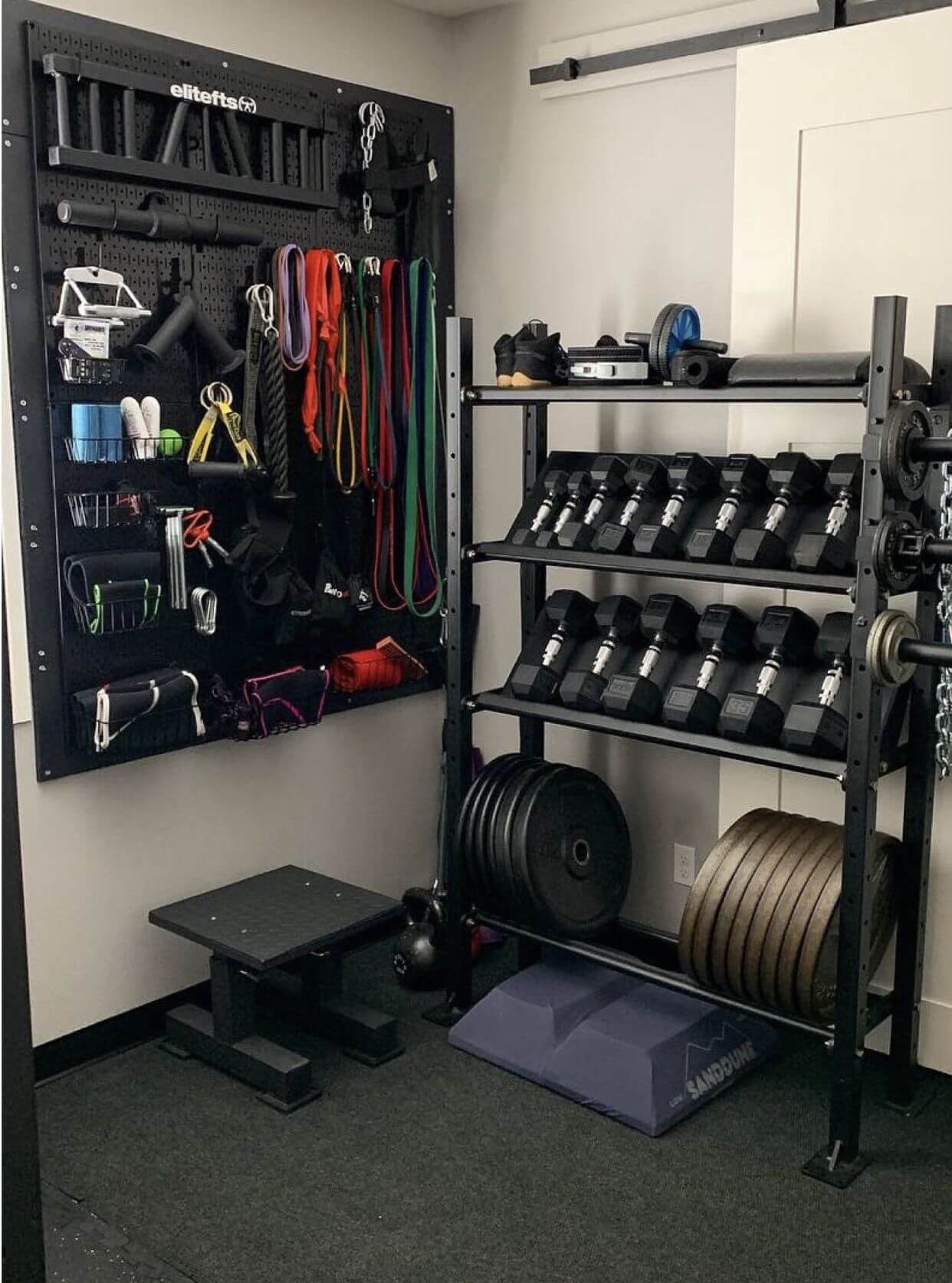 source: pinterest.com
If homeowners do not have enough space for creating a gym at home, no worries we are here with a brilliant idea of how to do a workout from home:
Example:  get a pegboard decorated in the way you want, hang a pegboard on an empty wall near your favorite house corner, organize your headphones, some magazines, sweat towel, yoga mat, exercise equipment, etc now your gym from home is ready. As you can also create dance space, Zumba, aerobic space at home with little help from a pegboard.
Ready to Go 

We always forget something when we step out from the door after this smart pegboard storage ideas you will not forget anything for sure, before covid we were not used to wearing our masks and might be some time we forget, sometimes we forget mostly keys so our team discovered the new idea for you Ready to go pegboards. 
Ready to go: You need a stylish pegboard, now organize with your daily essentials, for example: organize sunglasses, keys, jackets, masks, umbrella, etc and now you are ready to go. 
Store in Storage 
Have you ever thought your storage cabinet has not enough storage, if yes, hang a small pegboard inside the cabinet to arrange tools now it's enough space to organize tools? 
Photo Wall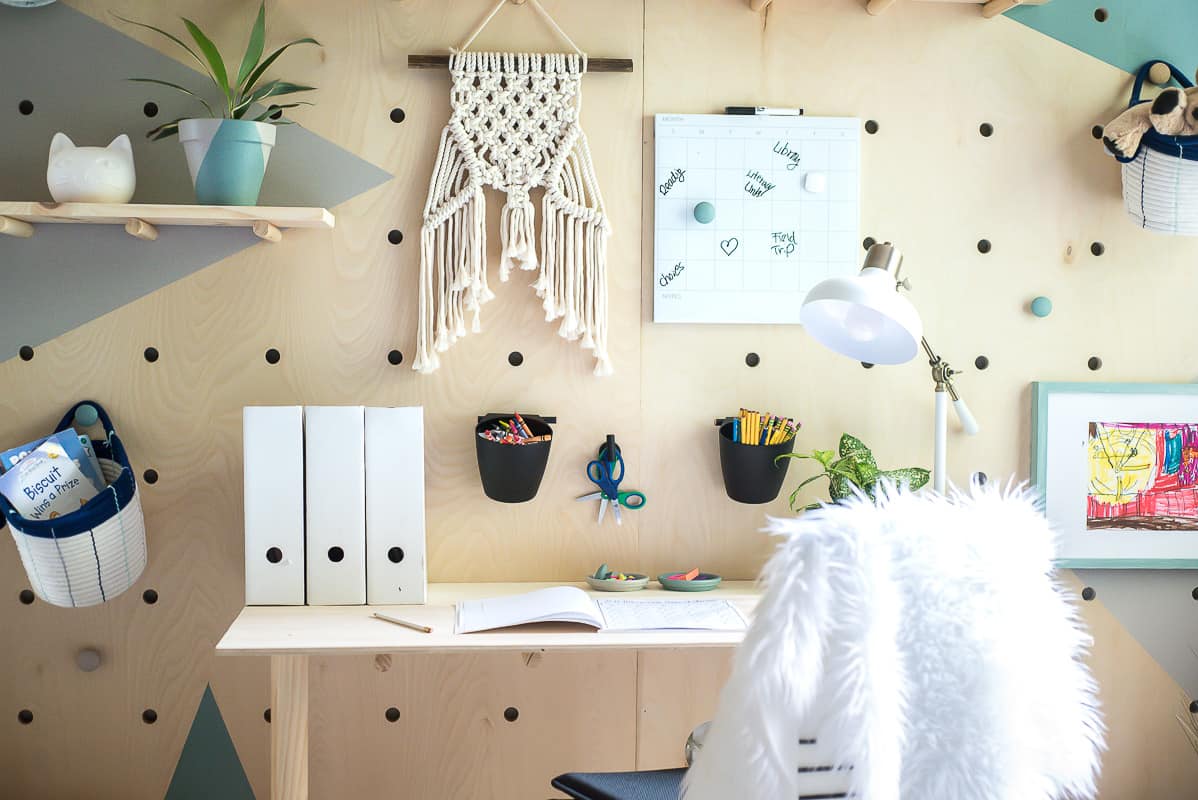 source: placeofmytaste.com
One of the useful ideas of using giant pegboards is hanging memorable photo frames on pegboards which help you to decorate your home and give you an eye-catching wall. You can also use it as an art gallery to show your creative art on framed pegboards, giant pegboards, and many more projects.  
Closet Setup  
Whether it large walk-in or a small space closet it's perfect for organizing like this. Example: hang pegboard and organize jewelry, hats, scarves, purses, and many more accessories 
Bedroom 
For small bedrooms, it's difficult to organize things and it all gets messy, hangs a pegboard and arranges alarm clocks, charging cords, paintings, etc. If you are hanging a pegboard above the head of the bed make sure it is installed well. 
Kids Room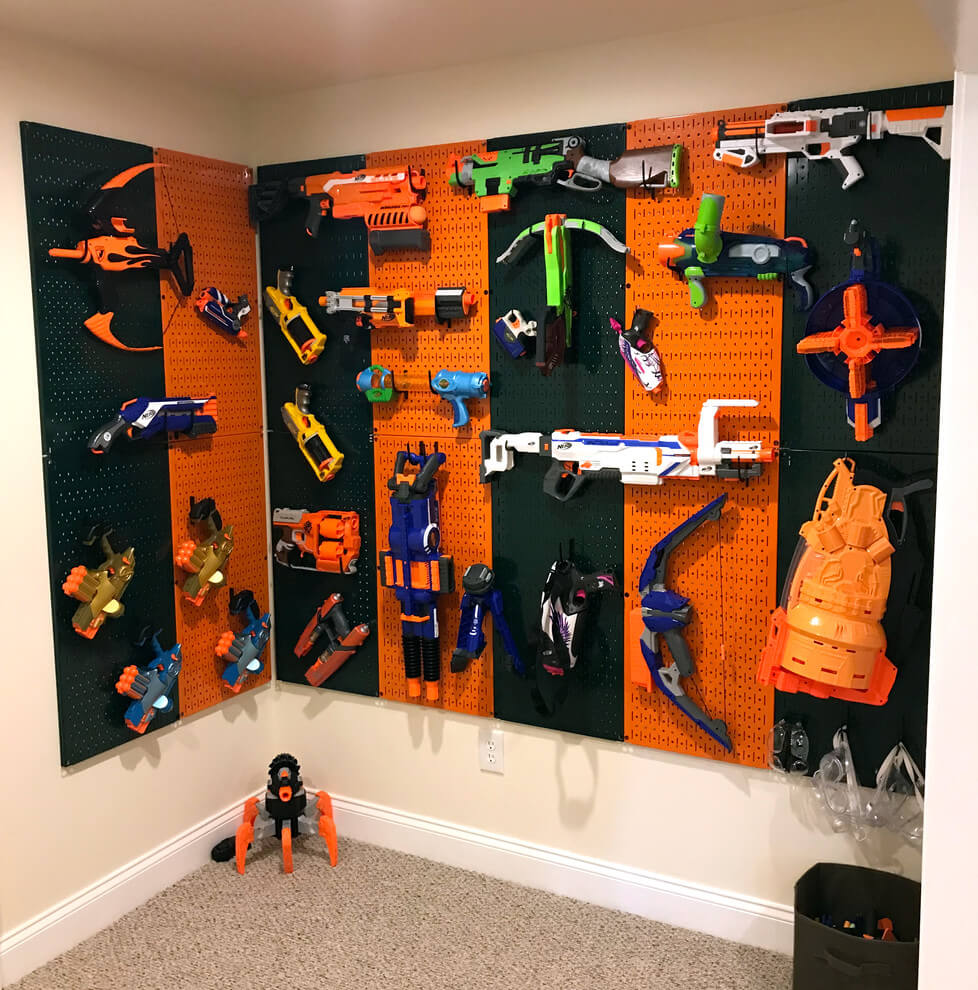 source: houzz.com
Homeowners can teach their kids about starting and displaying collections. Here, a pegboard is used to hold various rocks and geodes. Pegboard is hanging on the wall like a piece of art and can work as the collection expands and grows. You could also use a pegboard to display old pins, international coins, toy cars, etc.
Organize Electric Cords 
The most difficult storage task is how to store electronic wires and media cabinets are home of tangled mess cord came from anywhere and the question is we don't know which cord belongs to which device and somehow you find out it might break. 
For the safety of electronic cords now it's easy to arrange,  hang the pegboard inside of the media cabinet, organize cords properly, stick a note also so it makes you remember which cord belongs to which device.  
Balcony Decor 
Pegboards also help to decorate our home, the balcony is also part of our home where we rest and have a cup of coffee. Homeowners create little corners for that you need a table comfy chair, pegboard. Hang pegboard on wall install small plants or some flowers and enhance your balcony to make sure it is installed safely.
Garage 
source: makespace.com
Looking for more pegboard storage ideas before pegboard gets on trends most common use of pegboard is organizing garage tools, where homeworkers organize their tools, homeowners can mount the pegboard "doors" onto a track on the wall, and then flip through tools and they can find easily.
Theme Pegboard
A pegboard box is a  stylish way to classify and easily transported items you'll need for a certain task. For example, crafting supplies for knitting, keep together, scrapbooking, safe & easy way of travel with makeup and hair tools.
Pegboard Cart 
We learned about many creative ways of storage & how to arrange tools. This is one of the smartest ways of organizing tools. We all might have seen this kind of storage compartment at malls or shops. Benefits of pegboard carts with wheels are they are easy to move, there is lots of space in the pegboard organizer, and many functions you can make it short and tall as you require