Upgrading your kitchen may not be easy. It takes a lot of work and detailed planning, and one part of your kitchen is the countertop. It is a horizontal flat surface for working on, especially in the kitchen. To have a countertop in your kitchen is not an easy decision, both concerning the expense and durability.
Nowadays, engineers have gone past Calacatta and Carrara marbles. They are showing new ideas for countertops, and they will use just about anything for the kitchen, to make it look good.
There is a lot of options when it comes to countertops. You can have zinc, wood, tile, limestones or concrete. But the most common offered countertops are stone (quartz), solid surface, laminate, and slab granite. Here's a short list of kitchen countertops with its benefits that will help you decide what's best for you.
Granite Countertops
Slab granites are natural stones, and it can endure heat, especially scratches. Slab granites are stain and bacteria-resistant when it's properly sealed. It's the ideal surface for food preparation.
Benefits
Having slab granite in the kitchen may increase the value of your kitchen.
Less seams or no visible seams.
Granite brings out the beauty of your kitchen.
Quartz Countertops
Made from one of the most durable natural mineral found on earth is the Quartz countertops. Countertops made from Quartz are low in maintenance. Quartz countertops are not complicated. It's easy to clean, non-porous, and stain-resistant.
Benefits
An eye catcher due to quartz crystals

Like granite, quartz countertops also has a high resale value.

Most quartz has antibacterial agents added.
Solid Surface Countertops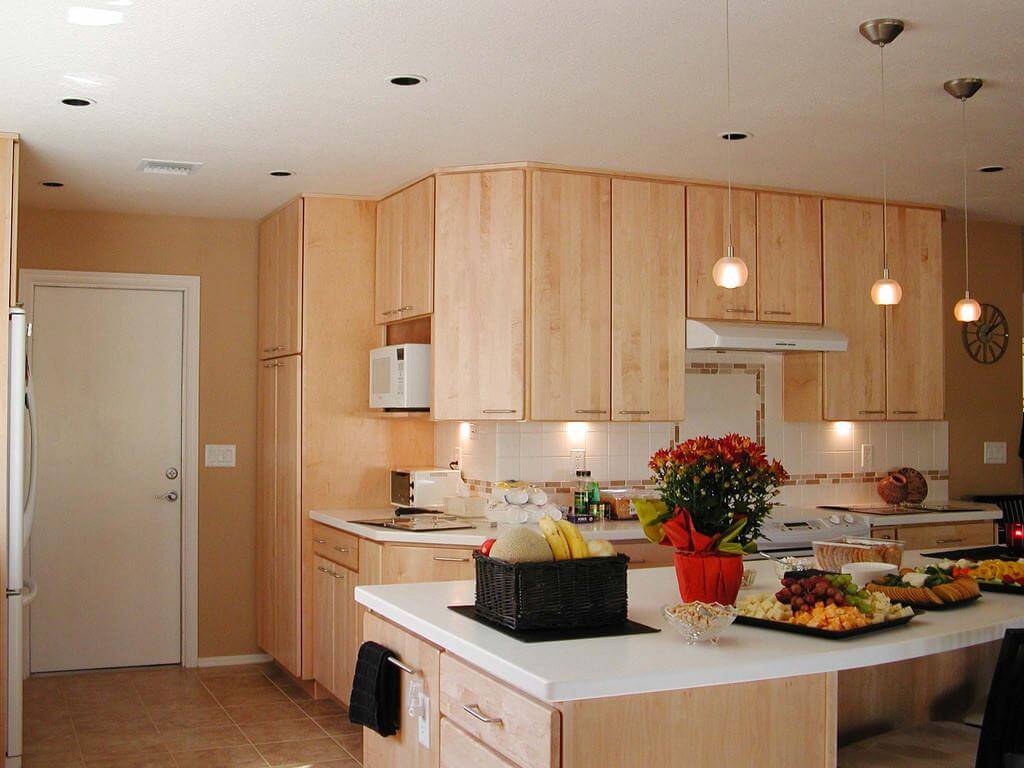 When you want an affordable and more efficient option, installing solid countertops would be a bold move. Most of the solid countertops are composed of non-porous acrylic. It's seamless, stain and bacteria-resistant and, easy to clean.
Benefits
Solid countertops are cheaper than granite and quartz.

Appearance is not far from granite or quartz.

It's easy to repair when scratch.
Laminate Countertops
Laminate countertops are low in maintenance and have a vast range of styles and designs. This kind of countertop is stylish and affordable that'll surely make any kitchen glamorous.
Benefits
Laminate countertops are suitable for DIY(Do It Yourself) installation.

It's the most affordable countertop option.

Laminate countertops are water-resistant.
Ceramic Countertops
One of the most popular countertops is the ceramic tile countertop. Ceramic tile countertops are cheap, and most homeowners install the tiles themselves. It can also be a beauty to your kitchen.
Benefits
It can be very attractive.

It's incredibly cheap than the other countertops.

It can be installed quickly without the help of engineers.
Concrete Countertops
Concrete countertops are trendy, and infusing it to your kitchen will result into having a unique urban appearance. It is the only countertop material that you can customize entirely to your liking. Concrete countertop has a particular quality that no other countertop material has. This material can be styled, shaped and colored.
Benefits
It has minimal maintenance.

Can be shaped entirely to your liking.

It is attractive and adds aesthetic value.
Stainless Steel Countertops
One of the most common countertops in a restaurant kitchen is the stainless steel countertops. Nowadays this countertop is also becoming popular in home kitchens. Stainless steel countertops have a modern appearance. These steels have high durability and great with heat.
Benefits
Stainless steel counterparts have low-maintenance.

No seams to harbor and germs.

Scratches are easily repairable.
Wood Countertops
Wooden countertops are becoming popular both in the restaurant and residential kitchens. It has luxurious, glossy, deep appearance. Although it's prone to heat and water damage, it can provide your kitchen with a warm and welcoming atmosphere.
Benefits
Wooden counterparts are highly unique and special.

It's eco-friendly.

Attractive and brings a classic look to the kitchen.
Takeaway
Countertops can be very helpful especially in the kitchen, and there are various kinds of countertops in the market today. It will always depend on you on what type of countertop you want to install in your kitchen. These lists are just 8 of the most common countertops in the market. You can visit Floform if you wish to seek more of these designs.