Newyear 2023 party is on board! Wanna up-level your makeover, dress checked, accessories checked, and same makeup look as always checked? Well, why you can't go with the monotonous-outdated dress when you're not experimenting with makeup and following stuffy makeup rituals, it's not your fault. When it comes to makeup, compact, foundation, lipstick, eyeshadow, and eyeliner pop up to mind. To keep you up to date with a complete nye party look. Here are the following makeup trends in 2023 you shouldn't miss out on!
Makeup Trends 2023: Take a Look!
Prismatic Eye-Makeup Trends 2023: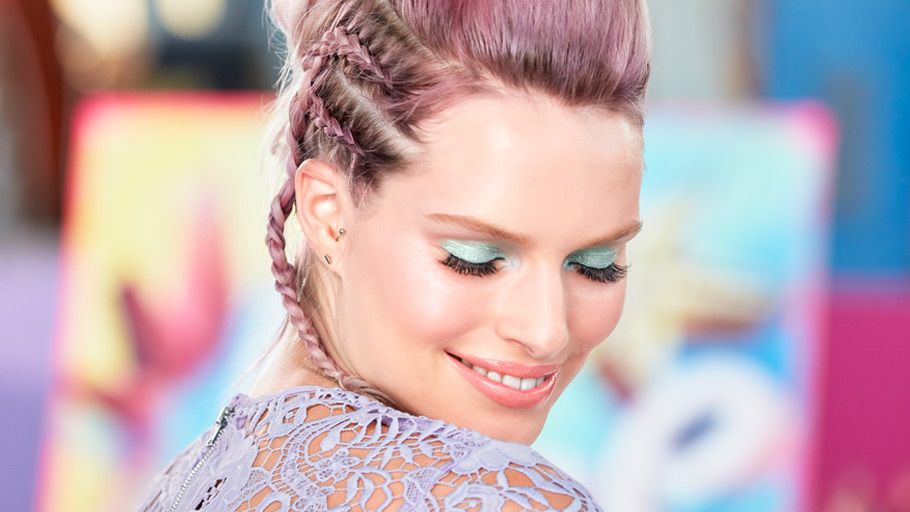 source: pinterest.com
As we know prism hair color trend is set to welcome in 2023, but we were aware that makeup artists have the ability to turn in prismatic as a makeup trends too. If you're a risk-taker or your 2023 resolution is going for an adventure as well as keep experimenting with new things, showing up with a prismatic makeup look will mark you as done. To begin with, unfold the eyeshadow palette and brush-up your eyes with pastel & silver shimmer shades. No doubt this will take your NYE Party look to the next level.
Skinimalist Bare Makeup Trends:
Skinimalist is another term for the less products the better look showcasing a natural charm. Thankfully, cakey makeup will soon end in 2023; we've already seen makeup reels showing makeup products that seem like fake makeup looks. To start, choosing coverage will be lighter, blush and shadow textures will be more seamless, and cutting creases on eyes will be a key component of the skinimalist bare makeup trends that are expected to dominate 2023 makeup trends. Simply a return to pure, uncomplicated beauty that emphasizes the natural features of the face with softer tones.
Neon Makeup Trends 2023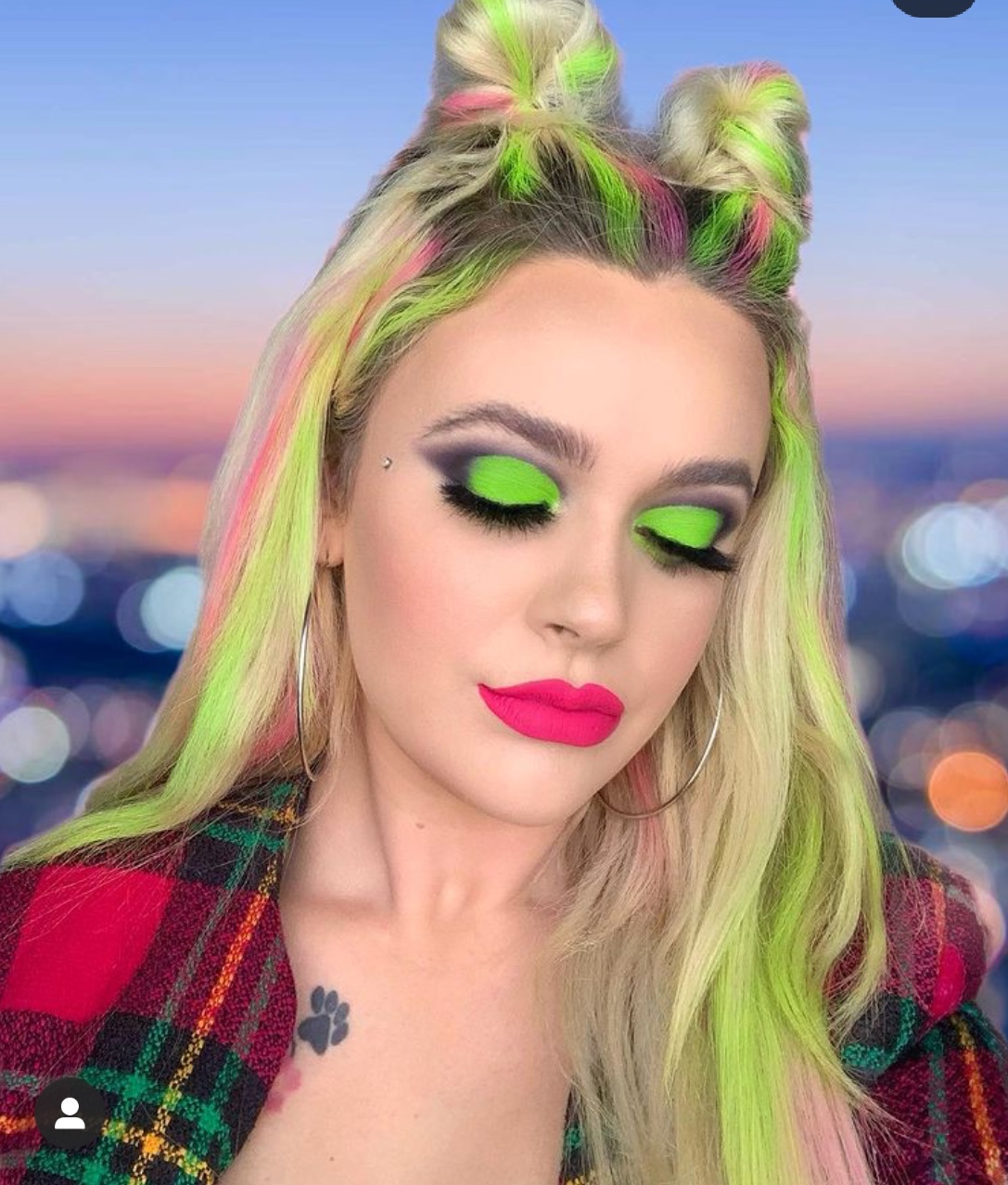 source: pinterest.com
Neon, also known as fluorescent, is one of the boldest and most funkiest color trends currently in use in 2022, and it won't be going anywhere in 2023 either. So, you're already prepared to attend a neon new year's party theme. We've already witnessed that as nail paint-nail art, dresses, and so on. With 2023 makeup trends, it's time to grab everyone's attention. Choose neon rainbow eyeshadow, neon lipstick for added boldness, and more. In fact, trendsetting teenagers frequently associate neons with fun, excess, and frivolity, often associating them with clubs and nightlife. It's important to keep in mind that neon colors are occasionally used to denote danger or warnings; we can view that as a danger sign for partygoers. 
Valentino Pink Makeup Trend:
Pink never fails to please anyone, whether they are teenagers or elders. Pink is a color of femininity that resembles barbiecore. Thanks to Valentino PP- Popping pink makeup trend. This implies just a tint of pink on your eyes. Poppin' pink is the color that best lends a hint of vivacity to any makeup look. Whether it's bold eyeshadow, graphic eyeliner, or a striking pink blush; freely play pick with pink around the clock. 
Colored Eye-Lashes: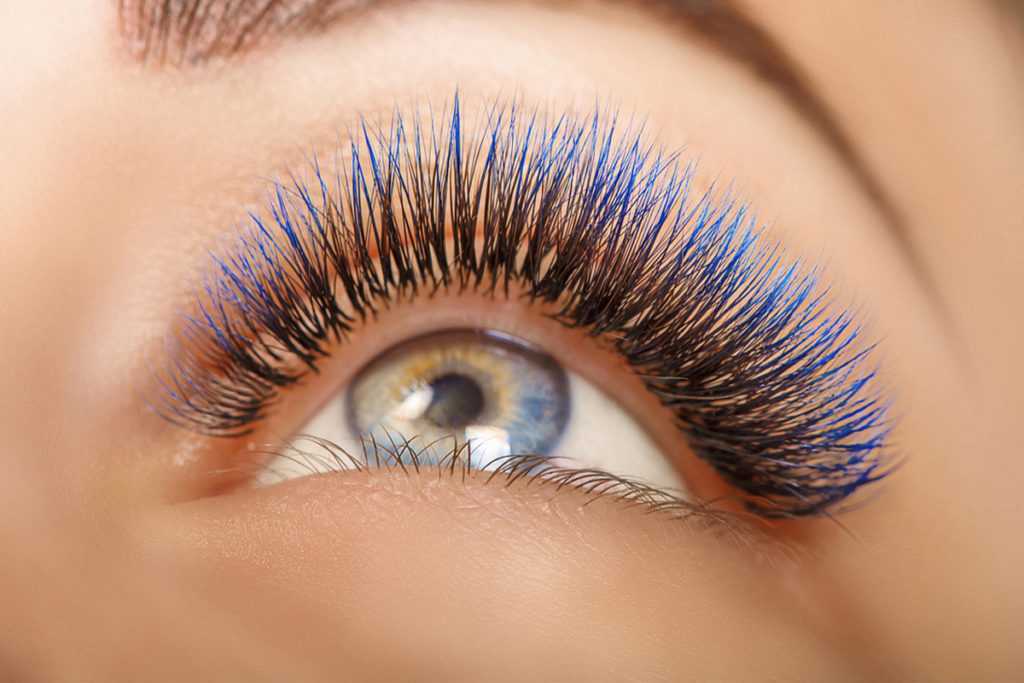 source: pinterest.com
As we see makeup trends 2023 is a full package of color-splashing games, similar to neon makeup trends, colored eyes lashes are one of them that never fails to catch the eye of attention. To get a fantabulous look this new year 2023 for party-bash, utilizing colored mascara like turquoise blue, bubblegum pink, angel lavender, and neon green will never fail to make you look & feel like a partygoer.
Korean Style Makeup trends:
Koreans are currently in the spotlight, whether it's about series, movies, or music Korean are benchmarked all over the globe. To keep with the trend the Korean style makeup is all set to impress Korean fans and unlocks the door of makeup trends in 2023. As a result; blurred lips are a Korean makeup favorite and offer a natural-fresh look, with the lip color in the center of the lips and diffused edges this stands out from other makeup trends. In fact, it's not just easy to put on, but it can be created with different lip colors as well. 
Vampire Skin Makeup:
Do not mistake it; vampire makeup is not what it seems, and it is not a Halloween makeup idea. The goal of vampire skin makeup is to emphasize the wearer's gleaming cheekbones and facial features. TBH vampire makeup skin is outdated nowadays, it was fine for Halloween but for gala or cocktail parties it's a big no. If you're someone who wishes to show in-depth face detailing, vampire skin makeup is what all you need; dark lipstick, shiny highlights/contours, smokey eyes with long cat-eye liner, and there you go completely bold & dark.
Pointed Brow shape trends: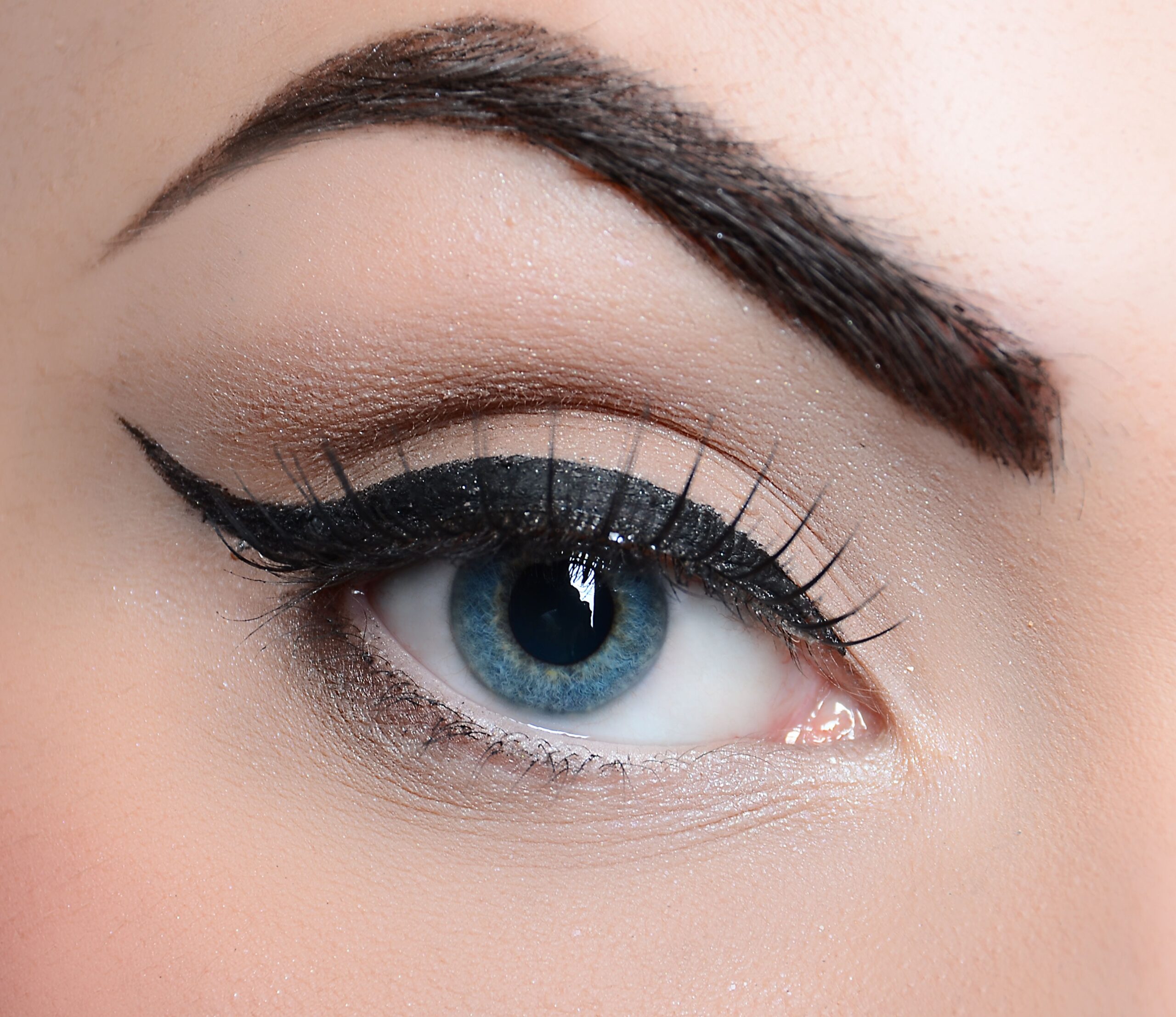 source: pinterest.com
Eyebrow shaping is as important as following other makeup trends, eyebrow shaping is not just about shaping your brows or basic eyebrow threading. Eyebrow shaping plays a vital role in improvising overall facial features. In addition, choosing the right eyebrow shape is all about what suits your face & you are found zero guilty. To help you better understand all eyebrow shape trends, pointed brow shape is running in the spotlight. Whether it's a heart shape face or Oval shape face, the pointed brow shape never goes wrong. 
Graphic Eyeliner Makeup Trends 2023:
In addition to colorful splashes or tints on the face, creativity never walks back. Graphic eyeliner is something that will never fail to imply 2023 is a sign of being creative & colorful. To begin with; swipe a cat-eye liner with one color like lemon green and above a thick strip of aqua blue for a duo-graphic eyeliner look. In addition, you can experiment with patterns, shapes, and so on. Whether it's a rocking concert, Newyear-weekend party for partygoers, a graphic eyeliner theme will give 100% to an up-level makeup game strong. 
Wrap-up: Risktaker, Colorful, Creative!
2022 Is coming to an end, hope now you get some astonishing makeup inspo ideas for the 2023 new year's eve party. The aforementioned makeup trends will never pass up the opportunity to make your appearance stand out at every party. However, keep in mind that people will interpret it positively rather than negatively. As such, make sure your appearance is appropriate for the event or party; some of the aforementioned makeup trends require courage to wear, and 2023 is all about being adventurous, colorful, and creative.