In the last twenty years, top celebrities have often been seen wearing this rock-star look of combining the famous leather jacket with a beanie or a toque. This outfit match started trending fast due to giving out an assertive attitude in a relaxed and comfortable way. There are a lot of fashionable styles in which you can match your leather jacket. The most encountered involves wearing it with an oversized sweatshirt or a baggy blouse slightly longer than the jacket, in a color that compliments your skin tone, paired with tight skinny jeans and army boots. 
This rock-star vibe inspires many individuals to feel more confident while carrying themselves. It helps enrich one's persona with enough self-assurance and trust to act as a true rock star. Everyone is looking to dress as comfortably as possible while looking fiercely flawless. As long as the weather conditions allow it, wearing a leather jacket with a beanie can provide all of these.
The Rockstar Vibe
source: pinterest.com
Not many vestimentary choices can provide comfort and be as effortlessly cool as this combination. You can get the full-on rocker vibe from wearing tight leather pants with boots and a sexy leather jacket. A beanie is an extra touch that gives this outfit a cozier vibe that diminishes the substantial visual impact a whole leather outfit can have. 
The lovely color contrast between the chosen top and the jacket can make a difference in this look. When in doubt, go for white, always. Some styles look exquisitely good when going for entire black, but it is highly recommended to either put on a splash of color on your toque or wear a fine bright accessory. Black and silver belts with hanging chains are easy to integrate into this outfit.
The rockstar vibe is all about carrying your leather outfit with confidence and a deep state of relaxation. Suppose you do not want to be considered overconfident or extravagant by society's individuals nowadays. In that case, you can always wear simple black pants, a white tee, and your most beloved leather jacket. This is a look that almost 80% of the population has at least once tried and put on. It is considered a milder version of the tough complete leather look.
Strong Attitude
source: pinterest.com
For individuals who choose to approach this look, the leather jacket aspect of this outfit shows a boost of confidence and a strong attitude. The attitude is demonstrated through the way an individual carries their outfit, walks and talks, and his confident but smirky facial expressions.
A strong attitude can save you in many circumstances that society or life experiences can put you through.
Maintaining a positive mentality can be tricky, but the second attitude takes charge of any imbalance or negativity that is quickly swept away. An outfit can tell so much about an individual, and this characteristic is most often present when wearing leather jackets.
Regardless of what outfit you choose to wear, it is always best if you try to show an attitude towards complex tasks you may encounter whenever you have to leave the house. According to top psychologists, a strong mind maintains its position no matter the difficulty of the situation.
Always Trending
source: youraverageguystyle.com
Since the existence of rock music, the fashion industry has been enriched with a multitude of options to provide the look and confidence a rock star has. The leather jacket combined with a toque started to be considered an all-timer when it comes to casual. This adored look has made many people fond of it and approaches it daily. Always trending, at the first feeling of a chilly weather condition, many start browsing through their collection for a beanie to accessorize their outfit like a celebrity.
Faux vs Real Leather
This topic has made a great deal out of the fashion industry. Since all the fuss about convincing individuals to wear less genuine leather and fur, the clothing industry has developed an excellent fabric imitation. While many people still choose natural leather because time has shown to be more of a long-lasting fabric for jackets, there are plenty of others that prefer the faux fabric for many reasons. The faux material is usually cheaper than the real one, making clothing items more accessible. It has a less environmental impact while being animal cruelty-free. These aspects mostly dot the I and convince someone to make this decision.
While the demand for genuine leather has been growing for a long time, a substantial impact on animals and the environment has been felt. For people that do not mind their items being a little less lasting in time, it is advisable to go for the faux material to prevent animal cruelty and damaging effects on the environment.
Style variations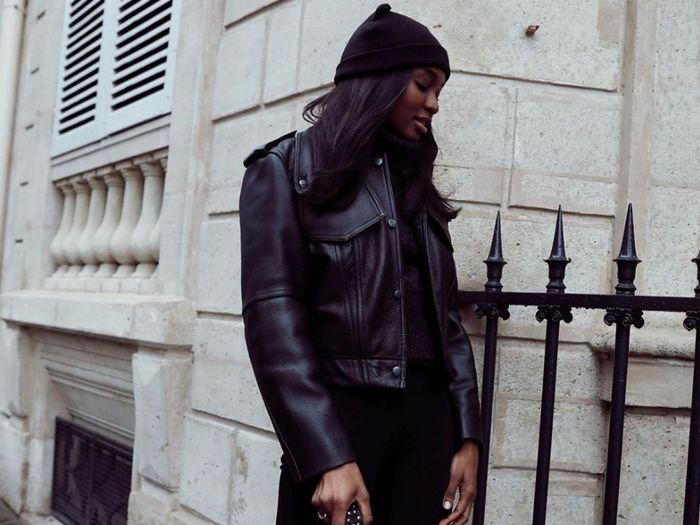 source: cliqueinc.com
Regardless of the style, you may want to approach while getting dressed, there are plenty of variations available these days. When it comes to matching your leather jacket to an outfit, many ways are acceptable in a very fashionistic way. While celebrities are the primary source of inspiration for what is acceptable and what is not, there is a long list of style variations approved to be worn on many occasions. Here are a few of the combinations you can wear your leather jacket with:
A long dress paired with sneakers, a leather jacket, and a toque

Jeans of any color and crop tops, mostly worn with sneakers or army boots for a casual event or high-heels for a lunch meeting type of circumstance

You can wear a graphic t-shirt expressing a message according to your personality to add a little personal touch along with a complimentary colored toque.

You can approach a sportier style by wearing joggers and a hoodie matched with a beanie and your black leather jacket.

Even leather jackets have different styles, such as bombers or the motorcycle style. Bombers are less chambered, suitable in fewer variations, giving a more old-school touch to your outfit. The biker jacket is usually cut asymmetrically with a tailored waist and contrasting zippers.