Without a doubt, there are numerous versions of an ideal place of living. The variety of styles and designs only complements personalized decisions. At the same time, the presence of features that coincide across the projects is also meaningful. Regardless of what aesthetics is your cup of tea, a well-organized entryway is a stunning option for any house or apartment.
One of the simplest methods to introduce more functionality into a pretty limited space is the purchase of a contemporary coat stand. Seeking highly subjective models, interested parties will be able to notice how ergonomic, eye-catching, and efficient they are. Stay tuned to check out the best ideas for free-standing coat racks. Onwards!
The Key to Selecting Modern Coat Racks
source: Modern Free-Standing Coat Racks
Before getting acquainted with what models will suit your apartment/house/office, it is necessary to understand your own decision-making criteria:
You have different options when you look for a coat rack to place in the bedroom or restroom. The unlike amount of free space is highly influential in this case. After you answer the question of where your purchased item will be located, it will be clearer what category of items is the best one.

Don't forget about the overall functionality. The main mission is to keep your living/working space of clutter. Take into account how many clothes and shoes you actually have to locate in a target room.

Pay attention to what styles of racks and wall hooks are present in general. Apart from metal or wooden standalone, enthusiasts are welcome to add a few

wall-mounted

solutions to ensure the space is organized perfectly.
Exclusive Interior Accents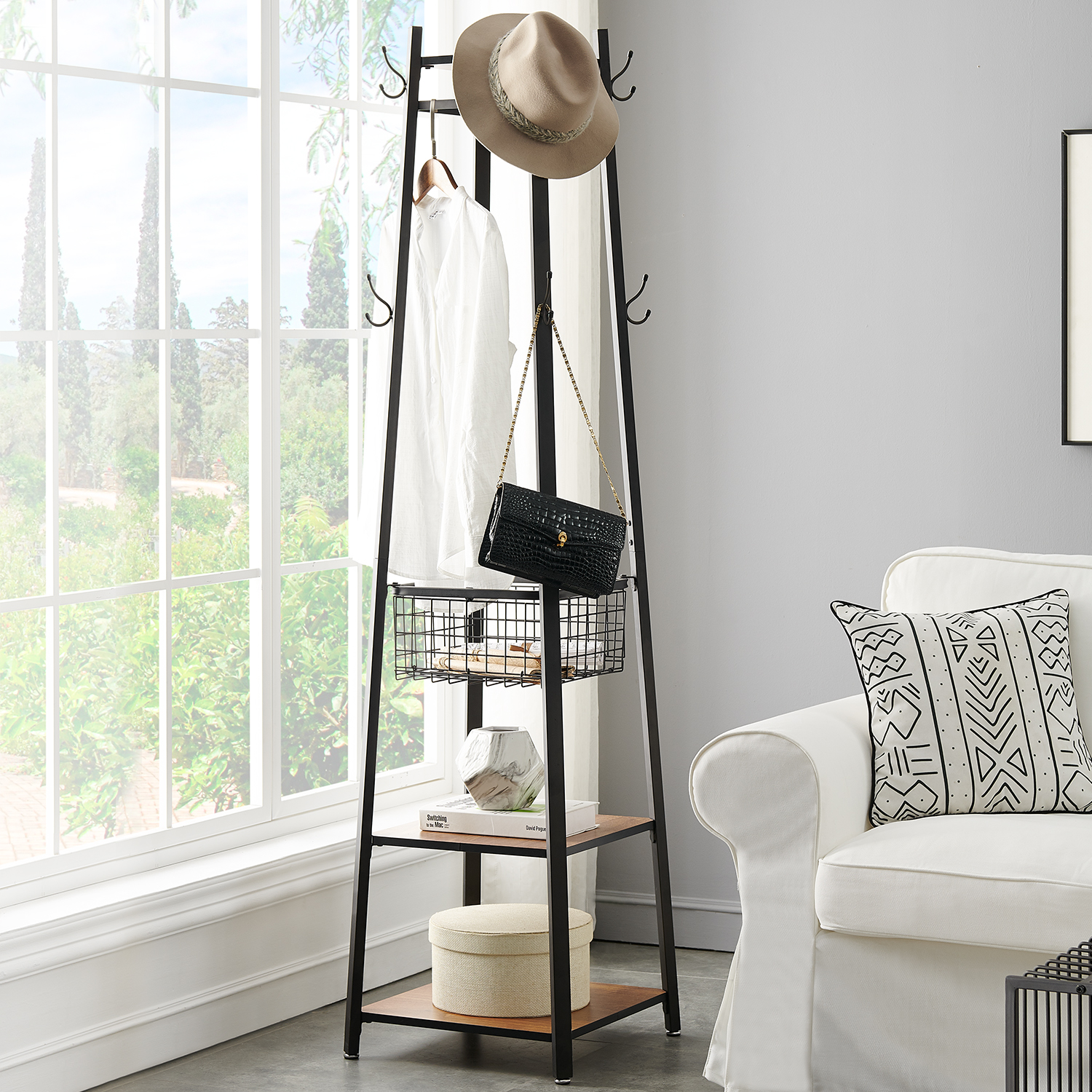 source: pinterest.com
Searching for the best options in the field of modern furniture design, enthusiasts will come across multiple matching variants. Modern and contemporary coat stands are more advantageous not only thanks to their appealing vibe. They can also be excellent decor elements within several interiors. Here are the most favorite means of tidying up your space:
If you are passionate about remakes of classic structures and constructions, the Tonelli assortment will be lifesaving. This is especially valid for their Shoji Wardrobe. It will bring a lot of coziness into your bedroom or living room. Don't hesitate to experiment with its door panels. You can choose from mirror surfaces to unique layouts like glossy Emperador ceramic and other variants of finishes.

Vertigo Wall Rack provides a modified vintage appeal. It is a good alternative to standard wall hooks and mounted racks. It is known under the Nomon brand.

Combining different surfaces is a popular trend in the current market, so Jupiter Coat Hanger will be a great solution. Designed by Carlo Ballabio, this model is presented in a vast number of frames, glass discs, plate, and hook finishes.

Ekero Coat Rack is a gorgeous match of wood and metal. Its unusual shape will add softness and individualism to any space. This creation is one of Porada's treasures.

Multifunctional stands are another trend in the market, and Yannik Valet Stand will be a stunning sample. It has elements for hanging and putting items. Its seat detail can be made of wood or soft leather. The variety of colors is also impressive — from warm tones like Biscotto and Tabacco to bright accents like Sherwood and Lobster.

A free-standing coat rack is a traditional choice for many private houses and offices. If you want to contribute to the style uniqueness, Twist Coat Rack is a nice match. The name is self-explanatory — the bunch of twisted tubes can be presented in multiple finishes, including mono styles, tricolor, and multicolor.

Valdo Coat Rack by Cattelan Italia is a more brutal version of the previous model. The manufacturer has played with forms and combined twisted and flattened areas. The finish choice is also unprecedented — titanium or graphite.

If you are interested in simple yet sleek designs, Segmenti Coat Hanger is the right consideration. It resembles common racks most of all the presented models, but the chandelier-like construction of the top part is omitted. In turn, more visual logic and smoothness are achieved.

Sipario Coat Rack resembles a free-standing piece of curtain, which is totally charming and specific. Its elegance is a result of artwork by Pierpaolo Zanchin. As you can guess from his name, it is a unit of Italian production.

Wood racks are absolutely glorious and don't need additional beauty intensifiers. Oscar Coat Rack is a nice solution in this case. Whether you prefer a burned oak or canaletto walnut finish, the presence of royal in its decor line can't be hidden.
Where to Buy
source: pinterest.com
There are numerous retailers that provide convenient order-placing conditions, affordable prices, and fast delivery. However, it is also important to find a partner with a marvelous collection of coat racks and stands. From this perspective, room service 360° is a nice marketplace with myriads of luxury modern furniture ideas. For more detail, you can always contact the provider and check whether a target model will suit your particular requirements.