Introduction
In this coronavirus pandemic, the sanitizer and masks become the new essentials of our life. When we are away from home, we can't wash our hands again and again. So, with the help of sanitizers, we can clean hands without water and make the cleaning process easy and quick. The World Health Organisation (WHO) has announced that the routine of handwashing is an essential safety precaution against severe disease-causing illnesses.
The new coronavirus is rapidly spreading from person to person. Millions of microbes can propagate quickly on regularly accessed substances such as desks, door handles, light switches, tile floors, handles, benches, computers, keyboards, toilets, faucets, and sinks. The Centers for Disease Control and Prevention ( CDC) has urged the public to wash their hands regularly for at least 20 seconds with soap and water to avoid infection, and you can use a sanitizer if soap and water are not easily accessible.
source: usatoday.com
The plurality of them is out of stock, however, with the increasing demand for hand sanitizers. It would be best if you still used hand sanitizer wipes in such situations, as they have the same degree of sanitation and protection. The huge bonus of using hand sanitizer wipes is that you can use them at school, at work, in the taxi, on the subway, and so on, anytime and wherever.
The benefits of using hand sanitizing wipes
Convenient to use – It is easy to use an sanitizer as this is a source that is checked and trustworthy. You can carry it. In your wallet, bag, vehicle, and you can carry bottles or hold a small amount at a workstation or desk. There is not always convenient access to water and a sink including in a school environment or at a public sports event. Stop the hassle of locating a sink and wiping hands or standing in the bathroom in long queues by actually bringing with you a tiny fraction of sanitizer. Before and after feeding, when cooking food or when hands can be easily polluted with body fluids, the CDC advises washing hands. It is easy to use a sanitizer or wipes to sanitise your hands. 
More reliable and better – According to studies cited by the CDC, using just a sanitizer is far more efficient in lowering the spread of rotavirus, adenovirus and rhinovirus relative to prescribed medication and non-medicated hand soaps. Studied sanitizers include those when healthcare staff used hand sanitizer instead of daily hand washing, bacteria, such as gram-negative bacilli, were less likely to be transmitted from patients.
source: insider.com
Requires Less time – Sanitizing your hands takes much lesser time as compared to washing with soap. As applying soap, cleaning it and then drying requires more time and with a sanitizer, you have to rub your hands, and it gets dissolved in your hand quickly and easily. 
Less irritating on hands – The sanitizer feels less annoying for our skin than soap and water. But in some cases, it has some opposite effects. However, it varies from skin to skin. Hand sanitizer washing wipes offer effective sanitizing agents that serve as a brusque in seconds to eliminate germs that contaminants from the skin. Broad-spectrum formulations work against a variety of pathogens, reducing the number of microbes in the hands while being smooth on the scalp. 
The primary ingredient varies by the brand in sanitizing wipes, but most contain either ethyl or benzethonium chloride, all of which are effective antibacterial agents. To relieve and moisturize the scalp, wipes are often cruelty-free and fortified with aloe vera. Wipes are not oily and leave no stains on their palms, making them suitable in a fast-paced atmosphere for on-the-go use.
How sanitizing wipes are more useful than liquid sanitizer?
When you use liquid sanitizers, and carry it in your purse or say bag, there is the danger if it gets spilled in the bag and it might ruin other things in that purse too. And in case of hand wipes, there is no danger of it ruining the items present in the bag. 
Disadvantages of using sanitizer wipes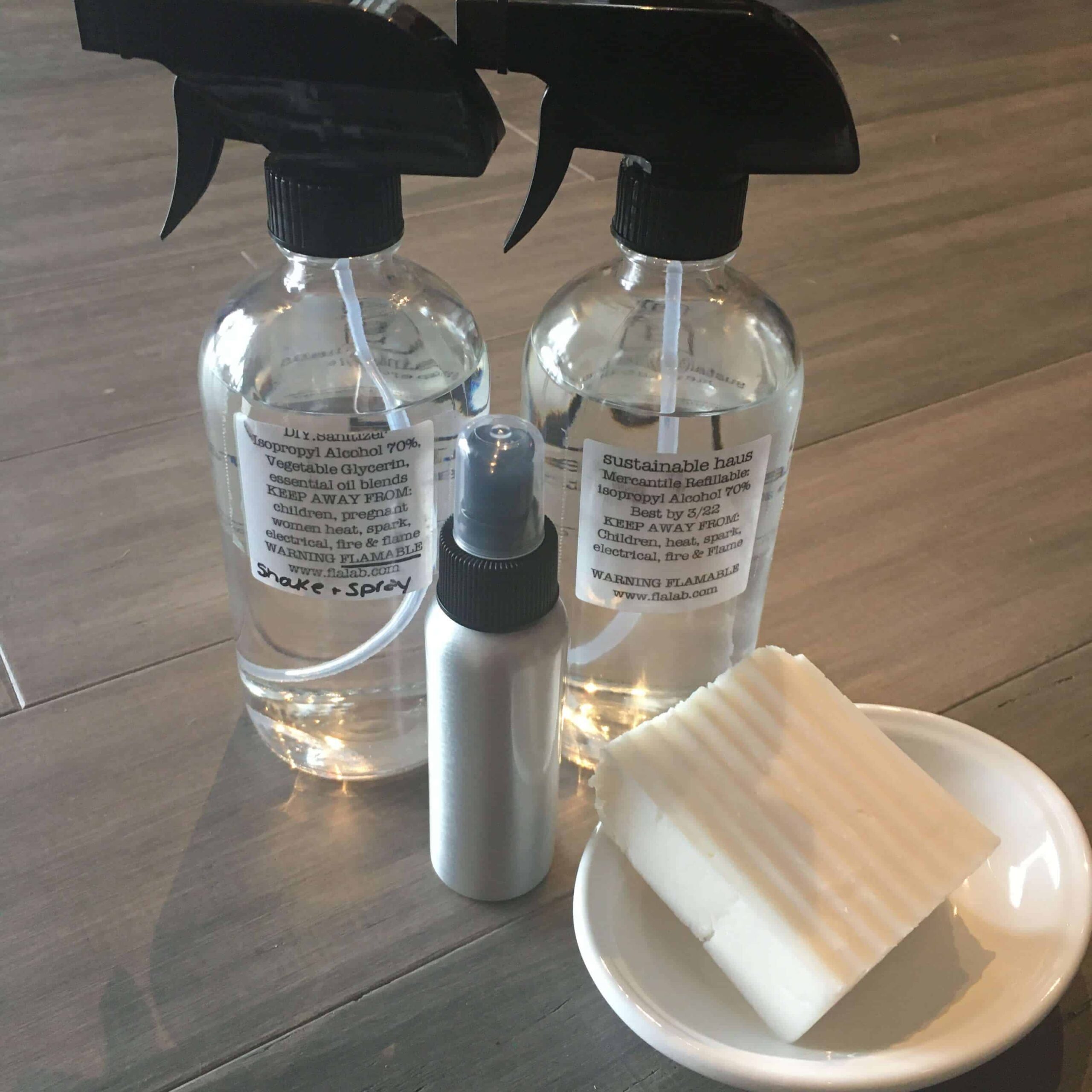 source: sustainablehaus.com
Less effective – Amongst the worst points associated with the use of hand sanitizers is that liquid soaps or bar soaps do not disinfect the hands as efficiently and. They will certainly remove the visible debris, but we can't replace hand wash. If you are not close to any visible source of water, all those little hand sanitizer containers can be handy, but other than that, and they must not be used for washing.
Clears good bacteria – Another big downside to using hand sanitizers is that they might lead to endocrine system damage. These methods for antibacterial hand washing consist of triclosan or triclocarban, substances that are capable of destroying both common and positive bacteria which is useful for our body. Such hand sanitizers are unable to differentiate between favorable and harmful bacteria and therefore act as endocrine disruptors.
Can be hazardous for kids – The majority of hand sanitizers offered on the markets possess a significant ethyl content, a form of chemical that should be retained out from the hands of children. Children must still be watched by adults when they are using hand sanitizers. 
Decrease the immunity of kids – Research has proved that usage of hand sanitizers can lower the child's immunity, and this is a significant disadvantage. Kids tend to fall ill more easily and quickly once they start using these liquid sanitizers. Ultra-clean environments during the initial stages of a child's life lower their immunity to such an extent that their body's defense mechanism is always in a fighting mode, thus leading to weakening of the immunity system. This can lead to other complications when the children grow up into adults.
The different uses of sanitizer wipes
source: lifestyle.inquirer.net
sanitizer wipes are not just only used for sanitizing the hands. Still, it has some other uses like wet wipes that are safe to apply on a complete body, including the face, and are carefully designed to be comfortable on the skin. The goods tested for dermatology are also appropriate for infants. The effective cleaning formulations are also suitable, with no rinsing needed, to be used as surface filters. To guarantee no damage is done to vinyl, concrete, rubber, or plastic, cleaning wipes are rigorously checked for surface consistency.
How to make home-made disinfectant sanitizing wipes 
Ingredients required. 
Isopropyl
Tea tree oil.
Paper towel roll.
Mason jar. 
Lemon oil. 
Step 1- Split the paper towel roll into thirds with the aid of a large serrated knife.
Step 2 – Then detach the paper towels from the sheet, eject the cardboard roll and re-wrap the paper towels roughly. Be sure that it keeps rolling at an angle so that it sticks out a few centimeters, then proceed to move naturally. It will allow you to catch the centerpiece quickly by using the wipes. Once your new roll exceeds the breadth of your container, stop unrolling. 
source: missouripoisoncenter.org
Step 3 – Locate the folded paper towels, in the container with the additional centerpiece pointed up.
Step 4 – Combine Isophryl, Tea Tree Essential Oil, and Lemon Oil in a glass mixing cup. Then pour the mixture into the glass gently, spreading the liquid equally.
Step 5 – When not in service, keep a cover on your wipes. Unwrap the cap while you're prepared to use your tissues, and take it carefully out of the middle.
Here you go, you are ready with home-made sanitizing wipes at a much lower price from the market. 
Can we recycle sanitizing wipes? 
Whatever you name them, baby towels, sticky towelettes, wet naps all have the same purpose in nature. Single-use, damp, hygienic paper items used for basic hygiene or bathroom washing are wet wipes. These helpful inventions are also used for washing up after diaper changes, sanitising surfaces in the household or offices, or even for additional sanitation instead of toilet paper. And with questions about COVID-19, there was just a rise in demand for these wipes.
Although it may be quite handy and easy for you to use these sanitary towels are very troublesome for the world as they are just used and throw napkins and cannot be used after its one-time usage. And they are not recyclable and cannot be used twice. So, this would create a problem for the whole world as this keeps on increasing waste. 
Conclusion
source: macheesmo.com
By use of wipes and hand, sanitizer may be a routine that will help us stay safe. It will hold us all vulnerable to fewer germs because our risk of being sick and unnecessary infections will be reduced. So spend the effort to use these hand sanitizer products and create a change in your safe lifestyle, whether you're on the playground, in the office, by the beach or wherever you're using someone else's machine or visiting relatives in the hospital.
These goods cost nothing, but being sick and illnesses are much more expensive. So, no matter what, don't put the welfare of your family at risk. Bear in mind that water is not present everywhere and every trace of it matters. Save water and create a change in the future by using hand sanitizer wipes. It's not about protecting the life of your kin but supporting the world by conserving water every day, though.