A door is the most important component of the house. It is an openable barrier that lets people, vehicles and other goods enter and leave the house. A door for home is held in position by the door frame located at the sides and top of the opening doorway. Doors play a very important role in improving the beauty of your home. Some of the major functions of doors are:
They help to maintain privacy and safety inside the home or room when it is closed,

They form a connecting link between the internal rooms of the home.

They add extra beauty to the aesthetics view of the house,

They provide lighting and ventilation, thus keep your homes cosy.

By enclosing a space, they help to maintain the physical atmosphere of the space.

Doors work as excellent noise barriers.

They screen different areas of a house for aesthetic purposes,

The house doors manage the physical atmosphere inside a room.
Though we tend to think about front doors in terms of their practical purposes, it does more than letting guests in and out. Front door enables everyone to explore your house. The interior design of the front door is crucial to your energy efficiency. You can design your front door in various ways that are tailored to your personality and style. 
source: houzz.com
The front door is the focal point of the exterior part of the house. Make sure that the colours work together to form a cohesive exterior design. Think whether you want your front door to stand out or blend in. There are certain colours which work better it's specific style homes than others.
Your personality should be reflected in the front door. You can either make your front door blend in, create contrast or add a pop of colour to your exterior, if you are not among the people who love bright colours, go for a muted hue and darker colour. For neutral colour, consider a white front door. Make sure to include glass panes to maximise the view, frosted or amber coloured glass panes let the toy embrace the outside environment while still providing ample privacy.
Front doors provide a preview of your home. They can be traditional, contemporary or playful,  front doors play an important role to make your guests feel warm and welcome. For a modern home, you can simply customise a standard glass door and form a work of art by adding an abstract side sign. Go for a glossy finish or match the door colour to the flora in your landscape.
The design of your front door reflects the personality of your home. It can be used to make a bold statement or a subtle one. A front door is something high you can dress up, personalise and use as the focal point of your landscape. It can be used to add colour, texture and natural light to your home.
Your front door makes an impression on all of your guests, so it is important to make a good one! It is the first thing which your guests notice when they enter and the last thing which they see when they leave your home. So be confident and give your front door a dose of your personality! Some of the most types of door designs are given here by Live Enhanced.
Folding accordion doors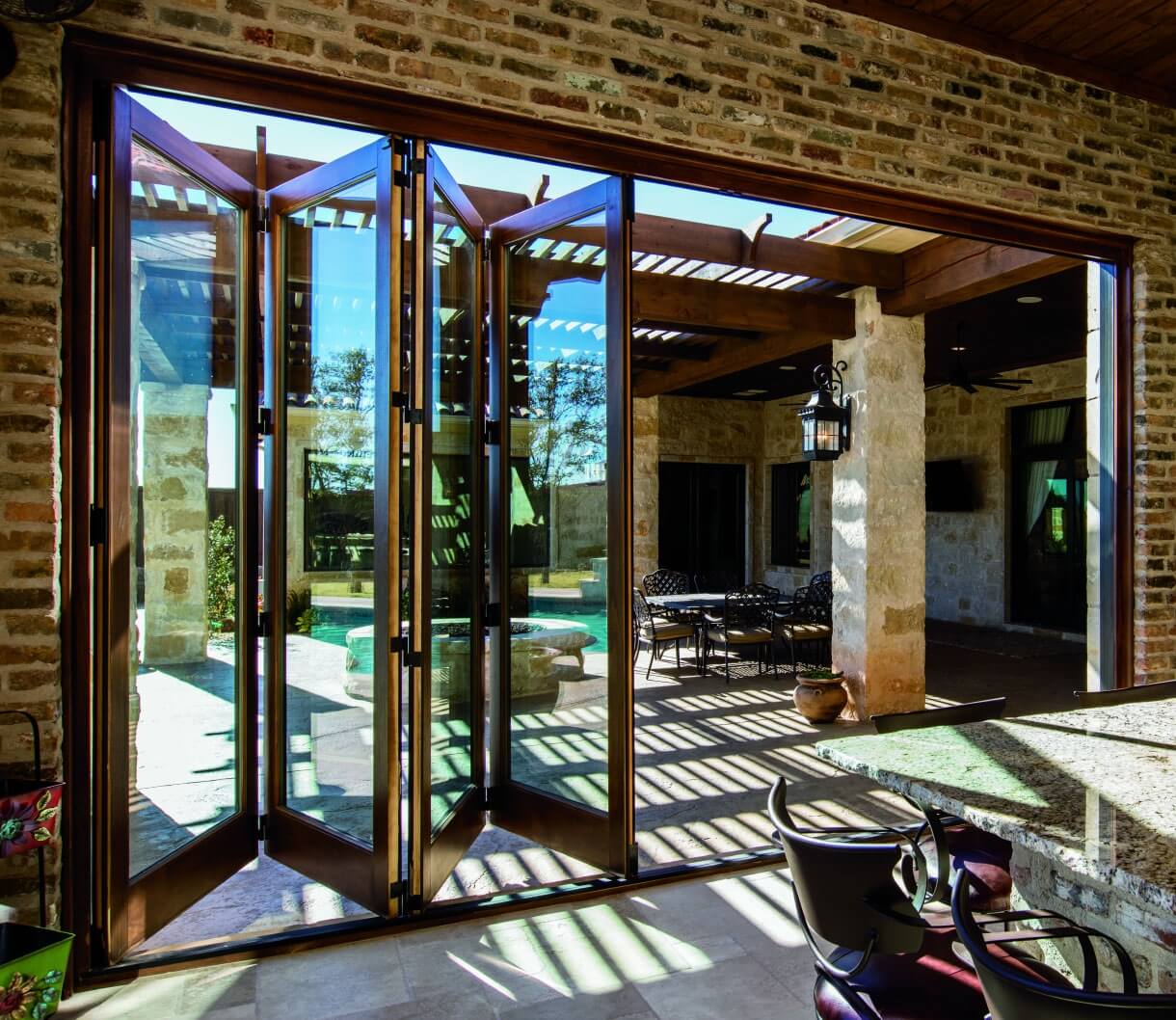 source: pella.com
Folding accordion doors are a popular choice when looking to maximise space and light. The concertina design of the beautiful door types opens up an entire wall of glass. This connects the inside environment to the outside with a level threshold. When closed, the expanse of the glass panels provides much bigger views as compared to a standard window or door. In small apartments, folding doors give an illusion of space as your eyes continue behind the back of the house.
Folding doors are typically made of aluminium, timber or a combination of both. An aluminium frame is light in comparison to a timber frame. Aluminium framed doors provide superb thermal efficiency. These frames are available in any colour subject to cost. The number of leaves is also an important factor to be considered. For an odd number of leaves, you can open the first leafy life as a standard door. This function is ideal in case you want to pop into the garden or let your dog out. Even numbers of leaves operate in pairs. Opening of one leaf will result in the opening of other leaves too. The number of leaves also determines the ratio of frame versus glass. More the number of leaves more is the frame to ensure that you have an optimum number for the opening. Folding accordion doors are very easy and quick to install.
Arched door
source: alliedmillwork.com
A perfect door is the key element to achieve continuity in your homes design styles. A beautifully crafted arched wooden door can be exactly the right choice to accentuate your style. Arched doors are a defining feature of Mediterranean, French country and Mission revival architecture. The upper part of the true arch door forms a 180-degree radius and the door is fitted into a corresponding arched frame.
When arch doors are made in a pair, the arch extends across both the doors. A pair of arched doors in an entry form a memorable first impression or can create drama and elegance in the interior space. A true arch effect can also be achieved with a top fail true arch door. In such doors, the top is flat and the bottom part of the top rail forms a 180-degree radius. Arch doors are also available as pairs and work effectively to create significance in both interior and exterior settings.
French windows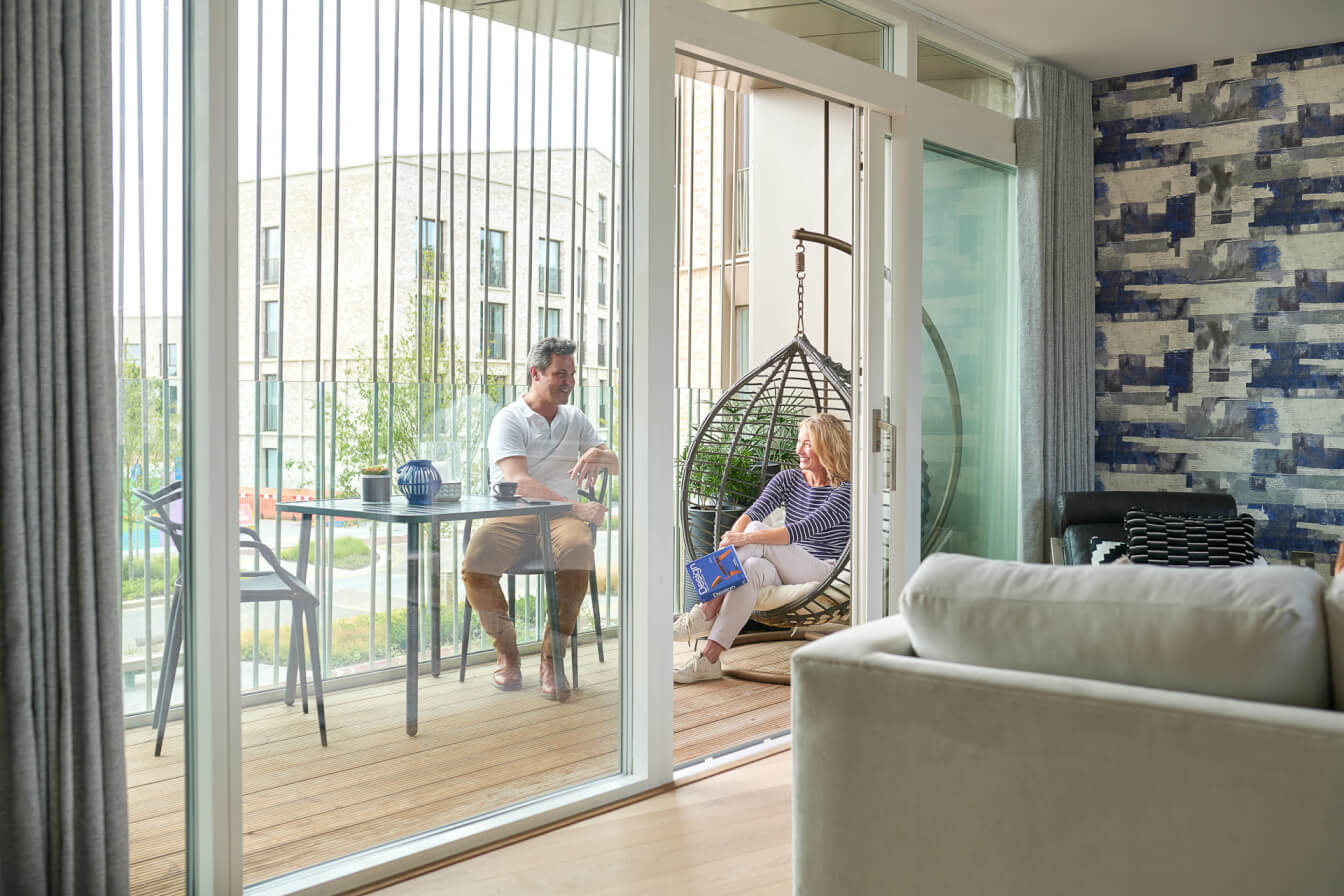 A french window is a double sashed window which you can open both inwards and outwards instead of the folding movement used in other windows. It comes with two panels attached to the framework with hinges in the corner. These panels are attached with handles which help to lock and unlock the window. More often than not, French windows are outward opening owing to convenience. French windows are timeless gracing spaces with unmatched aesthetic brilliance. Their antiquity reflects the tradition and values of cultural integrity in modern homes. They leave ample room for glass panels to work its aesthetic magic. These windows work best to form. Seamless connection between the outdoors and the indoors. There is a wide range of frame options, furniture designs, textures and colours for the French windows, making them highly customisable.
These windows are a bale of withstanding heavy impact and generally come with multi-point locking mechanisms to ensure that they are not easily broken into. French windows and doors work excellently to provide ventilation to your rooms. Fresh air is crucial for enhanced lifestyle and French windows ensure that you get plenty of it.
Japanese style garage doors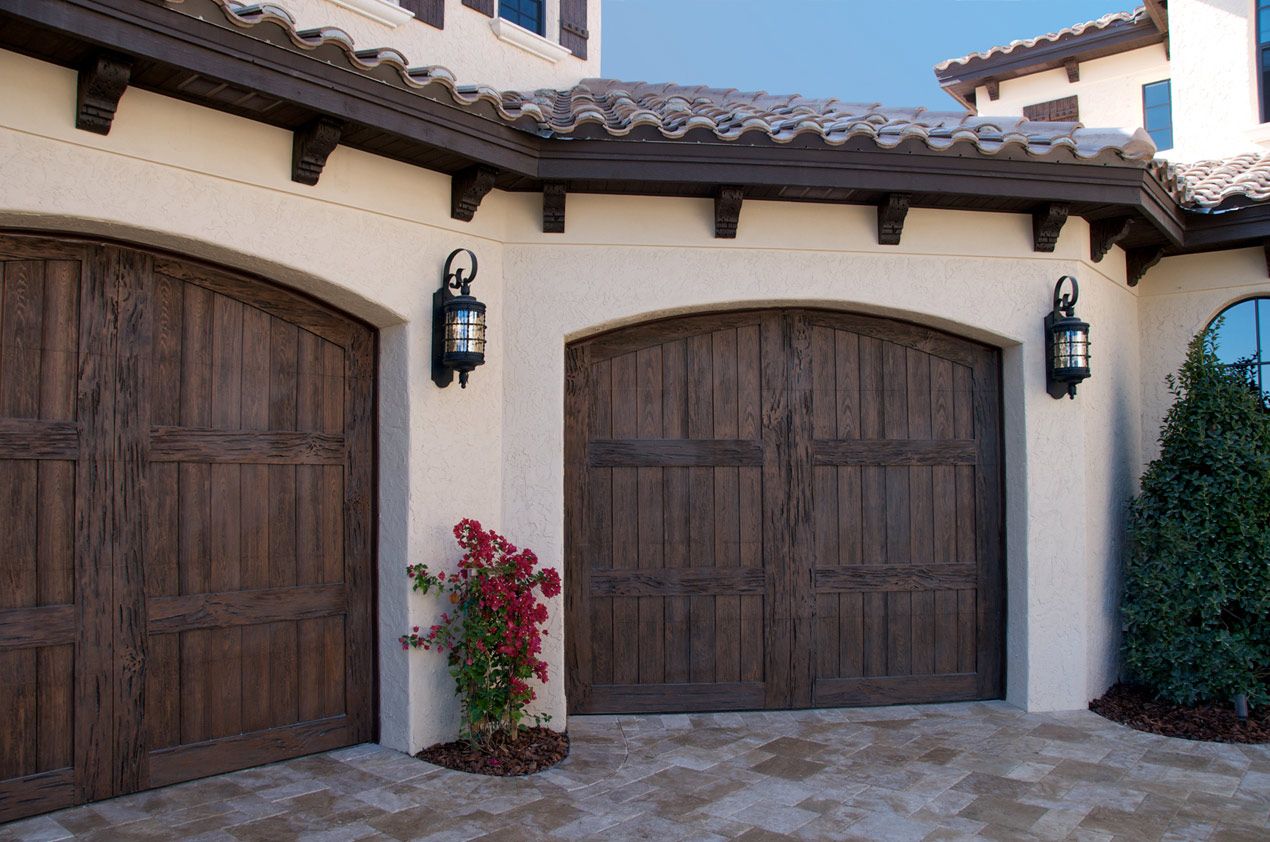 source: pinterest.com
Among the many options available to improve the appearance of the home, improving the garage aesthetically is the way to go. A Japanese style garage makes your entire property shine because it gives the home a unified look. Also if you are hoping to sell your home, putting in a new garage door increases the value of your home! Windows play an important role in breaking up the body loom of traditional garage doors. Windows also reduce the energy costs as you can utilise the heat from the sun to warm the space in cold weather. Go for horizontal relief patterns. Horizontal patterns create visual interest by offering a line for the eye to follow, 
A little colour plays a great role in making the garage door stand out. Choose the colour that compliments your home. You can also create a contrast by using a combination of dark and light colours. Accessorise your garage door with details. Adding details like patterned hinges and multi-pane windows increase the aesthetics of the entrance. You can also keep certain potted plants to draw interest to that specific part of the house. Adding potted plants also make the smaller spaces appear bigger.
Wooden doors with glass panel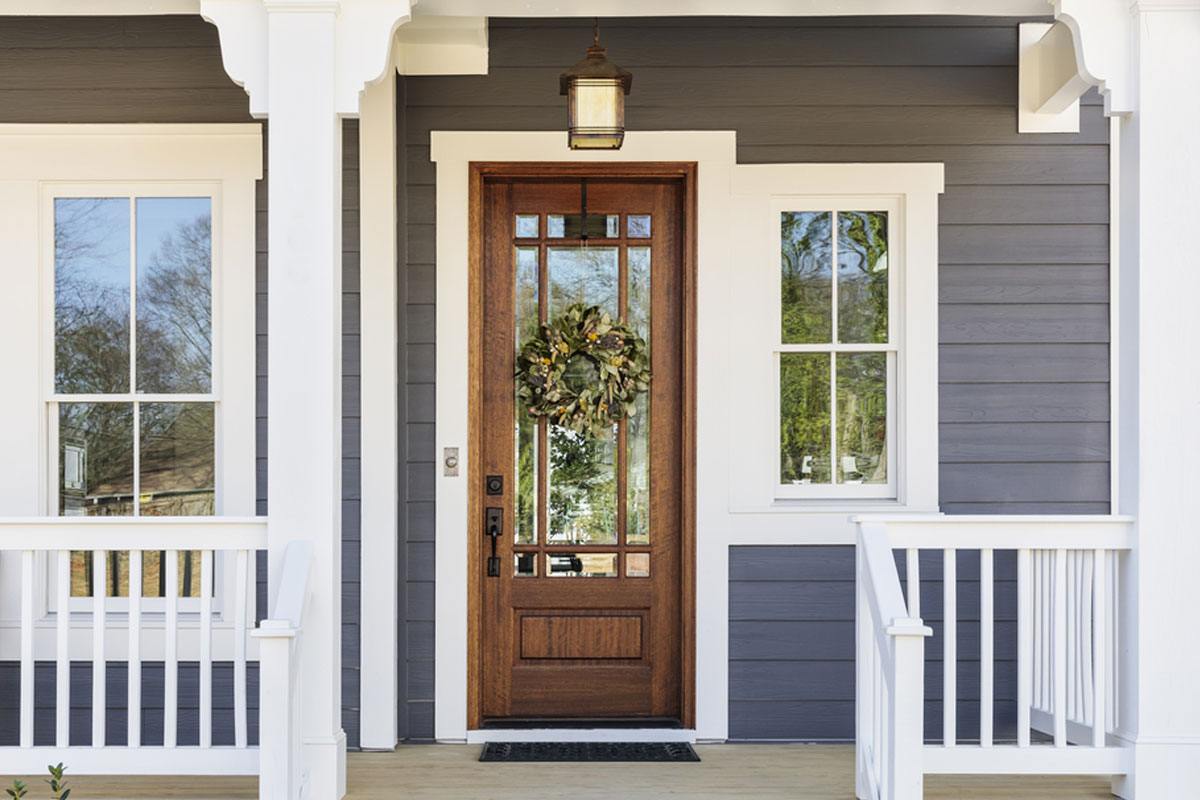 source: homeguide.com
Front doors add character to the outside of your home and create the first impression to the visitors. Wooden doors with glass panels are another great choice for doors. Use exterior-grade quality wood.  Make sure that that the wood is well seasoned so that it is durable. Exterior wooden doors should be given a coating of melamine for weatherproofing. A contemporary door in teak wood with a vertical glass panel allows you too who your visitors are before you open the door.
The lovely wooden doors surrounded on three sides by glass panels make a grand statement and add a lovely aesthetic. You can also use rectangular panels in polished teak wood with a long glass panel on the side. Such doors face the rustic stucco facade of your home and the glass lanes add functionality. Wooden finishes have a timeless pattern. However, make sure to choose the finish that blends perfectly with your interior colour palette. 
A pivot door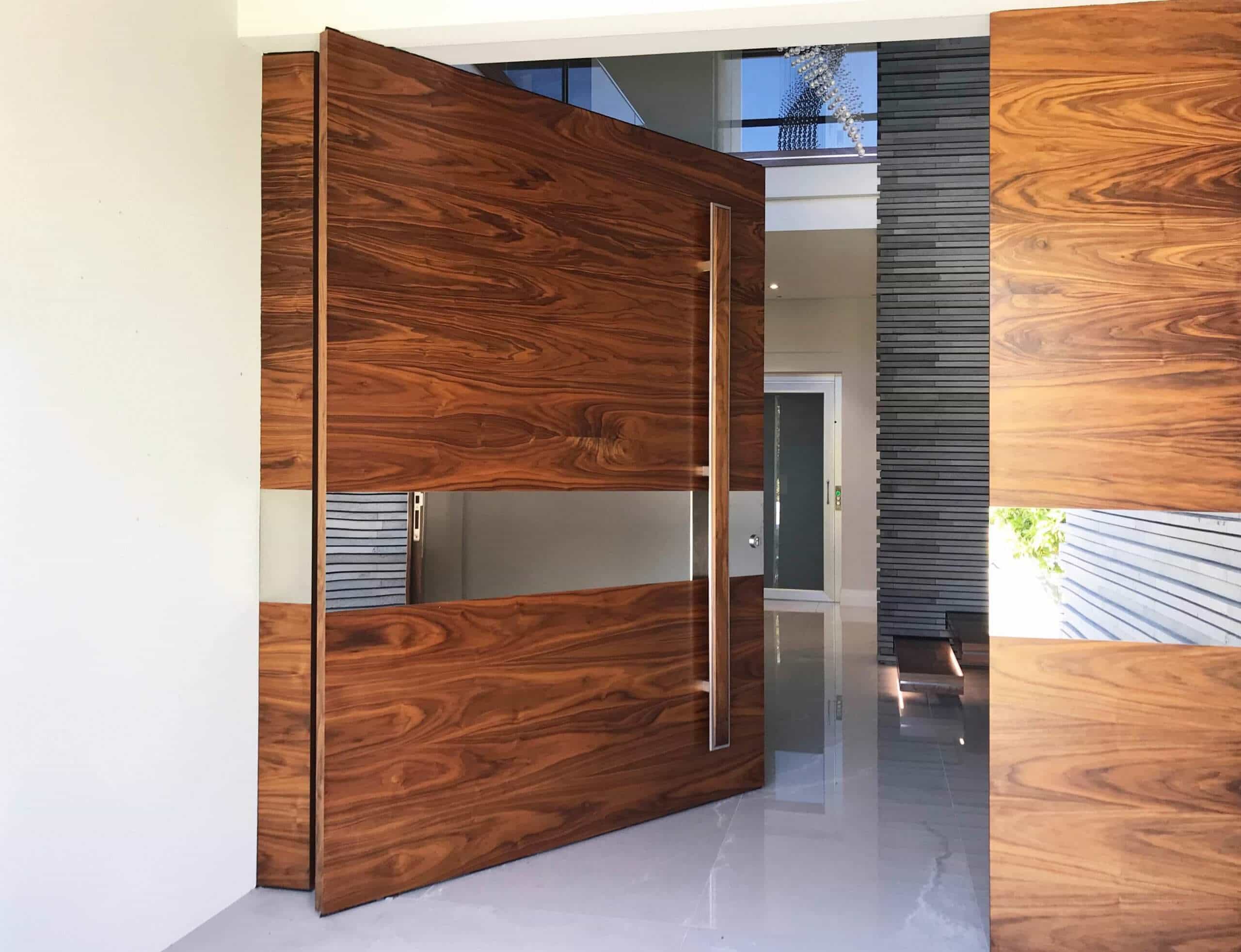 source: fritsjurgens.com
Vibrant and bright entries are in high demand and pivot door work best to update your home's first impression. Pivot doors not only are aesthetically beautiful but also the hardware which is used for them enables the door to swing smoothly and effortlessly. A pivot door differs from a traditional door in that it consists of a central axis which it pivots. A pivot door is not supported by hinges on the left or right side, rather has a single pivot point that it rotates on. A glass pivot door can be opened from the right side or left side and outward or inward.
The overrides nature of the pivot door helps to create a grand entrance to allow tons of natural light to flood your home. Apart from aesthetics, another advantage of this type of door is its stability. Since it has hinges at the bottom of the floor and the top of the doors, it is larger than a standard hinged door. The lack of hinges allows for its oversized nature. A glass pivot door so provides a gorgeous view to your property. With their low profile thresholds, pivot doors work perfectly. y to bring the outdoors inside. If you are looking for something modern and aesthetic, pivot doors are the best choice for you!
Sliding glass door
source: simonton.com
Sliding glass doors have now become a modern-day architecture staple worldwide. When it comes to the most popular interior designs, sliding glass doors are among the top favourites in many designers books. Being aesthetically pleasing, they add oodles of appeal to interior spaces. Be it commercial complexes or residential ones, the aesthetic benefits of these doors are many.  As they slide along a track, These doors allow for efficient use of space. These doors are not only easy on the eyes but are also easy to install and maintain. 
Sliding glass doors allow copious amounts of natural light to scatter inside through them and light up your home. The flexibility of installing the glass panes provide an expansive view of your surroundings. Sliding doors are quieter to open and close in comparison to other door types and also require every low maintained environment. Glass sliding doors are available in a variety of designs, you can colour coat and customise these framers to suit your property's aesthetics requirements. Installation of the glass sliding doors helps with heat gain and loss. During summers, these doors won't allow hot air from outside to invade your interior spaces. During winters, they help to maintain the ideal indoor temperature by trapping the internal heat. These doors also have enhanced safety. In case the glass panels break, they will shatter into pebbles like pieces that do not cause injury like the standard glass panes.