Bridesmaids often have to coordinate their dresses, shoes, and accessories with the wedding theme and color scheme, and nail trends allow them to add a little bit of individuality and personality to their look.
Nail trends are also popular because they can complement the overall wedding theme and color scheme, as well as the bridesmaid's personal style. There is a wide range of nail trends to choose from, so there is something for everyone, whether you prefer classic and elegant looks or more playful and edgy styles.
Let's have a closer look at the most stylish nail trends for bridesmaids.
Pale Pastels
source: pinterest.com
Pale pastels are a popular nail trend that involves using soft, subtle shades of color on the nails. These shades often include pale pink, light blue, baby yellow, and other similar colors. Pale pastels are a perfect choice for spring and summer weddings, as they add a touch of femininity and playfulness to the overall look. They are also a great option for those who want a more subdued and understated look.
To achieve this trend, you can either apply a pale pastel nail polish or use nail art techniques, such as ombre or gradient effects, to blend different shades. You can also add accents, such as glitter or gemstones, to add some sparkle and interest to the look. Pale pastels are a versatile and elegant choice for a bridesmaid and can be paired with a variety of wedding attire.
Ombre Effect
The ombre effect is a popular nail trend that involves blending two or more colors to create a gradient effect. The term "ombre" is French for "shaded" or "gradient," and the ombre effect is achieved by gradually blending one color into another. 
To create the ombre effect on your nails, you can use a sponge or a brush to blend the colors. You can also use a gradient tool or a special ombre nail polish set to achieve the desired effect. 
Ombre nails are a fun and playful way to add some color to your look, and they can be customized to suit any occasion or personal style. You can create an ombre effect using any combination of colors, but some popular choices include shades of the same color family, such as light-to-dark pink or light-to-dark blue.
French Manicure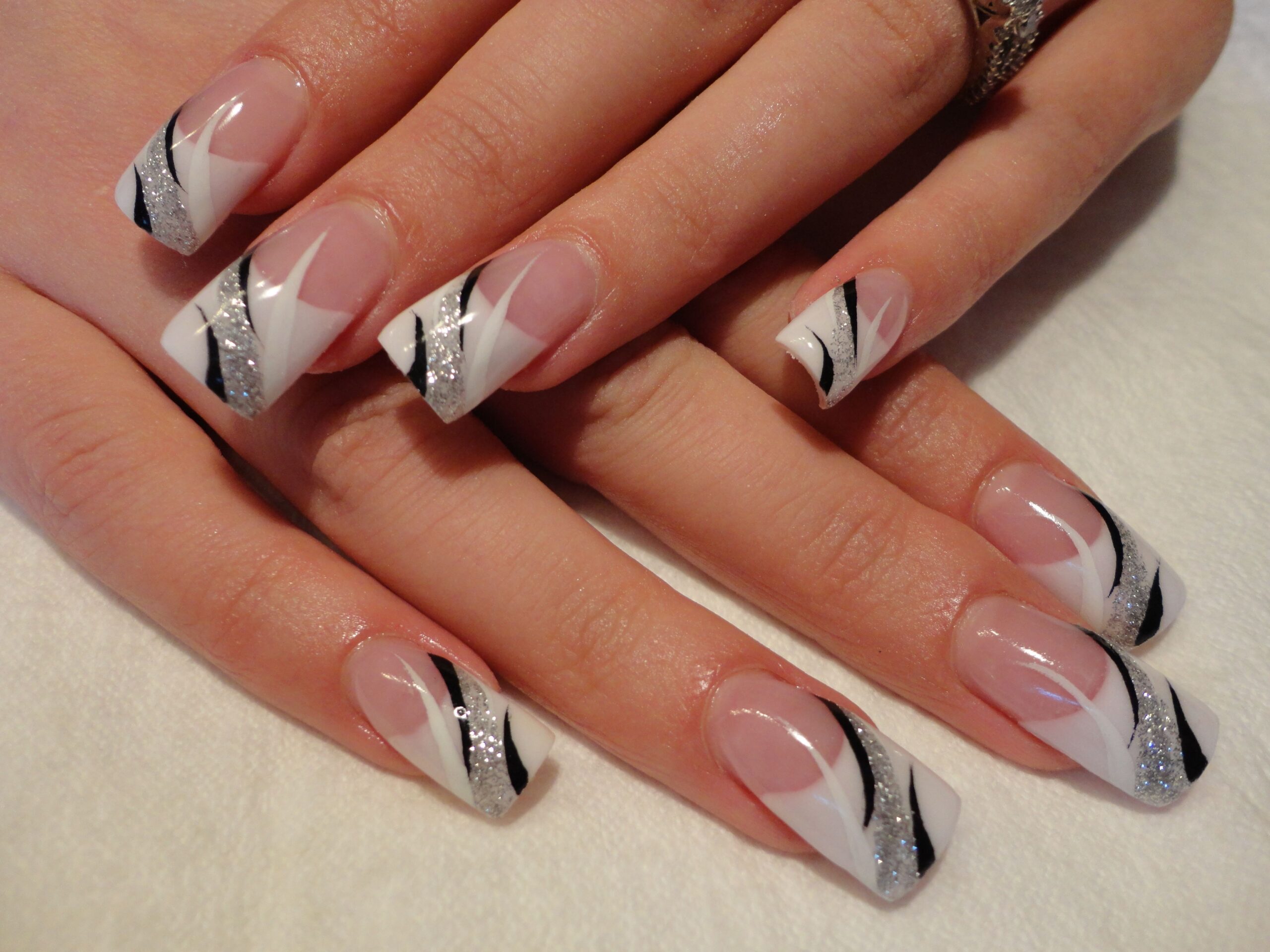 source: pinterest.com
The traditional and classy French manicure entails painting the tips of the nails with a light, translucent color, leaving the rest of the nail natural, or painting it a light pink or beige hue.
You may either use nail paint or acrylics to get a French manicure. 
A light, transparent polish or acrylic for the tips and a light pink or beige lacquer for the remainder of the nail is required to achieve the traditional French manicure style. Gel polish offers a glossy, long-lasting finish, so you can also use it to make a French manicure.
An elegant and classic option for a bridesmaid's manicure that goes with most ensembles is a French manicure.
Glitter Accents
Glitter accents are a fun and festive way to add some glitz to your outfit, and they are especially appropriate for big events like weddings. If a bridesmaid wants to give her nails a little more glitz and sparkle, they are a fantastic option. Just be sure to pick a glitter hue that matches both your taste and the wedding's overall color scheme.
You may either use glitter nail polish to achieve this trend, or you can use loose glitter and a top coat to create a unique pattern. Using nail art techniques like painting or stamping, as well as adding glitter or gemstones as accents, you may also add glitter accents.
Gold Leaf Accents
source: pinterest.com
The gold leaf accents manicure style includes applying fine gold leaf sheets to the nails to provide an opulent and striking appearance. A thin coating of gold is put to a surface using a specific adhesive to create a gold leaf. It is frequently utilized in craft and creative endeavors, as well as in clothing and accessory decorations.
You will need gold leaf sheets, a base coat of nail paint, and a top coat of nail lacquer to complete the gold leaf accents trend. Using glue, you can either stick the gold leaf sheets directly to the nails or use gold leaf and other nail art techniques to create a design.
Floral Nail Art
The trendy trend of floral nail art is decorating nails with floral-themed patterns. Painting, stamping, and decals are just a few of the methods that may be used to accomplish this. Floral nail art is a playful and feminine way to give your nails interest and individuality, and it can be tailored to fit any event or individual taste.
You may paint flower designs directly onto the nails with nail polish, acrylic paint, or gel polish. For pre-made designs that are simple to apply to the nails, you may also use nail art stamps or decals.
Nude Color Nail Trend
source: pinterest.com
The use of beige, tan, and other similar hues on the nails is part of the nude color manicure trend. A wide range of skin tones and clothing is complemented by the timeless and chic choice of neutral hues. They are also a fantastic choice for people who want a more subtle and natural appearance.
You can achieve the nude color nail trend by simply following these steps.
Start by prepping your nails. This includes filing and shaping your nails, pushing back your cuticles, and removing any dirt or oil from the nail bed.

Apply a base coat to your nails. This will help protect your nails and create a smooth base for the polish to adhere to.

Choose a nude color nail polish or acrylic shade that matches your skin tone or opt for a slightly lighter or darker shade for a more dramatic effect.

Apply the nail polish or acrylic to your nails, starting at the base of the nail and working your way up to the tip.

Apply a top coat to your nails. This will help seal in the color and add shine to your nails.

Allow your nails to dry completely before doing any activities that might smudge your polish.
Shades Of Pink Style
You may select from several pink manicure polish or acrylic colors and apply them to your nails using a variety of techniques, such as ombre, gradient, or geometric designs, to create the shades of pink nail trend. Additionally, you may combine and contrast various pink hues to get a more eclectic and lively appearance.
Bridesmaid dresses in pink hues are ideal and go especially well with spring and summer weddings. They go nicely with the majority of wedding apparel and offer a splash of color and liveliness to the overall look. Just be sure to select pink hues that go with both your style and the wedding's theme.
Marble Look, Nail Art
source: pinterest.com
Using various colors and methods, marble effect nail art is a current trend that includes producing a mosaic look on the nails. Swirling several hues together results in a marble-like appearance that is distinctive and captivating.
You may use several methods, like sponging, water marbling, and freehand painting, to give your nails the marble impression. To get the required impression, you may alternatively use decals or specific marble nail paint kits.
Lace Nail Art
To get a striking and edgy appearance, the dark and moody nail art style uses deeper, more intense colors on the nails. This style is ideal for those who want to use their nails to make a statement. A lady who isn't frightened of a more dramatic appearance can choose this style. 
You may select from several dark colors, including black, dark red, deep purple, and deep blue, and use ombre, gradient, or geometric designs to apply them to your nails to create a dark and melancholy nail art look. To create a design that is more diverse and vivid, you may also mix and match various tones.
Final Word
Because they are an easy and affordable way to add flair and sparkle to your appearance manicure trends have become quite popular. Whether you choose a classic French manicure or a more modern and edgy style nails are a quick and stylish way to complete your bridesmaid attire.