Tasmania, an island state off the southeastern coast of Australia, offers a perfect blend of rugged wilderness, breathtaking landscapes, and charming coastal towns, making it an ideal destination for a dreamy and romantic getaway. Whether celebrating a special occasion, such as a honeymoon or anniversary or simply wanting to reconnect with your partner amidst nature's beauty, Tasmania has everything you need to create cherished memories together. In this comprehensive guide, we will take you through the steps to plan your dream romantic trip in Tasmania, covering accommodations, adventure activities, and more.
Accommodations: Creating the Perfect Ambiance
source: pinterest.com
Choosing the right accommodation is crucial to setting the tone for your romantic getaways in Tasmania. The state offers a diverse range of options to suit every couple's preferences and budgets.
Cozy Cabins and Secluded Lodges in the Wilderness:

For couples seeking seclusion and tranquillity, consider staying in cozy cabins or secluded lodges nestled amidst Tasmania's stunning wilderness. From cabins with private hot tubs overlooking lush forests to lodges with breathtaking mountain views, these accommodations offer an intimate ambience, allowing you and your partner to connect with nature and each other.

Boutique Hotels and Luxury Resorts:

If you prefer a touch of luxury and pampering, Tasmania's boutique hotels and luxury resorts provide the perfect setting for romance. Indulge in spa treatments, fine dining experiences, and world-class amenities, all designed to make your stay an unforgettable one.

Charming Bed and Breakfasts:

For a more intimate and personal experience, opt for charming bed and breakfasts scattered across Tasmania's towns and countryside. With warm hospitality and unique touches, these accommodations offer a cozy and romantic atmosphere for you and your partner to enjoy.



Adventure Activities: Bonding Through Thrilling Experiences
source: pinterest.com
While Tasmania's serene beauty sets the stage for romance, the island also offers plenty of thrilling adventure activities that can bring you and your partner closer together.
Hiking in Tasmania's National Parks:

Lace up your hiking boots and embark on scenic trails in Tasmania's national parks. From the iconic Cradle Mountain hike to the enchanting Tarkine rainforest, these adventures allow you to explore the wilderness hand in hand and create unforgettable memories along the way.

Kayaking and Wildlife Encounters:

Take a kayaking tour along Tasmania's picturesque coastline, where you can paddle through pristine waters, encounter playful seals, and, if you're lucky, spot graceful dolphins and migrating whales. This shared experience in the great outdoors will undoubtedly strengthen your bond.

Hot Air Balloon Rides:

For a truly magical and romantic experience, consider taking a hot air balloon ride over Tasmania's stunning landscapes. Drift high above the countryside at sunrise or sunset, and witness the world below in awe-inspiring hues while you savour the beauty of the moment together.

Stargazing in the Wilderness:

Tasmania's dark and clear skies provide the perfect canvas for stargazing. Venture into the wilderness, away from city lights, and marvel at the brilliant constellations together, making a wish upon a shooting star.



Culinary Experiences: Savoring Tasmania's Gourmet Delights
source: pinterest.com
A romantic holiday wouldn't be complete without enjoying delicious food. Tasmania's food scene is a delight for foodies and couples seeking a taste of the island's culinary delights.
Farm-to-Table Experiences:

Tasmania's fertile land and clean waters provide a bountiful harvest for farm-to-table experiences. Visit local farms, taste fresh produce, and savour artisanal cheeses, chocolates, and wines, immersing yourselves in the island's gastronomic delights.

Romantic Dinners with a View:

Book a romantic dinner at one of Tasmania's acclaimed restaurants, many of which offer stunning views of the coastline or picturesque countryside. Toast to your love with fine wines and gourmet dishes, enjoying each other's company in an intimate setting.



Secluded Beach Escapes: Moments of Serenity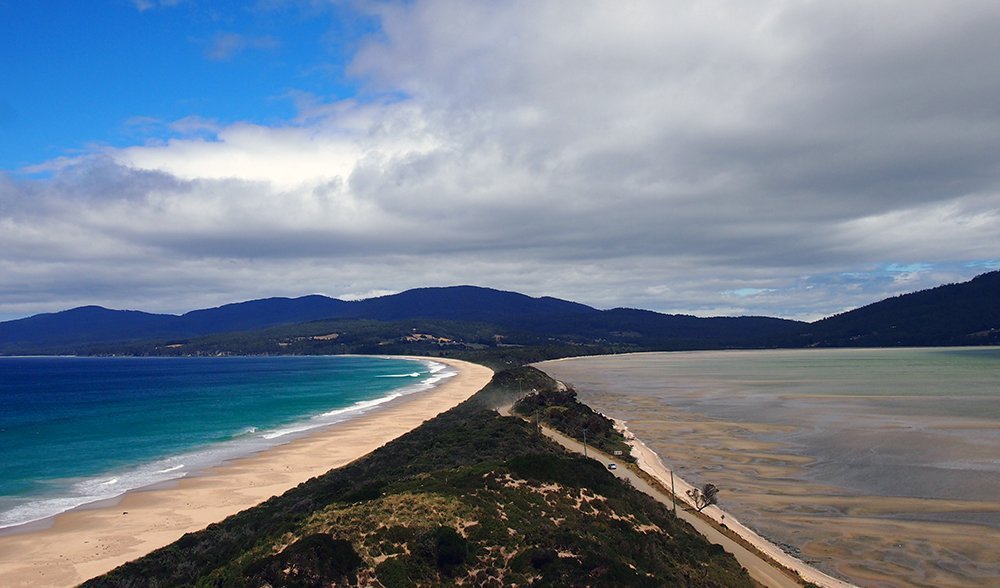 source: pinterest.com
Tasmania boasts some of the most beautiful and secluded beaches, offering couples the chance to bask in each other's company in a serene and romantic setting.
Bay of Fires

:

Known for its pristine white sands and striking orange-hued rocks, the Bay of Fires is a mesmerising destination for couples seeking solitude and stunning coastal scenery.

Bruny Island

:

Escape to Bruny Island, where you can explore quiet beaches and enjoy peaceful walks hand in hand along the shore. Don't miss the chance to sample fresh oysters and local produce in this food lover's paradise.



Romantic Walks and Garden Strolls: Finding Intimacy in Nature
Discovering the beauty of Tasmania hand in hand through romantic walks and garden strolls provides a profound sense of intimacy.
Royal Tasmanian Botanical Gardens

:

Take a stroll through the Royal Tasmanian Botanical Gardens in Hobart, where you can admire an array of beautiful flora and share moments of peace and tranquillity.

Cradle Mountain Boardwalk

:

Wander along the boardwalks at Cradle Mountain, surrounded by breathtaking landscapes and the pristine beauty of the national park. This gentle walk provides ample opportunities for quiet reflection and shared admiration of nature's wonders.



Conclusion
Tasmania's natural beauty, diverse landscapes, and serene ambience make it an idyllic destination for couples seeking a dreamy and romantic getaway. By selecting the perfect accommodation, engaging in thrilling adventure activities, savouring gourmet delights, and enjoying serene moments together on secluded beaches and romantic strolls, you can create cherished memories that will last a lifetime. Whether you're celebrating a special occasion or simply seeking to connect with your partner in a captivating setting, Tasmania promises an unforgettable experience that will strengthen your bond and leave you with wonderful memories and a heart full of love. Plan your dream romantic getaway in Tasmania, and let the island's magic weave its way into your heart.