When it comes to swimwear, one style has stood the test of time and is still a favorite among women worldwide: the bandeau swimsuit. The bandeau swimsuit effortlessly merges elegance and comfort with its strapless style and flattering cut, making it a go-to pick for various beach and poolside activities. This article will examine the fascinating history, flexible types, and reasons for the bandeau swimsuit's lasting popularity.
The Evolution Of Bandeau Swimsuit
The name "bandeau" comes from French and means "strip." Initially, a bandeau was an elastic band wrapped around the head to keep hair in place. Fashion designers began applying the bandeau concept to swimwear in the early twentieth century by making strapless tops with limited coverage and support. The idea was to highlight a woman's natural contours while encouraging freedom and movement in the water.
Iconic Moments In Bandeau Swimsuit History
The 1940s and 1950s
source: pinterest.com
The bandeau swimsuit gained popularity during the 1940s and 1950s. Classic Hollywood films starring Marilyn Monroe and Esther Williams featured it. The bandeau became linked with the atmosphere of a carefree summer due to its pin-up allure and glamorous air.
The 1970s and 1980s
The bandeau enjoyed a revival in popularity during the 1970s and 1980s. Swimsuit designers played with different fabrics, patterns, and embellishments, adding ruffles, bows, and other ornamental features to create lively and vivid appearances.
The 2000s to Today
Modern designers have continued to love the bandeau swimsuit, producing new versions such as high-waisted bottoms, cutouts, and reversible patterns from the 2000s until today. Celebrities like Beyoncé and Rihanna wearing bandeau swimsuits have contributed to the ongoing popularity of these swimsuits in popular culture.
Flattering For All Body Types
source: pinterest.com
The bandeau swimsuit is a versatile, appealing swimwear option for many body types. Its strapless silhouette and form-fitting design provide various advantages, making it a perfect choice for ladies of all shapes and sizes. Here are some of the reasons why the bandeau swimsuit is deemed flattering on all body types:
Petite Figures
The bandeau swimsuit can provide the appearance of a bigger chest to ladies with little figures and smaller busts. The bandeau top's form-fitting nature and ability to accentuate curves make it an excellent choice for anyone wishing to add volume to their upper torso.
Curvy Figures
Bandeau bikinis are as appealing to ladies with curvier shapes and larger busts. Many bandeau styles include built-in padding, underwire, or boning to provide additional support and lift to the chest. This extra support ensures that the swimsuit is fashionable but also comfortable and secure.
Athletic Builds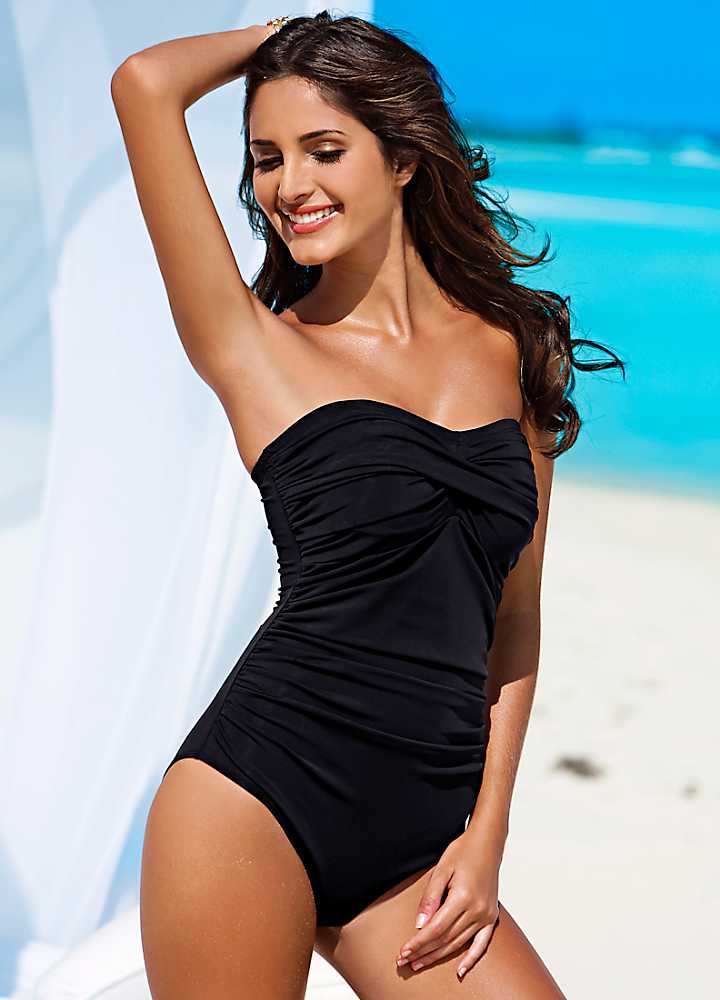 source: pinterest.com
The bandeau swimsuit can offer the illusion of curves for women with athletic builds or straight body shapes, giving softness and delicacy. The strapless style draws attention upward and balances the entire form by emphasizing the shoulders and collarbone.
Hourglass Figures
The bandeau swimsuit flatters hourglass figures by emphasizing the body's inherent curves. It draws attention to the waist and increases the bust, resulting in a balanced and shapely image.
Plus-Size Figures
Bandeau swimsuits come in various sizes, including plus-size alternatives. Designers have introduced side boning and broader back bands to provide more support and ensure a comfortable and flattering fit for curvier body types.
Tummy Concerns
Bandeau swimsuits with ruching or draping can appeal to ladies with belly issues or who desire extra coverage around the midsection. These design components help to conceal the belly area and give a more streamlined appearance.
Versatility in Bottoms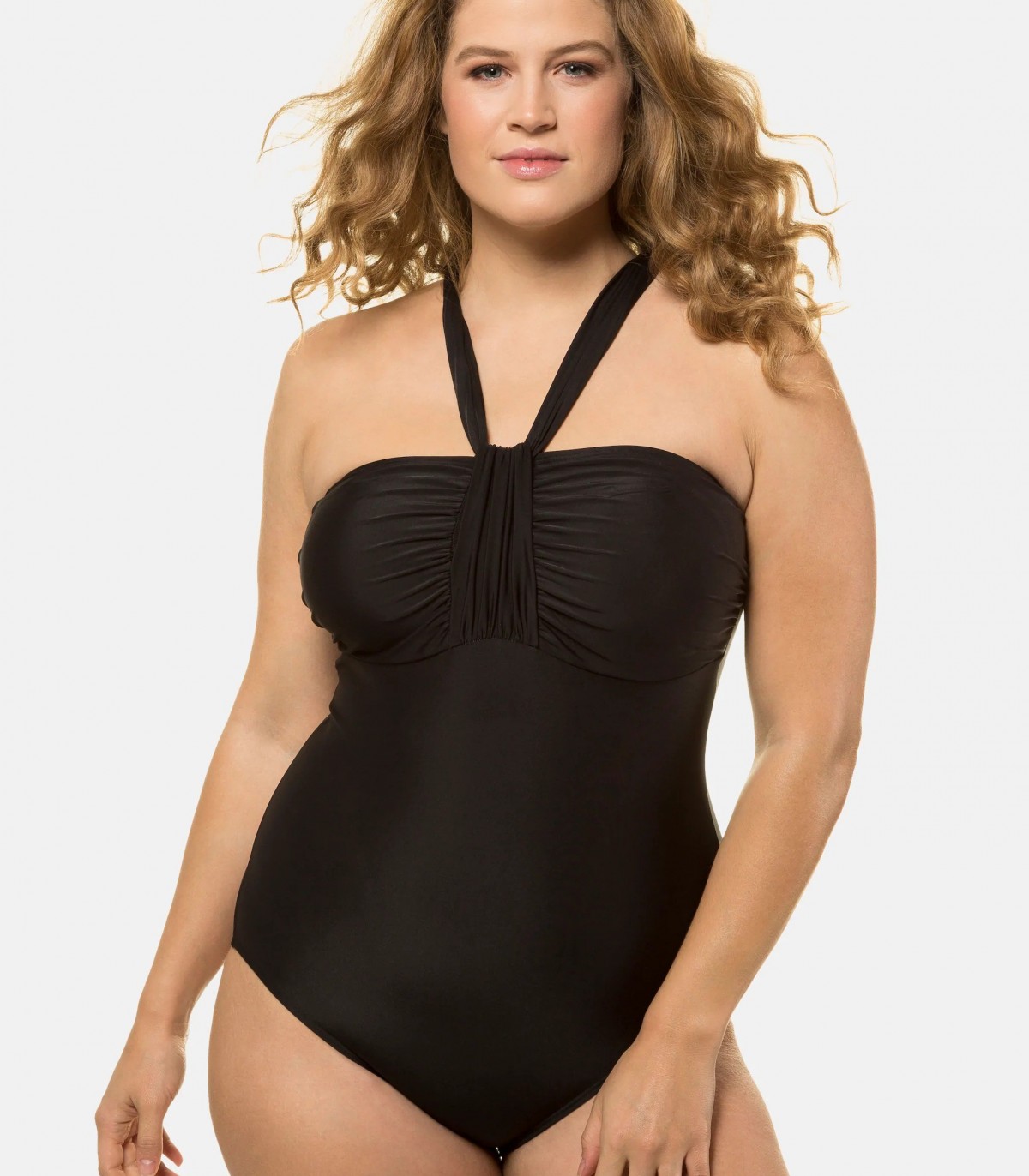 source: pinterest.com
The bandeau top can be paired with various bottom styles, allowing personalization to fit specific body types. High-waisted bikini bottoms, for example, can provide extra belly control and coverage, whereas traditional bikini bottoms can highlight the hips and stretch the legs.
Tan Lines
Because the bandeau swimsuit has no straps, it eliminates tan lines on the shoulders, making it a popular choice for individuals who desire an even tan with no apparent lines.
Versatile Designs For Every Occasion
Bandeau swimsuits are available in various styles, making them appropriate for different circumstances and personal preferences. Among the most common variations are:
Classic Solid Colors
Timeless, polished, solid-colored bandeau bikinis provide a sleek, beautiful design and never fall out of style; black, navy blue and white are trendy for individuals seeking a simple and tasteful appearance.
Vibrant Prints
These bikinis may be found in an abundance of colors and patterns, from bright florals to bold geometrics. They are great for anyone who wants to dress for the beach but yet want to stand out with a playful and exciting style.
Retro-Inspired Styles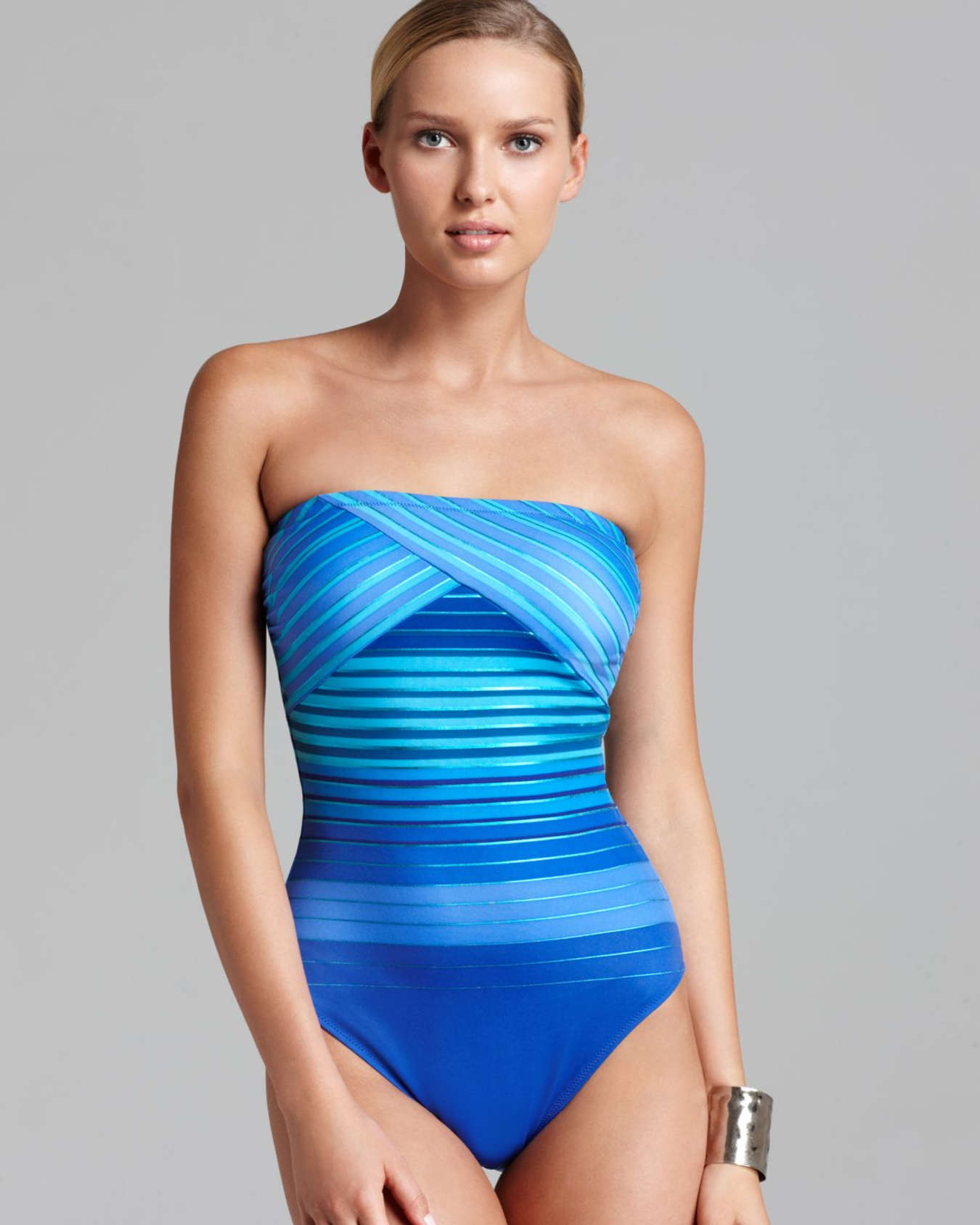 source pinterest.com
Designs from the past, like the pin-up trends of the 1950s, serve as inspiration for retro-inspired bandeau tops. These bathing suits are a perfect example of how classic beauty and charm can coexist with contemporary details. 
Versatile Two-Pieces
Some bandeau swimsuits have detachable straps, allowing you to move between strapless and halter-neck styles. This innovation enables a more personalized and comfortable fit, fitting a variety of activities and body shapes.
Styling Tips for the Perfect Look
Accessorize Smartly 
Because bandeau bikinis are often modest in style, accessorizing can help to boost your look. Pair your bikini with oversized sunglasses, a wide-brimmed hat, or a lightweight robe for an effortlessly elegant look.
Mix And Match
Experiment with your beachwear by pairing bandeau tops with different bottoms. High-waisted bikini bottoms or a flowy sarong may spice up your swimwear collection.
Layering Options
Consider layering your bandeau swimsuit with a beautiful cover-up or a lightweight maxi dress for a smooth transition from the beach to the seaside café.
Wrapping Up
The bandeau swimsuit has gained its reputation as a timeless and versatile piece of swimwear. It has developed from its humble beginnings as a strapless headband into a symbol of elegance, freedom, and enjoyment in the sun. The bandeau swimsuit continues to enchant women with its timeless appeal and ease, flattering all body types and available in various designs. 
Whether you're lazing by the pool or strolling along the beach, the bandeau swimsuit exudes confidence and grace. So, the next time you go swimming, grab the ever-stylish and oh-so-comfortable bandeau swimsuit.