Restaurant seating layout is an essential aspect of restaurant design, and the restaurant tables' significance is immense. Click here to get the best quality restaurant tables at wholesale price. Properly arranged tables can maximize the use of space, provide adequate seating for customers, and enhance the overall dining experience. A perfect restaurant seating layout can also impact server efficiency, enabling them to navigate and serve customers more effectively, resulting in increased customer satisfaction and higher revenue.
Restaurant Seating Layout Tips
A restaurant table layout makes a significant impact on the dining experience. Here are a few restaurant seating layout tips.
1. Create a Floor Plan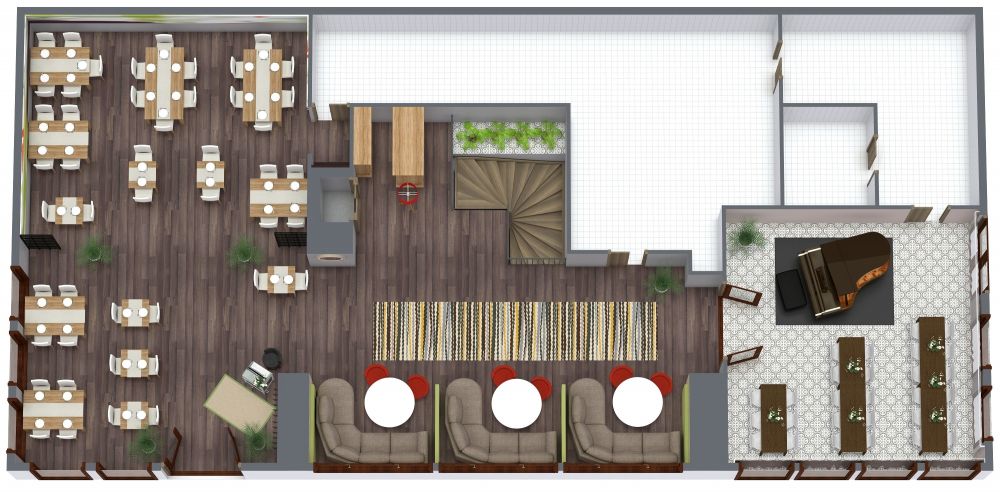 source: pinterest.com
Creating a floor plan for a restaurant seating layout is a vital step in creating a functional and inviting dining space. While designing a layout, consider the style of the restaurant and the types of customers you wish to attract.
A fine dining restaurant may opt for a more formal layout with spacious tables, while a café or casual eatery may prefer a more relaxed and communal layout design.

The "family style" layout features long tables and benches to encourage a sense of community and a shared dining experience. Famous restaurants that use this layout include 

Glaze at Crowne Plaza Marlow File

 in Buckinghamshire.

The "chef's counter" places guests close to the kitchen, allowing for a more interactive dining experience. Notable restaurants with this layout include Open kitchen dining at 

New York's Chef's club

.
2. Decide the number of seats required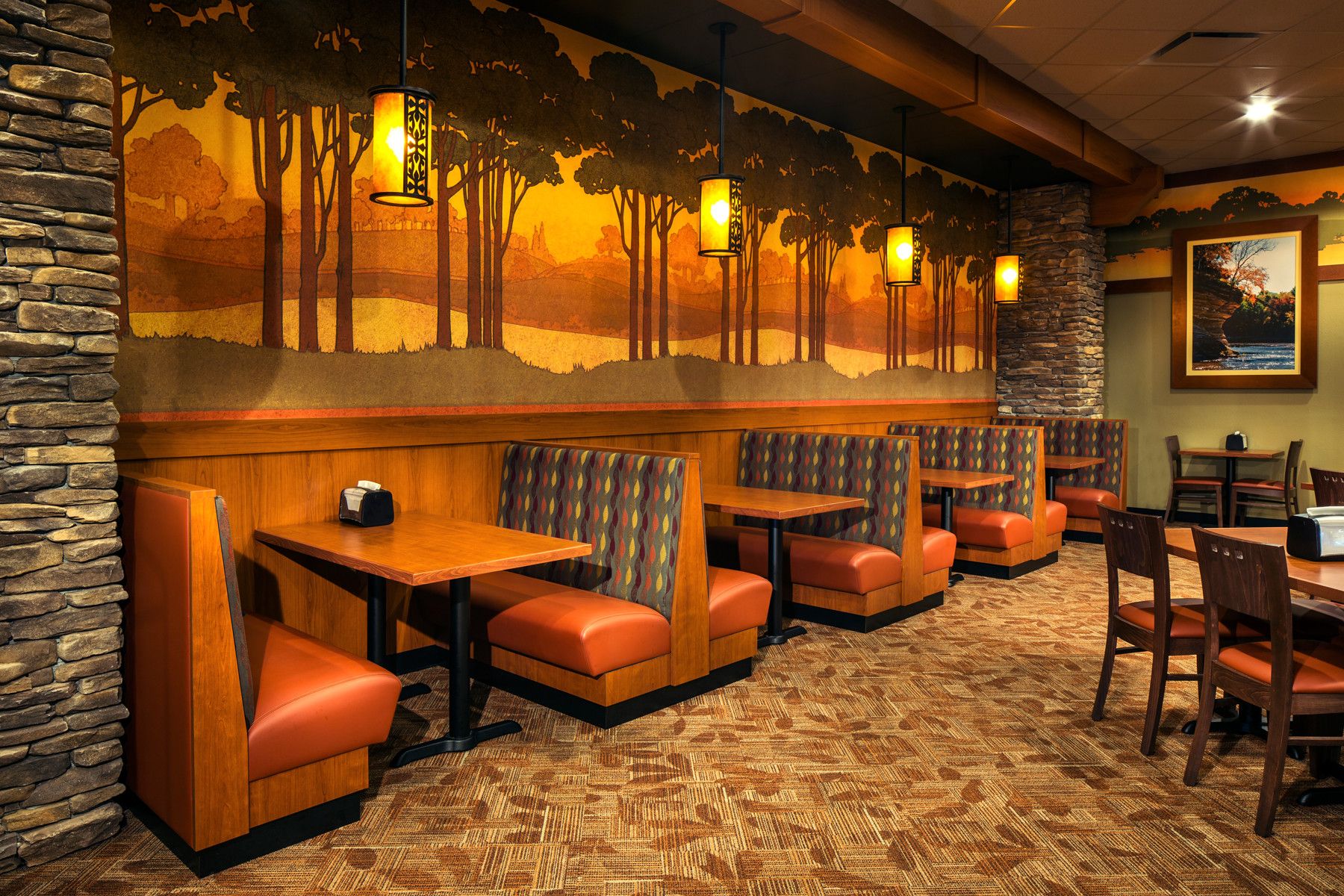 source: pinterest.com
One crucial factor to consider in the restaurant seating layout design is the number of seats required. It depends on various factors, including
The size of the restaurant,

The target market,

The dining concept.
Strike a balance between seating capacity and customer comfort to ensure a pleasant dining experience.
A famous adage for this situation is "less is more." A restaurant with fewer tables and a more spacious layout can make customers feel more comfortable and relaxed. For example, Eleven Madison Park in New York seats only 80 diners a day, yet it has been named the best restaurant in the world.
3. Restaurant Bar Seating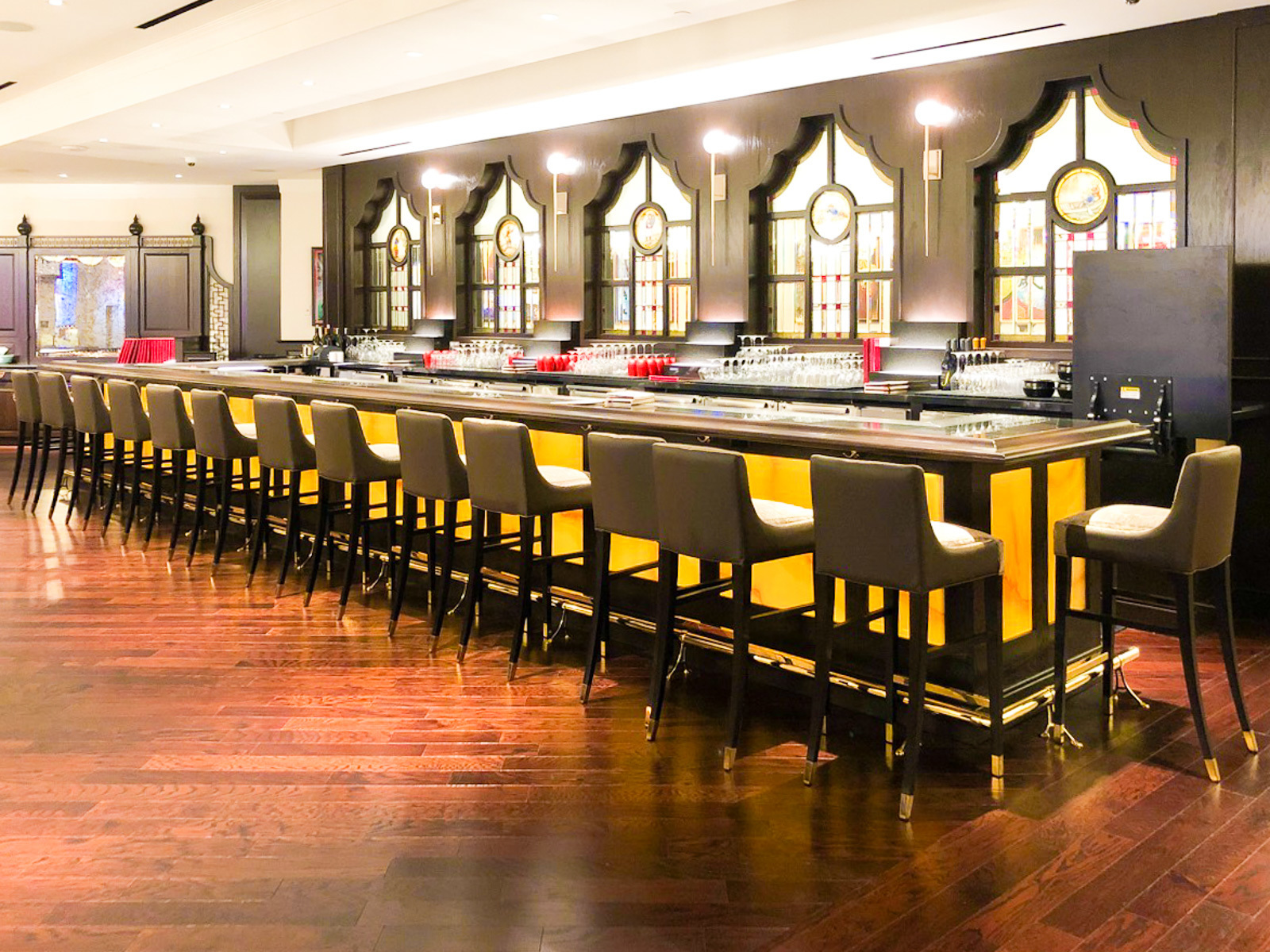 source: pinterest.com
Restaurant bar seating is a popular and unique option for seating arrangement plans. While considering bar seating in your restaurant seating layout plan, be sure to prioritize customer comfort, the design and style of the bar like Dubai's McGettingan's. A well-designed bar can add a unique and fun element to your restaurant that customers will love.
Determine the purpose: Is it a casual drinking spot, or will it serve food? Will it be a place for socializing or a more intimate setting?

Choose the right bar stools: Bar stools should be comfortable and align with the bar's style.

Provide adequate space: Ensure sufficient space around the bar to allow customers to move freely.

Lighting: Good lighting creates ambiance for the bar area. Dimmer switches and

warm lighting create a cozy atmosphere

, while brighter lights are better for visibility. 
4. Restaurant Table Size & Shape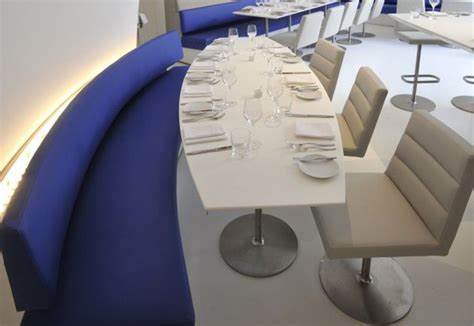 source: pinterest.com
Choosing the right size and shape for restaurant tables is an essential aspect of restaurant seating layout design. Selecting table size and shape includes the restaurant's overall concept, the type of cuisine served, and the desired ambiance.
Rectangular tables are ideal for larger groups, such as families or corporate parties. The typical size for rectangular tables ranges from 24 x 48 inches to 36 x 96 inches.

Square tables are perfect for intimate dining experiences, like dates or small groups. Sizes range from 24 x 24 inches to 36 x 36 inches.

Round tables are great for creating a sense of community and encouraging conversation. Sizes range from 24 inches to 60 inches in diameter.
For example, the Michelin-starred restaurant Alinea in Chicago uses round tables to create a sense of intimacy and encourage interaction between diners. The acclaimed French Laundry in Napa Valley features rectangular tables to accommodate larger groups.
5. Set up Outdoor Dining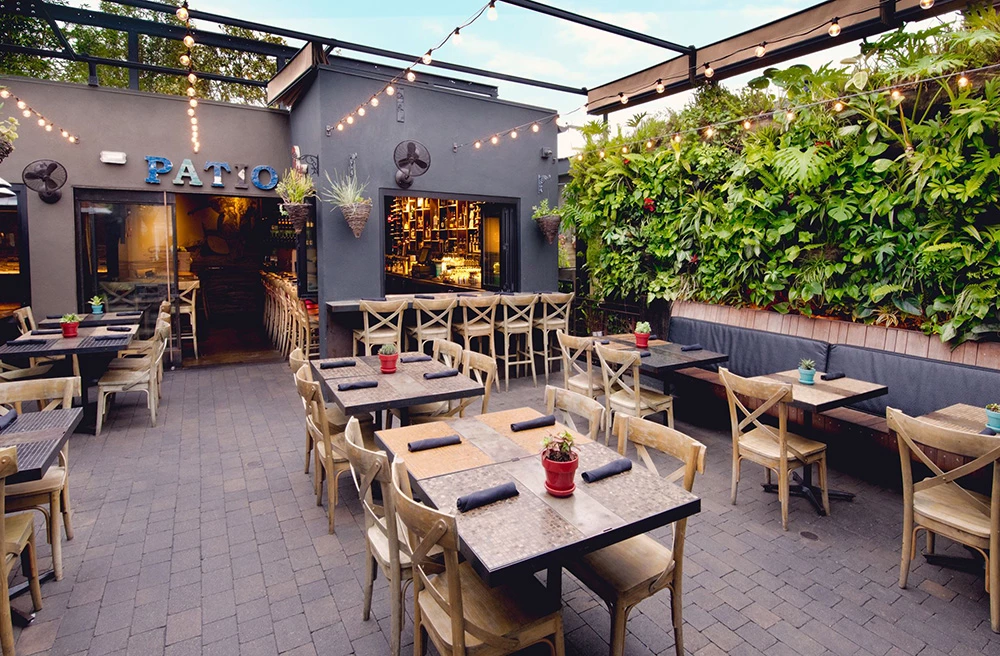 source: pinterest.com
Setting up outdoor dining can be a great way to expand your restaurant seating arrangement plan, particularly during good weather conditions. Consider the following-
Space: Before setting up outdoor dining, consider the available space and what furniture will fit best. It's essential to ensure that outdoor seating areas are in line with local regulations compliances and safe for customers.

Outdoor furniture: Look for furniture that is durable and weather-resistant. Outdoor tables and chairs made of metal, wood, or synthetic materials are popular choices. Be sure to include umbrellas or other shading options to protect diners from the sun.

Ambiance: Set up the outdoor dining area to create a relaxing and inviting ambiance. Lighting, planters, and outdoor decorations can enhance the atmosphere and attract more customers.

Heating and cooling: Outdoor heaters, fans, or misters can help regulate the temperature and make outdoor dining more comfortable.
6. Restaurant Furniture Spacing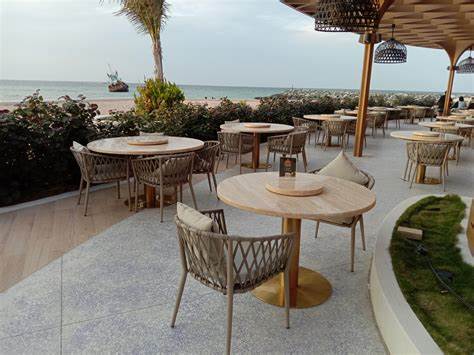 source: pinterest.com
Restaurant furniture spacing is an essential aspect of restaurant seating arrangement design. Proper spacing can improve the overall customer experience by creating a comfortable, functional, and safe atmosphere. Take into account the following-
Table- spacing: Proper table spacing is critical for customer comfort and safety. Place the tables at a distance that allows diners to move comfortably between them without feeling cramped. Generally, it is advisable to place tables at 24 to 30 inches.

Aisle width: Adequate aisle width is essential for servers and customers to move safely around the dining area. A minimum aisle width of 36 inches is recommendable, but this can vary based on restaurant size and layout.

Balance aesthetics and function: The restaurant furniture spacing should balance aesthetics and function. While a tight seating arrangement may allow for more tables, it could negatively affect the ambiance and overall dining experience.
Wrap Up
In conclusion, a well-planned restaurant seating arrangement plan showcases a welcoming, comfortable, and safe dining experience for customers. Restaurants can create a layout that aligns with their overall concepts; type of cuisine served, and desired customer experience. Ultimately, a well-designed seating arrangement plan can help increase customer satisfaction and loyalty and set restaurants up for long-term success.