New York City—The Big Apple! Big is in the nickname, but it's seldom associated with NYC apartments. Living in an apartment in New York is typically associated with tiny, cramped rooms or studios that only accommodate the necessities. The city is crowded and real estate is at a premium, causing inflated prices on square footage.
However, most NYC residents are also artsy and creative! You want your unique tastes and style to shine in your small-space NYC apartment. How can you design your rooms to best utilize the space? What types of furniture fit best and are most functional in a small apartment? Let's get into it! 
Utilize Your Wall Space for Storage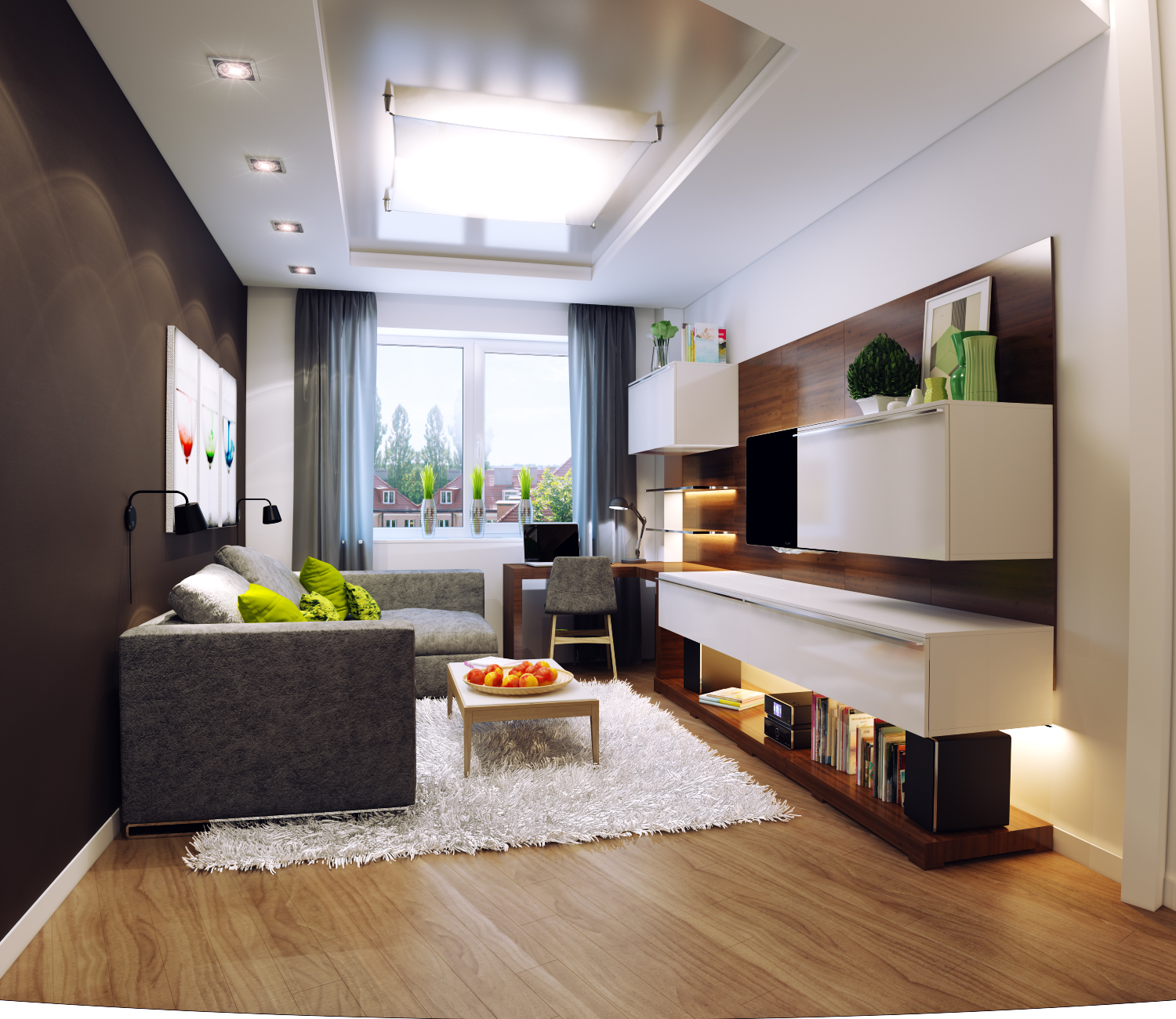 source: pinterest.com
One thing seemingly absent from most New York City apartments is storage. You might luck out with a cramped linen closet or two, but not much more than that. What's a person to do? 
Store upwards! Install some shelves onto empty walls above your couch, bed, dresser, or unused walls. Utilize them for:
Books

Clothing baskets

Towels

Dishes

Memory boxes 

Plants

Knick-knacks

…or anything you need! 
The fun thing about using visible shelves as storage is that they can act as decorative pieces, too. Display the things that you love or use often or that attract the eye, such as bright cookware, fun books, or colorful linens. 
Don't be afraid to store to the top, either! Floating shelves close to the ceiling are a great place to store things that you don't use often. Or, put items up here that make the space seem larger, such as mirrors or clamp lighting. Shelves close to the ceiling also resemble crown molding—fancy! 
Choose Big Pieces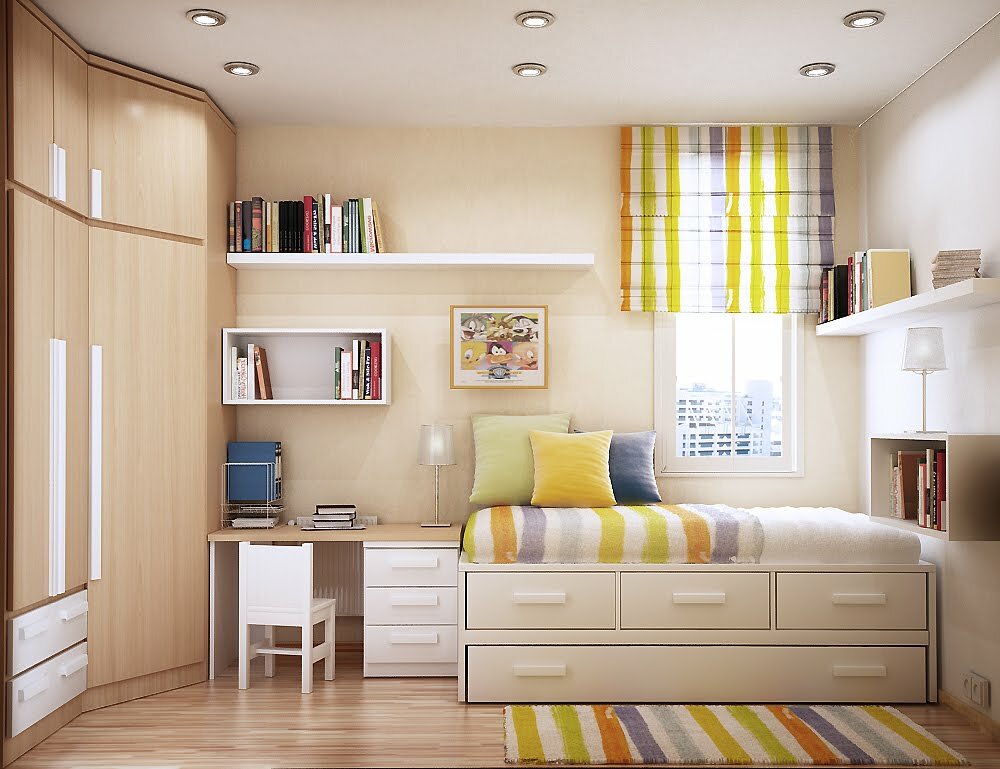 source: pinterest.com
This might seem counterintuitive. Aren't you trying to utilize small space well? Yes; however, when you put many small pieces in a tiny room, it feels cluttered and unorganized. 
Instead, choose one large seating piece for the living room, or a bigger dresser that doubles as a nightstand. 
Take the same approach for artwork! Fill a living room wall with one or two large prints or macrame pieces instead of several small frames or hangings.
Bring In the Light!
Hopefully, your cozy NYC apartment has plenty of windows offering natural light. You'll likely need to make your space feel even brighter, though. Start by painting or wallpapering with white or off-white shades that reflect light and open up a space. 
Utilize other easy ways to make a small space feel brighter, too, such as:
Adding brighter lightbulbs

Bringing down recessed lighting into hanging lamps

Using contrasting colors for decoration

Adding metallic elements to reflect light
Choose Full-Length Window Treatments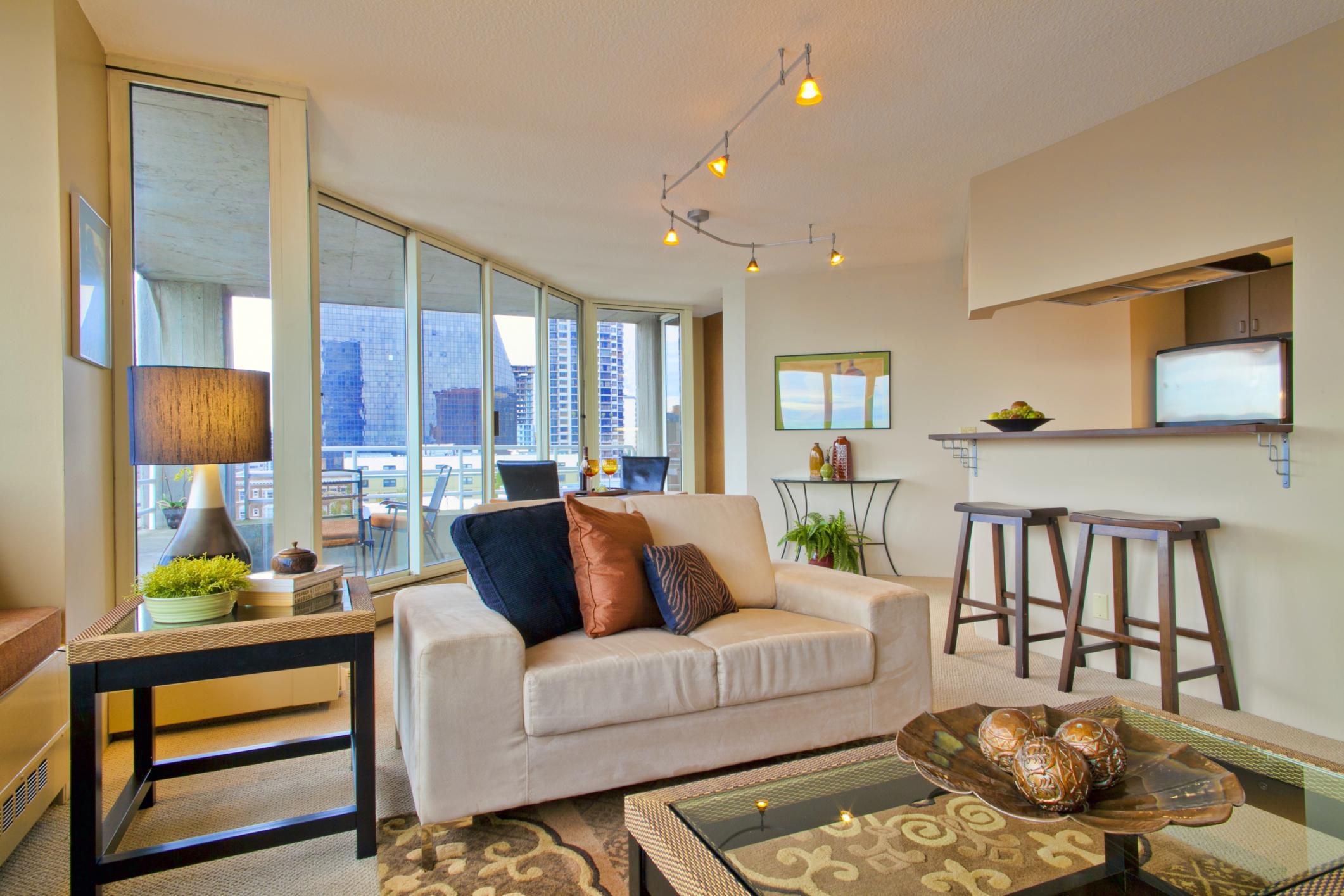 source: pinterest.com
Chances are that your NYC windows look directly into someone else's. Since window treatments are necessary for privacy, make sure that they also help make your space feel larger! Full-length curtains make a wall seem wider, creating the illusion of more space. Keep the curtain bar as high as possible, too, so that you don't block any natural light. 
Select Functional Pieces
In a tiny New York City apartment, every square inch counts! The last thing you want to do is add a cool piece of furniture that doesn't do anything for your space. Not only should each piece be functional, but it should also serve more than one purpose. 
Want an ottoman in your living room? Choose one with a flat top that also serves as a table for living room dining. Better yet, look for one that opens up to store blankets or board games! 
If you're lucky enough to have space for a bed frame, make sure that it has drawers around all sides for extra storage. This is much easier than crawling underneath your bed to look for occasional necessities. 
Murphy beds and drop-leg tables get a bad rap for being unsteady, but small-space requirements mean that designers have upped their game! Plenty of pieces fold up into the wall while looking great at the same time. Some even provide secured cabinets on the other side! 
Mount Lights on the Walls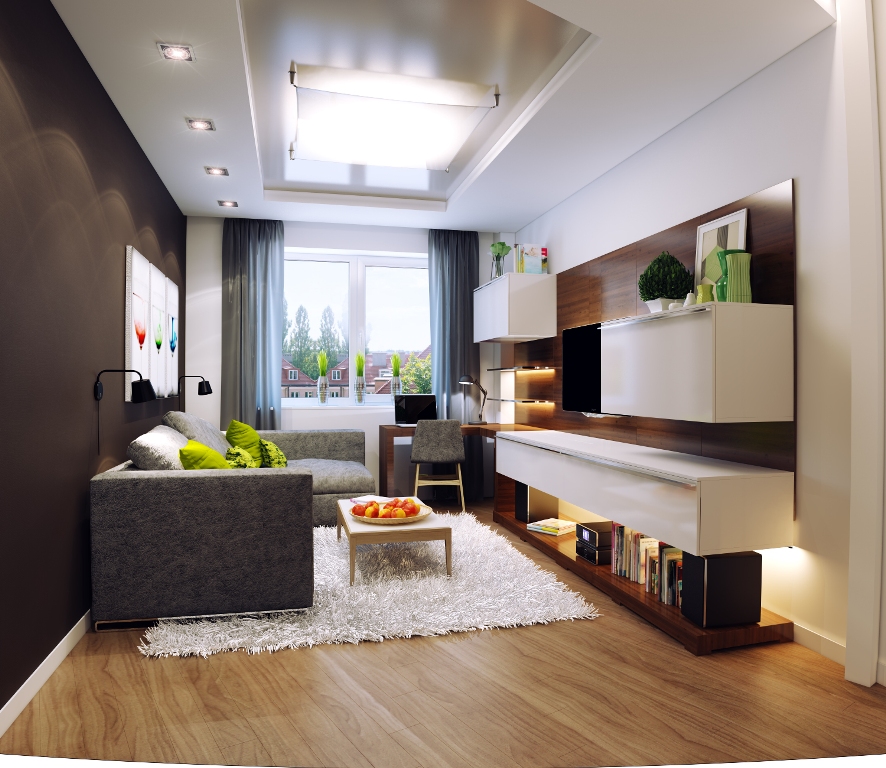 source: pinterest.com
You might not have enough windows or overhead lighting, but putting lamps on the floors or shelves takes up high-priority space! Instead, mount fixtures on the walls, which serves the dual purpose of bringing in brighter lights. Wall sconces are a great option for this! 
Mirrors Are Your Best Friend
Mirrors are one of the easiest tricks to creating the illusion of more space. Hang them in hallways and common spaces to make rooms feel bigger and brighter. Better yet, hang them so that they reflect each other to optimize the reflected area. 
Float Your Furniture
No, we don't mean off of the floor. Floating your furniture is a design term that refers to leaving space in between pieces and the walls, as well as the pieces themselves. People who live in small spaces tend to push things against the walls and butt them up against each other to "save space," when in reality, it makes things seem cramped and cluttered.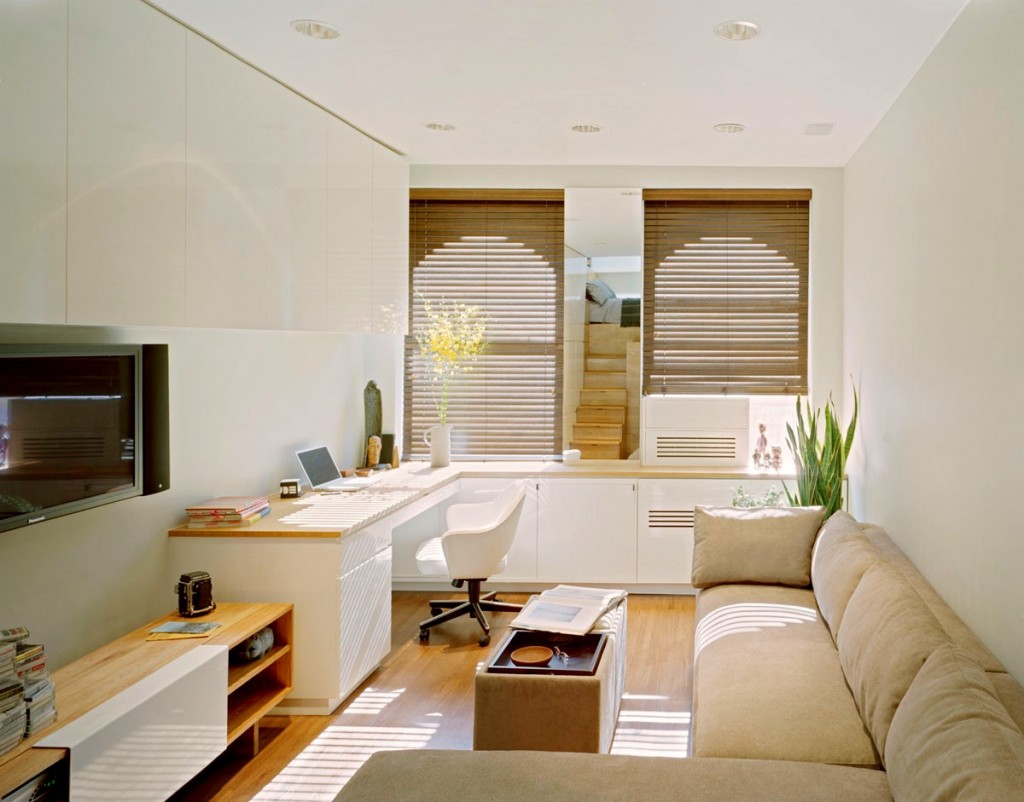 source: pinterest.com
The few inches that you'll gain by pushing furniture into the corners and having them touch each other won't leave you with much space for extra pieces, anyway. If a bed, dresser, or couch needs to touch the walls or other pieces of furniture to fit, try replacing it with something a bit smaller to open up the space more. 
Leaving these small, open areas also means you have to get rid of clutter. The less "stuff" you have, the less there is to take up space and create a mess! 
Small NYC Apartment? No Problem! 
There's nothing you can do about the square footage in your small-space NYC apartment. However, there's plenty you can do to design it creatively and use furniture intentionally so that your home feels open, airy, bright, and inviting. Leave space between furniture, choose a couple of big art pieces, and brighten up each room with lights and mirrors. 
While apartments in NYC tend to be small, they tend to be expensive as well. Find the best deals to furnish the NYC apartment of your dreams at Spoken and never overpay for quality furniture again!