After a long time we are back to work, gathering parties, catch up with friends, colleges confused about what to wear  or looking for trends, you are at the right place so now its time to say bye to cute-comfy pajamas, time to walk on the runway of real-life and  say hello to spring with more energetic, style yourself with the latest collection  & be the trendsetter of your group, 
Lemon Yellow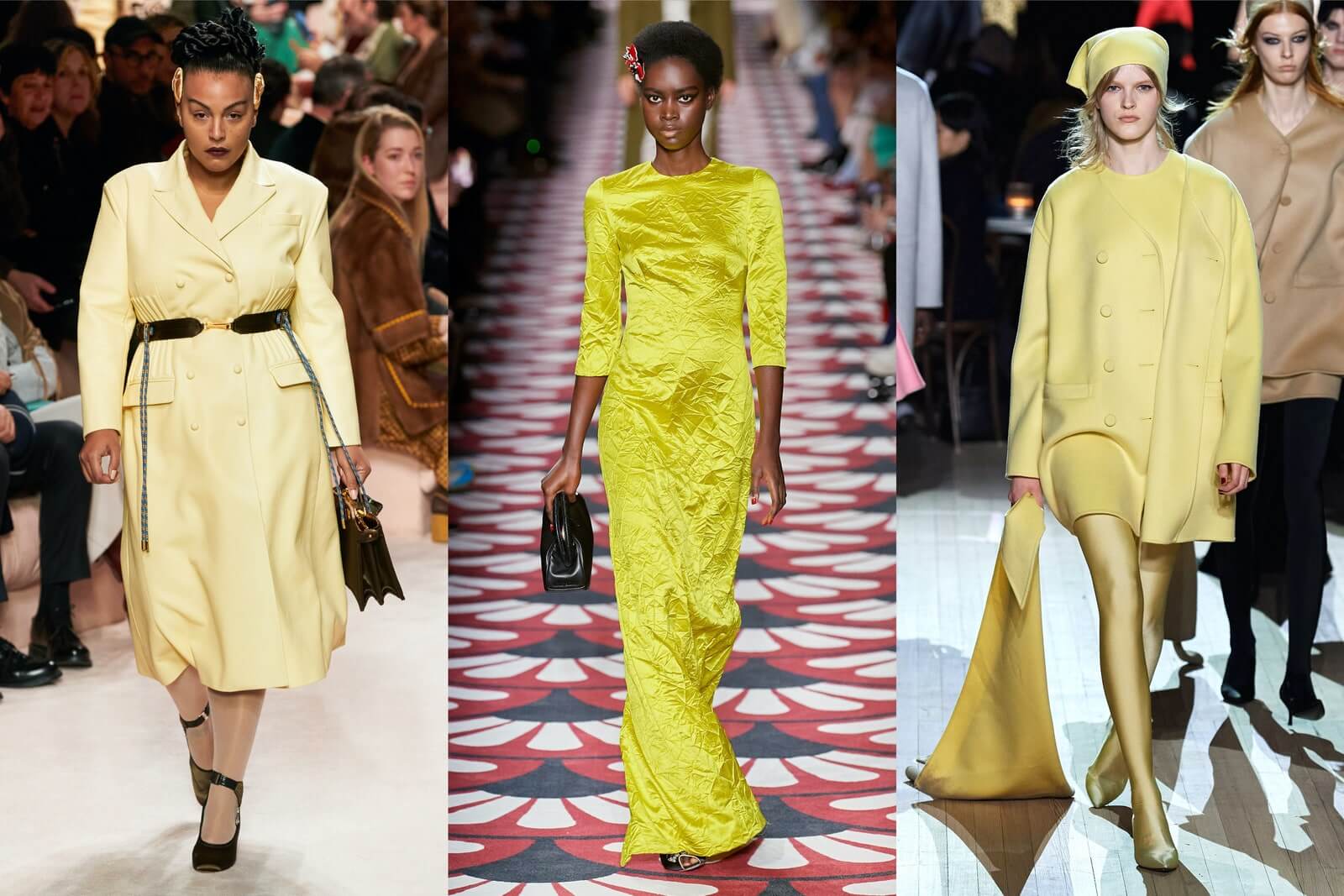 source: vogue.com
Hello ladies, lemon yellow is a light color, that is perfect for spring/summer. The most trending & cheerful color of the 2021 award goes to lemon yellow. The lemon yellow color is a symbol of rising & shining. 
Even though yellow is a risky color, but failed to fallen from the public taste, some times it gives funny look but other times it looks more stylish. Wearing yellow is not as hard as you think. You just need the right knowledge of styling for that you have to follow the tips given below. 
3 Yellow Magic Tricks for Looking Stylish 
Pay attention to your skin tones like lemon yellow look best on normal or olive skin tone,  golden yellow is specially made for dark skin tone and pale skin tone should go for mustard yellow and dark lemon yellow.   

Choose neutral accessories & layers example: try a yellow color necklace on a bright white top, etc. 

Pair with the right color combination examples: lemon yellow with black, mustard yellow with white, pair pale yellow with brown for a boho look, etc.  
Ultimate Grey 
source: refinery29.com
One of the most trending 2021 colors is ultimate grey. Ultimate grey is a kind of natural color, it's the color of million ages-old stones, rocks, and pebbles you find on the beach, Ultimate grey is a symbol of strength. 
Before that grey was a boring dull kind of vibe but after an unparalleled time ultimate grey pair with an illuminating, these two independent color combinations of duos break the records and won the tag of 2021 trending looks. Ultimate grey with a touch of illumining yellow expresses a message of positivity supported by the fortitude.   
Cutouts Never Get Old 
As you read cutouts never get cold, over the past few years cutouts was super on trends, teenagers or celebs love that but slowly they get bored of this trend. Again fashion designers work hard and cool cutouts make place on 2021 spring trends. 
Avant-garde shapes and many cut-outs are upgraded on spring trends, this outfit styles look good on their own, they are properly neat and comfortable to wear. Layer over the thin top, tights,  etc. 
Victoria Oversized Sleeves 
source: condecdn.net
Have u binged  Bridgeton?  Let's go back in a time machine and arrive in 19 century where victorian sleeves were super on-trend, its oversized shape makes you an assumption of the slimmer waist and adds an instant royal touch to your ensemble.
Effects of soft spring colors-it's time to unleash your inner mysterious princess in grey or black. It's also time to put out your 80s puff frock dress from your wardrobe and style yourself like a victorian queen. 
''It's a style that keeps coming back''
Checkerboard 
Have you binge queen gambit recently! You will be a delight to know that checkerboard prints are back in trend. Personally, I love checkerboard print coats, dresses and etc. his kind of print never gets old & never loose a fashion game.
"Checkerboard style game  is always, classic like a chess game'' 
Sorbet Pastels 
Another trend that is participating in spring 2021 is sorbet pastel. Sorbet pastel colors are perfect to wear in spring/summer, which looks best on every skin tones, choose from a lavender boiler suit with pair of an oversized trench coat in mint green, 
Sorbet pastel not just give you an aesthetic look, soft & buttery shades of sorbet pastels will style you in an elegant & unique look. 
Losen Up Look 
Good news, in case you missed the news, skinny jeans are now out & if you are like me prioritizing comfort more than uncomfortable outfits you are in the right place. Looking for relaxing & comfort trends, a loosen-up look is for you with not only jeans include coats, trousers, blazers and etc. 
After wearing loungewear/pajamas for almost a year, it's difficult to back on daily normal-ish dressing this is what we are looking for a slowing way of back to daily life and finally, we found it. 
Loosen trousers are also part of this look. Outfits include in this look are super comfortable, chic & casual & now it's time to over skinny jeans and moves on to a comfy loosen-up style. 
Pumpkin Orange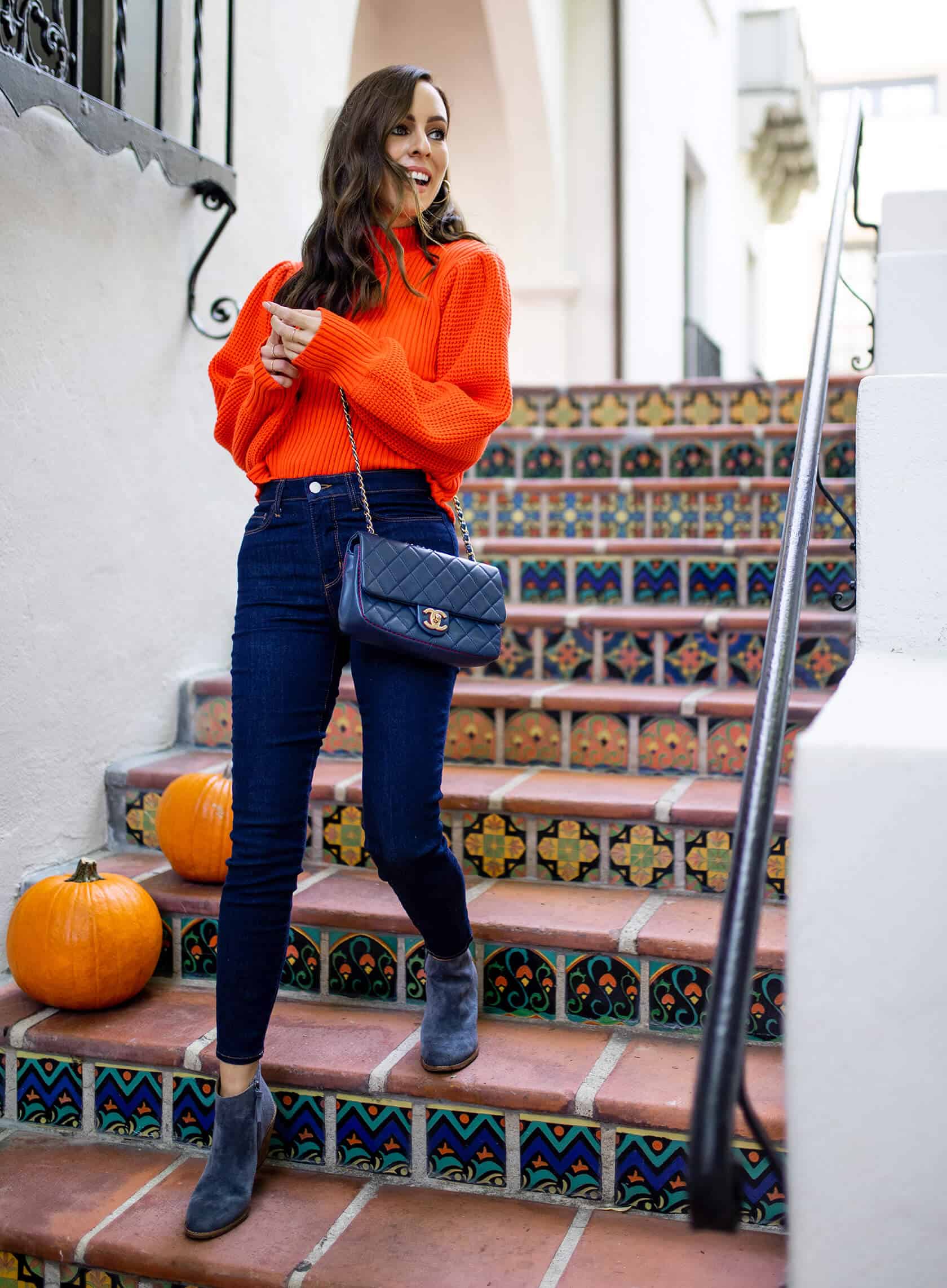 source: sydnestyle.com
Mostly surprised color, no one imagines is now also a  part of 2021 spring trends. Orange is the ultimate color of autumn but in spring floral converts into pumpkin orange. 
The ginger color made a great appearance at Tod's, Roksanda, and Altuzarra, their graceful midi skirts, button-up, and trousers could be worn any time.  The terracotta was also popular for maxi dresses, as seen at  Valentino Tory Burch, and Dior. That's how seasonless colors become the color of all seasons.   
Business-Casual
Chances are that this year, the inflection at which you are stepping foot in an office has significantly decreased. It's incomplete without being said, suiting and tailoring as an overall category have majorly shifted away from the structure and towards more casual and silhouettes. 
Extremely inspired by slouchy blazers, relaxed trousers, and untucked everything, designers from Michael Kors to Louis Vuitton have officially announced that the new era of suiting is here and it's nothing like we're used to.
Bubblegum 
After millennium pink on-trend, bubble gum is the color of 2021, The color trend was spotted on the S/S 21 runway and has already entered the wardrobe of the fashion set,  that's why it will be the defining shade of the spring season. It's definitely an unforgettable adventure of spring trends
If you want to make your entry into this trend, these are great suggestions from the fashion set at Live Enhanced. 
This oversized button-down top on the Valentino runway was a favorite among customers this season.

Relaxed trousers are one of the fast trends destined for the spring season-Chanel takes it up a level by adding a bubblegum pink finish.

Walk into the trend by wearing bubble pink sweatpants & pair them with a contrast top Go for a tonal look by layering and etc.