Food is something that we all appreciate and that links us to each other's customs, cultures, and histories. Although we all appreciate highly refined cuisine in posh places nothing beats real street food. Cuisine describes the people, weather, history, and culture of a certain location, as well as the typical flavors that they have found.
Travelers and foodies connect at this point as they enjoy the greatest street food. Which comes with a bunch of amazing flavors and feelings. Street food is about more than just eating meals at a lower price than you would in a restaurant. But we also get to experience authentic flavors that remind us of his/her culinary home.
We create many memories, amazing movements when we connect with the locals, and cuisine that satisfies both our stomach and our heart. So we explored the world for the 10+ best street food dishes at live enhanced for your vacation bucket list, from Bhelpuri to Crêpes. Some will be familiar, while others will be entirely unfamiliar, but all are worth a try.
Asinan (Indonesia)
source: soyummyrecipes.co.uk
Asinan is a famous Indonesian street food made of pickled, brined, or vinegared fruits and veggies. Asinan-Betawi and Asinan-Bogor are the most popular varieties of Asinan (a term that means "salty food"). Betawi is a Jakarta dish that consists of preserved Chinese cabbage, tofu, lettuce, and bean sprouts. Which are served with spicy peanuts and krupuk (deep-fried cracker) on top. Bogor, on the other hand, is named after the city of Bogor. It's made up of preserved fruits such as pineapple, raw mango, water apple, papaya, etc. Which are served in a dash of sweet yet hot-and-sour vinegar and spicy sauce, sprinkled with peanuts.
Bungeo-ppang (South Korea)
source: shopify.com
Bungeo-ppang is a Korean pastry in the shape of a fish. It is filled with red bean paste and is commonly spotted on the streets during the winter season. The batter is made by combining wheat flour, baking powder, water (or milk), and occasionally eggs. Then put onto a bungeo-ppang grill, an appliance with a fish-shaped mold similar to a waffle iron. After that, the sweetened red bean paste is poured before pouring additional batter on top and sealing the shape until the pastry is brown. Bungeo-ppang can be available with a variety of fillings, including pastry cream, chocolate, and even pizza toppings, in addition to red bean paste.
Egg Waffle (Hong Kong)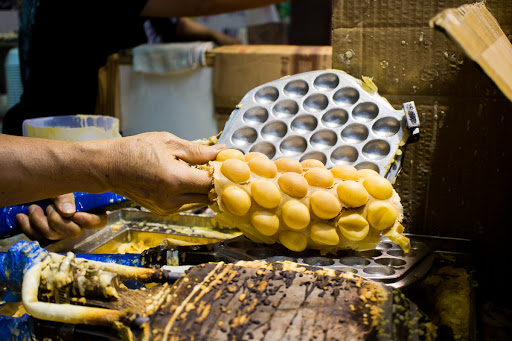 source: thatfoodcray.com
Egg waffles originated on Hong Kong streets in the 1950s and have been a popular snack ever since. Their unique look is achieved by cooking an eggy batter between two semi-metal plates over an open flame or electric burner. Egg waffles are best eaten hot off the griddle and are typically eaten plain, but some places may add fruit or chocolate. Some merchants also sell batter in other flavors, such as chocolate, green tea, or ginger.
Crêpe (Paris)
The crêpe is a treasured part of every Parisian street scene, and it is available 24/7 of the day. Savory crêpes, often prepared with buckwheat flour and served for lunch or dinner, are generally filled with ham and cheese. However, variants with vegetables, eggs, and other meats are available. Sugar, fruit preserves, custards, or Nutella are common ingredients in sweet crêpes, which are generally prepared with wheat flour and eaten for breakfast or dessert. Head to the street Montparnasse for the largest variety in the city, where you'll discover stand after stand of cheap crêperie options.
Bhelpuri (India)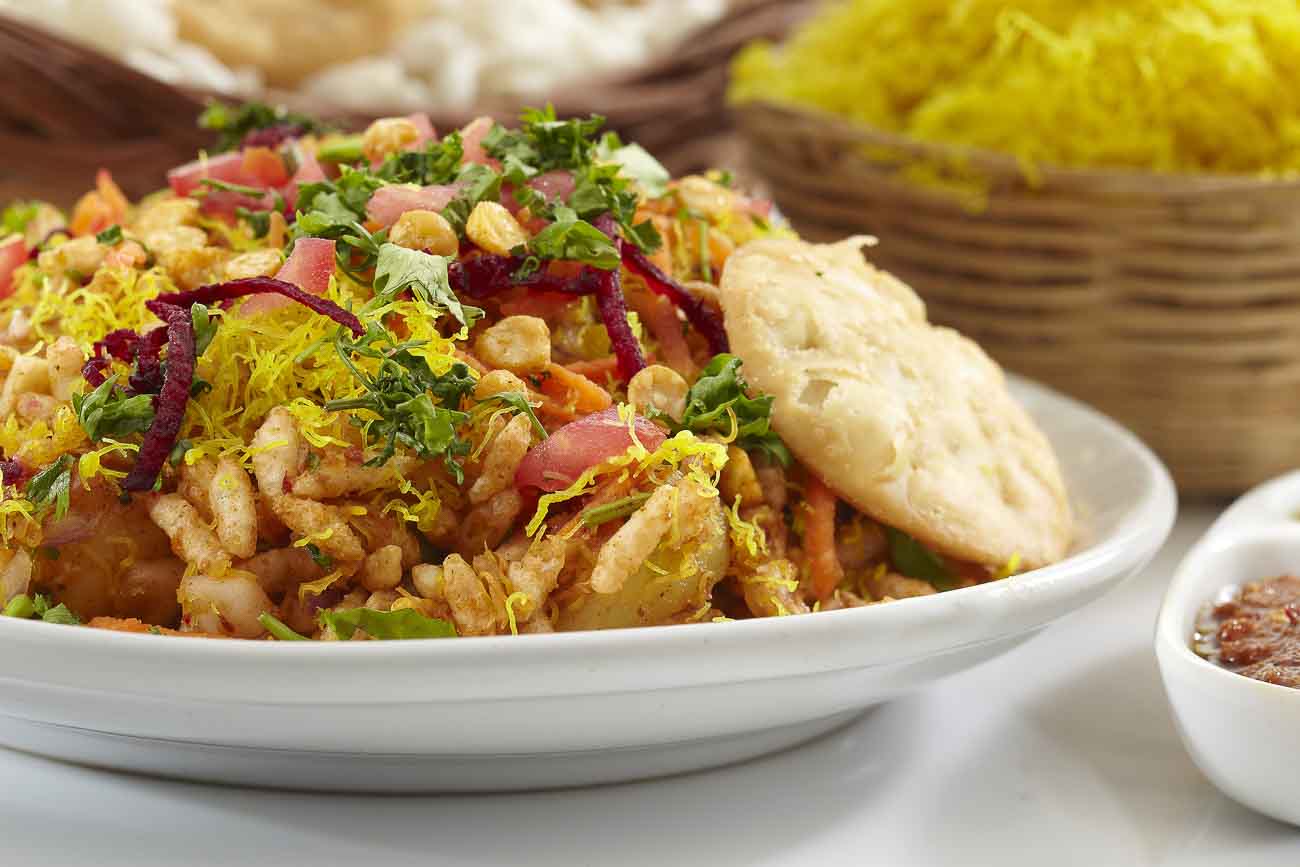 source: archanaskitchen.com
The street snacks known as chaat in India vary greatly from area to region. But bhel puri may be found in almost every section of the nation. Still, Mumbai is the finest location to get the genuine deal: puffed rice, sev (fried vermicelli-like noodles), veggies, spices, and chutneys. As a result, there's a fun mix of textures and sweet, salty, tangy, and spicy tastes. Although the meal is commonly linked with Mumbai's beaches, it can be found at street vendors all throughout the country.
Fish & Chips (England)
Today, fish and chips are one of the most iconic British dishes, although their origins can be traced back to Europe. Chips, or French fries, originated in France or Belgium, while fried fish arrived in the United Kingdom via Portugal and Spain. In the mid-1800s, enterprising Brits began to serve fried cod or haddock with chips. It's frequently served with mushy peas, curry sauce, gravy, or ketchup, and is seasoned with salt and vinegar. Usually, fish and chips were packed in old newspapers, but nowadays they are using butter paper. In the United States, you may also find some fantastic fish and chips places.
Gelato (Italy)
source: cntraveler.com
While gelato is the Italian term for ice cream, it is not the same as ice cream. Gelato is significantly lower in fat than classic American ice cream. Since it is made with milk, cream, and sugar, then flavored with nuts, fruit, or other flavorings. It must include 3.5 percent butterfat according to Italian legislation. Gelato, on the other hand, has more flavor and less air whipped into than ice cream, giving it richness. That has made it popular in Italy and across the world.
Hot Dog (United States)
The hot dog is a traditional American street dish that may be found on the menus of many restaurants, shops, and stadiums. As well as hot dog stands and food trucks in major cities like Chicago, Detroit, and New York. A grilled or cooked sausage is served on a steaming hot dog bun and topped with any toppings the eater wants, such as ketchup, mustard, relish, onions, coleslaw, cheese, and chili. Variations in cooking and condiments vary by area, and some of America's greatest hot dogs may be found all throughout the country.
Mango Rice (Thailand)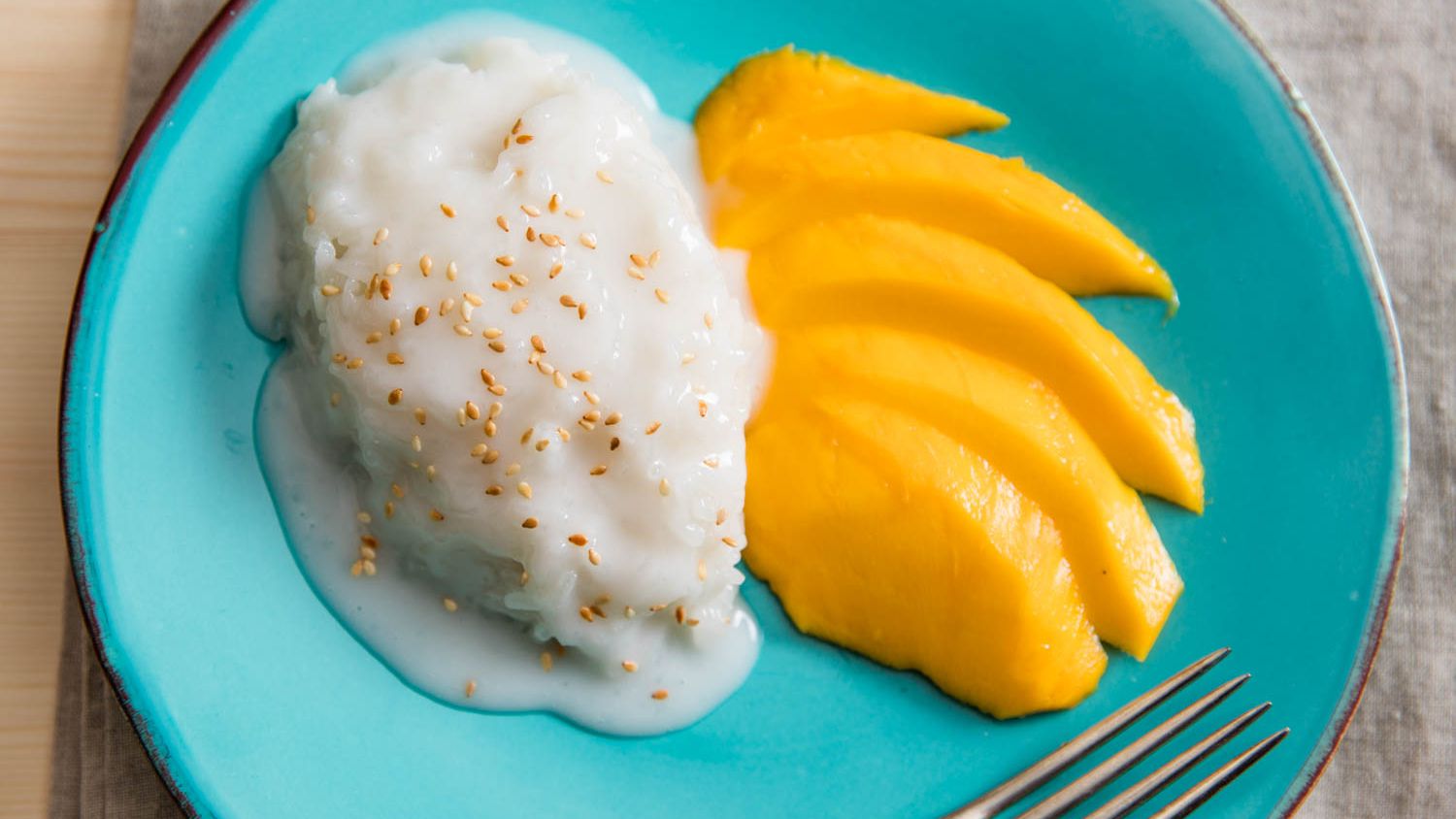 source: seriouseats.com
In Thai, mango sticky rice is known as khaoniao mamuang. It's a famous Thai dessert that's also popular in Cambodia, Laos, and Vietnam, among other Southeast Asian nations. Sticky steamed rice is combined with coconut milk that has been seasoned with salt and sugar, then left to absorb the milk. More coconut milk is drizzled over the rice, which is topped or served with mango pieces. The meal is very popular in Thailand during the summer months of April and May when mangoes are in season.
Tacos (Mexico)
A maize or wheat tortilla is folded or round a filling that contains beef, chicken, cheese, pork, seafood, and vegetables. Then topped with avocado, chili pepper, cilantro, guacamole, lettuce, onions, salsa, and other toppings. Tacos are also popular in Canada and the United States. With a broad range of tasty options available in every state.
Empanadas (Argentina)
source: goya.com
Although empanadas (filled pastries, generally savory) can be found across Argentina, the greatest ones come from the Salta area in the country's northern corner. It is also the only location where the spicy sauce is widely used.
Calzone (Rome)
Calzones, like the pizza, are folded over pizzas that were created in Naples. Calzones are cooked in the oven with salted bread dough that has been packed with ham, salami, or vegetables, as well as mozzarella, ricotta, and Parmesan or pecorino cheese. Regional variations abound throughout Italy. With ingredients ranging from traditional pizza toppings to items such as eggs or potatoes. While calzones may be fairly filling. Italian street sellers frequently serve them in smaller sizes that can be enjoyed on the go.
Churros (Spain)
Churros are sweet and crispy deep-fried sticks of dough that may be eaten plain rolled in cinnamon sugar or dipped in luxuriously thick hot chocolate (my favorite). In Madrid, where the iconic Chocolate San Ginés sells them 24 hours a day, they are especially popular as late-night snacks.