If you are flying through Minneapolis-Saint Paul Airport and you find yourself with a long layover, you may not know what to do with yourself, don't worry, we do. Minneapolis and St. Paul (aka The Twin Cities) have some incredible attractions to check out, and you don't have to go far to reach them.
A lot of people don't know much about the beauty and fun that these cities offer. So here are a few highlights of things to do and see before you continue on your journey. But before you explore this hidden gem of a city, make sure your luggage is safely stored in a location near Minneapolis Airport.
Minnehaha Falls Regional Park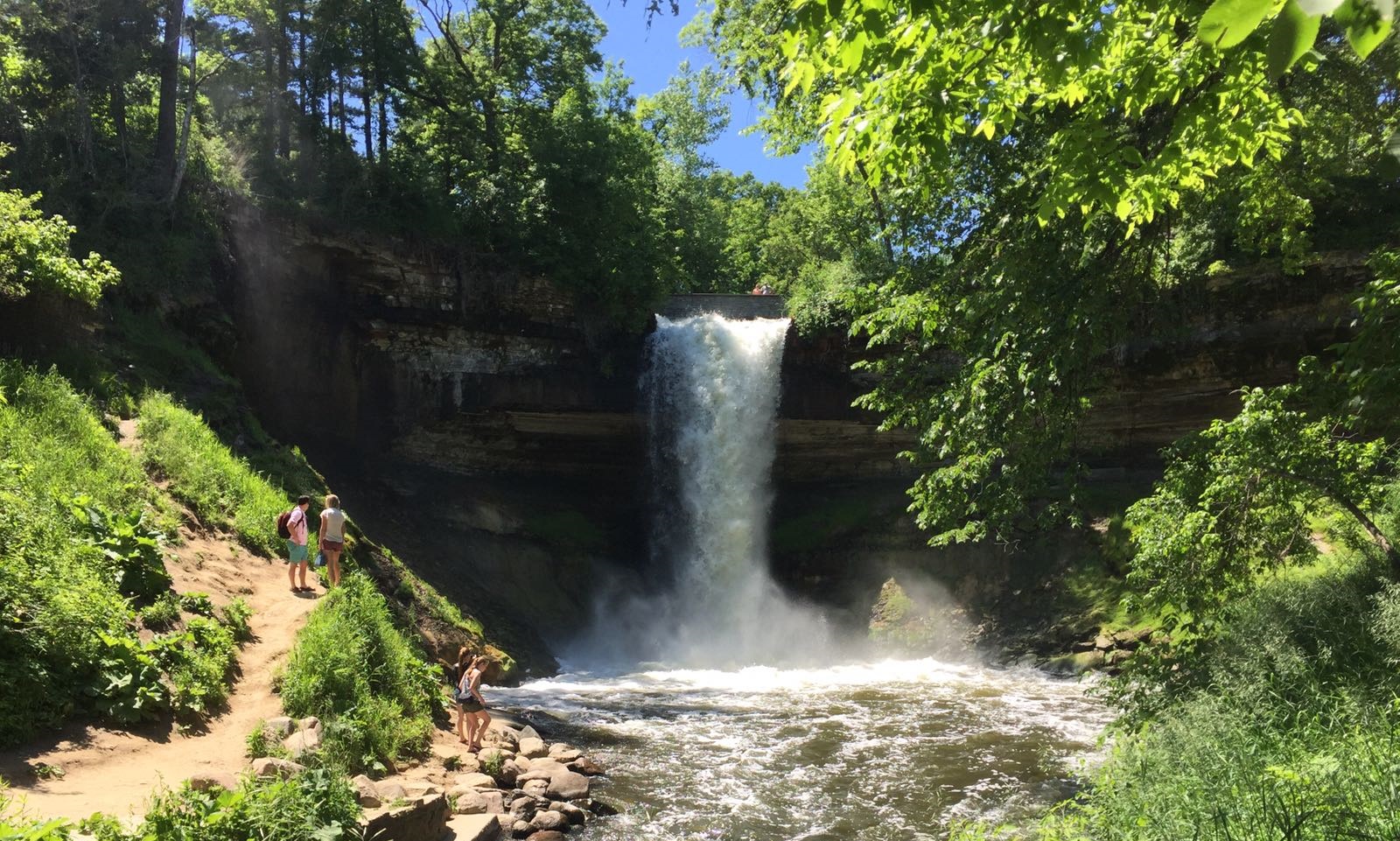 source: pinterest.com
Looking for a picturesque place to relax, maybe take a stroll to recharge your batteries between flights? Less than twenty minutes away by metro, you will find Minnehaha Falls Regional Park. The waterfall was made famous by the poet Henry Longfellow in the "Song of Hiawatha." But, believe it or not, he never even saw it.
There are plenty of benches situated on the upper reaches of the gorge to watch the falls. Or you can relax on a sandy beach on the Mississippi Riverbank. With many trails to explore and stone bridges to walk on, it makes for some great photo opportunities.
There are many other fun things available in the park, like frisbee golf and a wading pool for kids. If you are hungry, bring some food for a picnic or grab a bite at the Sea Salt Eatery. And if you have a little extra time on your hands, you can walk through the park to explore Fort Snelling Park as well.
Mall of America
source: mallofamerica.com
Visiting a mall might seem odd in most cities, but not in Minneapolis. The Mall of America is not your average mall. This mall sees over 40 million tourists visiting it each year, and it is easy to see why. 
This phenomenal mall is the largest in the United States. You could actually fit seven baseball stadiums in it. It has over five hundred and fifty stores of tax-free shopping, fifty restaurants, two amusement parks, one aquarium, one hotel, and twenty-three entertainment venues. A direct metro line from the airport makes this a must-see when in town. Just stash your bags at the Chicago Union Station Luggage Storage and make memories.
If you are traveling with kids, they will absolutely love coming here. They could hit the Crayola Experience, be awed in the Sea-Life Aquarium, get busy at Lego-Land, or cruise around in a Dream Rider. It really is a kid's dream playground.
But don't worry! There is something for the grown-ups too. Starting from escape rooms and roller coasters to mini-golf courses and the 5D Extreme Attraction ride, adults get to have some fun too! If you want to sit and enjoy a movie or go to a comedy club, the mall has that too. This mall is crazy fun!
You could spend days exploring and having fun, but you may need to make more trips.
Stone Arch Bridge
source: pinterest.com
The historic Stone Arch Bridge was built in 1883 by railway tycoon James Hill at a cost in today's money of eighteen million dollars! It was initially made so the Great Northern Railway (also owned by Hill) could transport passengers across the Mississippi River. 
But nowadays, it is a famous tourist attraction for both foreign visitors and locals, with a spectacular view of St. Anthony Falls, where Minneapolis was first established. The fifty-foot drop is the only true waterfall on the Mississippi.
The bridge is only open to foot and bike traffic. You can enjoy watching the boats go through the locks, tour through the dam, or walk over to Riverfront Regional Park. After a lovely walk along the bridge, you can grab a bite or do a little shopping at the nearby shops.
Fort Snelling Park
source: exploreminnesota.com
If you want a little more activity in the park, this is where you want to be, summer or winter. There is plenty to keep you busy. The great thing about Fort Snelling Park is that it is located right in the heart of the Twin Cities. 
In the summertime, you can swim, canoe, go biking, play a round of golf, or hike up to historic Fort Snelling. Not to be outdone, the winter offers just as much fun with snowshoeing, skiing, dog-sledding, and heated picnic shelters.
If you want to stretch your legs it takes an hour to walk, if not, a taxi will take you there in less than ten minutes.
Take in a Sporting Event 
source: pinterest.com
One might think of Minnesota as a sports Mecca, but you would be wrong. While most US cities host two or three major professional sporting teams, Minneapolis/St. Paul hosts five. So if you have a long layover and you want to catch a game, you are in one of the best cities in the world to do so. 
Pretty much all your sporting desires are covered; football, baseball, basketball, hockey, and soccer. Having so many different sporting teams means it doesn't matter the time of year you are there. You can almost always catch a game.
It is something special to watch a game with fans from the state of Minnesota. You will not find more dedicated fans anywhere else in the world. And with all the stadiums thirty-five minutes or less away from the airport, you can join in on the action.