A picture is considered to be worth a thousand words. We all agree that there is no better method to record those truly once-in-a-lifetime experiences than with a photograph. When most of us think of Instagram, we generally think of highly edited photographs of food and pets. However, with millions of users, Instagram has evolved into much more. The photo-sharing site is also home to some of the world's most brilliant photographers, including those who focus on the natural world.
We've gathered ten wildlife photographers at Live Enhanced whose work aims to inspire others to protect our natural treasures. Many of them are scientists who are involved in environmental activism. From giant cats and sea animals to small insects and majestic plants, you'll discover daily inspiration on all of their Instagram accounts.
Christina Mittermeier [@mitty]
Christina Mittermeier is Born in Mexico City, she is a photographer, marine biologist, conservationist, and author who founded the famous League of Conservation Photographers (ILCP). Her work has appeared in National Geographic and TIME and she has received multiple awards, including the Smithsonian Conservation Photographer of the Year Award.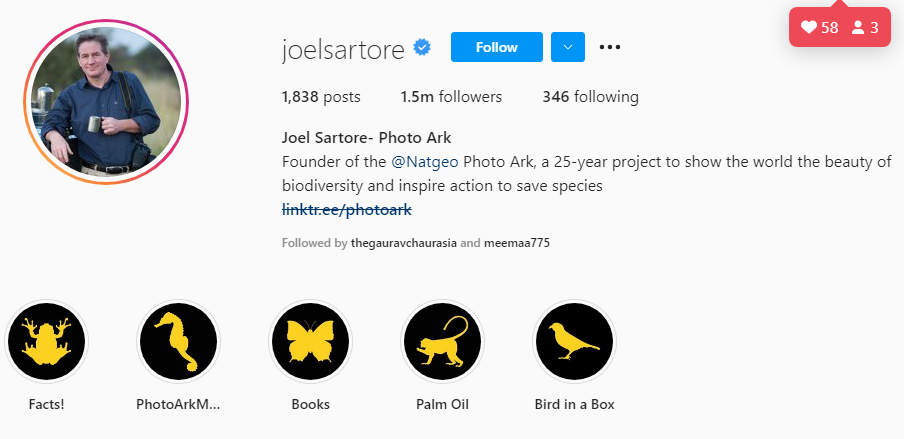 Joel Sartore is a speaker, author, conservationist, and American photographer who has received awards such as the National Geographic Explorer of the Year. He specialises in photographing rare creatures and scenery from all around the world. "We rescue ourselves if we rescue the species," he claims.
Christian Ziegler is a former tropical biologist who currently works for National Geographic as a photojournalist. He is a firm believer in the power of photography to change the world, and we have to agree after looking at his Instagram account and the publications where his work has appeared. Christian's photography and photographs make you want to travel and appreciate all of the amazing nature that we are so fortunate to have. 
It awakens you to what is truly out there, and how we must stand strong in our efforts to protect the world's wildlife. Christian Ziegler has been all over the world, but he prefers to spend most of his time in tropical rainforests, where he captures close-ups and macro photos of the natural beauty and wildlife that we all enjoy.
Paul Nicklen has over 20 years of experience as a marine biologist, conservationist, filmmaker, author, and Canadian photographer. He portrays the natural beauty of our globe, often in extreme climates, through his work for National Geographic. He has received numerous awards, including the World Press Photo and the BBC Wildlife Photographer of the Year.

Anuar Patjane, a Mexican social anthropologist, diver, and photographer, believes that visual storytelling can help people understand the importance of wildlife conservation. His black and white underwater photographs are his most well-known works. He's won awards including the World Press Photo.
Jens Cullman, a German nature and wildlife photographer, captures extremely wild moments and landscapes that are frequently violent but touching. To get the ideal shot, he knows it needs passion, patience, steel nerves, and a lot of luck. He has won numerous international photographic awards, including the International Wildlife and Nature Award.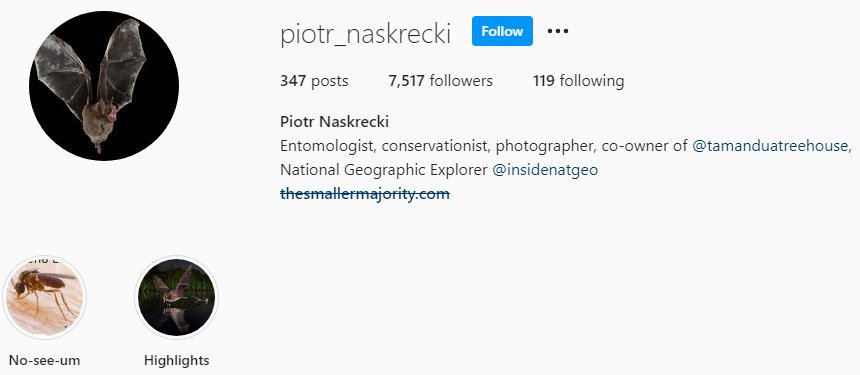 Piotr Naskrecki is a Polish entomologist, conservationist, author, and photographer who works at Harvard University's Museum of Comparative Zoology. He assists in the cataloging of southern African wildlife. Small creatures, bats, reptiles, and insects are among his specialties.
Steve Winter is a conservation photojournalist who has traveled much during his life. He has also found himself in a number of scary circumstances! He has been attacked by rhinos in India, stalked by jaguars in Brazil, and even stuck in quicksand in Myanmar. Since then, he has even camped in a tent for six months in temperatures as low as -40°F in order to track a snow leopard! You can see all he has been up to and get a real look into his life if you follow him on Instagram.
Will Burrard-Lucas [@willbl]
Will Burrard-Lucas specializes in perfectly capturing a moment in time. Whether it is the precise time when a hyena begins to laugh with its bright yellow teeth. Or when a family of lions has a pleasant expression on their faces under the African night sky. His art is extremely outstanding, capturing the exact expressions of a wide range of creatures such as African large cats, hippos, elephants, monkeys, and giraffes. It catches a great snapshot of them in their natural habitat. Will Burrard-Lucas also founded Camtraptions, a company that specializes in remote and camera trap photography equipment. If you follow him on Instagram, you will not be disappointed.
David Lloyd is a well-known New Zealand photographer whose work has appeared in numerous books and magazines. Although you can buy the books in which he has been featured. You can enjoy these stunning nature images simply by following his Instagram account. David Lloyd has received multiple awards for his work on African large cats, The Great Migration, Ugandan primates, and British wildlife.
Konsta Punkka  [@kpunkka]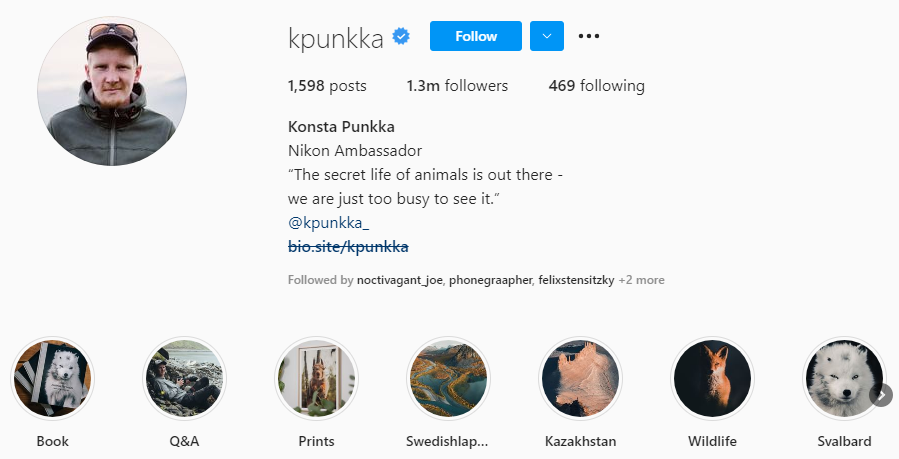 Konsta Punkka, who is from Helsinki, Finland, has created a style that We love. His beautifully unique portrayals of forest animals such as bears, foxes, and deer are a delight to witness. Most of his photographs are moody and dramatic, and though many other photographers want to emulate him, Punkka's portfolio stays at the absolute top. A photographer whose work We would gladly display in our home.
Brian Skerry is a well-known photojournalist who focuses on marine animals and other underwater environments. He has been a contract photographer for National Geographic Magazine since 1998, where he covers a wide range of themes and articles about the undersea world. Brian was appointed a Nikon Ambassador in 2015, and in June 2017, he has crowned the Rolex National Geographic Explorer of the Year.
Aside from covering a plethora of tales, his underwater photography is breathtaking. His art is fascinating to look at, with its vibrant colors and marine animals. He's even photographed marine creatures that most of us have never seen before! Not to add that his shark pictures are extremely realistic—it seems like you're being attacked by one. Brian is also one of the top Instagram nature photographers to follow.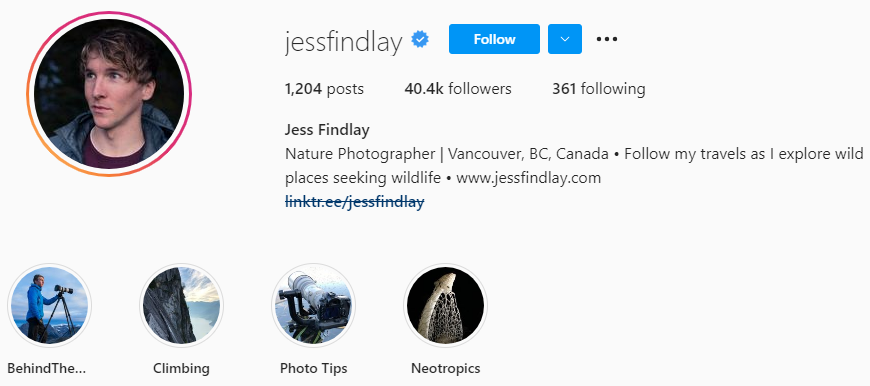 Jess Findlay, a 28-year-old professional nature photographer from Vancouver, British Columbia, Canada, is one of the great wildlife photographers on Instagram to start following. He enjoys photographing animals and landscapes in places such as his native province of British Columbia, Alaska, and the Pacific Northwest. As a traveler, he has also traveled to Central and South America in order to explore and capture wildlife.
As we all know, birds are among the most colorful species in the world, so it's no wonder that Jess is particularly fond of them. And if you're a big bird fan, I definitely recommend checking out his Instagram. Not only does he photograph the most different birds on the planet, from large to little. But the colors on them are breathtaking! Many of his hummingbird photographs have the vibrant hues of real rainbows. You must see for yourself if you do not trust me.