The kitchen is not just for cooking but also for entertaining, relaxing, and even socializing. Therefore, it is essential to ensure that its design is perfect, both from an aesthetic and layout point of view.
Most homeowners look for a modern, multi-functional kitchen that makes their lives easy. It can be fascinating to go for something that looks ultra-modern, but keep in mind that trends come and go. In order to get the perfect look for a kitchen, it's best to add a modern touch to a classic style. That way, you don't have to worry about it going out of style.
Best Traditional Style Kitchens with a Modern Touch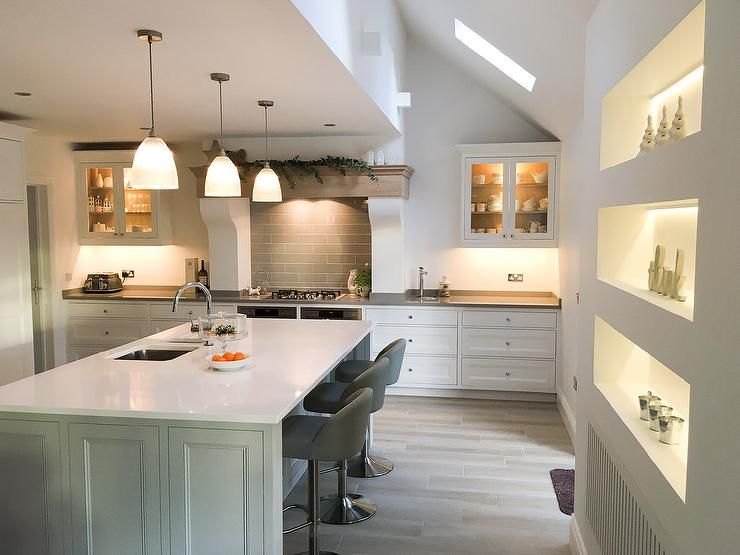 source: pinterest.com
Introduce Modern Colours
If you want to modernize the look of your current classic kitchen, it is not as difficult as you might think. One of the easiest methods to add a modern touch to a traditional kitchen is to add a splash of color.
Adding bright colors can change the whole look of your kitchen. However, avoid overdoing it, and don't go for strong colours. Instead, try cabinets in bright colors contrasted with neutral tones. You can also use custom wood cabinetry and add a splash of color to one of the walls instead!
Select Wooden Cabinets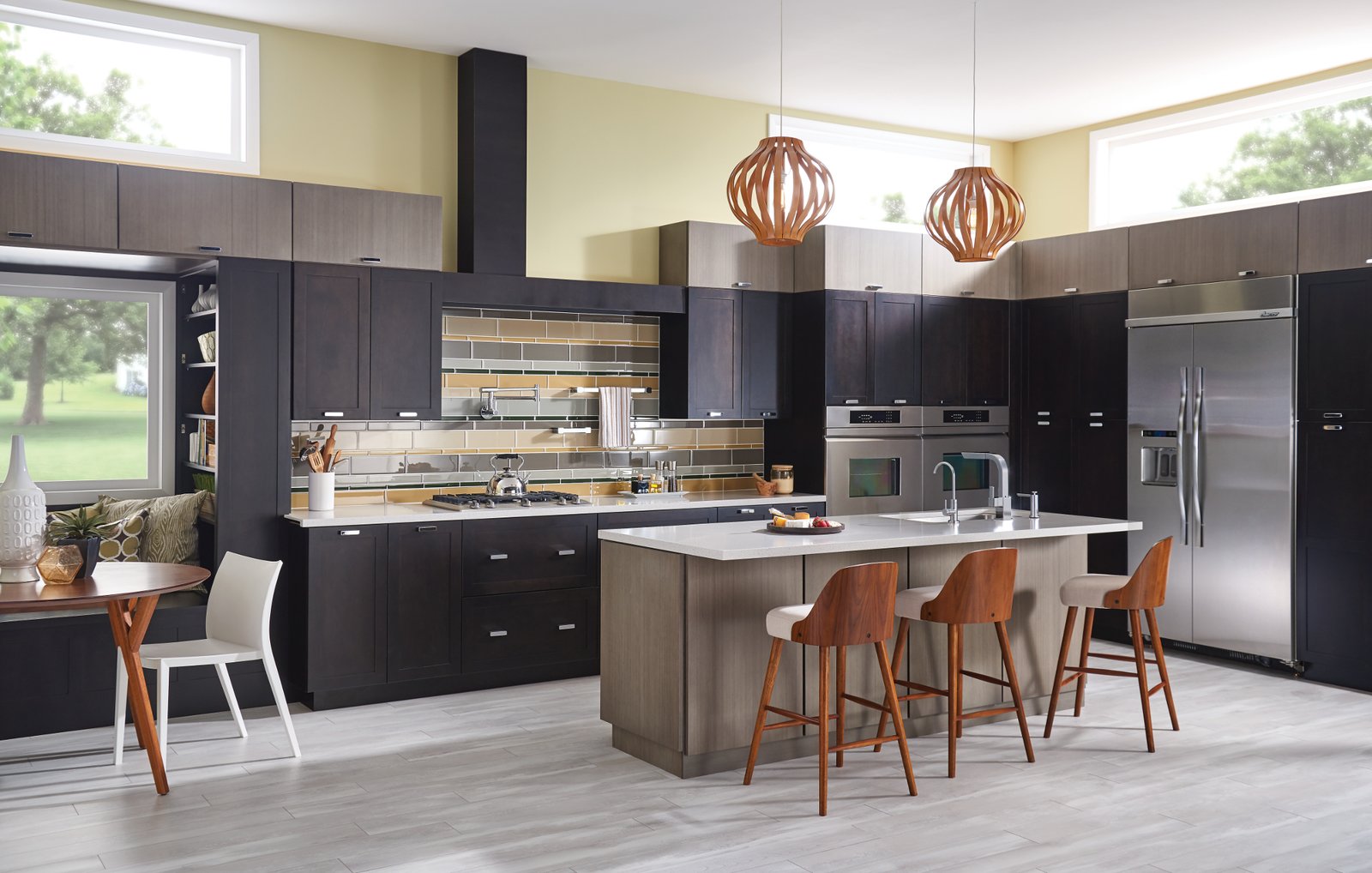 source: dwell.com
Do you want to add a twist to the traditional kitchen style in your home? Try adding wooden cabinets as they never go out of style. There is a strong positive outlook for wooden items in the market.
To create an elegant and rich ambiance in your kitchen, use matching colors for your kitchen countertops and cabinets. Also, you can try lighter shade cabinets. However, if your existing cabinets have a lighter shade, you can paint selective cabinets in brighter, bolder colors.
Rethink Your Backsplash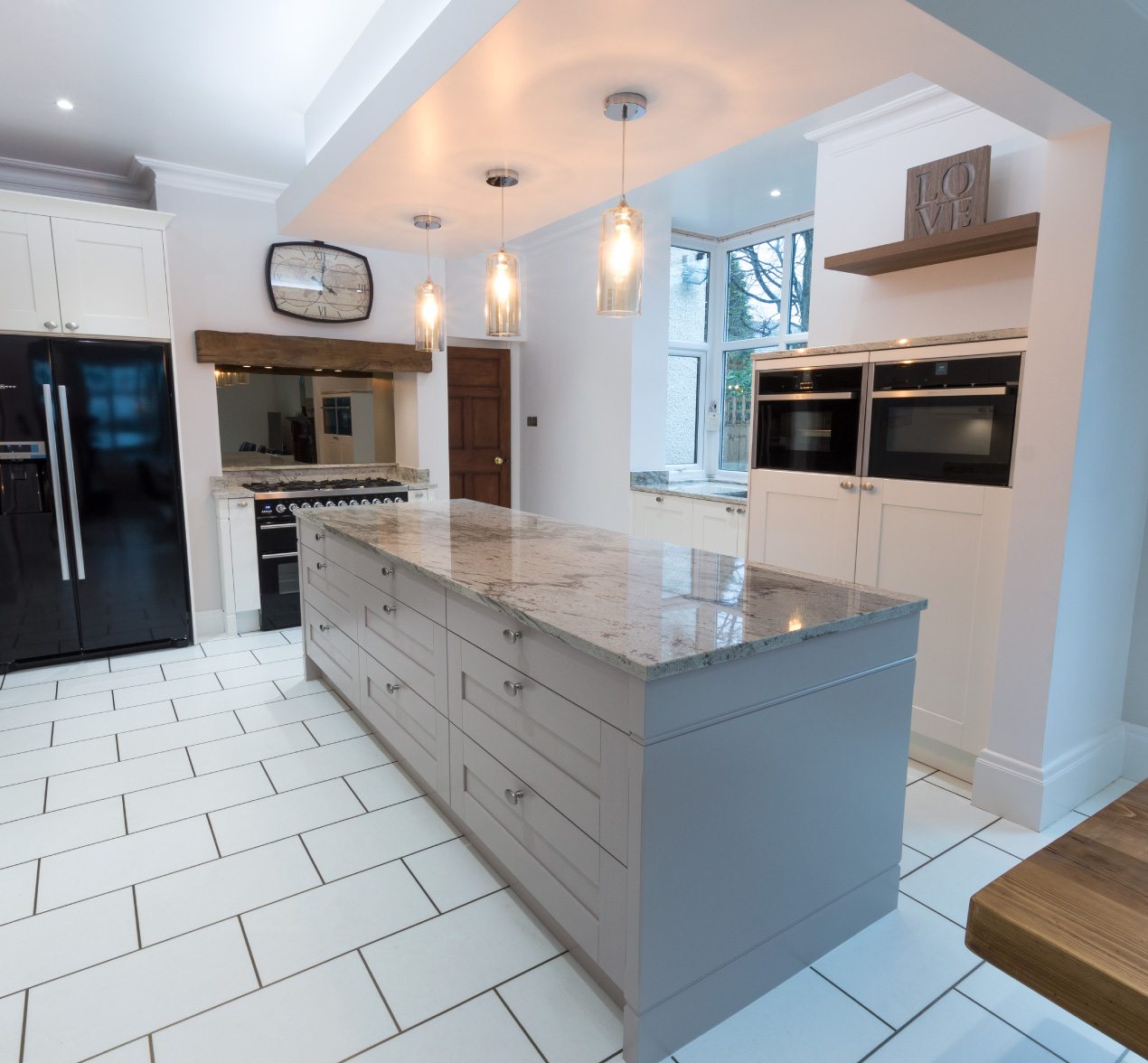 source: kitchendesigncentre.com
Your kitchen backsplash is the most attractive element because its color, pattern, and texture tend to draw attention. It protects your kitchen walls from spills and stains. Plus, it updates the style and design of your kitchen.
You can even select an up-to-date style backsplash to match your kitchen color scheme while heightening the overall look. It is one of the great traditional kitchen styles with a modern twist for 2021.
Bring in Natural Light 
Besides, having a bright kitchen improves your mood and makes the job of cooking easier. Choose transparent window coverings or opt-out altogether if privacy isn't an issue. You can install skylights to allow the sun to enter directly into the kitchen. If the kitchen is adjacent to the porch, installing glass doors to allow light into the kitchen is also a good idea.
Add Amenities and Other Decorative Elements 
source: pinterest.com
Utilities are the true hallmark of a modern kitchen. If you want to modernize your kitchen, consider installing a feature that best suits your specific needs. Whether it's built-in pet bowls on an island, a magnetic spice rack above the stove, or composting at the counter.
Besides that, you can add decorative elements to your kitchen that reflect your personality and lifestyle. For example, try to have shelves on top of cabinets for plants, artwork, and other decorative items. You can even add a vase of flowers and a fresh bowl of lemons for some color.
Install New Flooring
New flooring may be one of the most time-consuming and costly upgrades. Still, it's a simple fix that will spontaneously modify the look of your kitchen without the need for additional modifications. Don't forget to choose flooring with a color that matches the overall decor of your kitchen.
Invest in New Devices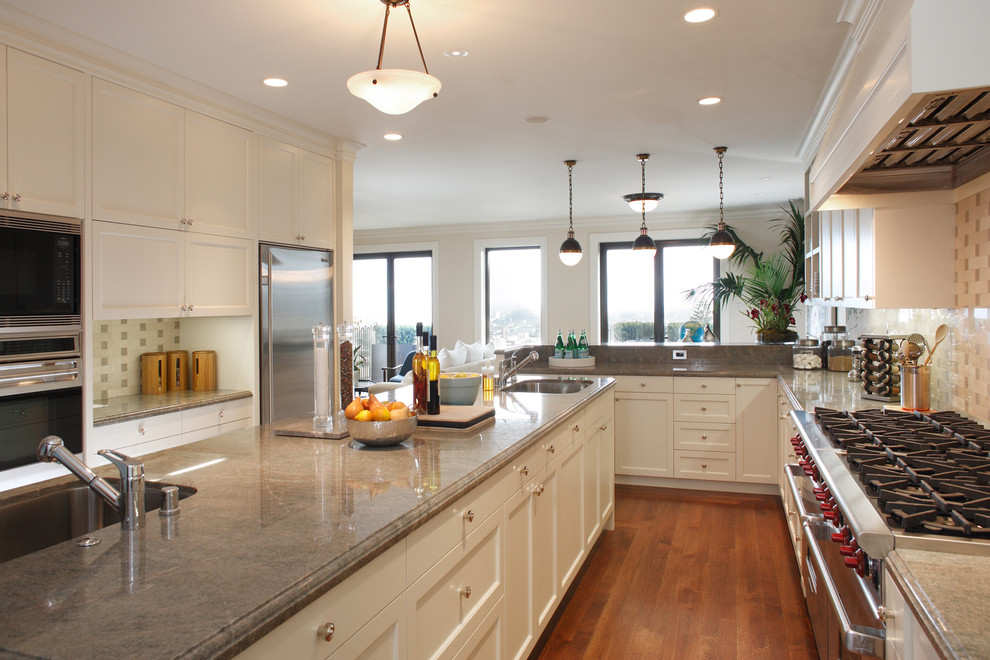 source: pinterest.com
If you want to make everyday cooking a simple and more enjoyable experience, it's time to upgrade your appliances. High-quality household appliances will make your life a lot easier.
These appliances can be placed anywhere in your kitchen, depending on functionality and comfort. At the same time, the new equipment provides you with higher temperatures and speeds than regular stoves, allowing you to prepare fresh meals instantly.
Tips To Modernize a Traditional Kitchen
No matter the shape/size of your kitchen, you can try the below tips to give a modern twist to your traditional kitchen. They are as follows:
     

Focus on the small details

     

Upgrade your appliances

     

Change what you have on display

     

Consider new worktops

     

Install double soapstone kitchen sink

     

Choose simple hardware

     

Create a crazy spot to enjoy

     

Install creative lighting

     

Rethink storage
Making small modern twists is easy to integrate without help. But if you have more drastic changes in mind, hiring or contacting a professional is wise. 
Conclusion:
source: pinterest.com
Choosing the right kitchen design can be difficult. However, nobody desires a kitchen that lacks personality and looks old-fashioned or trendy now but can go out of style after a year. If you'd like to read about more ways you can add a modern touch to your kitchen, check out this post.
It is quite simple to add a modern twist to your traditional style kitchen. Now that you have an idea of things you can do, it's time to start implementing!