In the world of fashion, 2020 has become a more laid-back year than previous years. We have not yet been able to decorate our ideal styles as much as we'd like due to trying to remain indoors as often as feasible. With the year 2021 quickly approaching, we are feeling motivated to step up our style game. The fashion surveys for 2021 have encouraged us, and we have curated a list of must-have styles for the new year. 
And trust me when I say that the new year carried just the *cleanest vibes with it. Funky checks, bold heels, and chic shoulder bags are just a couple of the styles that are about to take over your closet.
source: ever-pretty.com
Trench coats. 
Statement puffy jackets and trench coats are a fashion style you can adopt if you'd like to look trendy and cozy. The iconic leather trench coat is the trend that everybody is swooning over this year.
The faux fur trim is becoming increasingly popular, and we can see why.  Although we enjoy our simple black puffy jackets, these beautiful coats are just what you would want to wear in this new year.
Head scarfs. 
Vintage head coverings are making a comeback in 2021! Celebs like Kylie Jenner, Bella Hadid, and even TikTok star Addison Rae will let you know if you've not already heard. This look is a beautiful addition to any wardrobe, and as much as you are relaxed in it, you would be sure to impress no matter how you wear it.
When it falls to those dreaded poor hair days, this piece can be a big help. So, if you don't even have time to get your hair done in the morning but still want to seem put-together and effort-full styling, this is the product for you!
Accessorize with gold. 
For several years, gold jewelry has been a typical decoration. It is fair to say that gold has a spot in most people's jewelry collections, whether it is your mother's engagement ring or your grandmother's gold chain from long ago.
However, unlike gold jewelry in the past, mainly formal, gold jewelry in 2021 is taking over memorably and fascinatingly. Statement gold jewelry items, such as chain-link bracelets and bold hoop earrings, will be available as a part of this pattern. It is a 2021 trend worth buying in, with low prices and various opportunities to choose from, whether earrings, a chunky bracelet, or braided necklaces.
source: youtube.com
Baggy jeans. 
Do you wear boyfriend jeans, dad jeans, baggy jeans, or a mix of the three? Although there are many innovative new fashion styles to explore in 2021, denim is still the best. Looking for a good pair of trendy denim is smart to refresh your closet this upcoming year. 
These baggy jeans will offer you an effortless and chic look keeping you in your comfort zone, which is the best add-on of this denim style. You have seen lots of celebs and influencers trying this, flaunting it out. So, go on and update your wardrobe with one of a kind. 
That's not to suggest that your beloved skinny jeans or ankle cuts have to go, but makers are pushing denim to new heights.
Tiny yet chic shoulder bags. 
In 2020, this classic bag started to make a comeback, and in 2021, we will gladly make room for this theme. These tiny masterpieces are making a big splash, and they are known for their distinctive shape and trendy look.
Bloggers and actors alike are using this accessory to accessorize their casual looks. It is excellent for a day of errands or just for fun because of its tiny and essential nature. These little ones are perfect for enhancing your look and giving it a spark. 
Add a dramatic effect to your shoulders. 
Were you under the misconception that broad shoulders and a lot of padding were a thing of the past? Hold on a little longer, but broad shoulders are set to take over in 2021. The designers have recreated the shoulder style, but this does not disappoint.
The current style made a big splash by merging a blazer's softer silhouette with a bold, high-arched shoulder style. Vogue reported that the pattern was a success, calling the latest dramatic shoulder styles "great for breaking through the noise of the world," and we believe.
source: metro.co.uk
Fashionable loungewear. 
We have been at home for months at a time. Although there is always hope of going back out there this year, dressing up in trendy sleepwear might have been our redeeming factor. While we might be returning to normalcy soon, this might not hurt to dress up our loungewear a bit.
Our thinking is limited that loungewear is appropriate for sleepwear and optimum comfort. But choosing the trendy pieces in the most stylish colors will make your loungewear stand out and offer a sophisticated look with 100% comfort. 
And, what is better than styling chic in our comfort zone? 
Monochrome look. 
A bunch of seasons back, the monochromatic style was a significant trend, and many personalities assisted in its progression. Everything about the dress, from the jacket to the jewelry to the shoes, appeared to have to be the consistent color for a while. The beauty of changing patterns is that we learn what functions and what doesn't, and in 2021, a modern spin on the monochromatic look will reign supreme.
The latest take on the movement includes cutting ties with the monochrome aesthetic with a splash of pigment. So if you opt for a bold carrier bag, brightly colored sneakers, or even bold red statement necklaces, the slight adjustment would significantly affect the ensemble.
Reveal it out. 
After being cooped up for too long, showing a little skin feels like a must. There are so many fresh and exciting ways to style a mildly provocative dress. If you want cut-out sweaters, skirts, and tops with open backs, this is a fashion style you can welcome!
May this 2021 bring us lots of clubbing, parties, hanging out with friends, and exploring. So for all this, you need a little revealing outfit (if you are in that backless, strapless club) to shine out in the crowd and make 2021 more exciting and fun to celebrate. So, this is the perfect time to update your wardrobe with stuff to flaunt your curves.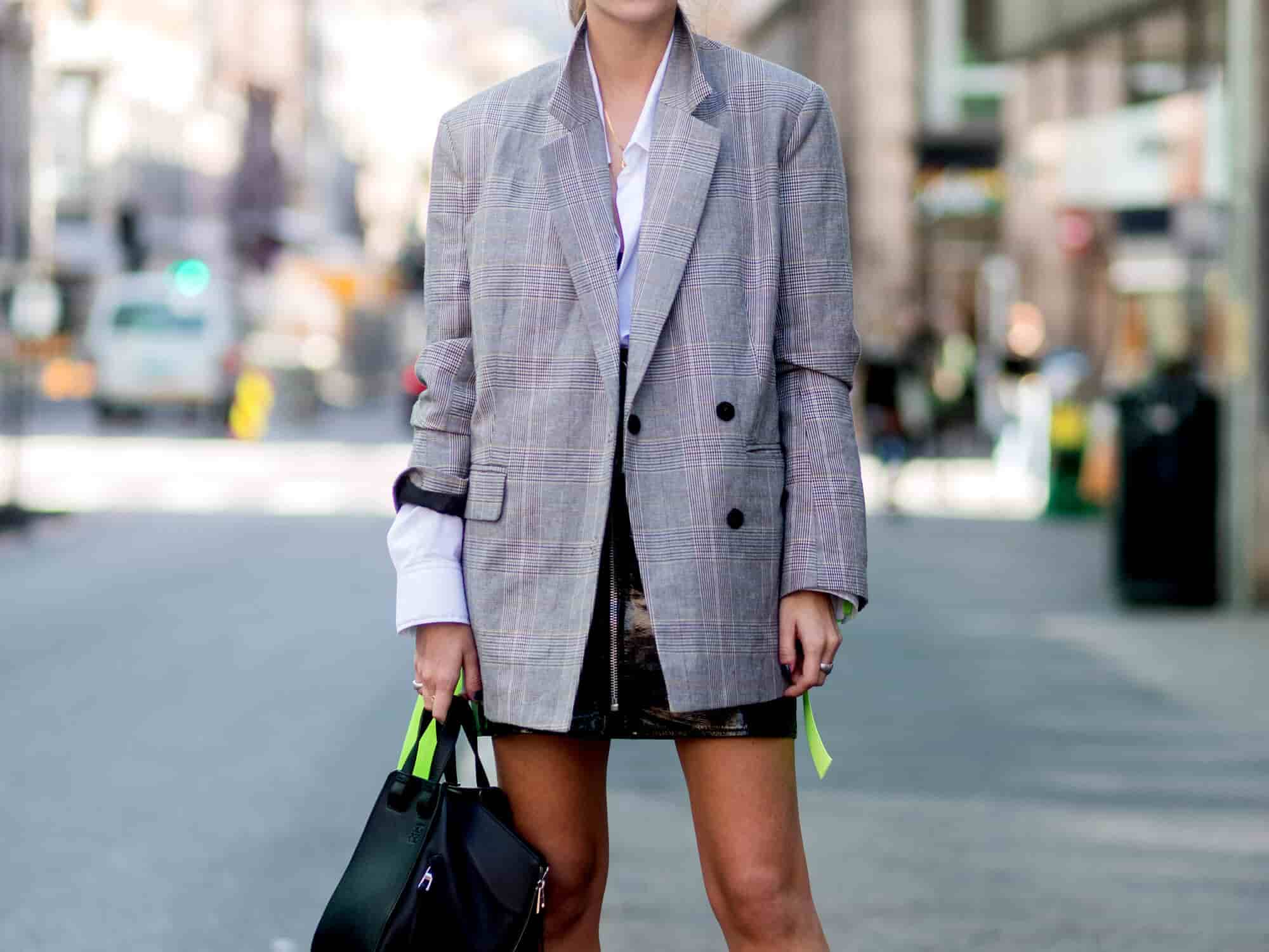 source: onecms.io
Men's oversized blazers. 
The difference between "masculine" and "feminine" clothing seems to be blurring over time, perhaps with good cause. It is no wonder that the oversized men's suit jacket is making a comeback and will be the most famous in 2021.
In the coming year, the only way to rock the men's streetwear trend would be in a casual manner. Dress it down with a skin-tight turtleneck underneath and a pair of trendy boots. Blazers express professionalism, but the jacket's bulky aspect often gives a touch of informality to an otherwise polished appearance.
Yellow – A statement color. 
Yellow outfits, mustard coats, and dandelion-toned handbags, outfits, and footwear are all trendy right now! Yellow took along as a trend in 2020, but in 2021, it will grow at an exponential rate. Pantone recently named the shade "Illuminating" as the Hue of the Year for 2021.
This color scheme seems to have been the show's star, whether that is a small golden clutch to liven up an outfit or a yellow dress. The great thing about yellow is there are so many different shades of it that you might pick the one that perfectly suits your personality and go with it.
source: king5.com
Fashionable face masks. 
It is the year's most visible fashion theme, and it will extend into 2021, which is perhaps the most essential for the protection and health of others.
Fashion-forward face masks come in a plethora of styles. Make sure you have several covers with you until you usher in the new year, whether you choose to complement your outfits or go with a chic, all-black look.
Say goodbye to tiny shades. 
Small shades, we had an excellent time! It is time for us to move on to something bigger and better–emphasis on "bigger." Mini colors will be replaced by bulky, '70s-era frames in your everyday wardrobe. 
More extensive shades accessories your whole look and have an impact overall to make you look fashionista. 
Knitted cardigan with pearls. 
The knitted cardigan is a stylish way to keep you warm and cozy in winter yet make you look chic and beautiful. And that pearls in the cardigan are just like the cherry on the cake, which takes a look to a whole another level. 
In how many unique looks cardigans can be worn? I am not sure, but we will find out in 2021. This pattern blends the vitality of a pretty woman and a grandmother.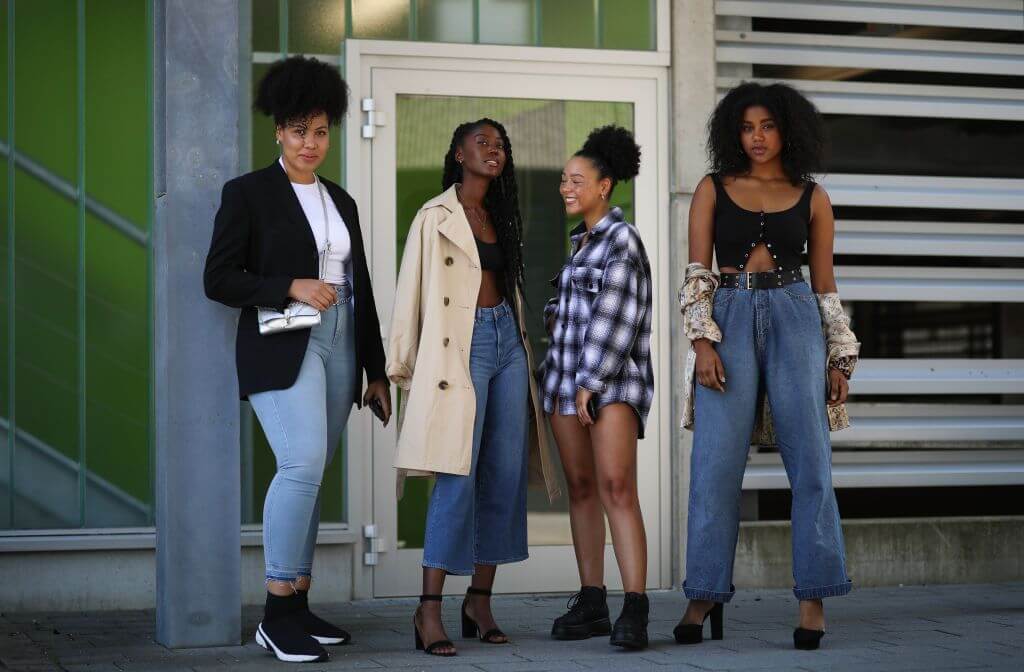 source: hearstapps.com
Oversized trousers. 
Oversized trousers are taking over in 2021, which is a positive thing. The days of your old sweatpants from elementary school will be over, and you will be replacing them with a more trendy alternative. The oversized trouser will soon become a regular in everyone's closet in 2021, as it is just as easy to wear but a hundred times more fashionable.
These trousers are just as flexible as they are trendy, which contributes to an already excellent style. If you are racing to Goal for a lot of things you do not need or going out for a little get-together, the oversized trouser would not let you down — and will not let your fashion-forward mates down either.
 Conclusion. 
While the year 2020 has come to an end and the year 2021 has already begun, I want to take a look back and focus on all the year's fashion trends and the ones to expect in the coming year. While you are there, please look at the patterns we will be packing up in 2021 to make room for new ones.
Let me know what you thought of all these must-haves in the comment page down. What theme do you think will be the most popular in 2021?