Fall is the most popular season to get married by a fairly decent margin. While June is up there, September and October account for 30 percent of all weddings. The crisp fall air, the changing of the leaves, everything about fall lends itself to weddings. If you're here, you probably agree. But how do you make your fall wedding stand out?
Why Should You Have a Fall Wedding?
Because they're awesome. You probably didn't need convincing, but here's a one-two punch if you do.
Photos
source: pinterest.com
You want to look back on your wedding photos years later with fond memories. That's even easier if you have the perfect seasonal backdrop for all of them. Sure, photos of your tungsten wedding bands will always look cool. Wouldn't they look even cooler against a backdrop of changing leaves, though? We sure think so.
Brides – make sure that you budget enough time to take all of the pictures that you want – because you won't get this chance again! Use a wedding day timeline to stay organized and keep yourself on track while you get ready. By setting your ideal schedule  ahead of time, your photographer can plan accordingly in order to have enough time to take pictures of everything you want documented – from small details like your new wedding ring in the box for the last time, group shots of entire bridal party, to the big kiss at the end of the ceremony. 
Regionally Dependent Cooler Weather
Now, this isn't a one-size-fits-all declaration, unfortunately. If you're getting married in Death Valley, waiting for fall won't do that much good. Side note: Please don't get married in Death Valley. 
Regardless, not every section of the country will have perfect fall weather. That being said, plenty will. If you don't live in one of those, you could always consider a destination wedding.
Unforgettable Fall Wedding Ideas
You could set out a plastic table and some chairs at a fall wedding and call it good, and it would still look great. You've got so much creative room to work with, but here are nine great starting points.
Have Your Pie and Eat It, Too
source: pinterest.com
Funny, right? Right? Whatever. Wedding cake is the classic standard, but why not put a fun seasonal twist on your giant communal dessert? Set out a pumpkin, apple or (if you're one of those people) pecan pie and let your guests have at it. Seriously though, pecan pie is not that good — and yes, we will fight you over it.
Fun-Themed Cocktails
There are so many good cocktails for fall, especially if you're a fan of dark liquors. With the changing leaves and the cooler weather, there are so many good flavors to place front and center. Whether you want a slight twist on a classic or a full menu of unique seasonal cocktails, this is one way to let the fall theme shine.
Lean into the Colors of the Season
We're talking outfits, centerpieces, color schemes, all that good stuff. Earth tones and fall colors look so good. Why leave (no pun intended) them out? We aren't saying you need to get married in a burnt orange dress (though some University of Texas alum out there definitely just perked up) but lean into the colors and get creative.
Seasonal Foods 
Why let the cocktails have all the fun? Open the menu up and lean into what's seasonal. Think fall comfort foods. Maybe an elevated twist on them, maybe just how they are. Grab a rustic charcuterie board if you want to fancy things up a bit. Sure to be a crowd pleaser.
Incredible Venues
There are so many great venues to choose from that are in keeping with the fall theme. So many of the trendy venues are outside or in some rustic chic barn anyway. If you wanted an excuse to have your wedding reception in a barn, here it is.
Wedding Photos with the Leaves
We mentioned this earlier, but it bears repeating. You have so many good options with fall backgrounds, and your wedding photographer is going to have a wealth of choices. No matter what tone you're going for, fall is such a versatile season that you'll have it covered.
Go Simple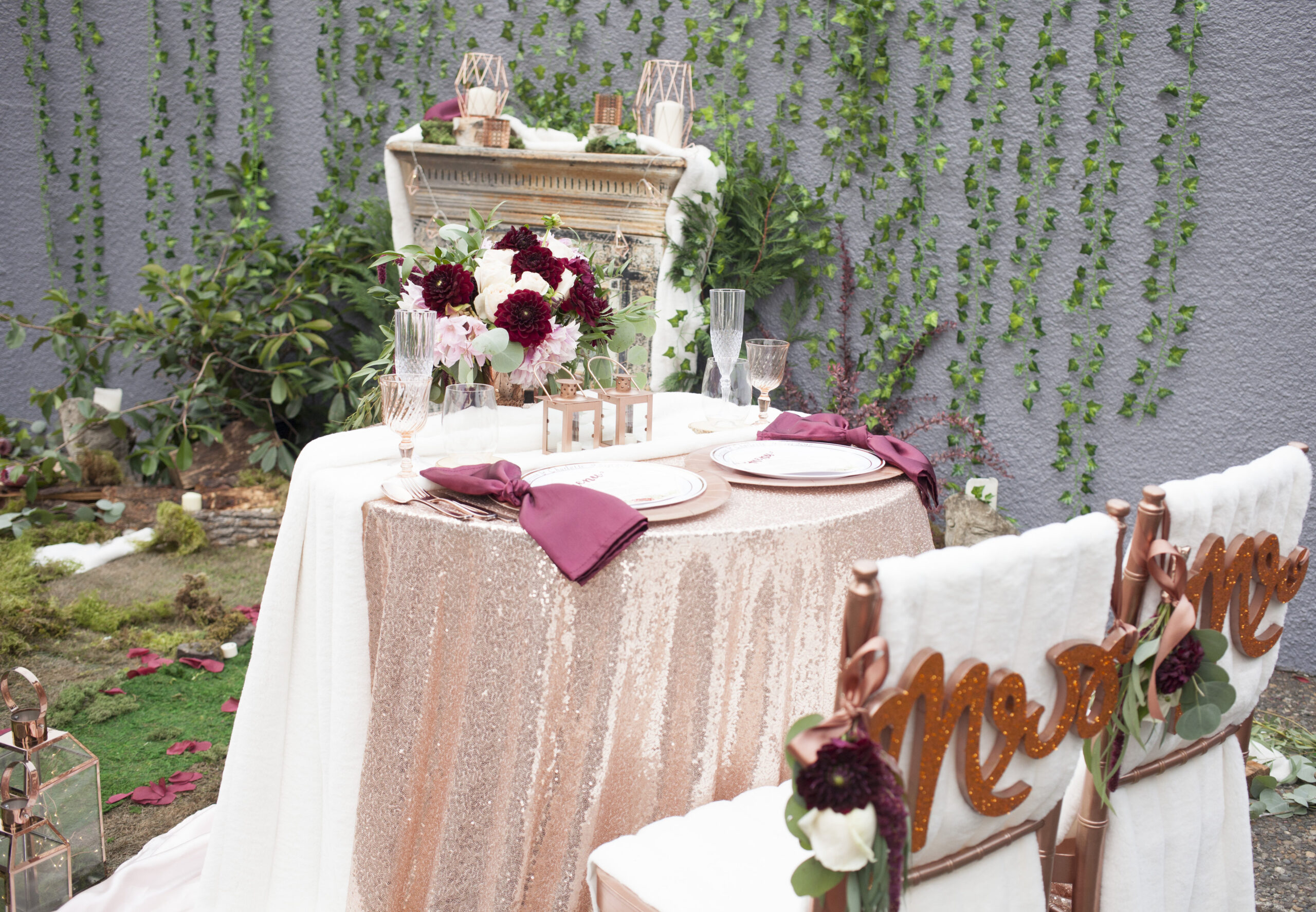 source: pinterest.com
With so many simple earth tones in the fall palette, why not just go simple? If you don't want your wedding to be a big thing, let the season do most of the work. Keep your decorations simple and earth-toned. You'll save plenty of hassle and get some top-tier Instagram content while you're at it. Very cottagecore.
Have It Outside
The weather is nice, so why not take the reception outside? Sure, check the weather forecast first, but it's a great option, especially if your ceremony was indoors. You'll love the crisp air (and your durable wedding rings can handle any weather pattern anyway)!
Small Pumpkins
It doesn't matter how manly you may think yourself to be, you like small pumpkins. Admit it — everyone loves them. They're just so much fun. This isn't so much an idea as it is a lifestyle. Put them everywhere, make them a place setting, and put your seating cards in them. Just find a way to integrate them. You'll be happy you did. Trust us.
Fall is always a crowd favorite, and it's no different when it comes to weddings. With the perfect blend of weather and aesthetics, it's easy to put together a memorable wedding when the leaves change colors.