If you're looking to renovate your kitchen, you are perhaps still planning which parts of it to keep and which parts to replace. Your old cabinets may be special to you for certain reasons, and you don't want to replace them, yet you cannot ignore the fact that they may look bad and outdated. Luckily for you, it is possible to keep your old cabinets as long as you update them. There are several ways to do that, and below we have some tips for you at Live Enhanced: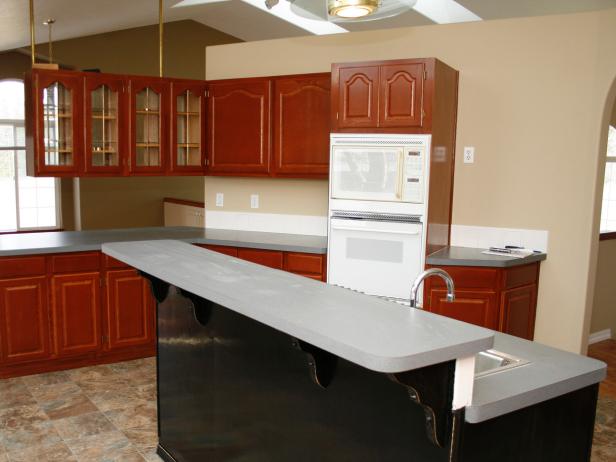 source: hgtv.com
One way to change the aspect of the old cabinets is by refacing them. This works particularly if they are scratched or have grease on them. For less than $1,000, you can reface the cabinets with some veneer. You can also add some new doors if you wish. Just make sure that you take the right measurements, so you don't pick the wrong door or veneer. 
"Both are available through woodworking companies, and some manufactures offer peel-and-stick veneer to make the task simpler," say the editors from thisoldhouse.com. "Just be sure to measure twice and cut once. Work carefully, and your kitchen will look brand-new in no time." 
Of course, applying some paint is the easiest thing you can do if you need a cabinet update. Old kitchen cabinets may look bad, with their former color either being faded or chipped. A makeover can do wonders, especially if you make sure to pick the right color for your space. Make sure to clean up and add a fresh paint coat. The cabinets will look as good as new. 
If you want to make them look more special instead of sticking to plain paint, you can use chalk paint. Chalk paint can be used over any type of paint. However, you may want to clean the surface before you apply it. After that, you can add some sealant over it too. 
"There are many benefits to using chalk paint over latex or another type of paint on your kitchen cabinets," says Angela from unexpectedelegance.com. "First of all, in many instances, you simply need to clean the surfaces and apply one coat. You will need to add a sealant over the paint and while the wax is often used it is not a good fit for kitchens as it is hard to clean."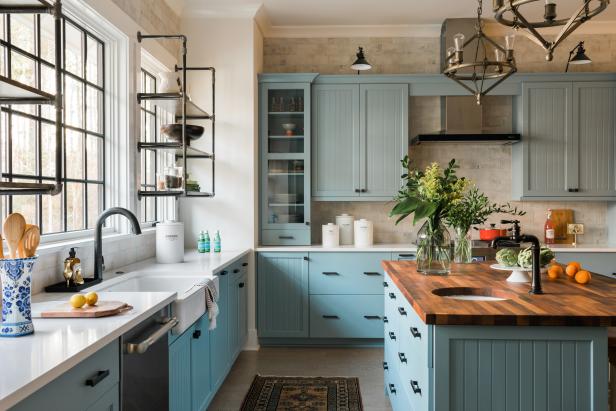 source: hgtv.com
If you think the old, wooden doors look too boring, you can replace them with glass doors. A glass panel can open up the cabinets and allow you to display your kitchenware. You can remove the center panel and then add plexiglass windows. 
"Tip: Only open up the cabinets that hold items you'll want to display," says Erin Cavoto from Country Living. 
Replacing the old hardware of the cabinets with a new one can also make your cabinets look much better. You can use materials such as copper or brass, as they will add a more modern touch. Besides, it takes little time to make this change. 
source: hearstapps.com
If the kitchen looks too boring with plain cabinets, you can add molding to the hardwood frame. It can be mounted above cabinets, and it will add more personality. The frame will help you obtain a more detailed look, which is great. 
Consider Under Cabinet Lighting
For a more modern touch to your kitchen, you can add some under cabinet lighting. It's a great way to incorporate some technology while making it easier for you to see what you're doing. You can use LED light strips, which can be bought online or from the home improvement store. 
"Connect the fixtures to a dimmer switch, and you also have the key to dramatic accent lighting or a night light for midnight snackers" – this is what the editors from thisoldhouse.com suggest. "If you're a bit tentative about working with electricity, don't worry. This installation is simple and shock-free, as long as you cut the juice at the breaker box first."
Final Thoughts
source: dwell.com
As you can see, you don't have to throw away your old kitchen cabinets. If you update them, they can work amazingly even in the most modern-looking kitchen.