Valentine's Day is a time to celebrate romance and love with your beloved. But the origins of this festival of cupids and candies are actually dark, bloody red— and a bit muddled. Though no one has explained the exact origin of the holiday, one good place to start is ancient Rome, where men hit on women by, well, hitting them. Valentine's Day, also called St. Valentine's Day, on February 14 when lovers express their feelings with greetings and gifts. 
The holiday has origins in the Roman festival of Lupercalia which was held in mid-February. The festival, which celebrated the coming of spring, included fertility rites and the pairing off the men with women by lottery. At the end of the 5th century, It came to be celebrated as a day of romance from about the 14th century. 
Valentine's Day cake decorations:-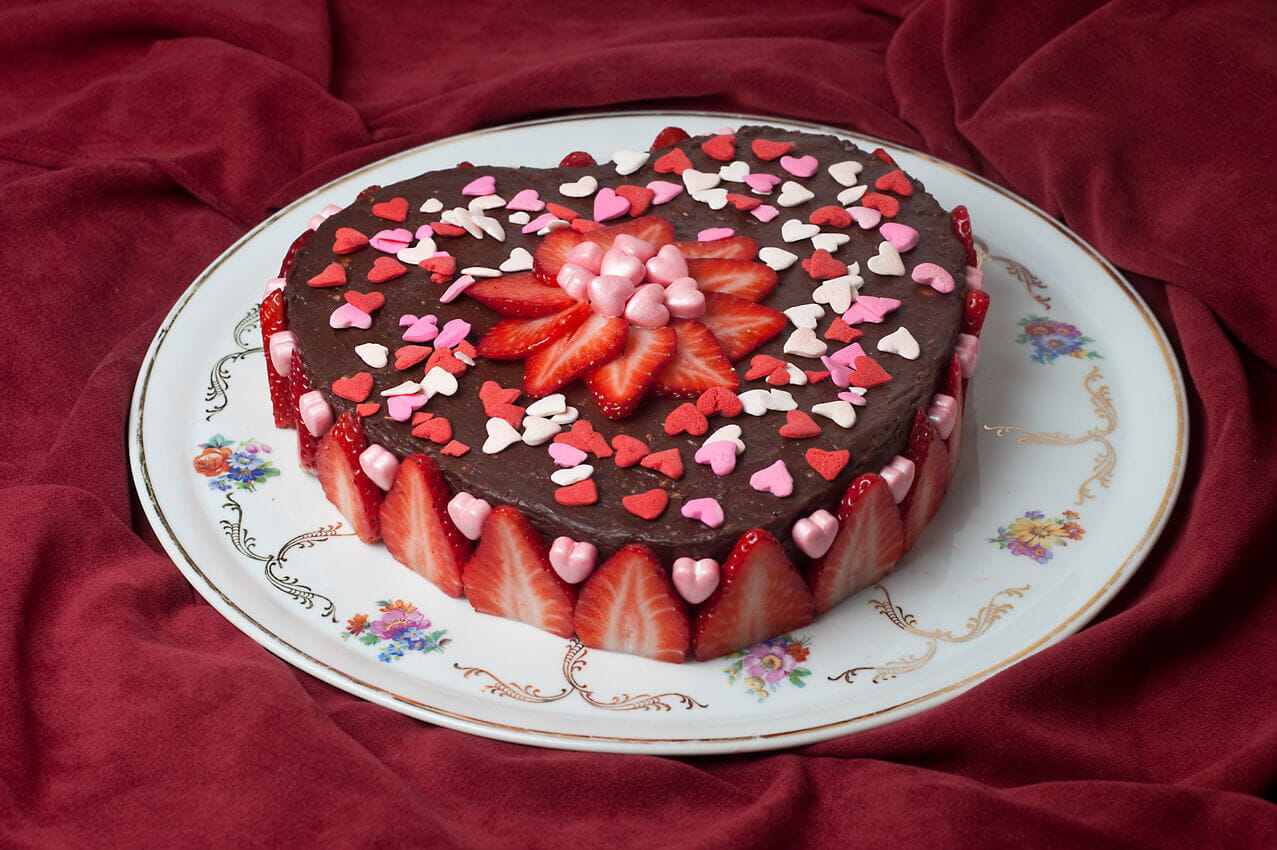 source: 2gourmaniacs.com
Collect your favorites from a fantastic selection of products to decorate your valentine cakes, biscuits, and cupcakes ready for Valentine's Day! Whether you are treating special someone or just baking in bulk, you will find everything you need for the occasion. Have a look at the range of baking sets, cake tins, and Valentine's cupcake cases, plus the fantastic edible or plastic cake decorations, sprinkles, and sparkles.
 Don't forget to present your homemade biscuits and treats in beautiful packaging, especially if you are giving as a gift – everywhere is Valentine's special boxes and cellophane bags for chocolates, cookies, and cupcakes as well as a selection of pretty Valentine's red ribbons for that finishing touch.
Cake Decorating techniques for Valentine's Day:-
There are 11 Trending Cake Decorating Techniques To Try In 2021. These are given below-
Now is the perfect time for fixing yourself some caking goals to achieve during the year ahead. We have found our top eleven new cakes decorating ideas that we think are going to dominate.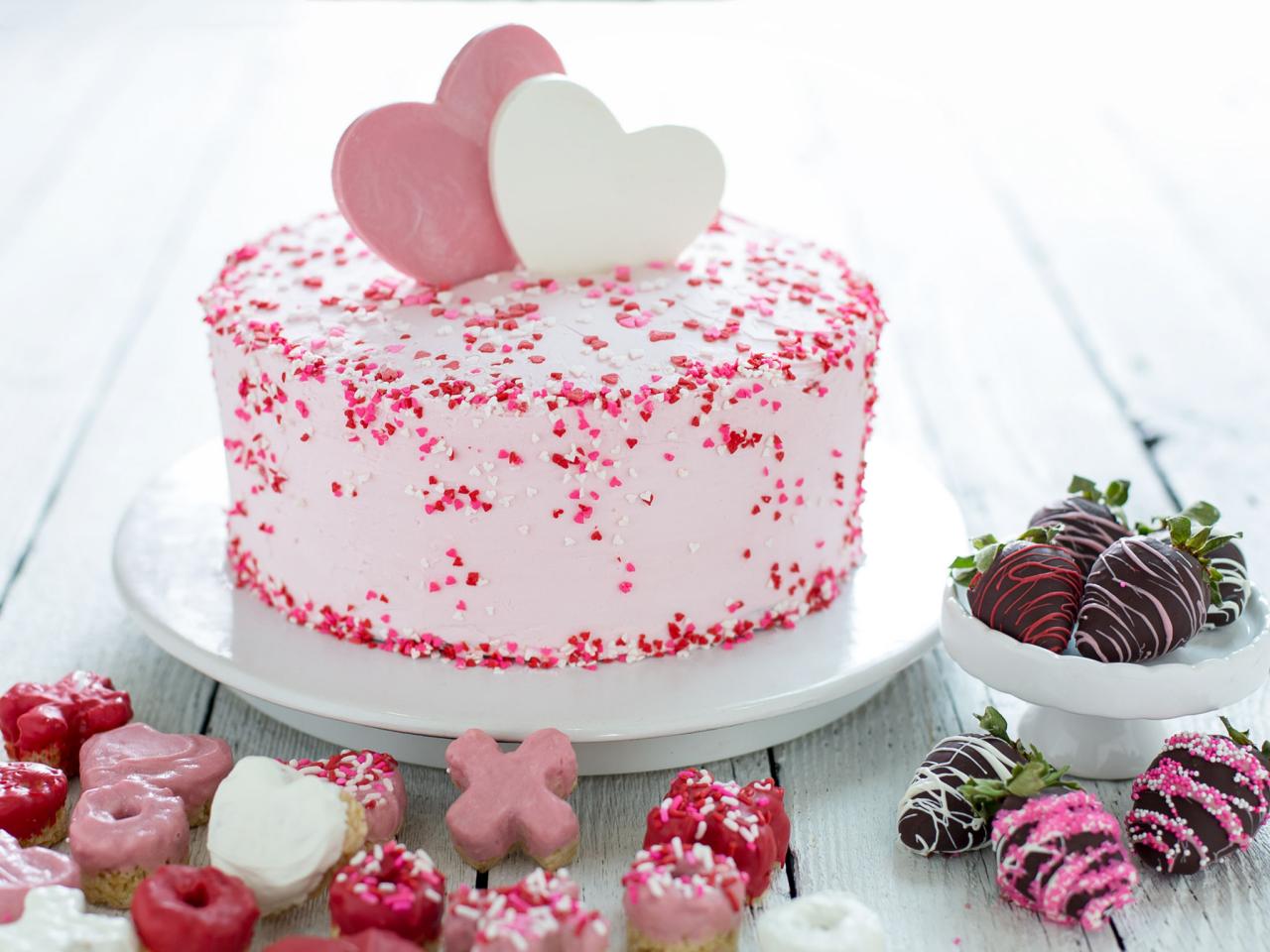 source: diynetwork.com
PRESSED FLOWERS IDEAS
The pressed flower trend is so simple yet so dramatic. Simply decorate a plain white buttercream cake with fresh or pressed edible flowers for a look that is perfect for Valentine's Day. 
PIPED SIDE FLOWERS IDEAS
This kind of style, of piping thin, soaring flowers up the sides of cakes has been gaining traction. Thus the minimalist approach to buttercream flowers will transform a blank white cake into a beautiful Valentine's cake. 
BUTTERCREAM PALETTE KNIFE FLOWERS IDEAS
Alike to the spring style piped flowers, palette knife flowers are also made with buttercream but on a bigger scale. They are a great way to add texture to your cake, either in the flatter, oil painting style, or the 3D sculptural style prefers which almost look like they were formed out of clay.
SPATULA PAINTINGS
Chronic on with the palette knife painting style, the spatula or palette knife style of cake decorating uses the coloured buttercream like big blots of paint.  You can put your own twist on it . This is the best technique to apply to go for a minimal effect with just a section of small strokes or cover your entire cake like an oil painting. 
FAUX VELVET TECHNIQUES
After made of the fault line cake world famous, faux velvet cakes,but aren't made with sprayed cocoa. To be honest , making faux velvet effects on a cake is very difficult. 
source: shopify.com
STENCILLED EFFECT
With the stencil material the favourite cakes can be baked. Thats the way by which anyone can used to create a striking pattern when the contrasting colours are used, or a subtle texture effect when it used with the same colour makes for the perfect minimalist cake. Try out some of the new Caking It Up stencils for a quick and easy way to raise your cakes to that next level.
SHEET CAKES
Sheet cakes are used to be hidden in the back of the kitchen . Because it is sliced up and served after the pretty cake had been cut, but no more before the cutting .These sheet cakes are too pretty to be hidden away and they are perfect for many kind of parties where you don't want to dither around slicing up a multi-layered creation.
SPRINKLES
Sprinkles have not been found in the last few years . Nowadays with brands like Sprinkle Pop and Sprinks coming out with gorgeous sprinkle mixes . Challenge yourself this year by getting creative with your sprinkles ideas – whether you use them in a faux line cake or may in painstakingly place them perfectly around your cake in a sprinkle ombre effect.
DECKLED EDGES
Once a term backloged for the fancy stationery effect or rough and uncut paper edges the 'Deckle' effect has been making its own way into the caking world for some time now. Think of it as the fault line's more elegant cakes – it uses a similar technique when done with buttercream and also looks stunning with the edges painted lightly with metallic paintings. You can also have this look with wafer paper or roughly cut fondant. 
source: pinterest.com
WATERCOLOUR IDEAS
Whether it's just a sprinkle of colour around the bottom of an all white Or red fondant cake, or an ombre watercolour effect made from the buttercream cakes, the hand-painted strokes of some colours will make your cake look like a masterpiece too pretty to cut it! 
CAKE ART
This is one of the sugar arts that uses frosting Or icing. And there are other edible decorative elements to make plain cakes more interesting. Alternatively, cakes can be sculpted and molded to understand three-dimensional persons, places, and things. Cakes are decorated to mark a special celebration (such as a birthday or wedding Or Valentine's Day celebration Or any special occasion). 
They can also mark any national or religious holidays, or be used to promote commercial endeavors. However, any kind of cakes may be baked and decorated for almost any social occasion.
Valentine's special cakes:-
Heart shape red cake

with flower decoration is a very unique thing. You can send customized shaped cake by choosing a flavor to your love and also you can write a romantic message on it. 

Red velvet cake is essentially a butter cake, though it is frequently made with oil instead of butter. To create the distinct red velvet flavor you should add cocoa powder. Basically, it was a reaction between buttermilk and the raw cocoa powder. widely it is available at the time of red velvet's inception that caused a ruddy-hued crumb. These days you wl more often find them tinted red with food coloring.
source: nancyscakedesigns.com
Red velvet cake is much redder than the vanilla cake tinted. The velvet cake recipe gives the best red velvet cake with creamy buttery, vanilla, and cocoa flavor as well as a delicious relish. The basic tip is to whip the egg whites, which guarantees a smooth velvet crumb. Red velvet cake is the queen of all layer cakes.  It is the sweetest combination of buttermilk and vanilla essence with a little cocoa flavor for good quantity. 
Popular Red Velvet Cake Recipes:
Gluten-Free Red Velvet Cake.
Red Velvet Cake III. 
Southern Red Velvet Cake. 
Butter Cream Frosting Heart shaped cake recipe begins with cream Butter and sugar. After you add the cream you should add eggs to create the batter a bit and then flour (and sometimes another liquid, like raw milk) to give it structure and texture . Then add baking powder or baking soda to ensure that it rises when it gets hit .
For white and yellow cakes coloring typically depends on whether they have whole eggs, or extra egg yolks in them to make yellow cake)
 or egg whites only to make a white cake. 
Red Ribbon Valentine cake 2021

creations are used to celebrate all year round. But Red ribbon Valentine's cake are used in special Valentine's Day. Red Ribbon cakes made of three layers of rich and moist pound cake with two layers of chocolate mousse filling plus chocolate bits. This is definitely a comfort food material when you are craving decadent for chocolate cake. 

Celebrate your love for your sweetheart with this chocolate puffed heart Valentine's Day drip cake. This is an idea of cute and fun cake decorating for Valentine's Day. This heart cake has a three dimensional effect that makes it look like a cute puffed heart plus and cool effect poured over the top of the cake. If you need the arrow style with the love cake then definitely you can add this. This cake tutorial really very easy to make, surely you will love this.


Cover the entire top layer in alternating pink and rose shades of stars, dots and rosettes.Your love is a many-layered thing, and now you can express it in a deliciously whimsical format with our Easy Layers! It is easy enough for a beginner decorators. 

Valentine's Day cupcakes this year. A delectable flavor that will satisfy your valentine's tastebuds through cupid cupcake recipes, if they have their heart set on chocolate, strawberries, or a mixture of the two. But if you are looking for crafty things in the kitchen then opt for one of the more exceccive decoration ideas, like chocolate cupcakes that can be transformed into cute lovebugs with red, pink, and white creamy frosting.
source: chelsweets.com
Chocolate Merlot -Wine and chocolate are the ultimate pair, and these Merlot-infused cupcakes are proof.
Cupcakes with chocolate essence-Write a love short note on each of cupcake — something you like — so that everyone gets a piece of heart.
Mini Rose Cupcakes An ode to your relationship, this recipe balances the chocolatey sweetness with a bite of sour flavor.
 Truffle Cupcakes- A simple chocolate batter houses a gooey truffle that will make you the MVP of Valentine's Day.
Besides the Cupcakes on your dessert table, make sure that you are round out your holiday spread with other Valentine's Day desserts, like chocolate or other flavored brownies, cookies, and other easy making treats. The sweeter the more better. 
Valentine's special Desserts-  There are so many Desserts for Valentine's week like red velvet cakes, chocolate cakes, cupcakes, reb ribbon cakes, etc. But Heart-Shaped Sugar Cookies, Chocolate Covered Strawberries. Red Velvet Cheesecake Bites.The sweetest treat for belovets . Chocolate Fondue. Chocolate pom poms not as basic as chocolate-covered strawberries.Raspberry Linzer Cookies to Wear your heart on your sleeve, and your cookie.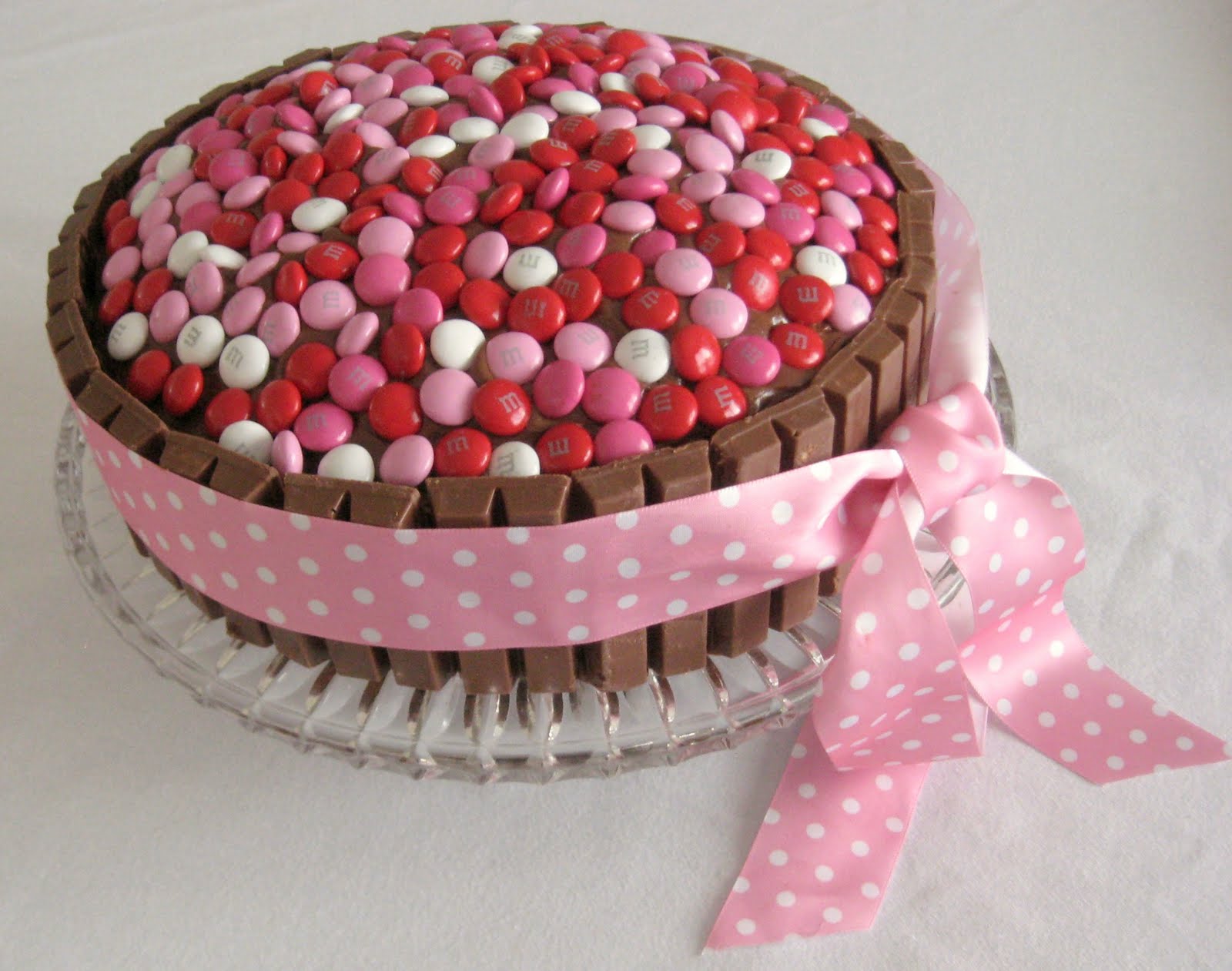 source: pinterest.com
We sell a range of cookie molds for Valentine's Day that is one of the most enjoyable and unique ways to share and have fun with Valentine's Day cake baking; with molds designed especially for you and your partner to snap and share delicious, immaculate heart-shaped cookies. Whatever your Valentine's cake creation, the range of ruby jelly hearts, edible sugar hearts in various cute, pretty & funny designs and quantities from 15 – 270 and splashes in shapes of hearts and lips will make vibrant, tasty, and touching in addition to the sweet treats you have created for your loved one. Finally, ornate your Valentine's chocolate cakes with stencils, personalize with chocolate transfer sheets for adding your very own message designs, and then present with gold chocolate hearts.
There's no sweeter holiday than Valentine's Day. It is an occasion packed with literal sweetness beyond the love notes and sentimental gifts. The boxes of chocolates, heart-shaped cakes, or a medley of red and pink candies makes you smile. But if you are on the hook to whip up a batch of festive baked goods for your Valentine's Day.