Finding the perfect engagement ring involves weighing many factors. A key decision is whether to go with a traditional diamond or an alternative gemstone as the centerpiece. Diamonds may be the customary choice, but colored gems offer their own advantages. By considering qualities like beauty, meaning, durability, and affordability, couples can decide between diamonds or gemstones to find the ideal option for their relationship.
Symbolic Meaning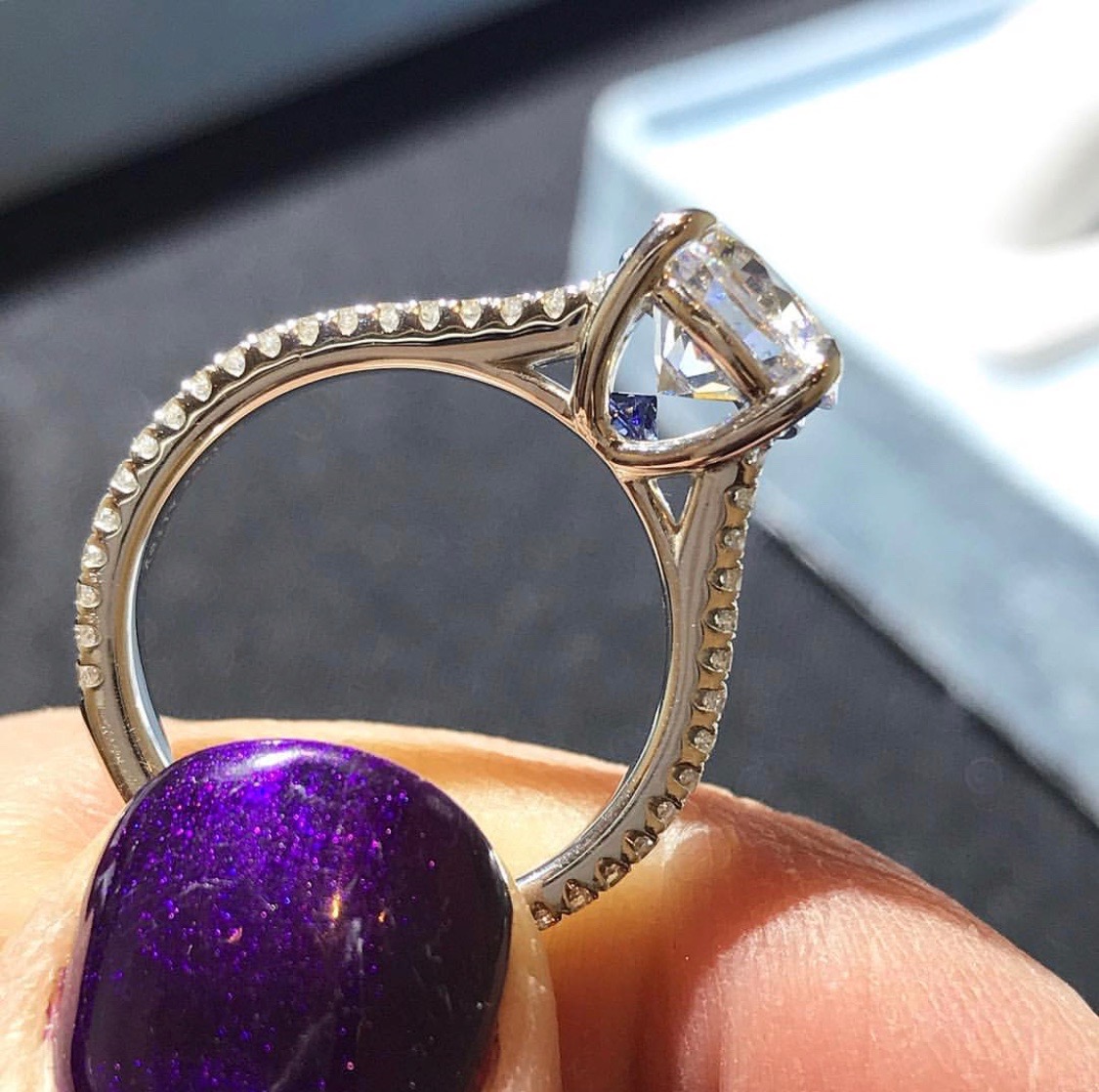 source: pinterest.com
Diamonds symbolize enduring love in engagement rings due to successful 20th century marketing campaigns. But many colored gems carry their own meaningful associations. Sapphires represent faithfulness, emeralds symbolize fertility and rebirth, rubies convey passion, and amethyst signals security. Considering the unique symbolic properties of diamonds and alternative stones can help determine which best fits a couple's personality and values. The traditional associations of diamonds will appeal to those seeking a classic romance. But for some, a colored gem's distinctive meaning holds more significance. Additionally, the rarity and value placed on diamonds can represent the uniqueness of the relationship. Meanwhile, giving a colored gemstone can signal that the partner is as precious as any rare jewel. The symbolism people attach to each gem is highly personal.
Visual Appeal
source: pinterest.com
Diamonds mesmerize with their colorless brilliance and fire. But colored gems captivate with their dazzling hues and striking beauty. Sapphires and rubies shimmer in vivid shades of blue and red. Vibrant green emeralds dazzle the eye. Opals flaunt rainbow flashes. The kaleidoscopic palette of gemstones offers diverse options for those who favor color over the diamond's crystalline charm. Cuts also impact appearance. Step cuts in gems show off color, while brilliant cuts maximize the diamond's light performance. Assessing personal taste in shape, brilliance, and hue helps choose between the sparkling elegance of diamonds or the dramatic impact of colored stones. Additionally, couples may prefer diamonds for their timeless, classic elegance. But those seeking a unique pop of color may find gemstones more eye-catching. The array of diamond and gem options allows finding a ring with beauty reflecting the wearer's personal flair.
Durability & Longevity
source: pinterest.com
As the hardest substance, diamonds better withstand daily wear than many gems. Their toughness makes them less prone to chipping or scratching over a lifetime of use. But some colored gems also offer excellent durability. Sapphires and rubies have hardness close to diamonds, while durable gems like quartz provide budget-friendly engagement options. On the other hand, softer gems like emeralds require greater care. Protective settings and mindful wear prevent damage. Ultimately both diamond and colored gem durability come down to a combination of gem type and mounting style. Knowing how different stones stand up to frequent wear helps select one that will last. Additionally, insurance can offer protection if a softer gemstone sustains damage. Regular cleaning and inspection helps maximize the lifespan of any diamond or colored gem engagement ring.
Size & Quality
Larger high-quality diamonds at budget-friendly prices are harder to find compared to other gems. Even modest diamonds over a carat can be costly. But beautiful colored gems often come in bigger sizes for less money. For example, stunning blue sapphires over 5 carats can cost far less than a 2-carat diamond of the same quality. This lets couples on a budget choose between a smaller diamond or larger colored gem while getting the best bang for their buck. Those seeking maximum size and quality for price may discover more pleasing options among rubies, emeralds, and other gems. Furthermore, diamond pricing is more prone to market fluctuations, while large gemstones tend to hold their value well over time. For resale purposes, colored gems can retain excellent appraised value even at higher carat sizes.
Customization Potential
source: pinterest.com
Finding a diamond with the exact shape, color, clarity, and other attributes you want can prove challenging and expensive. But the diverse properties and varieties of colored gems provide more possibilities to customize for your preferences. You can select a gem that perfectly matches their eye color, birthstone, or other meaningful characteristic. Gems also offer more possibilities to tailor the setting and design to your taste. Local jewelers may have access to a broad inventory of unique stones to create one-of-a-kind rings. The range of customization with colored gems accommodates personalization diamonds cannot always achieve. Additionally, colored gems allow for distinctive cuts like concave facets or carved shapes that add unique flair. Couples can work closely with designers to create rings reflecting their personal story through customized gemstone features.
Ethical Sourcing Considerations
Diamond mining has raised ethical concerns over environmental impact and dangerous working conditions. Colored gems can offer responsibly sourced alternatives. Sapphires like Montana's Yogo sapphires come from U.S. mining operations with good ecological records. Rubies are also mined domestically under safer regulations. When purchasing either diamonds or gems, couples should research their origins. Asking jewelers about responsible sourcing helps avoid stones with troubling supply chain issues. This ensures that an engagement ring reflects a couple's values, not just their style. Furthermore, recycling vintage and antique diamonds or gemstones is an ethical choice embracing sustainability. Hands-on mining experiences allow some couples to personally extract the gem for their ring. Ethics should guide each step, from stone sourcing to ring design.
Finding the Perfect Gemstone or Diamond Engagement Ring
source: pinterest.com
Beauty, meaning, durability, customization, ethics—these factors all play into finding the ideal engagement ring gemstone. For many, the diamond's enduring romantic symbolism and scintillating light outweigh considerations like size or price. But colored gems provide their own set of compelling advantages that enable couples to express their unique commitment. By weighing all considerations, pairs can decide between traditions diamonds or alternates like sapphires to find the perfect gemstone match.