Are you searching for some stylish new additions to your home's corners and tables? We've prepared a wonderful collection of options to select from, whether it's for your home office or as an accent in the bedroom. These modern accent chairs are suitable for every area in the house! Start exploring and brainstorming right away!
These living room accent chairs come in a wide range of colors and styles, so you're sure to find one that speaks to you. Florals, geometrics, and, of course, the traditional tufted wing chairs in intriguing hues will make an appearance. If an accent chair isn't your style, you can always hang an inside swing chair!
Accent Chair Ideas 
Classic Blue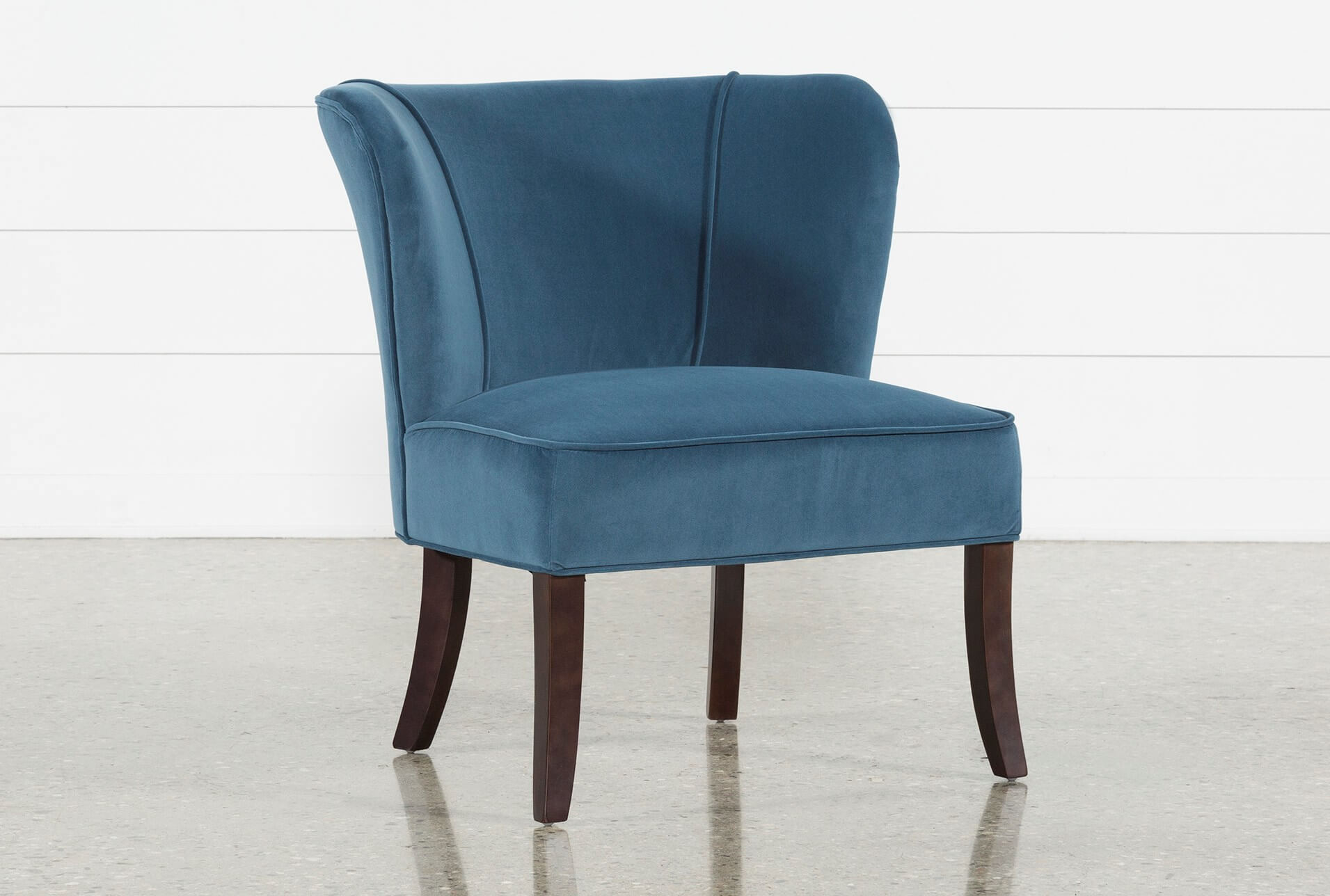 source: livingspaces.com
This comfy blue stripe armchair will be a focal point in your home. The chair has a youthful appearance by alternating blue and white stripes. The chair has a whimsical look thanks to its rubberwood dancing legs. The nails used to polish the chair all around and add a fresh look.
All Time Neutral
You can't go wrong with the Elroy Sherpa Accent Chair with Wood Legs for an accent item that's as comfortable as it is eye-catching. A medium-toned wood frame supports a square armchair with huge cushions that span the entire seat and fleece covering. The chair's neutral color palette makes it simple to integrate into any decor. Arrange near a comforter couch and add a textured throw cushion to complete the look.
Swivel Armchairs & Accent Chairs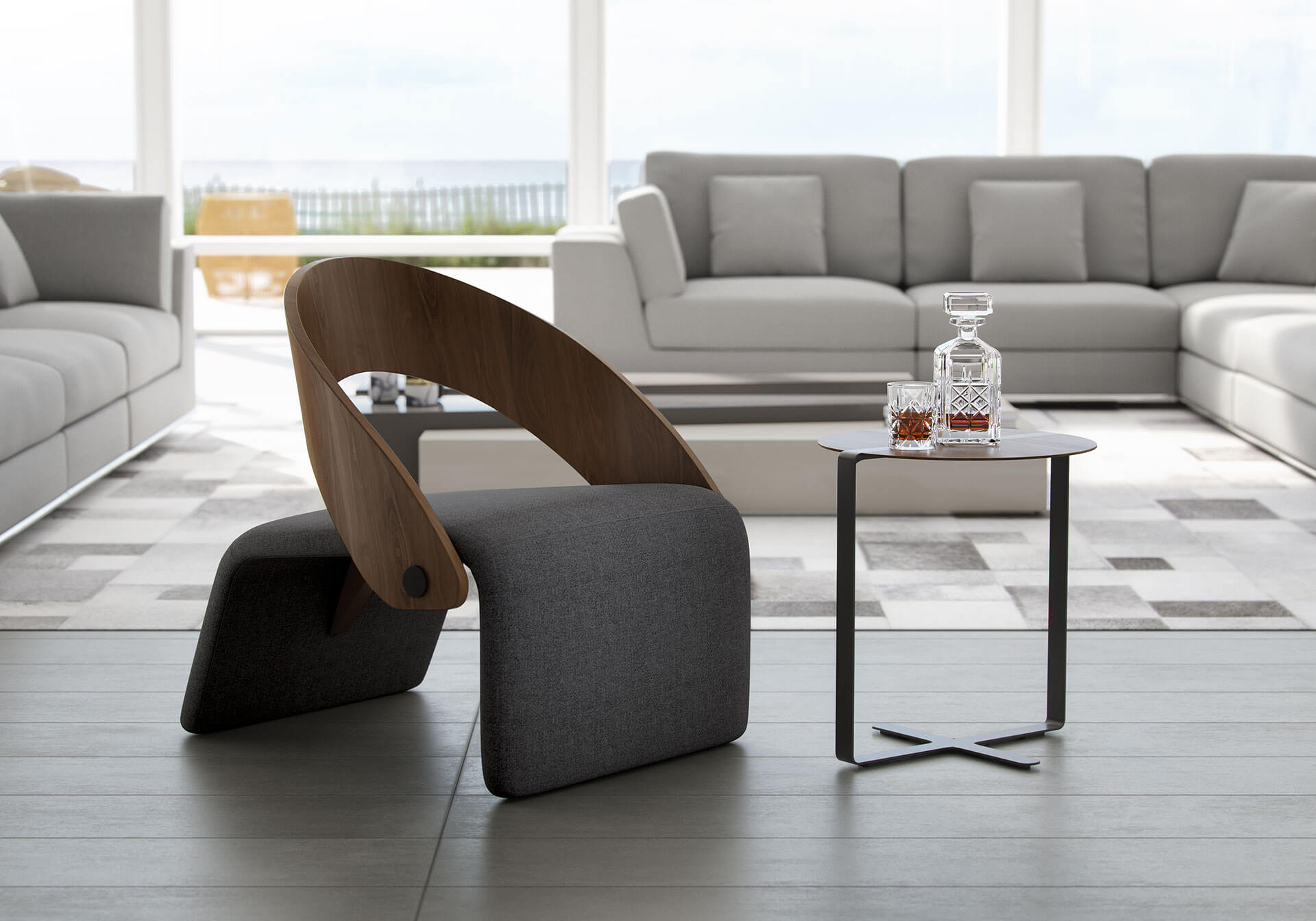 source: modloft.com
Swivel Armchair: The swivel armchair's framework is made of solid beech and poplar wood with plywood inserts, and the spring effect is provided by elastic and non-deformable belts. It is made of feathers and synthetic material. The swiveling base is made of decorated metal, highlighting the curves of this armchair, which is the ideal size to go with a modern sofa. or become the center of attention in a small living room or bedroom. 
Swivel Accent Chair: We discovered it, and you're going to adore it! The Swivel Accent Chair is the ideal place to cuddle up! A fantastic barrel design that cradles you and embraces you in velvety luxury. Covered in a soft grey fabric with a fantastic pleated shape that falls down the sides, and finished with just the perfect amount of nailhead trim. And, to top it all off, it swivels! Now it's time to buy that new novel and enjoy it!
Elegant Brown
The sidewinder accent chair, which fits two people, reflects a truly classic character. Beautifully traditional with set back pleated rolled arms and a warm brown exposed frame with bun feet. The herringbone weave in the soft upholstery has lovely detailing. The seat cushion reverses for long-lasting comfort. The design features vintage-inspired jumbo nailhead trim. A dark brown botanical pillow adds an elegant finish.
Grey Crosshaven Chair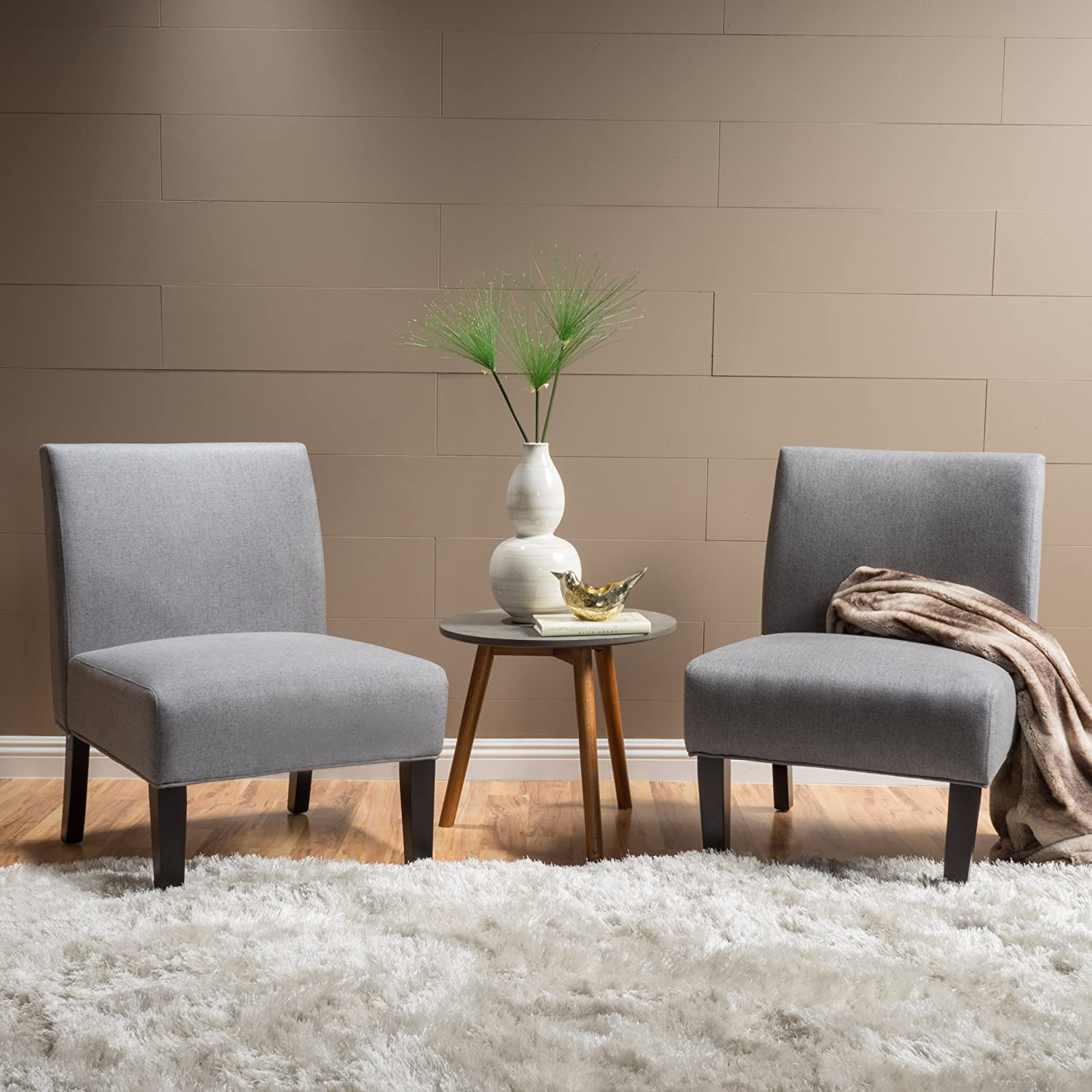 source: amazon.com
The Crosshaven accent chair is a stylishly casual crash pad that is exactly what your space requires. The goldtone metal frame adds a touch of airy refinement to this chair's appearance, and the weathered grey faux leather upholstery is simple to clean. The cushions, back, and arms are all highly padded, creating a gorgeously plush, comfy seat to lounge in.
Boho Style 
This quirky accent chair will complement any boho or impulsive living space. This Accent Chair has interesting textures, such as a blue fringe around the seat's edges, and a lovely pattern thanks to its checkered blue, white, and yellow upholstery. Furthermore, the armless design gives the chair a more modern look while taking up less space.
Spinner Article 
Looking for something more modern? The article has you covered with its Spin Chair, which features an angular, mid-century design fixed on gold metal legs. The chair is available in four colors, including a daring orange, and its classic tweed fabric only adds to its elegant good looks.  Overall, this accent chair would look great in any living area or workplace.
Cranberry Barrel Chair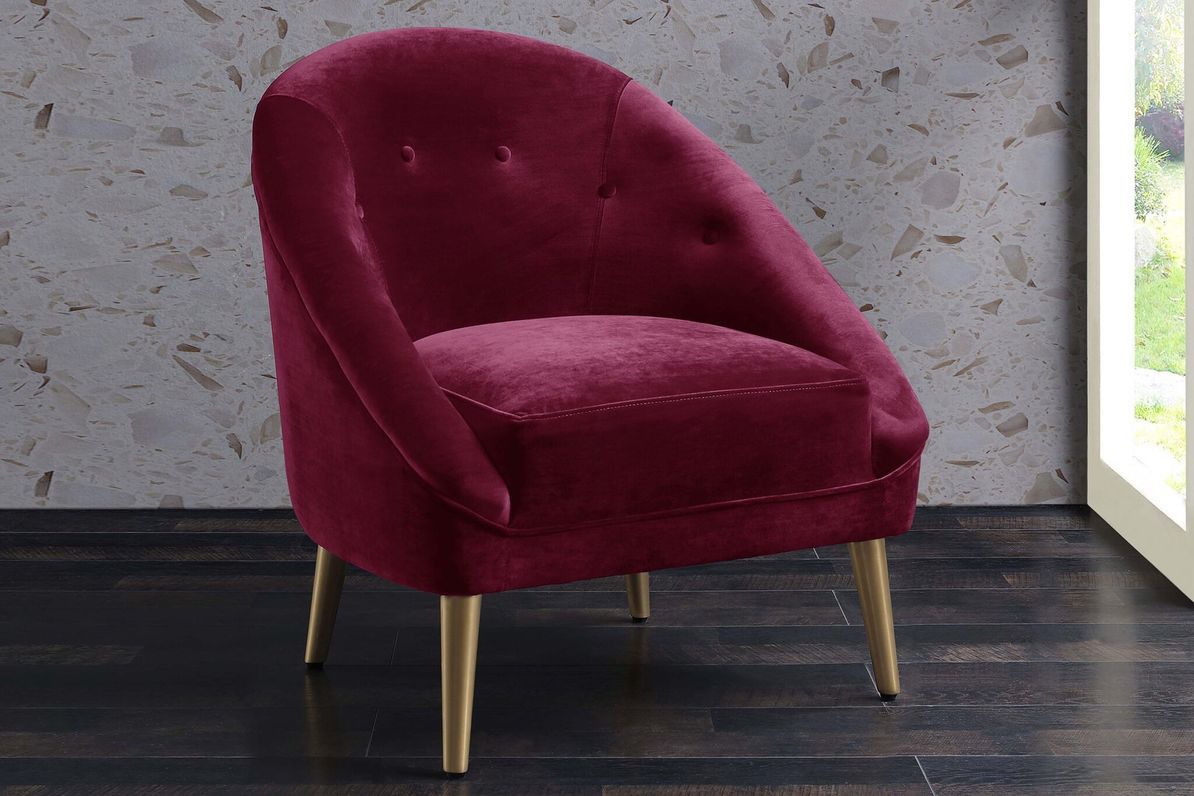 source: anthropologie.com
The silky fabric and rich jewel tone hues of this squat, oversized barrel chair will add an exquisite touch to any area. The chair is 30 inches wide and 29 inches tall, with many luxurious elements including ruched fabric around the seat cushions and tapering silver legs.
This statement chair is available in cranberry, emerald, slate, and navy upholstery and features a wooden frame coated in a soft foam. The chair can handle up to 250 pounds, yet it is quite lightweight, allowing you to move it as needed.
Sophisticated Emerald 
How adorable would this emerald Chair look in the corner of your living room or child's nursery? This chair has a modern barrel silhouette, but the rest of the design is iconic, with basic lines and a 360-degree rotating base. The semi-circle back is cushioned for comfort, and the best part is that hundreds of fabric options are available, ranging from thick chenille to faded velvet.
Color Wheel
This Chair is a low-cost alternative if you want something simple. The chair features a boxy minimalistic shape, a complete back, track arms, and four tapering wooden legs. The cushions are made of coil springs and foam, and the chair is upholstered in a polyester mix fabric that comes in more than 20 different colors.
Rocking Leather Recliner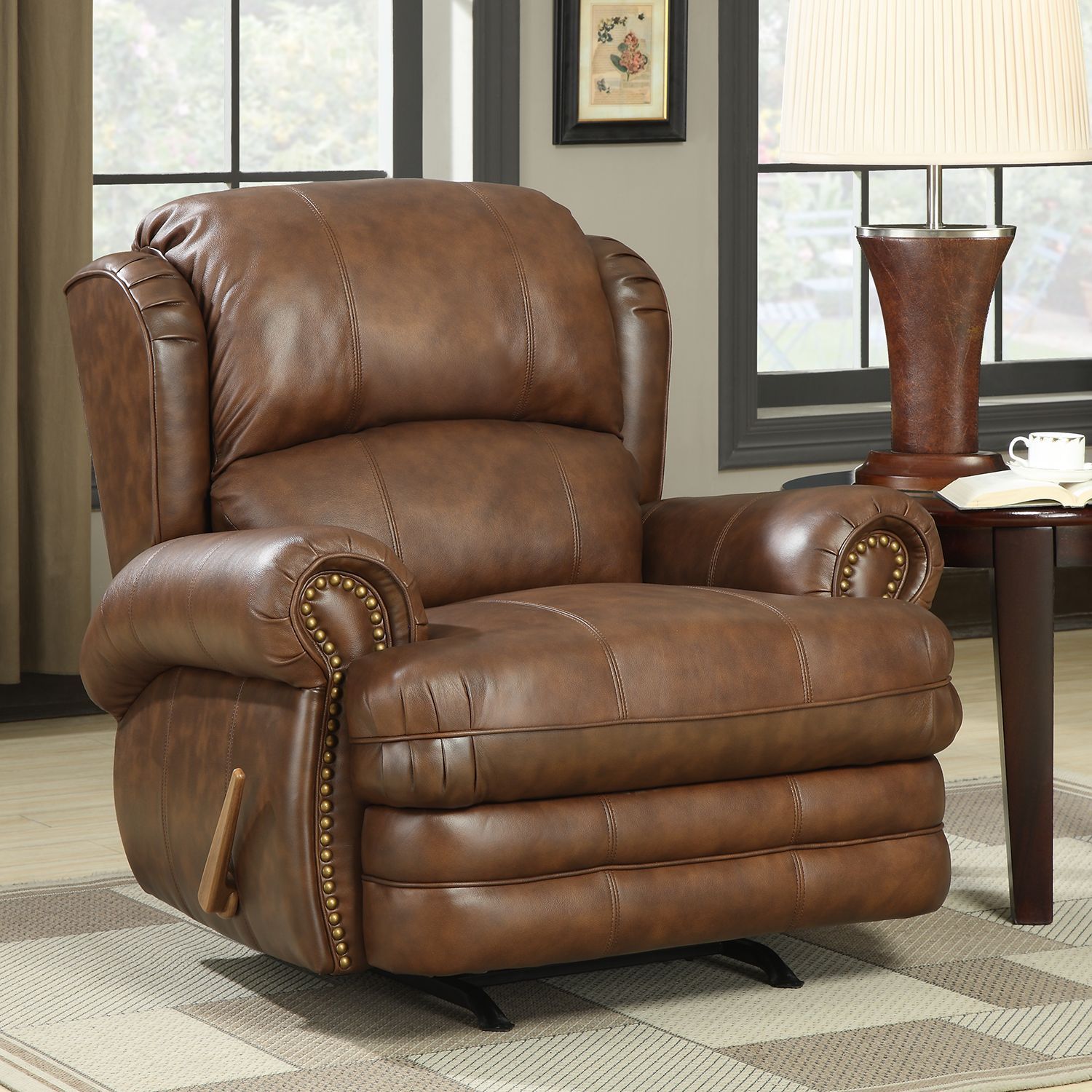 source: walmartimages.com
Reclining chairs are popular for reading and watching television. Traditional and fashionable versions in leather or fabric are available. A rocking recliner allows you to relax with your feet up.
Consider the Leather Armchair for a comfortable, casual accent chair that will go with almost any decor style. This luxurious piece has a kiln-dried wood frame with a distressed finish and two loose leather cushions. The chair has a low profile for relaxed reclining, and you can customize it with two frame finishes and dozens of leather colors to match your decor. This leather chair's majestic appearance will impress. 
Frequently Asked Questions
Is an accent chair pricey?
The price of an

accent chair

is based on the type of chair you choose. However this chair's market price is high, you can find cheaper copies from a variety of sources.
What criteria should be considered before purchasing this chair? 
Your decisions would be influenced by a number of factors. The chair's material or fabric, its size according to your needs, and its cost are three factors that will influence your work on it.
What are the several categories into which the chair is classified?
The categories are based on the chair's design style, fabric type, function or usefulness, and so on.