Everyone loves to have their home which looks and feels like a luxury hotel. Such elegantly decorated home looking like a sumptuous opulence hotel makes one feel amazing.
For constructing such stuff in your home will obviously require a lot of money to you, furthermore at the time of renovation it will chunk out your bank for sure. Still, luxury isn't something unattainable.
There are several ways to add luxury to your existing home, instead of buying a new one, and today I am going to tell you how. So, get ready to turn your home into an exceptionally designed and decorated modern living space.
Upgrade the layout of a home
source: ucarecdn.com
The most important and first thing to consider when trying to add luxury to your home is its layout. Ideally, it would be best if you opted for an open floor plan; this creates a nice flow of light and makes your home feel larger while increasing its functional space.
As opposed to a compartmentalized floor plan, an open floor plan asks for lesser walls and more open rooms. For instance, the kitchen, dining room, and living room should make one large and open room with large windows that flow into the patio and backyard.
Increase the functional space
A common problem with remodels is that there isn't enough space to add luxury features. However, in most homes, a lot of space is usually wasted, particularly in the basement or attic.
Most of the time, these wide and open spaces are used merely for storage, whereas, if they are properly designed, they can have many potentials. The basement is a great place to make a home gym, play area, or man cave.
Or, you can also add an extra bedroom to the attic, with a fantastic skylight, which will make the room lively. Overall, these places are like a blank canvas, and if you organize and design them properly, you can add whatever you want with them.
Upgrade the patio and exterior
source: homeandgarden.com
The patio is another part of most homes that remains unused or isn't used up to its full potential. Instead of keeping it as a mere outdoors lounging area, you can make a barbeque area on the patio. If you want the best grill, check out Blackstone griddles compared to Blue Rhino reviews to find out which is better for your needs.
You can also have a hot tub to the backyard patio to make it a super lavish addition to your home. While we are on the exterior topic, you should also consider repainting and renovating the home's exterior. This creates curb appeal and adds value to your home.
Remodel your kitchen
The kitchen is one of the essential parts of any home, and if you want your home to have the luxury appeal, you need to renovate the kitchen. With the open floor plan, you can also expand the kitchen to add some extra space.
After that, you should consider adding new stone countertops, modern and contemporary lighting, stylish cabinets and storage solutions, a center island, and modern kitchen appliances.
You should also repaint the kitchen and add some luxury features, like a wine cellar or a walk-in pantry.
Remodel the bathroom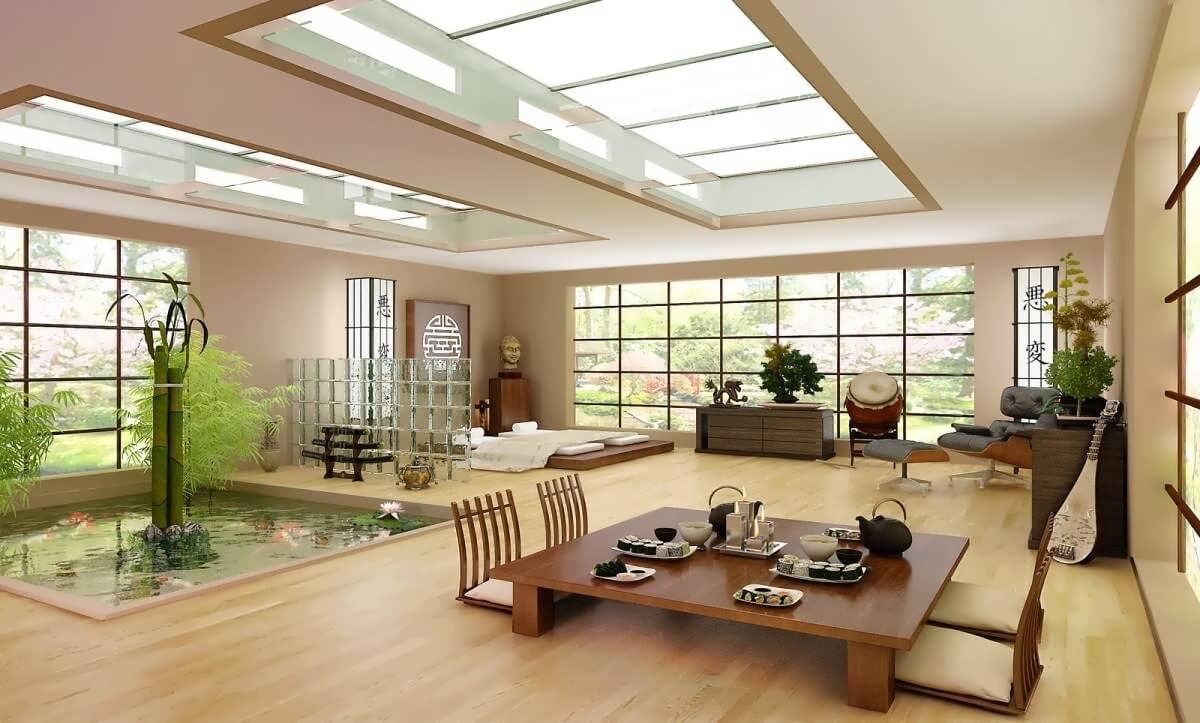 source: smoothdecorator.com
The bathrooms are also an essential part of your home's interior design, and if you want to have a luxury appearance, the bathroom needs to get a renovation. It would be best if you made the bathrooms appear more prominent and make them more comfortable.
You can expand if you have space; otherwise, using the right colored paint and tiles, installing some mirrors, and making large windows can make the bathroom appear bigger. You should also add new fixtures, like a stylish vanity and a large mirror. Upgrade the lighting, and add some decorative soaps and towels to the bathroom as well.
You can also invest in bathroom upgrades such as a macerating toilet. Fixtures like macerating toilet systems are a type of low-flow toilet designed for use in small spaces. These toilets have a macerating unit built into the base, which takes in solids and liquifies them using the energy of an electric grinding blade. They're ideal options for tiny bathrooms, basement toilets, and locations with low water pressure.
Bring nature indoors
One of the more subtle trends that are a hallmark of modern luxury design is indoor plants. Indoor plants are a very affordable and simple addition to your decor, but their impact can be incredible.
Plants add a welcome splash of color to the decor, make the air fresher and more fragrant, and give the room a more open and airy feeling. Therefore, add some indoor plants in every part of your home, from the bathrooms to the living room, kitchen, and patio.
Update the internal and external lighting
source: luxuryrealestate.com
The lighting is one of the most impactful interior designs; in fact, the lighting can make or break the appearance and ambiance of your home. Therefore, you need to move away from the traditional lighting styles and adopt a more modern lighting scheme in your home.
Add some stylish wall sconces, pendant lights, and lamps to your decor and opt for multiple ceiling LEDs instead of one. You can also add some decorative light to the patio and the backyard.
Keep in mind that natural light is as important as the lighting fixtures; therefore, make sure that you have large windows that let in a lot of natural light during the day.
Install some security features
A security system is a must-have addition to a luxury home. Home burglaries' rates are increasing, and luxury homes are always a more lucrative target if there isn't a security system; therefore, add some modern wireless security cameras and an alarm system to your home.
A security system will give you a higher value home, better insurance rates, and peace of mind.
Add some luxury features
source: twitter.com
If you want to make your home luxurious, add some features that are synonymous with luxury. For instance, making a swimming pool in the backyard, or making a home theater in the living room, with a massive LED screen and a lavish and comfortable couch.
You can also make a spa bathroom in your home by installing a sauna, luxury walk-in shower, and a hot tub.
Use luxurious textures and materials
If you want your home to feel luxurious, you should opt for modern and lavish textures and materials. For instance, the drapes, upholstery, and even the throw pillows should be made from modern and high-quality materials, and they should complement the color pallet of the room,
Furthermore, consider using stone in the kitchen and bathrooms and high-quality wooden floor panels. You should also consider adding some energy-efficient windows to your home for better cooling.