Have you ever found yourself pondering how to fill those empty corners of your home with something interesting or useful? Don't let them go to waste! With some inspiration from the latest style trends and interior decor ideas, you can decorate empty corners and turn them into functional and stylish areas that enhance the look and feel of your home. Here are 10 creative ideas to use the corners of your room and add some personality to your space. Let's get started!
Corner Decoration Ideas
1. Cozy Reading Nook: 
source: pinterest.com
When it comes to designing your home's interior for empty corners, a cozy reading nook is an excellent place to start. Begin by adding a comfortable armchair, a small side table, a reading lamp, and a stack of your favorite books. This will create the perfect spot to relax and unwind, away from the hustle and bustle of daily life.
Imagine sinking into a comfortable chair with a good book in hand, surrounded by peaceful silence. By using this idea, you can make the most of an empty corner while creating a functional and inviting space in your home. 
2. Indoor Garden: 
If you're searching for corner interior design ideas, incorporating an indoor garden is an excellent option. By filling up empty corners with plants, you can not only add some greenery to your space but also create a calming and peaceful atmosphere in your home.
Whether you choose to use hanging planters, floor planters, or a plant stand, incorporating plants into your corner decor is an easy way to elevate the look and feel of your home. So why not bring some life into your home and make the most of your empty corners with an indoor garden?
3. Gallery Wall: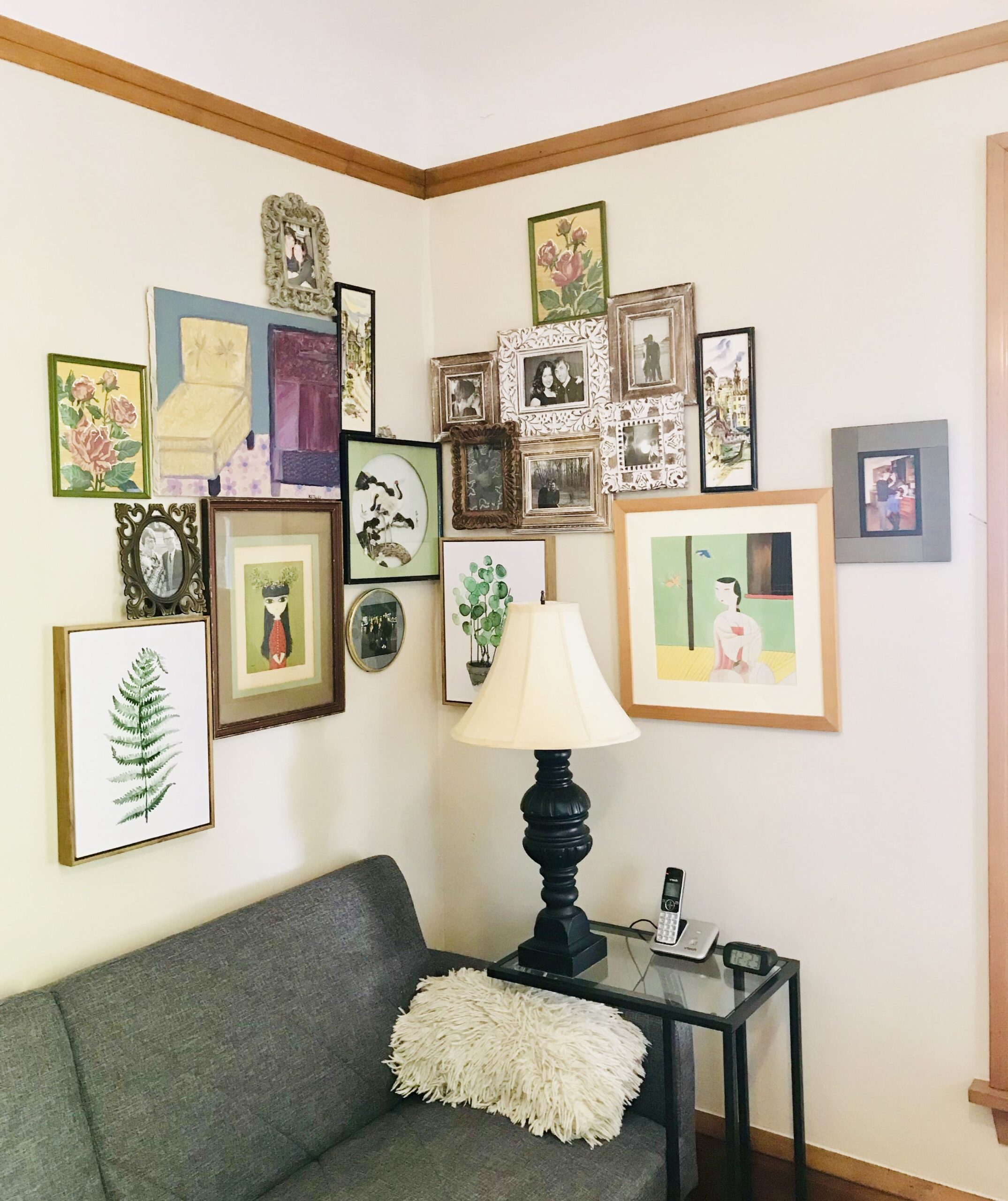 source: pinterest.com
Looking for a way to add some personality and color to an empty corner of your room? Consider creating a gallery wall. By hanging a collection of your favorite artwork or photographs, you can easily transform a blank space into a stunning focal point. This is a great opportunity to showcase your unique taste and style.  
Start by choosing pieces that complement your existing decor, or mix and match for an eclectic look. Next, arrange them in a visually pleasing way, taking into consideration the size and shape of the space. With a gallery wall, you can easily inject some life and creativity into any room.
4. Statement Chair: 
This simple addition can transform a dull corner into a cozy nook where you can relax and unwind. Whether you opt for a vintage armchair, a modern lounge chair, or a classic rocking chair, a statement chair will instantly add some personality to the space. Imagine curling up with a good book or enjoying a cup of coffee in your stylish new nook. So why not give this idea a try and create a cozy spot that's both functional and fashionable?
5. Corner Shelf: 
source: pinterest.com
If you're struggling to decorate empty corners in your room, consider installing a corner shelf. This simple addition can maximize the use of space and add some much-needed storage. With a corner shelf, you can display your favorite books, photos, or decor items, adding some personality to the space.
Additionally, you can use it to store everyday items like keys, wallets, and sunglasses, keeping your essentials within easy reach. From sleek and modern to rustic and charming, corner shelves come in various sizes, styles, and materials, making them a versatile addition to any room.
6. Floating Desk: 
To add some practicality to your room, consider incorporating a floating desk into your corner decoration ideas. This is an ideal way to create a small home office in an empty corner without taking up too much space. With a floating desk, you can easily tuck it away when not in use, allowing you to utilize the space for other activities.
Floating desks come in various sizes and styles, and some even come with built-in storage to keep your workspace organized and clutter-free. Whether you're working from home or simply need a designated spot to tackle your to-do list, a floating desk is an excellent addition to any corner.
7. Floor Lamp: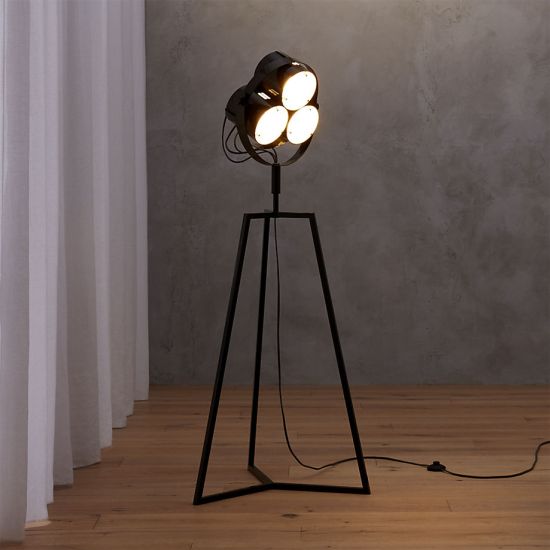 source: pinterest.com
To create a cozy reading nook or highlight a piece of artwork or decor, consider adding a floor lamp to one of the corners of your room. For a contemporary look, opt for a sleek and modern design, or add a touch of retro charm with a vintage-inspired design. 
By incorporating a floor lamp into your corner interior design, you can add both functionality and style to your space. So, whether you're curling up with a good book or simply looking to enhance the ambiance of your room, a floor lamp is a great option to consider.
8. Corner Bar: 
Add a bar cart or a small cabinet to the space. Once you have your furniture in place, it's time to start stocking it with your favorite spirits and glassware. This is a great way to create a fun and inviting space for entertaining guests or simply enjoying a drink after a long day. So, if you're looking for corner decoration ideas to spice up an empty corner in your home, a corner bar may be just what you need.
9. Floor Pouf: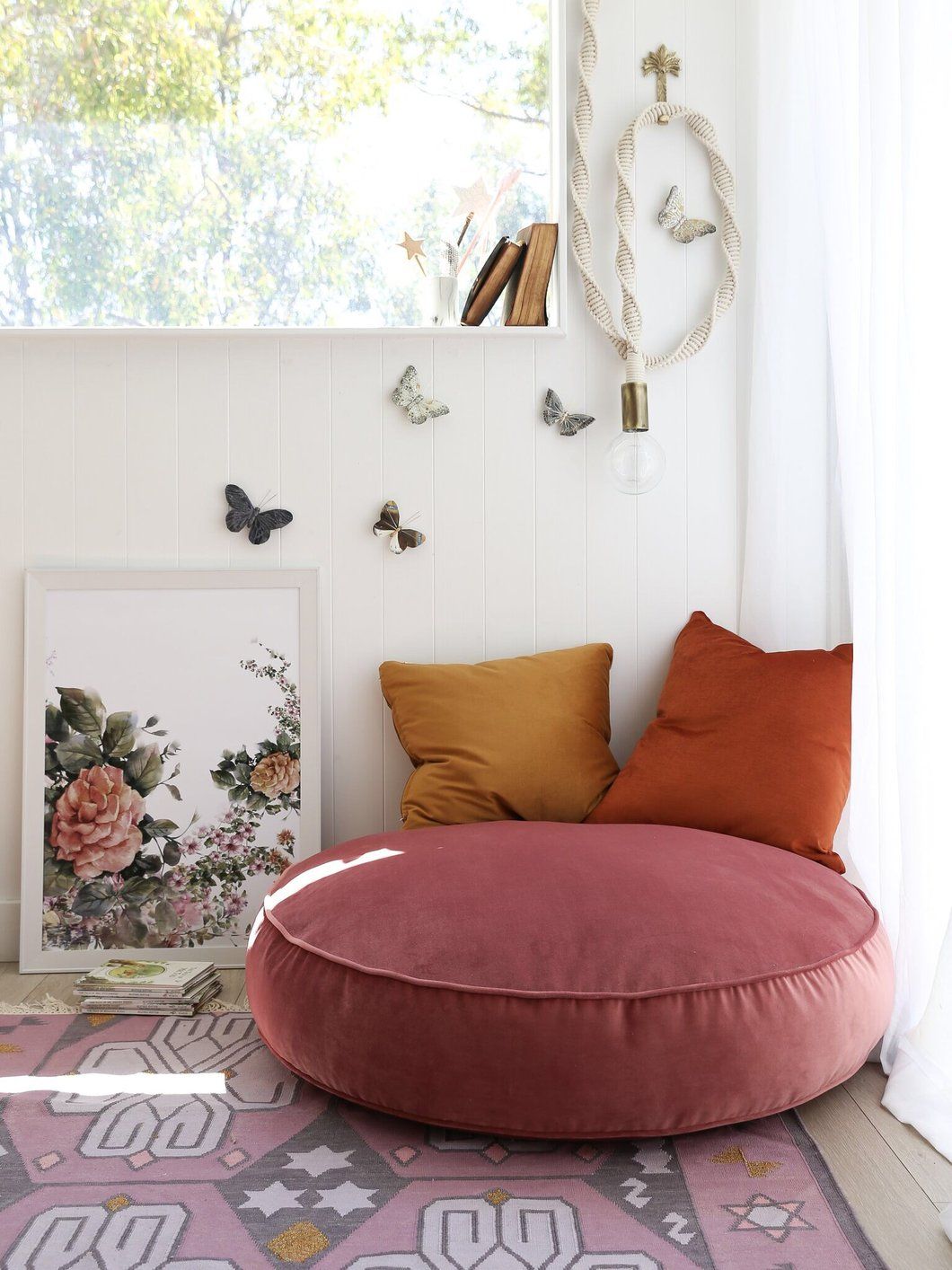 source: pinterest.com
To decorate empty corners and create a cozy seating area, consider adding a floor pouf. This versatile piece of furniture can be placed in any corner of your room. One way to use it effectively is as extra seating and the other usage can be a footrest. Imagine sinking into a plush pouf with a good book or a cup of tea in hand. Moreover, it is surrounded by soft textures and comfortable cushions. Whether your style is modern or bohemian, a floor pouf can add a touch of coziness and warmth to any space.
10. Corner Fireplace: 
To enhance the cozy feel of your room, consider installing a corner fireplace in one of the empty corners. With its warm glow and charming appeal, a corner fireplace can create an inviting atmosphere that's perfect for relaxing evenings at home. 
Plus, it's a stylish addition that can serve as a focal point for your corner interior design. A corner fireplace is also an excellent solution for smaller spaces. It can save floor space and fit seamlessly into your room's layout.
Conclusion
In conclusion, empty corners in your home offer endless opportunities for creative and stylish solutions. With a little imagination and some thoughtful planning, you can transform those overlooked areas into functional and inviting spaces that elevate the overall look and feel of your home. 
So, decorate empty corners and do not consider that area as waste. Instead, embrace them as opportunities to add character and personality to your living space. Happy decorating!