From home decor to front and back yard everything is Christmas-ready so why not take the Christmas décor a step ahead and include it in your nail designs. Girls here is a way to show off your holiday spirit with your special skills and talents and by Live Enhanced fabulous and easy nail art design ideas for Christmas.
source: hearstapps.com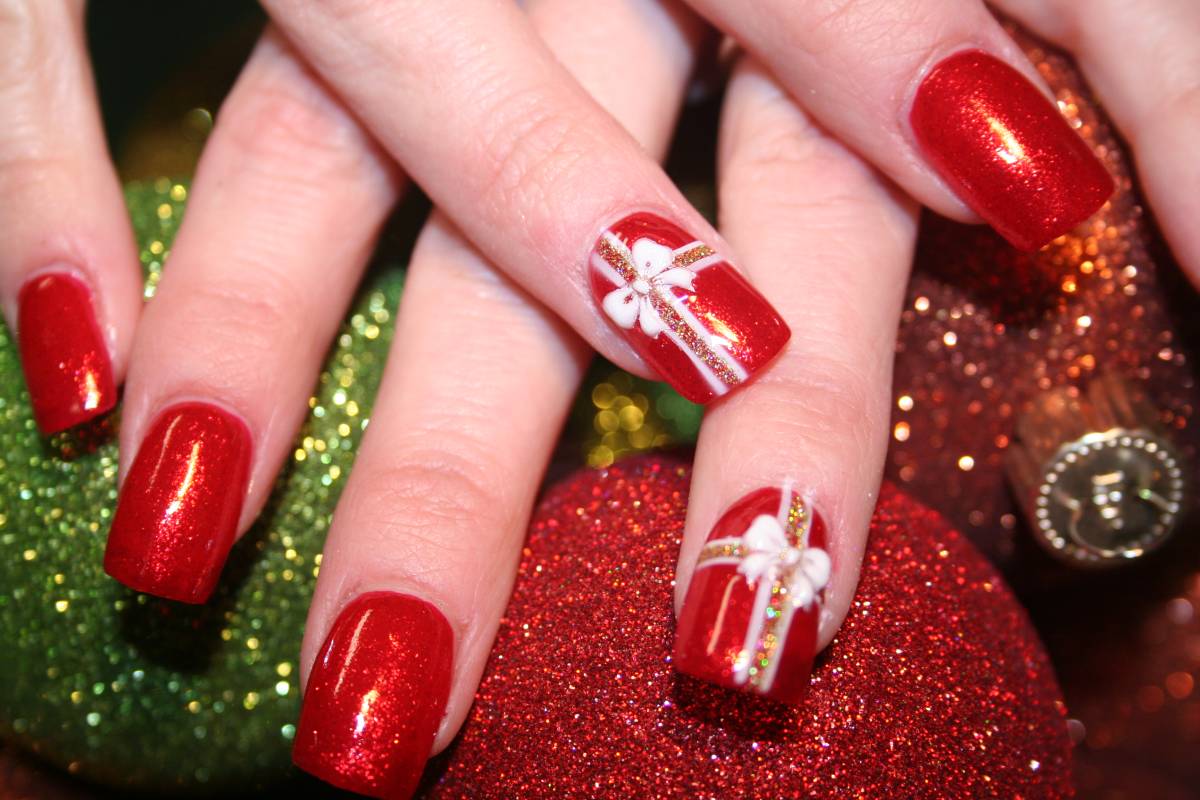 source: christmas.365greetings.com
Let us start with something out of the box as Christmas is not only about green or red nail polish. Get the festive charm with this snowy blue colored nail polish and complete it with polar bear nail design. Give your polar bear a beautiful red scarf and the remaining part of the nail polish with small white snowflakes.
source: christmassnydle.com
source: nailspaellenton.com
What is more Christmassy than ribbons and bow? Get a fabulous nail art by painting your nails in a red and glittery Golden shade with shimmer particles. After the base is dry, draw two vertical and two horizontal lines with white and at the intersection of both these lines stick a readymade bow sticker. Do this in one nail on each hand to keep it minimalistic.
source: askideas.com
source: newdesignfile.com
Speaking of Christmas and not including candy cane? That's not possible. Try this easiest nail art design with hot red nail paint. Paint the nails with bright red color and once the base color is dry, draw white slant lines across the nail to give it a candy cane effect. If you want to make it dressier, go for a plain white base with a double coat and apply striping tape and apply glitter nail paint through it. Once it is done, peel away the striping tape and that's it!
source: godfatherstyle.com
source: newdesignfile.com
Love decorating your home with wreaths? Why not do the same for nails? Here is the simplest way to go for wreath nail art. Apply cream nude nail paint as a base and paint the upper part of the nails with matte white color. With the help of dotter tool, go for red and green dots at the inner border of white nail polish and on the inside corner of the ring finger stick red diamonds and green leaf sticker and your wreath nail art is ready.
source: godfatherstyle.com
source: sjovogbizar.net
Winter blues are all-time favorites when it comes to Christmas nail art. Give a snowy blue charm to your nails by painting the nails with glittered navy blue nail paints. Double coat the same to give a nice effect. After both the coats are dried, apply small white snowflake stickers on the nails and you are ready to party!
source: gravetics.com
source: pinterest.com
Give all your nails different designs based on a single theme but make sure when going for different designs have the same base color. Go for a hot red base color and different designs for each nail such as a polar bear between some white polka dots, candy land with white slanting lines, a reindeer on one and snowman on others. Keep it simple to make it look more original.
source: pinterest.com
source: majormag.in
Stiletto nails are just wow when it comes to nail art. To look more polishes with your nail art go for matte red colored stiletto nails and double coat it so that the art looks more elegant. After the coat is dry, go for the "ugly sweater" nail art in different ways for all nails and cover the boarders with this design and go for snowflake, reindeer, polka dots or wreath in between. For this design, nail stamps are the best tools to go for.
source: bayanelbise.com
source: pinterest.com
If you can really get some more time for the nail art, go for plaid nail art. Here go for red shiny nail polish as your base on the thumb, index finger and pinky finger and after the coat is dry, stick the black plaid sticker on it. On the index finger, go all black with a touch of golden glitter and for the middle finger, go with glittery golden.
You may also like to know about  Attractive Costume Design Ideas for Christmas Party
source: nicole-online.net
source: pinterest.com
Nothing is more attractive than embellished nail art. Paint your nails with white or creamy white nail color and once the coat is dry, sprinkle the red shimmers at the lower border and cover it with the transparent coat. This looks more polished and dressier.