When you get ready in the morning, you go to your closet to pick out the outfit that will give you the self-assurance to take on the day! Since this is the case, each element in the room should exude a strong and opulent vibe. The functionality of a room can be significantly improved with the use of the correct lighting. Today we will discuss some beautiful yet functional closet lighting ideas.
A sophisticated lighting scheme combines more practical illumination with the opulent boutique appearance that showcases favored collections of shoes or bags as showpieces. Installing many levels that smoothly combine ambient, decorative, and job lighting is the secret to a well-lit closet. Never undervalue the value of adequate illumination in your wardrobe. Both your health and the preservation of your vision depend on it, in addition to its aesthetic value. So always follow the best wardrobe lighting ideas for best results.
Closet Lighting Without Wiring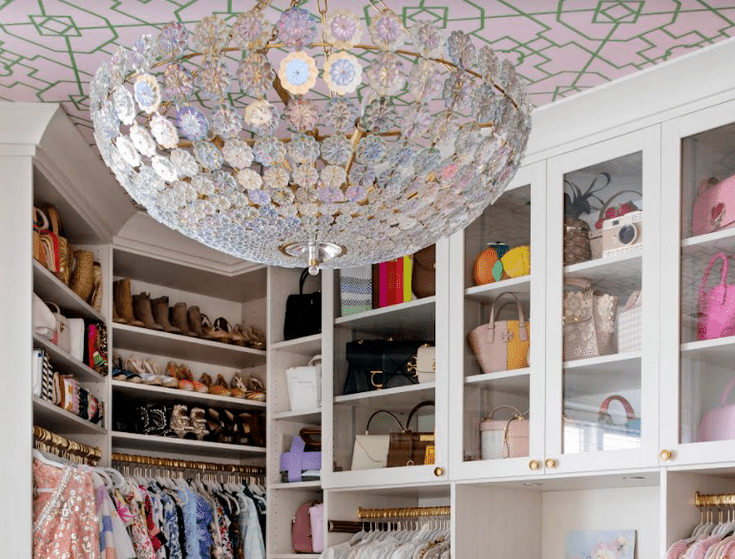 source: thespruce.com
For those who are unable to modify or upgrade their home's wiring, LED lighting technology has revolutionized battery-powered, install-anywhere lighting options by providing incredibly bright illumination in a tiny shape. Anyone can install one of these lights by simply peeling and sticking (or drilling and mounting), even if you don't feel comfortable working with electricity. 
As soon as you poke your head through the closet door, this ceiling light instantly turns on. One of those small improvements that may completely transform a renter's life. 
How To Lighten Up Small Closet?
The era of overhead, solitary, naked closet lights with a pull chain for on/off operation is long gone. The way closets are lit has never been the same since the introduction of low voltage LED lighting solutions. Furthermore, the modification has unquestionably improved things. Your closet is now genuinely visible. 
Utilize the closet's low voltage LED cabinet illumination. Instead of in-wall switches, this lighting comes with plug-in transformers and remote controllers. You won't need to rewire the wall in this manner. These lights function properly, consume less electricity, and don't require an electrician. The majority of homeowners think a remote control is more practical than a standard wall light switch.
Put LED Stripes Above Closet Rods
source: pinterest.com
The best option for lighting your clothes on hangers is this. One light strip should be installed above each rod beneath the shelf directly above. To illuminate the front of the clothing, the LED should be mounted immediately above the rod. This kind of closet light is quite easy to place along the underside of a closet shelf directly above the rod. Once you give it a try, you'll notice that finding your clothes is much simpler. There won't be any more shadows that make your jeans look alike. Each piece of clothing stands out bright and uniquely.
Put Lights On The Bottom Of The Closet For Footwear
Don't forget to check the closet's bottom! The presence of light down there is crucial if you use this space to keep your shoes. After all, you wouldn't want to unintentionally arrive at work wearing a pair of brown shoes and a pair of black shoes. The bottom of your closet should be lit with the same LED strip lighting that was used above the closet rods. To ensure that every shelf is evenly lit, place one LED strip on each side of the shelves and run it from top to bottom.
Use Vertical Strip Lights Along With Shelving Sections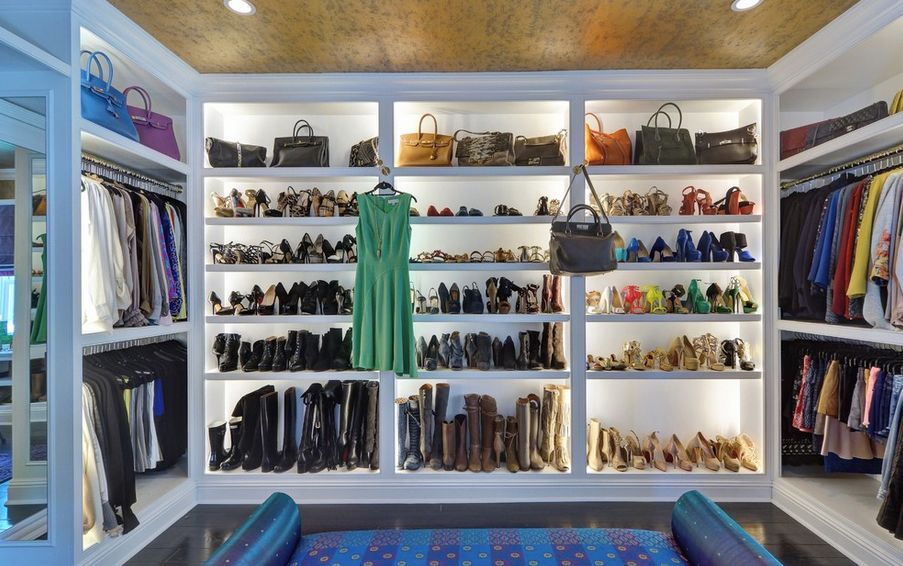 source: pinterest.com
Instead of placing vertical strip lighting under each shelf if your closet has shelves, try placing it on the panel sides. More even lighting will result from this (especially if it is installed about 4-5 inches from the front of the shelf or cabinet).
Use Puck lights For Display Shelves, Closet Doors, Or Mirrors.
The puck lights are excellent for both duty and decorative lighting. Make a focal point out of a display of priceless jewels and other items by using them to assist you to put on your favorite earrings. To make the most of your mirror, which may be located above the countertop, you will unquestionably require these lights.
Walk-in Closet Lighting Ideas
Luxury is best exemplified by walk-in closets. Walk-in closets are excellent for storing clothing, shoes, and accessories, but they may also serve as a haven from the rest of your home. Walk-in closet lighting ideas may have a long list to follow. But don't worry. We are here to help you inspire with beautiful ideas and suggestions to make your wardrobe look stunning. Take the help of the lights listed below to illuminate your walk-in closet.
Battery-operated closet lights

Strip lighting- LED Closet Lights

Dimmable lighting

Motion sensor Lighting

Track lights
Battery Operated lights are suitable when you don't want extra wiring. Striped lights are good for a shoe rack or hanging stuff. It can come with remote control. You can customize the brightness you need. Dimmable lights are necessary for nighttime and sleepy hours. Motion sensor lights are a great source of energy conservation as they light only when they sense some object nearby. Track lights have a function to focus or track a particular area. They are good to highlight important stuff in your closet. Walk-in closet lighting ideas are versatile and functional according to the size and design of your walk-in closet.
Make A Statement With Chandelier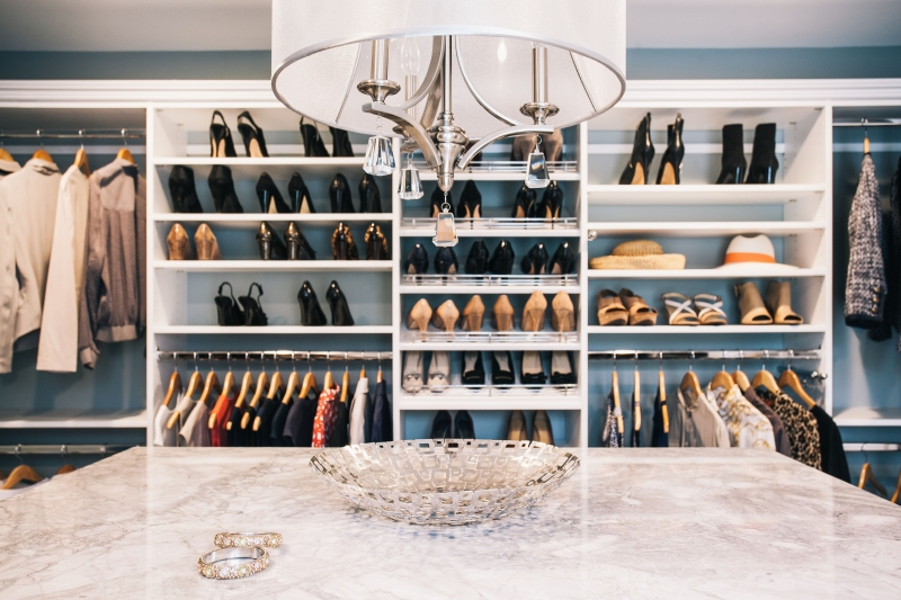 source: pinterest.com
Not all fixtures fit everyone. The sort of fixture you require will depend on your closet's size and configuration. With high ceilings, the pendants look great. A chic pendant or low-hanging chandelier may look great installed. Particularly if it's a big or walk-in closet, closets typically feature general illumination that isn't enough to illuminate the entire space. Use track lights, recessed lights, and other directional fixtures to the existing lighting to provide additional illumination. 
Another option is to use a hidden wall lamp as the primary source of light and install a decorative chandelier with modest light intensity for flair. In your walk-in closet, mount the switch for the ceiling lights on the wall outside the door or the exterior of the closet. A closet is hardly the place to skimp on decor. Use a chandelier or pendant light to create a magnificent appearance. If your closet is on the smaller side, go for a flush mount chandelier. 
Final Thoughts
source: pinterest.com
Even on a tight schedule, the modern woman wants to appear polished and radiant, so it's critical that the lighting is ideal to provide a seamless and successful morning ritual! Regardless of the size or style of your space, these clever closet lighting ideas will help you re-energize it. The glamorous look of vanity is a dream of every girl. We try to cover every type of lighting for your reference.
Lighting design ought to combine form and function. For atmosphere and a lovely lighting effect, illuminate the base of the cabinets or the shelves with ribbon or puck lights that are recessed into the wall. Use LEDs that are durable and energy-efficient. Make use of higher intensity or medium intensity for task lighting or brighter illumination, or both, for accent lighting. Make sure the temperatures of LED blend in with the decor of the space.