A huge feeling of responsibility comes with preparing to spend a long or short day at work. Your day will be incomplete without a cup of coffee to lift your spirits whether in the morning or during a break at work. Having a pod coffee machine in your workplace saves you from the stress of locating a coffee shop near you. The fundamental operation of every coffee pod machine is the same: once the user inserts a coffee pod and hits a button, the machine draws hot water from an internal reservoir, passes the pod through it, and then pours the water into a cup to make coffee.
Are Coffee Pods The Same as Ground Coffee?
Ground coffee and coffee in pods are comparable to apples and oranges. Despite coming from the same tree, their preparation and consumption methods are very different.
source: pinterest.com
Coffee pods have all the components metered out and ready to go into the oven, just like a premade apple pie. Similar to this, coffee pods are pre-ground, pre-packaged, and ready to be made in a single-serve pod coffee maker. It's ideal for people who don't want to deal with measuring and grinding coffee beans but just want a fast hit.
Contrarily, ground coffee is comparable to a bunch of crisp apples. You can create anything you want with it since it is adaptable and raw. You may create a drink, pie, or crisp. Similar to tea, ground coffee may be used in a range of brewing techniques, including pour-over, French press, and even cold brew, and you can experiment with different tastes and intensities. It's ideal for coffee lovers who want to experiment and have a more unique experience.
Depending on the user's tastes, both coffee pods and ground coffee have distinctive qualities of their own.
What are The Benefits of Having a Coffee Machine in the workplace?
Not only does having a coffee maker at your workplace save the burden of locating a local coffee shop, but it also helps to increase workers' productivity, sustain pressure, and preserve their mental wellness. A happy worker is a productive worker. Therefore, if you want your business to stand out from the competition, investing in a pod coffee machine will be crucial.
source: pinterest.com
The following are some benefits you may receive from utilising a coffee maker at work:
Increases productivity: Drinking coffee can keep workers alert and focused throughout lengthy shifts. This will remind employees to avoid dozing off during work or falling behind on their assignments.
Promotes socialisation: Having a coffee maker in the workplace may operate as a social hub, encouraging staff members to stop and speak during breaks and building a sense of community and cooperation.
Cost-effective solution: Instead of frequently purchasing coffee from outside, purchasing a coffee maker for the office can ultimately save staff money.
Boosts employee retention: A modest bonus like a coffee maker may make a big difference in terms of staff happiness and retention.
Boosts employee retention: A modest bonus like a coffee maker may make a big difference in terms of staff happiness and retention.
Improve employee engagement: Coffee breaks may assist to break up the monotony of a long workday and provide employees with a chance to connect and exchange ideas.
Branding and marketing: A coffee maker with the logo or branding of a firm on it can act as a subtly effective marketing tool and foster a sense of pride and community among employees.
Overall, a coffee maker in the office may be a simple investment that yields significant benefits in terms of increased productivity, cost savings, and employee happiness. Additionally, it may be used as a covert marketing strategy and to give workers a sense of pride and belonging.
What are The Best Coffee Pod Machines?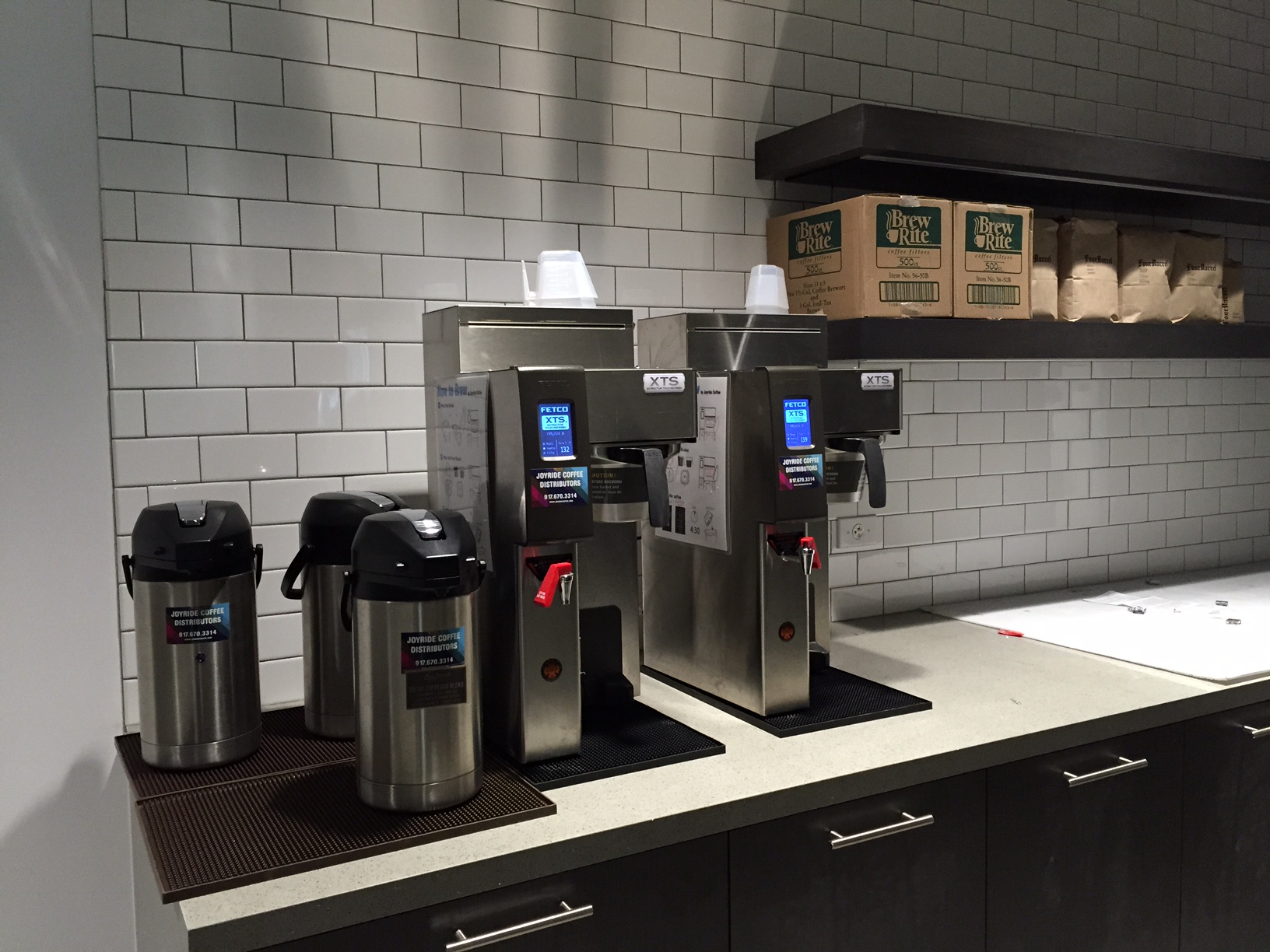 source: pinterest.com
When next you need a coffee machine, don't worry about which coffee pod machine to pick; the machines listed below are the best ones that might meet your needs:
Keurig K-Cafe Single-Serve K-cup Coffee Maker: Best Overall
With any K-Cup pod, the Keurig K-Caf coffee maker allows you to brew coffee, lattes, and cappuccinos. Its controls are straightforward buttons, and it features a sizable 60oz water tank and a programmed auto-off feature. The My K-Cup Universal Reusable Coffee Filter and the K-Caf are both suitable for travel mugs.
The Hamilton Beach 2-Way Programmable Coffee Maker: Best Features
With the Hamilton Beach 2-Way Programmable Coffee Maker, you may brew 12 cups of coffee into the glass carafe or use your favourite ground coffee in a cup or travel mug.
Coffee 5-Cup Coffee Maker: Best Budget
A portable and simple-to-use coffee maker that can prepare up to 25 oz. of coffee is called the Coffee 5-Cup Coffee Maker. It comes with a Grab-a-Cup Auto Pause, an easy-to-view water window, and an improved ergonomic carafe with ounce markings.
Conclusion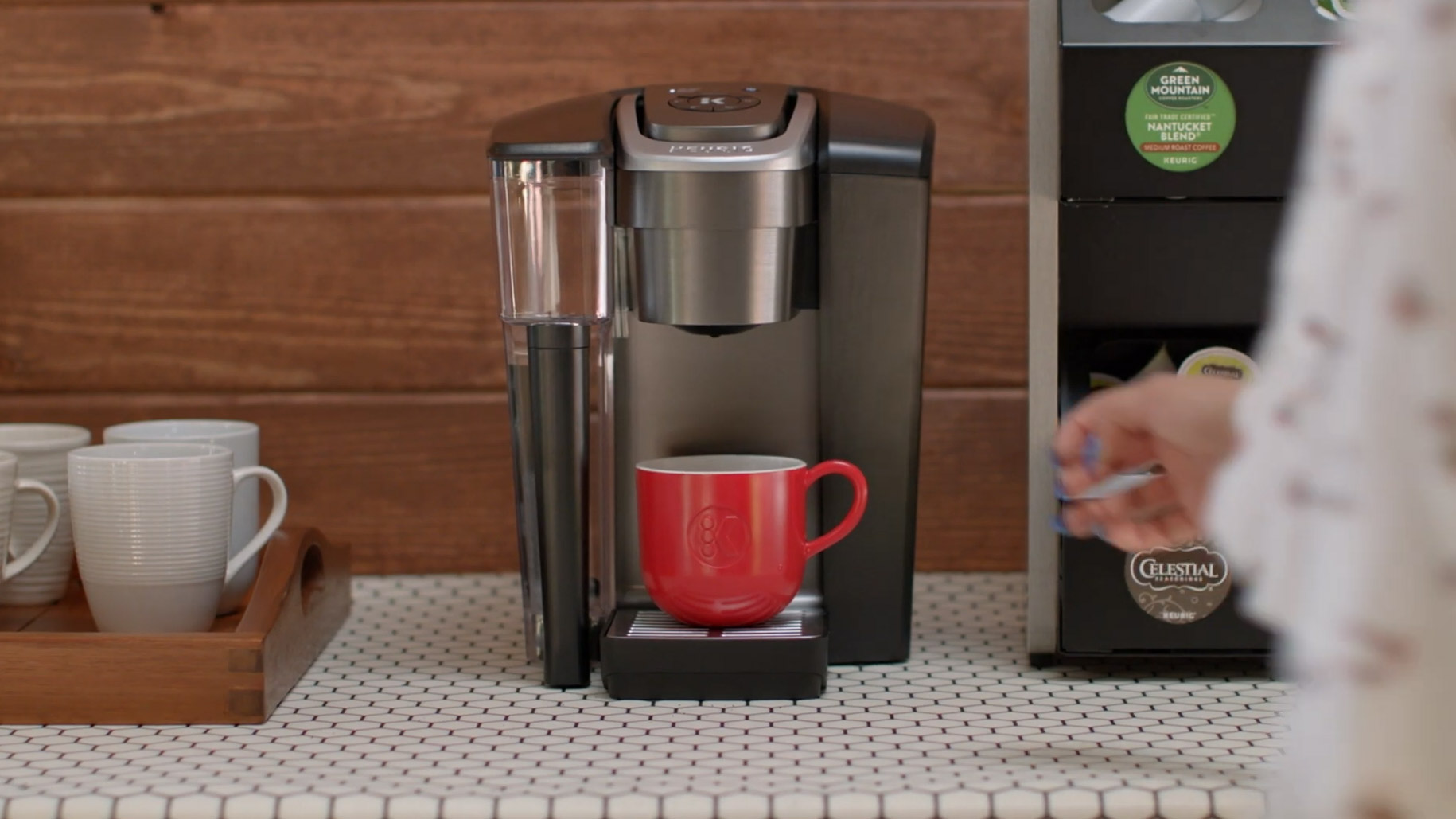 source: pinterest.com
In conclusion, having a coffee machine at work may significantly improve morale, productivity, and workplace culture. Choosing the perfect one for your workplace might be difficult with so many alternatives available. But with a little research, you're certain to locate the ideal device that will keep your workers motivated and engaged all day. There is an espresso machine out there that will meet your demands and keep your staff productive, whether you're looking for a high-end, feature-packed machine or a more affordable choice.