Welcome Foodies, Prepare yourself for something genuinely exceptional as Netflix introduces its latest sensation, Netflix Bites. You'll be amazed by the innovative fusion of food and entertainment. It's not just another temporary pop-up restaurant; it's a ground-breaking combination of the worlds of delectable cuisine and famous entertainment.
Get ready for a unique eating experience with the Netflix Bites pop-up restaurant where you'll be sucked into the enticing world of Netflix's most compelling content.
From the minute you enter the Netflix restaurant, you will be transported to a realm where the flavors on your plate harmoniously complement the enchantment taking place on your screen.
Your gastronomic standards are set to be rethought by Netflix Bites, which will also satisfy your appetite for binge-worthy content. Get ready to explore Netflix Bites in further detail as we learn what makes this dining experience so exceptional.
What Is Netflix Bites?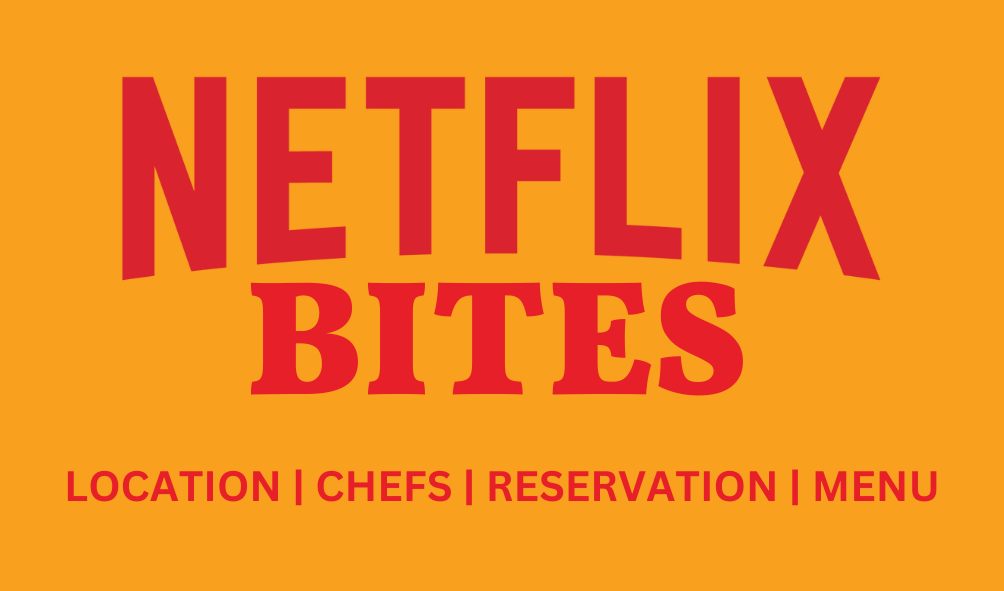 Netflix Bites will operate as a pop-up restaurant, inviting guests to indulge in its extraordinary dining experience for a limited period. It will offer a one-of-a-kind fusion of entertainment and cuisine that captivates diners and foodie fans.
With its temporary nature, Netflix Bites pop-up restaurant brings an element of excitement and anticipation.
A successful live experience combined with top food talent is what makes Netflix Bites restaurant so special. It is a unique concept that captures the engaging culinary experiences featured in Netflix shows, allowing fans and foodies to enjoy renowned chefs preparing delicious dishes live.
Netflix Bites Restaurant Location, Opening Date & Timings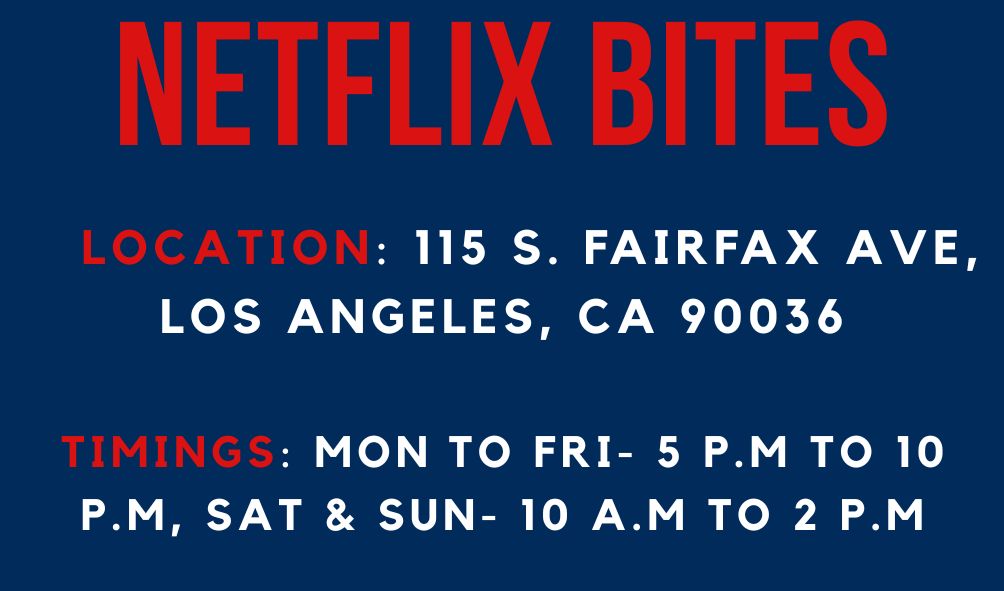 Location:
115 S. Fairfax Ave, Los Angeles, CA 90036 (Google Maps)
Opening Date:
30 June 2023
Timings:
Mon To Fri- 5 p.m to 10 p.m

Sat & Sun- 10 a.m to 2 p.m
The renowned Short Stories Hotel in Los Angeles serves as the exciting location for Netflix Bites, an intriguing pop-up dining experience. This short-lived event, which will take place at 115 S. Fairfax Ave, Los Angeles, CA 90036, aims to bring the magic of streaming to life in the middle of the city.
The opening date will be 30 June 2023. Netflix has made it obvious that Netflix Bites pop-up restaurant will only be available for a short time, even though the pop-up restaurant's closure date has not yet been made public.
What To Expect In Netflix Restaurant Menu?
Netflix has not revealed the menu of its pop-up restaurant. However, it is obvious that you will enjoy a tantalizing experience of "bite flights" at the Netflix Bites pop-up restaurant. It will be a place where a variety of delicious meals from renowned chefs who are inspired by other cuisines are served.
The master chefs will painstakingly create a cuisine that will transport you on an amazing epicurean adventure. Each dish on the Netflix restaurant menu will be a work of art that draws inspiration from the most well-known episodes and films on the streaming giant.
Imagine enjoying delectable dishes produced by famous chefs whose comprehension goes beyond the limits of conventional cuisine.
For the Netflix restaurant menu, the mixologists will design appealing beverages that closely match the flavors and themes of Netflix's popular content.
Netflix Bites Chefs and Their Famous Shows
| | |
| --- | --- |
| Curtis Stone | Iron Chef |
| Dominique Crenn | Chef's Table; Iron Chef |
| Rodney Scott | Chef's Table- BBQ |
| Ming Tsai | Iron Chef |
| Ann Kim | Chef's Table- Pizza |
| Nadiya Hussain | Nadiya Bakes |
| Jacques Torres | Nailed It! |
| Andrew Zimmern | Iron Chef |
Netflix Restaurant Reservation Steps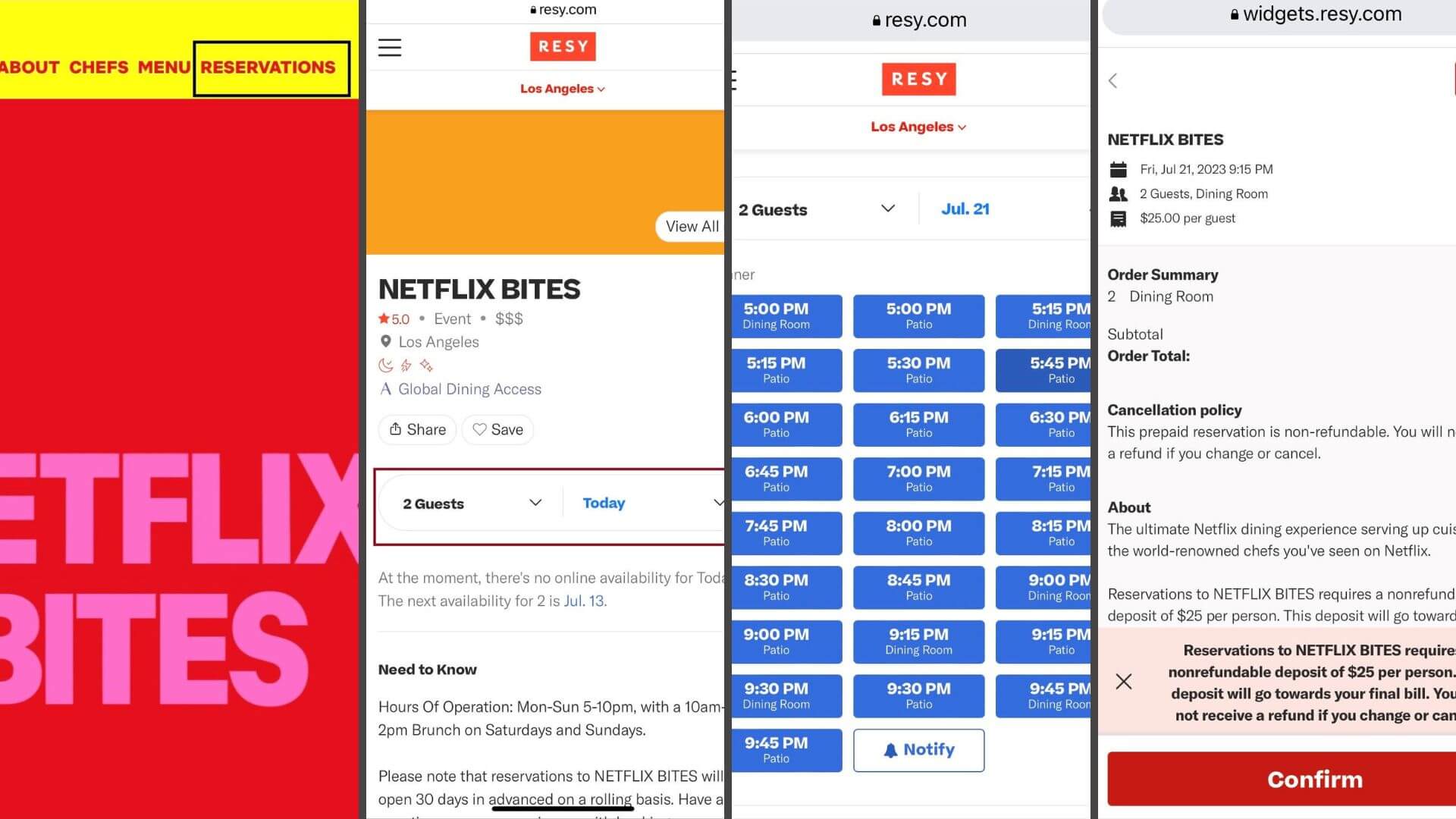 Visit Netflix Bites Shop or the Resy platform.
Click on "Reservations" or "Book a Table."
Select your preferred date and time.
Enter the number of people in your party.
Provide your contact information.
Agree to the non-refundable deposit of $25 per person.
Make the deposit payment securely.
Receive a confirmation email or notification.
Arrive at Netflix Bites on the reserved date and time.
Provide your name to the restaurant staff.
The $25 deposit per person will be applied toward your bill.
For any special guidelines or updates about reservations for Netflix Bites pop-up restaurants, it's always a good idea to check the Netflix Bites website or the Resy platform.
In A Nutshell
Netflix Bites is the ideal location for food lovers wishing to savor scrumptious meals and engage in the enchantment of the small screen's culinary delights. It lines up with respected chefs, enticing culinary experiences, and an easy reservation procedure.
Grab your appetites and reserve a table for a voyage that combines the best of great food with streaming entertainment.
Check this out
Oldest restaurant of the world