Most adults prefer standard colors and designs when it comes to their bedrooms – a double bed with side tables, cupboards, a desk (depending on the type of person you are) and some minor attachments. It is, therefore, easy enough to design or decorate a room for an adult. At the same time, the scope to experiment with colors or designs is limited. 
On the contrary, decorating a kid's room can be both a nightmare or an opportunity to shine through some innovation. Considering that not everyone has an artistic or creative side, we shall look at some of the modern ways to decorate a kid's room in this post. 
Obviously, the younger the kid, the more time is spent indoors and their room will be where they will have been warmly embraced by their mother when they were scared because of a nightmare. It will also be the place where they feel secure and protected. That is why it is important to apply your mind when designing your kid's room.
Let us look at some of the modern ways at Live Enhanced to decorate a room for kids. 
Use Bright Colors
source: architecturaldigest.com
As we said earlier, it is very difficult to experiment with color combinations for an adult's room but it is easy to do so with a kid's room. The best part is that you can use as bright a color as possible for a child's room as they will love it. 
From bright yellow to green to red, all colors are game. In fact, there is a concept called color psychology, whereby child behavior can be analyzed and their learning can be enhanced through the use of colors.

The colors can be used in two ways. If you want to keep things simple, you can just go for plain wall paints with bright colors. But if you are feeling a little creative, you can opt for textured paint, with a light color background and bright colored textured designs on that background.

Use Wall Stickers
source: thespruce.com
It doesn't matter what is the age or gender of the kid; every kid is fascinated or attached to one or more cartoon characters or fairy tale characters or sports stars or as is the trend these days, animated YouTube stars. 

Add to that piece of information, the criteria that apart from using generic design ideas for a kid's room, it is also important for the room to reflect the personality of the kid and you have got the next big idea – wall stickers. 
Wall stickers for kids are not just a novel idea but are also cost effective and easy to implement. With the market for kids' decor gaining currency worldwide, there are many brands that cater to exactly this market. Further, some famous media brands have already started building wall stickers for kids to meet this growing demand.
Funky Accessories
source: thespruce.com
Enough of colors and wall stickers, let's get funky. There is a lot more to a kid's room than just bright colors and disney animation stickers. In fact, some kids might be acutely interested in sports or activities like swimming or reading for that matter from a very early age.

For those kids, the room can be customized accordingly. For instance, if a teenager is an active badminton player, there can be a slot on his wall where he can store his rackets and corks. This does not just act as a storage area for his stuff but can also highlight his interests to others who enter the room.
If a kid is into reading from the very beginning, then a separate area can be designated for his books. Or even better, the wall behind his bed can be turned into a mini bookshelf and that can become the center of attention of his room.
Use Bunk Beds
source: home-designing.com
In the modern world, space is always a constraint with home designing and decorating. In such a situation if you have more than one kid, then it may become a bit of a crowded situation for them if the area of the room is not wide. But worry not, there is a solution.
If the height of the room is fairly decent, you can use that to your advantage and create bunk beds like those in hostels instead of a normal bed. This ensures that both the kids have their own individual beds and space and also gives them a sense of independence and responsibility.

Keep Furniture to a minimum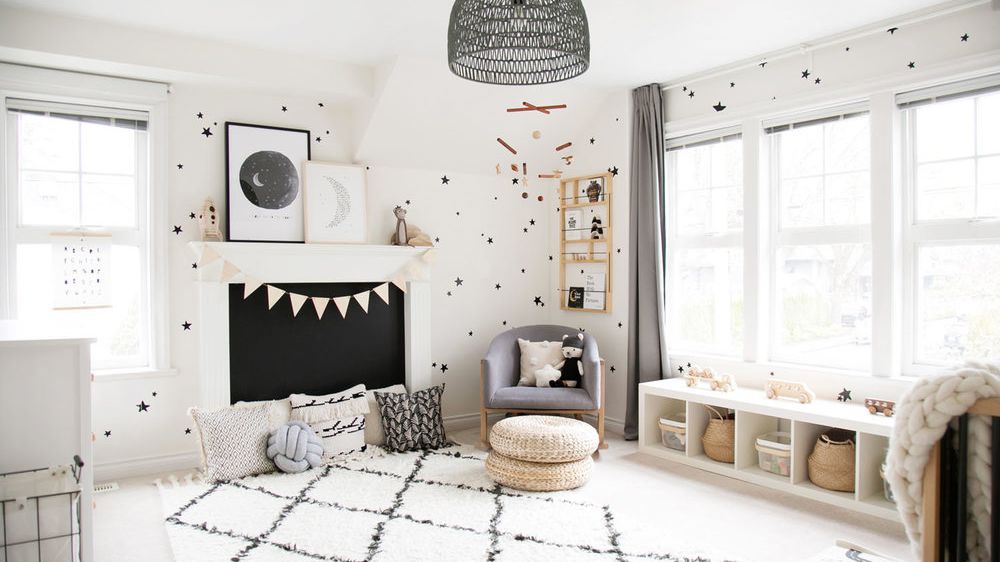 source: thespruce.com
This is the golden rule for designing a kid's room – keep the furniture to a minimum. There are two main reasons behind this. First, younger kids may get hurt from the furniture if it is too bulky. Second, if the kid is fairly mature, he will get bored of the furniture very soon. Check out dhgate, IKEA, Amazon if you are looking for some economical choices. 
A kid's room should also have enough empty space so that the movement of the kid is not restricted. This is important because at a tender age, it is necessary for him to move about as much as he can.  
The importance of setting the right color tone and decor for a kid's room is crucial as it can impact the growth of the child's senses. Whether the kid is too small or fairly grown, the ambience of the room can make a difference to his mental and emotional well being.