Jewellery is a lasting gesture of appreciation, friendship, and love. Nothing can convey your deepest feelings more effectively than a stunning piece of jewellery. But selecting the ideal jewellery gift can be challenging, particularly if you are unsure of the recipient's unique preferences. If you find yourself in a similar predicament, emerald earrings could be the ideal solution! 
But why emerald earrings in particular? Let's see why emerald earrings are the ideal present for any event. This blog will show you the current top choices as well as many tips on how to fit them to various tastes. Take a look through the reasons why emerald earrings are the perfect gift for any occasion.
Overview: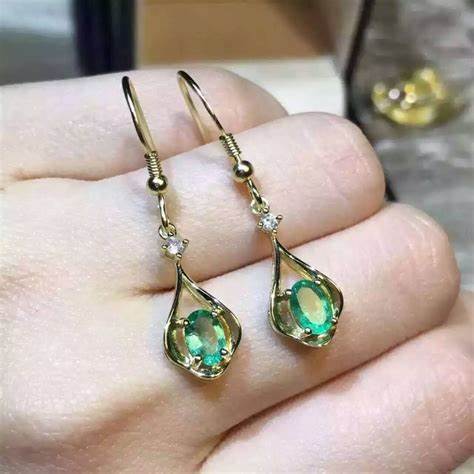 source: pinterest.com
Throughout the beginning of time, people have adored emeralds for their exquisite beauty and deep green colour. They are the ideal item to give as a gift on special occasions because they stand for loyalty, love, and new beginnings. Emerald jewellery has been a preferred option for generations due to its ageless elegance, adaptability, and symbolism.
Why Emerald Earrings Make the Perfect Gift:
Versatility

: Emerald earrings are a stylish accessory that can be worn for any event, from a formal ball to a lunch date. Any outfit, including a dress or jeans and a t-shirt, may be worn with them and still look put together.

Elevate Any Outfit

: Emeralds' lovely green hue gives any outfit a dash of class and sophistication. A simple dress can be made into a spectacular set with emerald earrings that will make a lasting impact.

Personalization Options

: Finding a pair of emerald earrings that matches the recipient's preferences is simple because they are available in a wide range of designs, shapes, and sizes. You can pick from styles like dramatic

hoops,

to simple studs.
The Emerald Ecstasy Yellow Gold Hoop Earrings:
source: pinterest.com
The Emerald Ecstasy Yellow Gold Hoop Earrings are the ideal fusion of traditional grace and contemporary design. These shepherd's hoop earrings in yellow gold have a branch-shaped bar set with diamonds and gold that is covered in 6 magnificent emeralds. They also have a gold-plated bar. The emeralds strikingly contrast the gold, while the diamonds offer a touch of brightness. Every jewellery collection would be proud to have these earrings.
Tips for Purchasing Emerald Earrings:
Look for High-Quality Stones

: While buying emerald earrings, it is crucial to select stones of superior quality. Choose out stones with intense colour, little inclusions, and excellent cutting to optimise their beauty.

Consider the Setting

: The placement of the earrings influences how they seem overall. A well-designed setting will emphasise the emeralds' brightness in addition to providing strength and comfort.

Check for Certification

: Never buy emerald earrings anywhere else than from a professional jeweller who can certify the stones' authenticity and quality. This will ease your mind and guarantee that you're purchasing a high-quality item.
Conclusion:
source: pinterest.com
Emerald earrings are a classic and adaptable piece of jewellery that makes the ideal present for any celebration. They are a prized addition to any jewellery collection due to their beauty, symbolism, and customising opportunities. Consider the setting, look for high-quality stones, and always check for certification when buying emerald earrings.
Check out Mia by Tanishq if you're wanting to buy stunning, high-quality jewellery. Emerald earrings are just one example of the gorgeous jewellery items by Mia that are created with the finest care and attention to detail. Mia by Tanishq makes lovely jewellery that makes any gift lovely.