Alert everyone that October is approaching. Although some people may view October as merely another month, for everyone else, the finest holiday has finally arrived. And when the pressure is on and you have visitors to terrify, it's time to start planning your Halloween party. We've got a list of fun adult games for Halloween, so don't worry. Enjoy yourself to the fullest this year by playing adult-themed Halloween party activities.
We've got a few games and activities to add to your schedule, whether you're organizing a wild Halloween party or simply attempting to trick-or-treat and hang out with a couple of your BFFs. After deciding on your costume, click down this page to play these Halloween games for adults to get into the full holiday mood. They may be laid-back icebreakers or hysterically funny.
Halloween-Themed Party Games For Adults
Ditch the old traditional ways of playing Halloween-themed games. Elevate it with new ideas and add fun with the latest Halloween-themed games for adults.
Scavenger Hunt 2022
source: pinterest.com
A themed scavenger hunt is an ideal way to quickly inject excitement and adventure into your celebration. After placing themed things across your venue, split visitors into teams and give them the list of items they must discover. After that, the winning team gets to enjoy a refreshing adult beverage!
Fill The Pumpkin Game
Is it a spooky card game full of chills and thrills? Yes! Make sure you have a leak-proof plastic pumpkin (or another container) for this game. Spread a deck of cards out face down, then give each card a separate set of rules. As an illustration, each time someone draws a "king," that person is required to sip from their beverage. Or one may force someone to drink each time they draw a "queen." You choose the rules, so have fun and express your creativity! Don't forget to designate certain cards as the signal for attendees to dispense shot-sized quantities of their beverages into the pumpkin.
Last but not least, the person who draws the "ace" is required to consume whatever is in the pumpkin. This game functions best when everyone is consuming a variety of drinks, as you can probably guess.
Murder Mystery Haloween Game For Adults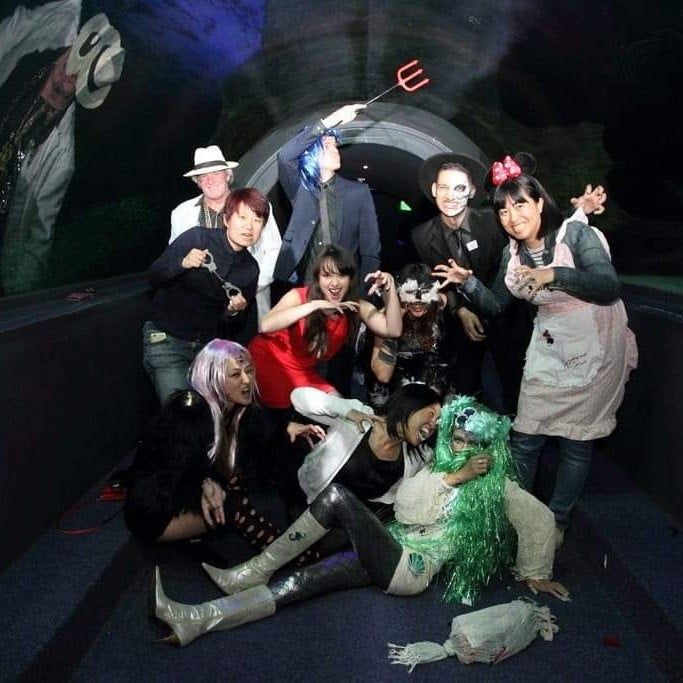 source: pinterest.com
Halloween is the best season of the year to play a murder mystery game. While setting up for this game before the party may take some time, we assure you that it will be well worth it.
In your invitation, give each attendee a distinct character profile and instruct them to arrive at the party dressed as that character. Once everyone has arrived at the murder scene, which is also known as the venue, participants will start asking each other questions to attempt and determine which character is the killer.
Mad Laboratory With Mad Scientist Theme
Make your guests come in the costume of a scientist. This will be fun to have identical costumes for the mad scientist theme. Prepare to disgust your visitors with this fun party game. Here, you'll stuff boxes or jars with odd-textured items (peeled grapes, spaghetti, or cold hot dogs are all fantastic starts), then let your visitors use their hands to feel around to try to determine what's inside. But brace yourself—there will probably be a lot of squeals!
Guess The Villian – A Fun- Icebreaker
It's a terrific way to start conversations and a lot of fun to play Guess the Villain as an icebreaker. Attach the name of a villain to each guest's back when they first arrive but keep the villain's identity a secret. Then, the visitors will walk around and quiz one other to determine which evil each one is. Whoever makes the first accurate estimate wins!
Haloween Theme Ideas For Adults -Tips To Create A Perfect Atmosphere
Create A Perfect Atmosphere With Haloween Theme Lighting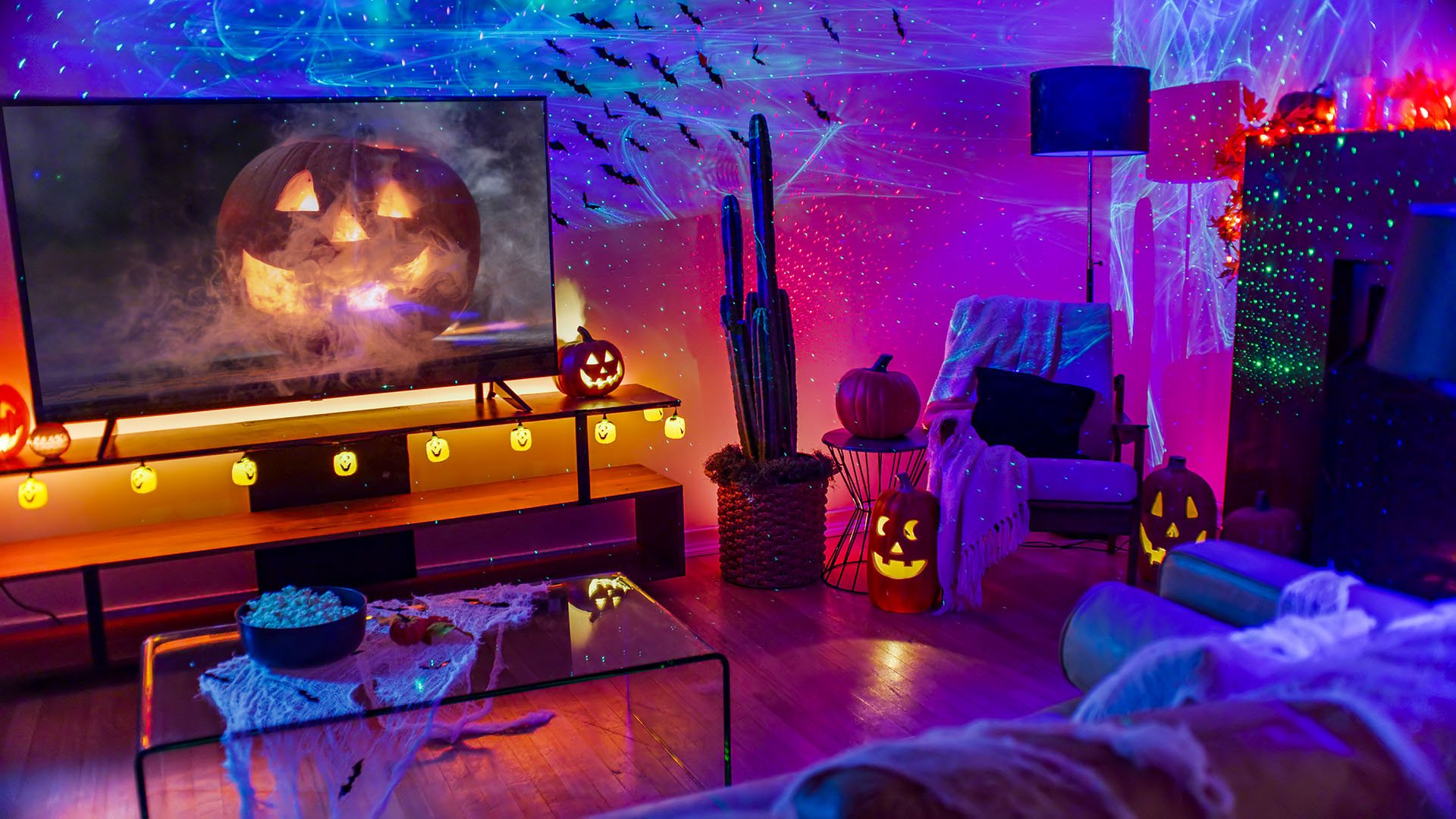 source: pinterest.com
The majority of people conjure up frightening, ominous, and gloomy images when they think about Halloween. Your party atmosphere should be as thrilling. Just enough lighting may be created with candles, strobe lights, and colored lights. Don't forget to bear in mind that places with food and beverages ought to be more well-lit so that customers can see what they're obtaining.
Don't Forget To Have a Haloween Theme Costume Contest
Is a Halloween party truly complete without a costume contest? Even while this isn't a game, setting up DIY photo booths or Polaroid cameras throughout the venue is a terrific way to record the memorable outfits (and fun moments) of the evening. If you want to exercise your creative muscles, that is. Your visitors will have a spooktacular time shouting "cheese" and posing thanks to the spooky décor and bad lighting!
Halloween Party Decor Need Theme Related Detailing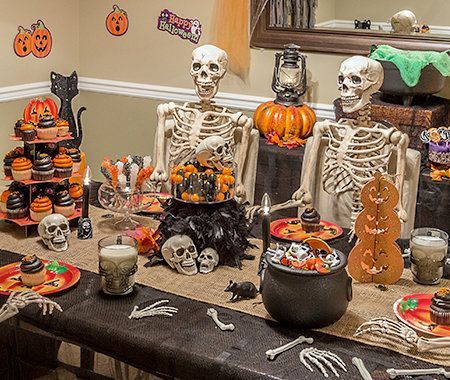 source: pinterest.com
How you decorate the party area should be influenced by the theme you have desided. Friendly ghosts and jack-o-lanterns are some of the more humorous Halloween figures. Witches, vampires, and zombies are far darker creatures. Combining the charming with the terrifying is OK if you wish to honor Halloween's entertaining aspects. To make sure everyone has a nice time, you might even try to design different themes for different areas under a one unified main theme.
Establish Your Haloween Theme With Food You Offer
You may prepare spaghetti and meatball brains, pigs in a blanket dressed as severed fingers, ghost cookies, and much more. For food ideas, look at these Halloween dishes. Good news! You can prepare food for any course. It is possible to make appetizers, main courses, and desserts festive surprises. If you want a startling centerpiece, you may "bleed" a cake when you cut into it by filling it with strawberry preserves.
Final Thoughts
A party may get by with just conversation, food, and wine, but considering the spooktacular nature of Halloween, it's nice to organize some games to liven things up a bit. For this reason, the enjoyable activities at adult Halloween parties may be so much fun. These Halloween-themed party games for adults are super cheap and easy to operate.
Some games can be put together quickly, while others need more planning. Some of the more intricate ones would need the visitors to be informed in advance in case they need to bring particular costumes or accessories. Nevertheless, there is often a great game for any Halloween gathering, from the low-key hangout to the full-on costume party. Having a list of exciting games will give you a boost to throw a blast party this year. Happy Halloween!