An eye-stopping, luxurious conservatory does not have to burn a hole through your pocket. No matter what the Pinterest-inspired home decor catalogs tell you… 
And don't worry, the alternative isn't to DIY every aspect of your decor.
Messy fabric cuts, hot glue guns, and lots (and lots) of patience aren't everyone's cup of tea.
Here are 10 simple and budget-friendly conservatory decor ideas that you can try instead.
1. Plants, plants, and plants  
source: kezzabeth.co.uk
No conservatory could possibly feel complete without plants. (Plus, they're cheap, look gorgeous and you can never go wrong with them.)
In fact, the conservatory is one of the few places when you can go overboard with the plants, and it won't look out of place. 
To make a real impact, use clusters of large, lush, green plants in the corners of the room. Then add more layers by adding smaller table plants (or succulents) on your center tables, side tables, or counters.
And if you have a black thumb or the idea of maintaining so many plants have you running for the hills… 
Simply use artificial silk plants instead. They look real, will stay lush through the year, need almost zero maintenance, and won't burn a hole in your pocket.
2. Stain glass panels for a fun pop of personality
Add some gothic glamor to your conservatory, by opting for stained glass panels. 
You don't have to color every pane, but using stained glass panels in strategic corner panes, will add immense character to the space.
Not to mention, the dreamy view of having colorful patterns splayed across the room on a sunny morning.
3. Make it exotic with statement furniture
source: pinterest.com
Yes, conservatory furniture, in general, is quite formal. 
And while the neutral colors and classic furniture won't lead you astray, it can still seem mundane.
So let your conservatory stand out, with statement pieces.
Think eclectic center tables or stand-out side tables…
Or up your furniture game with hanging chairs, porch swings, funky armchairs, or even floor cushions.
At the very least, you can simply add a splash of personality (and color) with patterned cushions, throws.
For best impact, use a mix of all of these, by following the rule of three.
Ensure that whatever color or style you use to "stand out", is echoed in at least three elements in the room. This way the statement furniture won't look like the odd man out.
4. Kick it up a notch with rugs
If your current conservatory floor is just plain boring (or just doesn't go with the rest of the decor), you don't have to redo the entire flooring.
Simply use a peppy rug or stunning carpet to become the eye-catcher. 
Even if you already have stunning stone flooring or elegant wood, adding a run around the seating areas will pull the entire room together.  
5. Use natural materials for beach house chic
source: decoist.com
Materials like bamboo, rattan, and cane are not only affordable but also perfect for a room that connects so closely with nature. 
The warm and light aspect of woven furniture will perfectly complement the lush, light, "greenness" of the garden you look out to. 
And all put together, they will bring you the coastal / beach house chic aesthetic that is so in trend these days.
Pro tip: These would be especially great in smaller conservatories, where you don't want heavy furniture making your room feel smaller.
6. Add accents with wall textures
If you want to up your game, without inflating your budget, consider textured walls.
Sure, an accent stone wall or heavy wood-paneled wall looks great. 
But not only will they cost you an arm and a leg, but they can also make the room feel smaller. Plus, their visual weight distracts from the real MVP—the beautiful outdoors.
For a conservatory, light and fresh are always the way to go. 
So consider creating an accent wall with simple textures that compliment the colors of your conservatory.
7. Choose your curtains carefully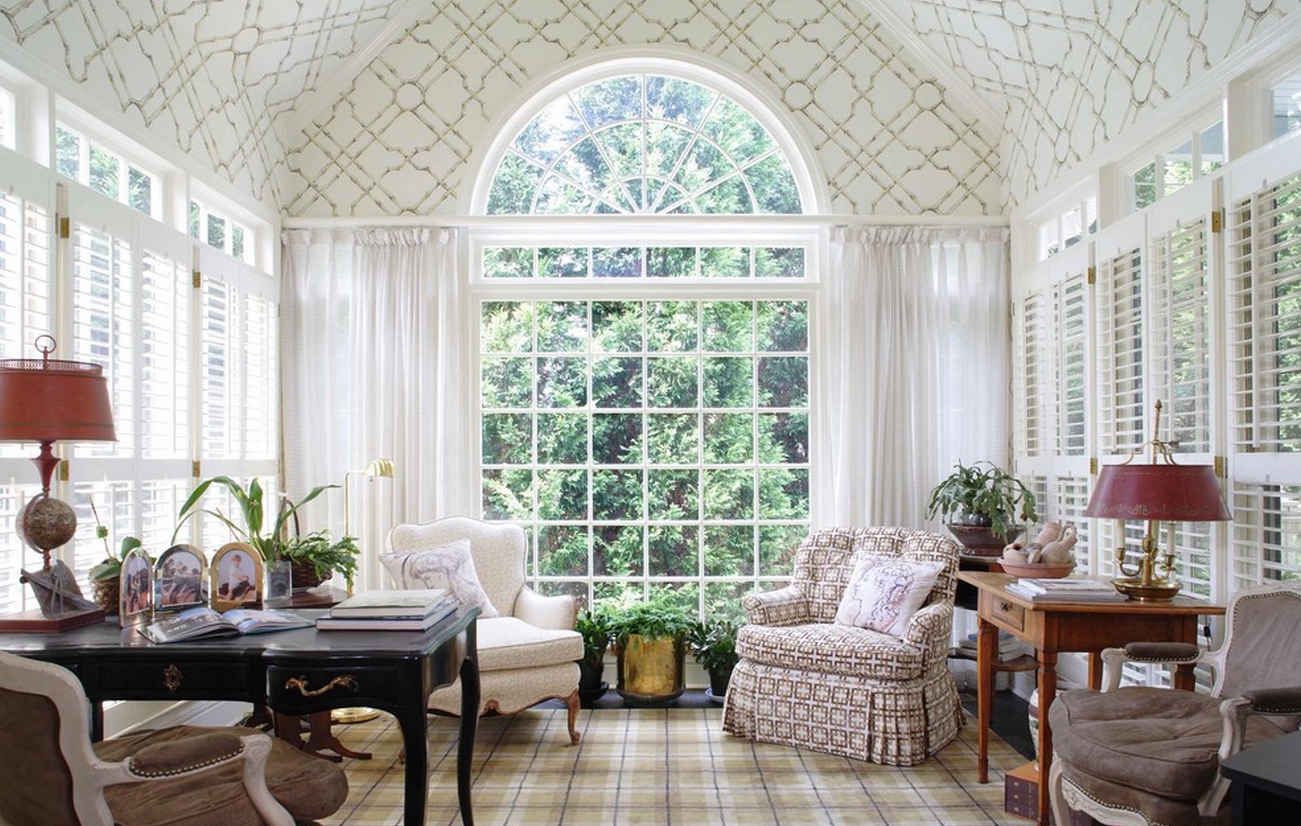 source: expressdoorsdirect.co.uk
Next come the curtains or blinds you choose for the room. They're inexpensive, but make a world of difference to your conservatory decor, with all those glass walls.
In fact, they are often the difference between a room that looks like your grandmother's conservatory and one that has visitors going round-eyed in awe. 
Opt for floor-to-ceiling curtains or blinds that are in sync with the color scheme and theme of your space. 
If you add some fun, quirk for an otherwise bland room, then consider using printed blinds instead of plain classics.
8. Layer your lighting for a 360° transformation
The right haircut can add some oomph to your look, and even transform your entire personality if done right. 
Lighting is much the same for a space. 
And for small spaces like conservatories, the impact of good lighting design is that much larger.
You don't have to shell out big bucks for designer lights. Simply layer your lighting. 
Simply use a mix of wall-mounted and floor-mounted lamps for the overall ambiance. Then add a few accent lights to highlight the exciting parts of the room. 
This could be a lamp lighting up a side console that draws your eyes to the furniture element and the art on it. Or even wall-washer lights to focus attention on an accent wall. 
9. Vertical greenery for smaller spaces
source: pinterest.com
If you're short on space, vertical greenery is your best friend. 
Think luscious faux green walls that bring the outdoors in. Or wall-mounted planter boxes, that spruce up an otherwise boring corner.
For a more minimalist approach, place a few plants on open shelves alongside books and trinkets.
And for the bold and unafraid, we suggest hanging faux plants from the ceiling. 
The faux plants will help you avoid the mess of having to water and maintain plants at such a height. Use them either in corners or along the length of the room to create the effect of sitting under a green ceiling. 
All of the beauty, none of the stress. 
10. Switch up the function
Okay, this isn't purely a decor suggestion. But if you're looking to switch things up from the status quo, then why not play around with the function as well?
How does the idea of a home office with gorgeous garden views sound?
After all, you spend at least 1/3rd of your day there.
Or perhaps the idea of a bright, sunlit meeting room for your next brainstorming session?
We all know creativity flows better when uninhibited by blank walls
So get inventive with their uses for your conservatory, and you'll soon find yourself enjoying your conservatory more than ever before.