Everyone loves a good lamb stew. Lamb works great with vegetables, and it makes for a highly nutrient-dense meal. The following lamb stew recipes at Live Enhanced that are excellent examples.
Chinese Style Lamb Stew
Ingredients: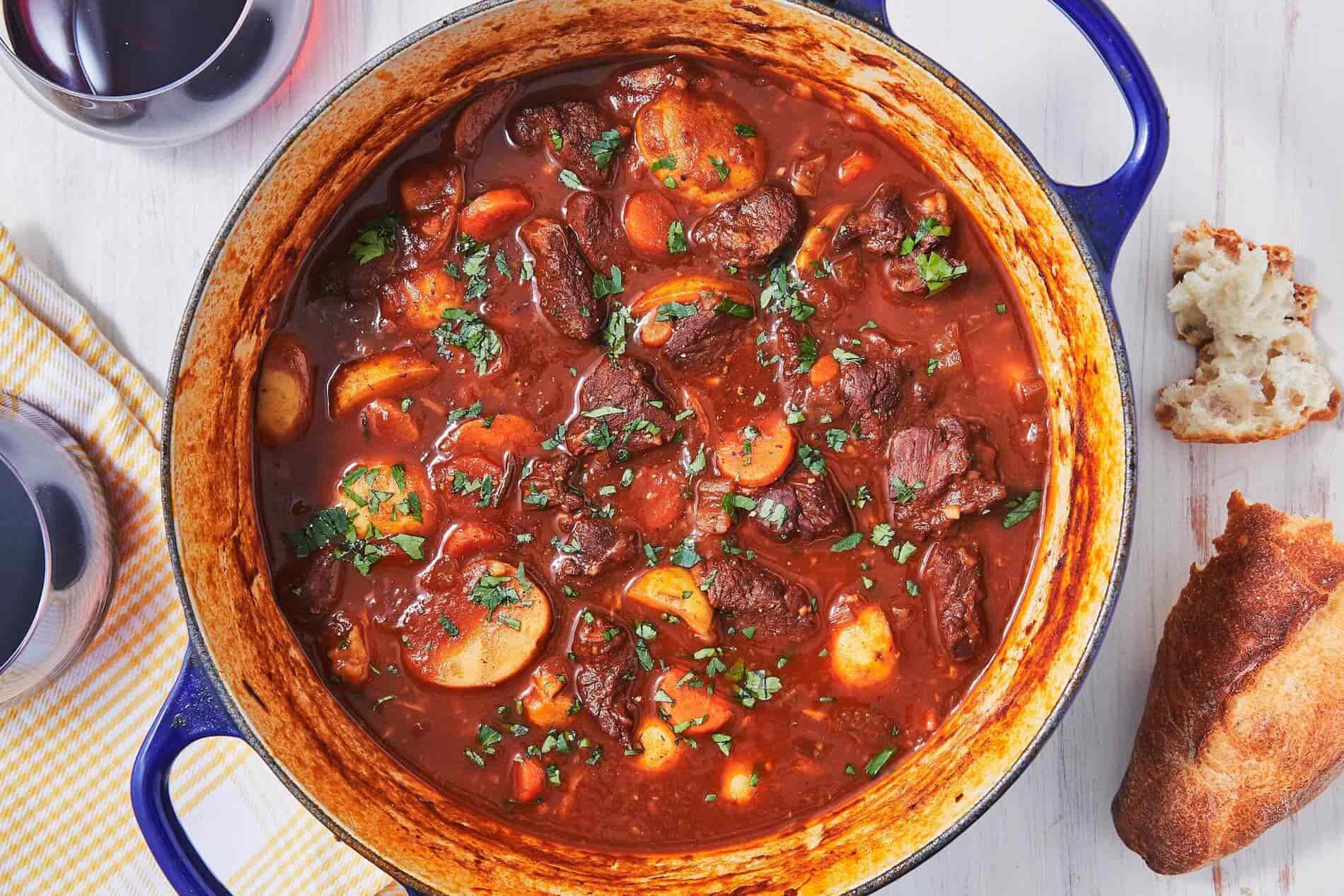 source: hearstapps.com
2 tsp Olive Oil 3 cloves garlic ½ onion (large) 1-inch ginger root (thumb-sized), peeled 2 tsp cumin powder 2 tsp chilli powder (or more if desired!) 1 cup dry red wine 8 cups beef stock 800g lamb, chunks ½ tbsp Tamari sauce 125g mushrooms ½ cup pea shoots/sprouts 2 tbsp sesame seeds ~20 drops Liquid Savor
Method:
source: pinterest.com
Dice your garlic, onion and ginger root finely. Sauté until garlic is light golden brown, frequently stirring not to burn (about 2 minutes). Add all spices to the pot and mix through sauce for 30 seconds. 
Pour red wine into the pot over the garlic mixture and simmer on high until reduced by half (5 minutes). While the red wine is reducing, chop mushrooms into halves or quarters if huge; set aside. 
Once red wine has reduced, pour the stock into the pot (and any other liquid if using) and bring to boil with the lid on for 5-10 mins before reducing down to low-medium heat again with lid off. 
Let the stew simmer at this point for an hour. After an hour of simmering, add pea shoots/sprouts and mushrooms to the pot. Do not put pea shoots/ sprouts in before this point, or they will disintegrate. 
Let sit for another 10 minutes with the lid on without coming to boil; this is so the sprouts don't go mushy. Serve into bowls with sesame seeds sprinkled over the top and a couple of drizzles of Liquid Savor to taste.
Italian Style Lamb Stew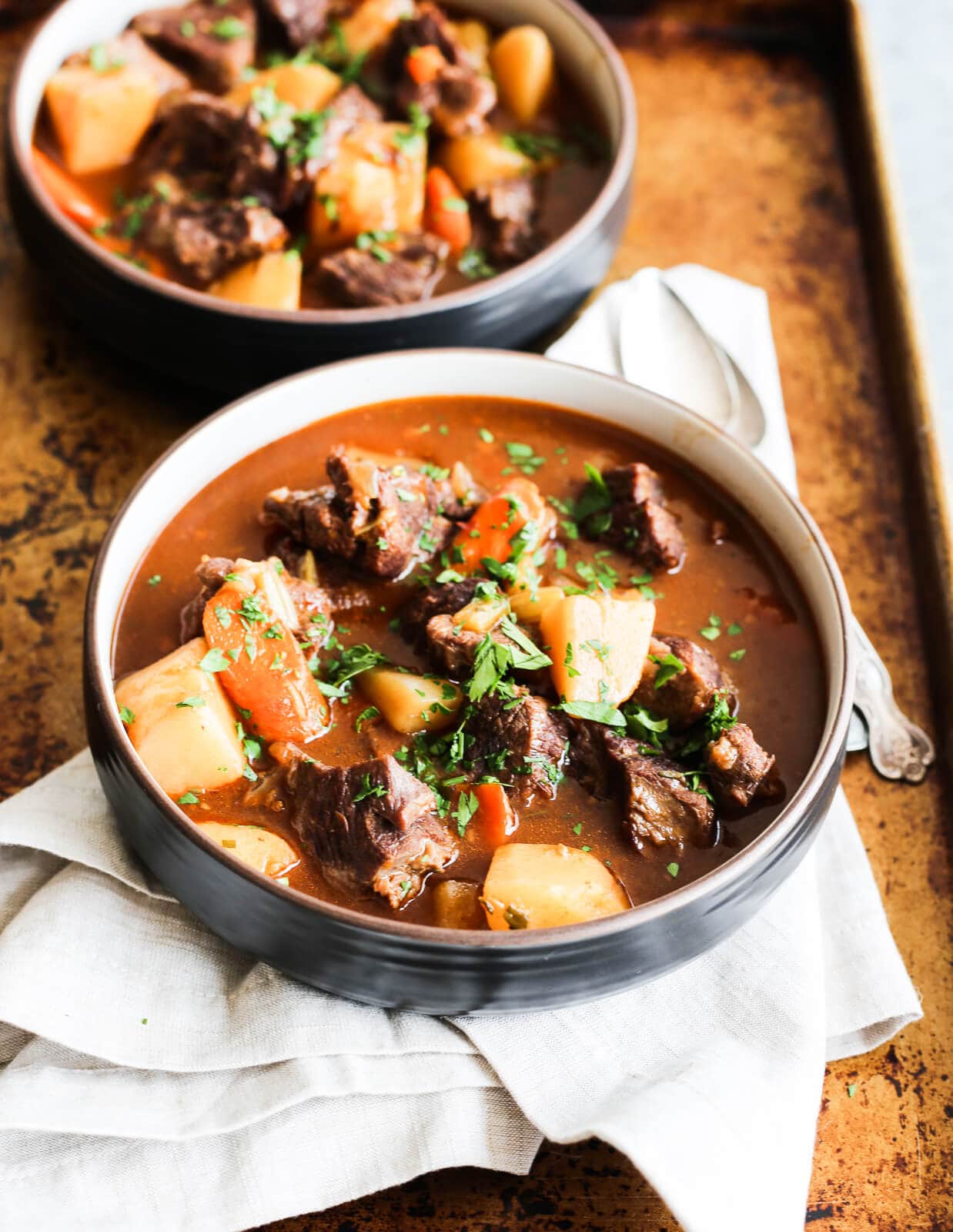 source: thedefineddish.com
Ingredients: 2 tbsp olive oil 500g lamb, diced one large onion, chopped three cloves garlic, crushed 500ml tomato passata ½ cup red wine 500g halved brussels sprouts 100g pitted kalamata olives 400g drained canned cannellini beans 1/3 cup basil pesto 2 tsp dried mixed herbs
Method: 
Add lamb into oil and cook, occasionally stirring for 5 minutes or until browned. Reduce heat to medium-low. Add onion and garlic to pan; cook, often stirring for 4-5 minutes or soft. 
Return lamb to pan with tomato passata, red wine vinegar, brussels sprouts, olives and cannellini beans; bring to boil. Stir through basil pesto and mixed herbs before serving.
Indian Style Lamb Stew 
Ingredients: 
source: jamieoliver.com
½ cup plain flour 2 tbsp coconut oil, one large onion, sliced three cloves garlic, crushed ½ tsp ground cumin ½ tsp ground coriander 1/2 tsp chilli powder 450g diced lamb.
If you can't find lamb, then any fatty red meat will work) 400ml chicken stock 100g tomato puree 60g ginger, peeled and grated 170g eggplant (aubergine), cut into bite-sized pieces 170g baby potatoes, halved if desired 45g frozen peas and carrots mix.
Method: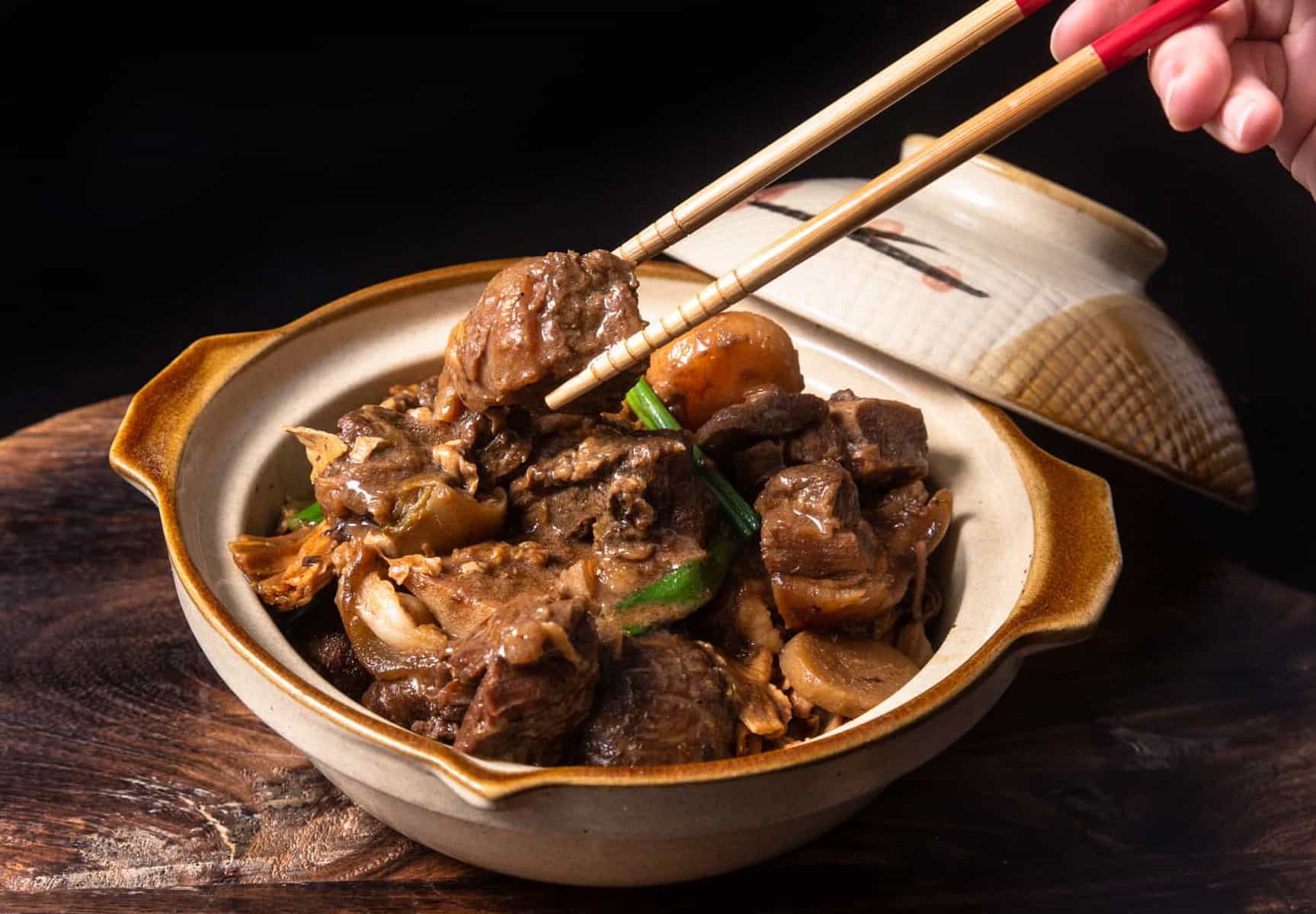 source: pressurecookrecipes.com
Add the lamb into a bowl with flour, salt and pepper and toss to coat in the flour mixture. Heat coconut oil and add the onion, often stirring for 4-5 minutes or until soft and golden. 
Add garlic, cumin, coriander and chilli powder; stir for 30 seconds or until fragrant. Add the lamb to the pan with stock, tomato puree, ginger and eggplant. 
Simmer for an hour or until lamb is tender. Increase heat to high; add potatoes and peas mixture to pan; cover with the lid and cook until potato is crisp on the outside but tender inside. 
These three easy lamb stew recipes are easy to prepare and make for a great dish that is cheap and can be done in under 2 hours.