Introduction
Bunk beds are a type of bed that consists of two or more beds layered on top of each other. For example, an L-shaped bed has one bed stretching vertically and the other horizontally, forming an L shape. 
Although most L-shaped beds have two different sleeping zones, some L-shaped beds include a small elevated bedroom and a couch bed underneath that can be drawn out as required.
Highly flexible
source: amazon.com
Bunk beds come with a variety of possibilities if you wish to be able to swap rooms in the future. For example, some can be partitioned into two twin beds, which is ideal for children who may not want to be so high off the ground. Bunk beds come in twin, full, or a mixture of both sizes, making them ideal for supporting children of all ages.
Bunk beds that transform into sofas provide a place for kids to conduct their homework or play video games. Consider having a loft bed with a pull-out bottom trundle for maximum flexibility. These are quite useful, having built-in drawers and additional children's bedroom storage.
Easier for caregivers
Employ a bunk for caregivers who need to care for someone during the night due to health issues—you'll be able to assist them without having to leave the room. In addition, bunk beds are a wonderful alternative for guest rooms outside of the home, particularly if you have out-of-town visitors.
Ideal for kids
source: berkeleykids.com
L-shaped beds are ideal for children who feel claustrophobic sleeping beneath the top bunk. As previously stated, the lowest section can be readily adjusted. Some designs allow you to arrange the bed in the same location as the top bunk, resulting in a regular bunk bed.
Some L Shaped Beds have built-in desks, which will prove to be beneficial for kids in studying and even in their homework. 
Less disturbance in L-shaped bunk beds
There is no chance of bothering or awakening up the person resting on the bottom bunk when the individual using the top bunk bed gets into bed because the structure does not move. As you may know, traditional bunk beds, which have one bed directly above another, normally share the very same bed frame. 
It means that when the person sleeping above uses the ladder/stairs to get up or shifts throughout the night. Then, the vibrations are experienced by the person lying on the bottom bunk. There are fewer odds of this happening if you have an L-shaped bed.
Saves much space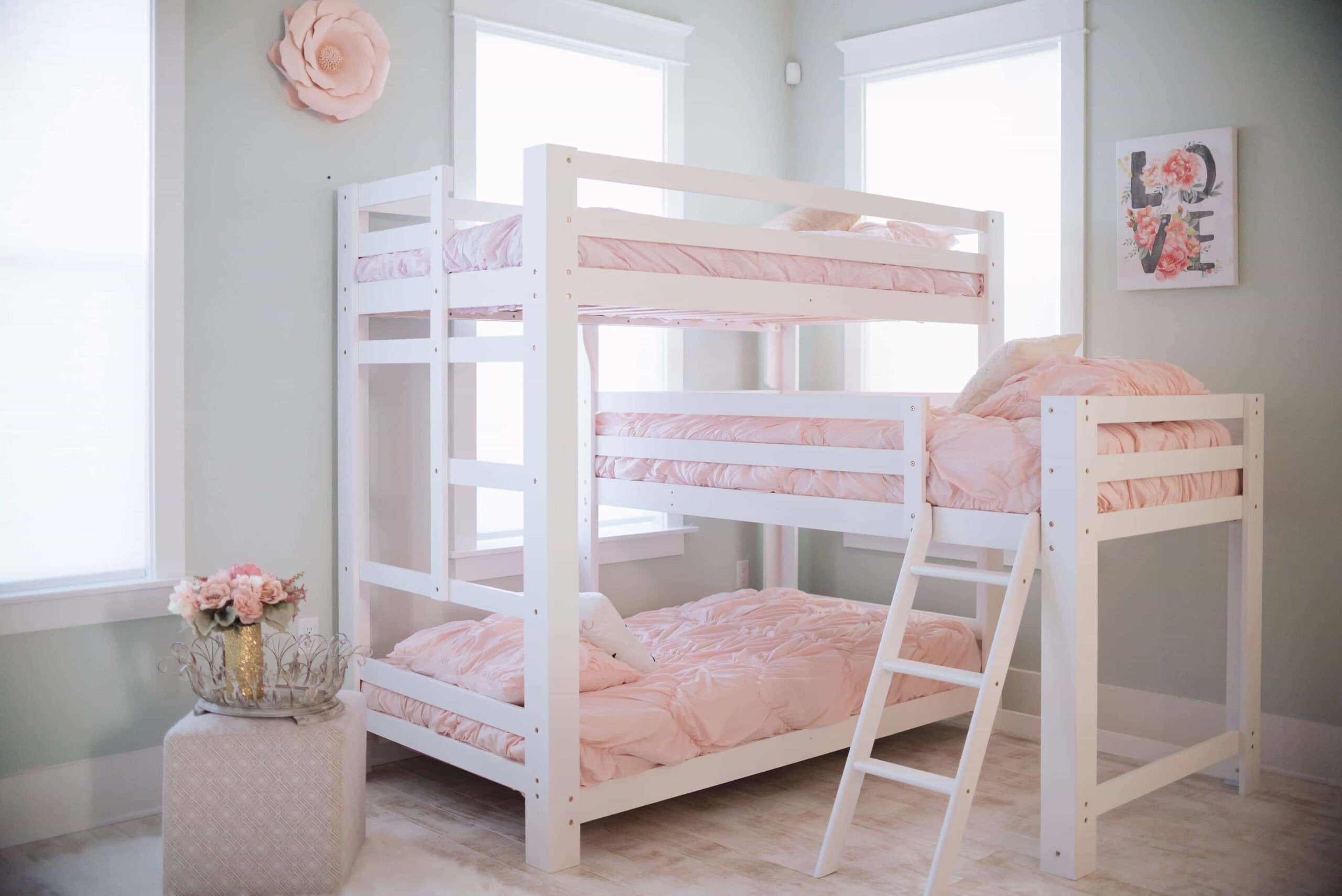 source: shopify.com
The space beneath the top bunk could be used for a variety of things. It can be used as a study area or a craft area. You can place matching drawers or other furnishings under it for more storage. You can even simply buy an outfit that includes a storage area.
 Make use of it as a play area for your children or even convert it into a reading area by adding two bean bags. So, there are lots of creative ways through which you can utilize your space well. 
Less expensive comparatively
There are no additional costs for headboards or foundations/box springs with bunk beds. In a broader sense, using bunk beds and removing the need for many rooms can drastically reduce the cost of a household. Bunk beds are also an excellent choice for holiday homes and cabins.
 Safety tips to follow if you have an L-shaped bunk bed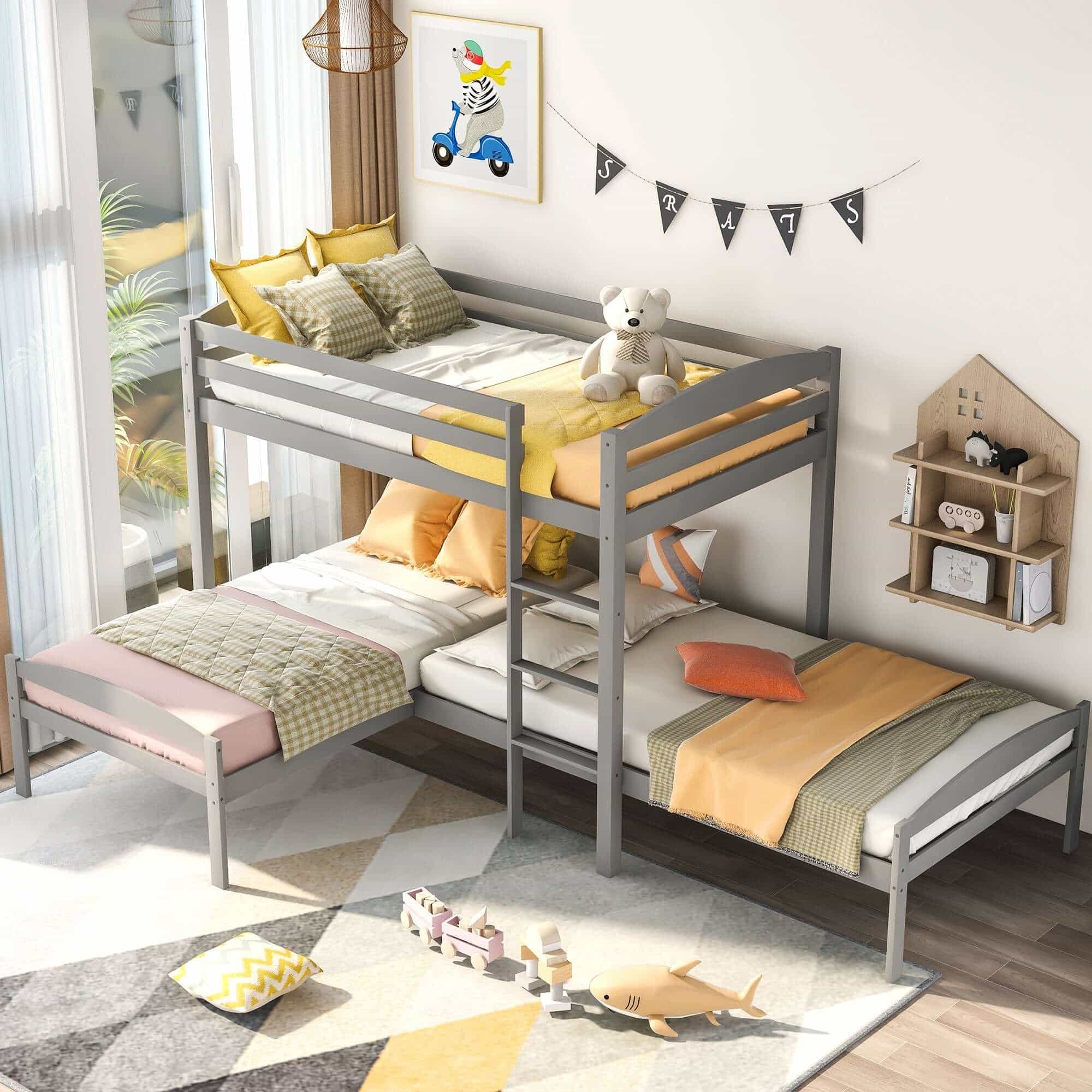 source: overstock.com
Kids must not bounce on the bed to avoid mishaps.

Never tie anything at all from the upper bunk's framework. If your youngster gets trapped in scarves, belts, or any other similar item, it can cause great harm.

Assemble the ladder such that it is safe to climb and does not slip.

Make sure not to keep High sleeper beds directly beneath a light fixture.

Tie the security rails properly for added safety.

Check that all fixtures and fittings are independent and safe from damage on a regular basis.

If your child still wakes up in the middle of the night, put a night lamp in their room so they can use the staircase at night.

Only utilize the mattress size suggested for the particular bed; some L-shaped beds and bunk beds have a limited mattress thickness for safety purposes.
Final verdict
When you consider all of the advantages of bunk beds, you'll be glad you made investments that will provide comfort for years ahead. L-shaped bunk beds are quite an in trend right now with so much versatility and comfort with less investment. 
Also, don't forget to consider safety precautions you should know to keep you & yours safe. So, what are you waiting for? Go & grab your L-shaped bunk bed now! Is there any other bunk bed advantage? Do let us know in the comments below.