Foyer, hallway, or lobby- small or big, whatever you call it, will always have a huge impact on the rest of your home. Does your foyer exude warmth? Is it welcoming enough for your guests? Are you sure about creating a good first impression with foyer design among your kith and kin? 
The entrance of your home speaks about your style and sets the mood through which you want to communicate with your guests. Take a look at this compilation of ideas to do up your foyer or entryway-
Signature Artwork: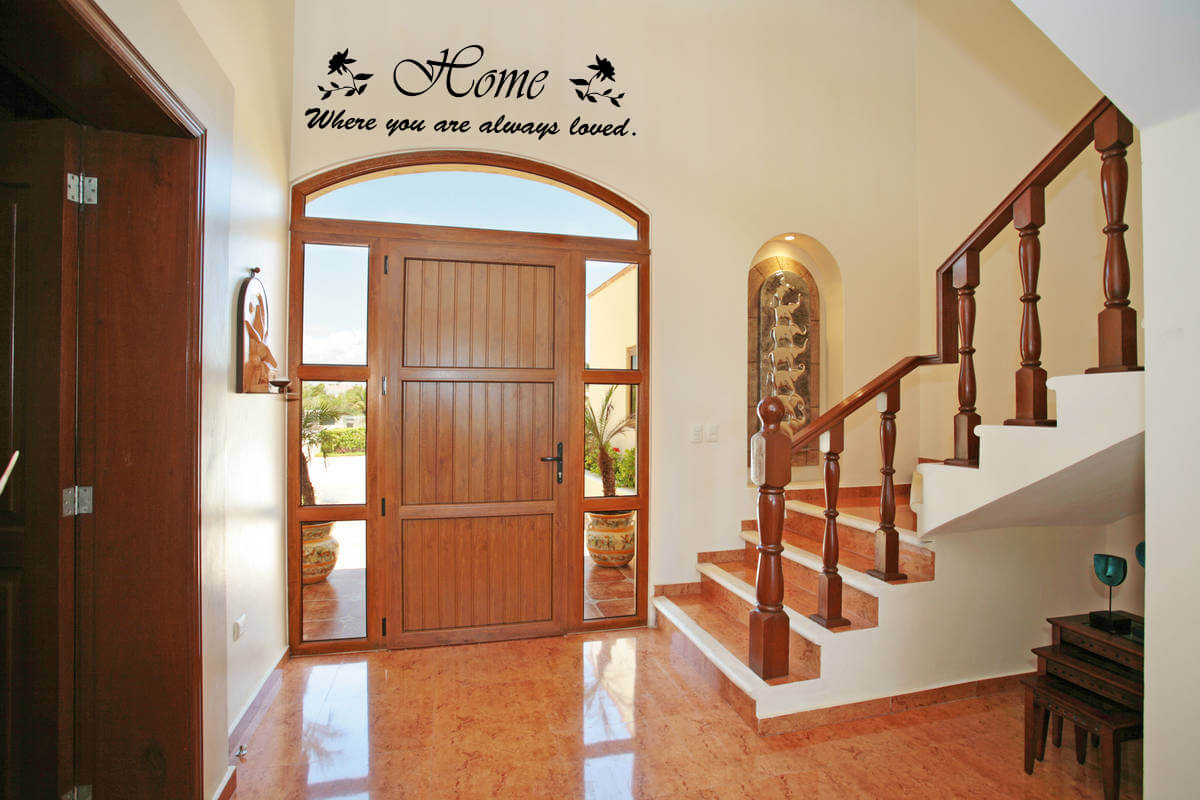 source: teshreen.info
Pictures, portraits, illustrations or any object of aesthetic value can be categorized under artwork. You can hang a large or a striking piece of art in your entryway. This will add drama to your space and will make a good first impression among your guests. 
Stylish Console: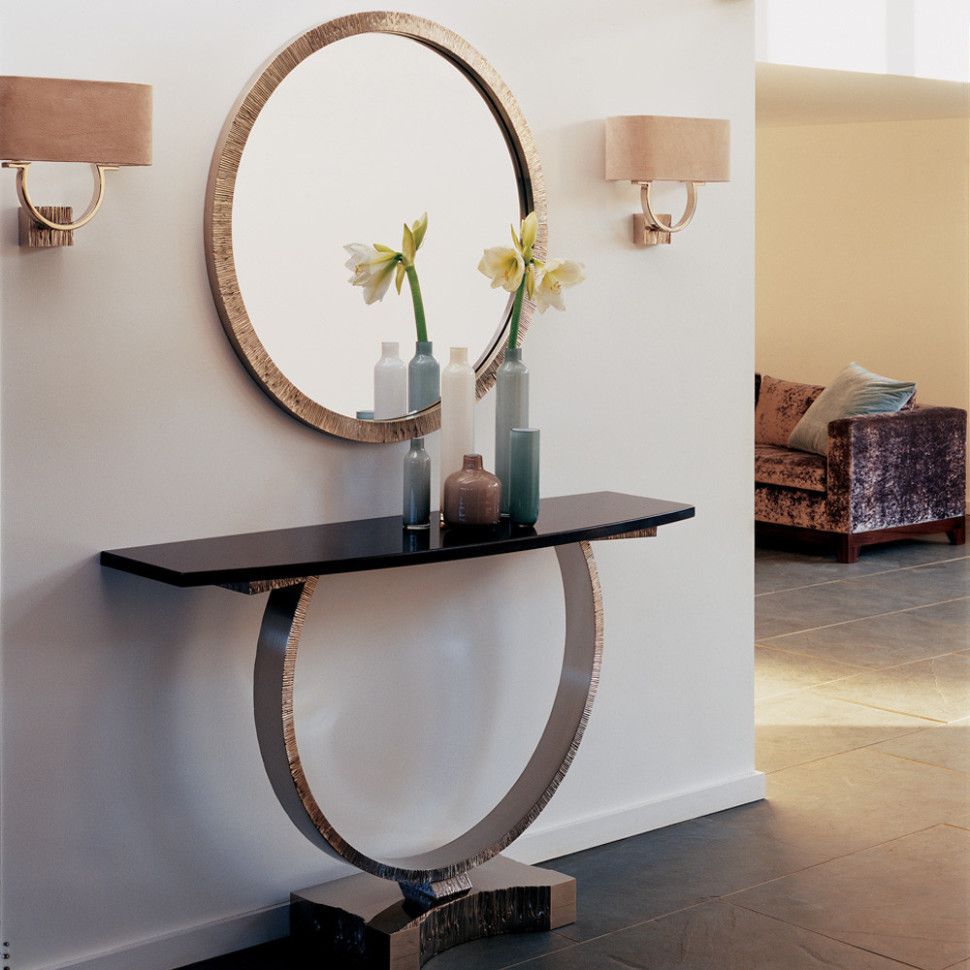 source: pinterest.com
You can add a stylish console in your hallway that will add a pop of charisma to your space. These days there are different styles of furniture available- eclectic, farmhouse vintage, mid-century modern and industrial chic. You can opt for anyone of them and transform your foyer area.
Statement furniture: 
source: pinterest.com
Any piece of furniture that can accentuate your space will prove to be a good foyer designing option. Even the most basic, clean, and simple looking bench or a corner table can be the ideal welcome for your guests.
Monochrome Magic: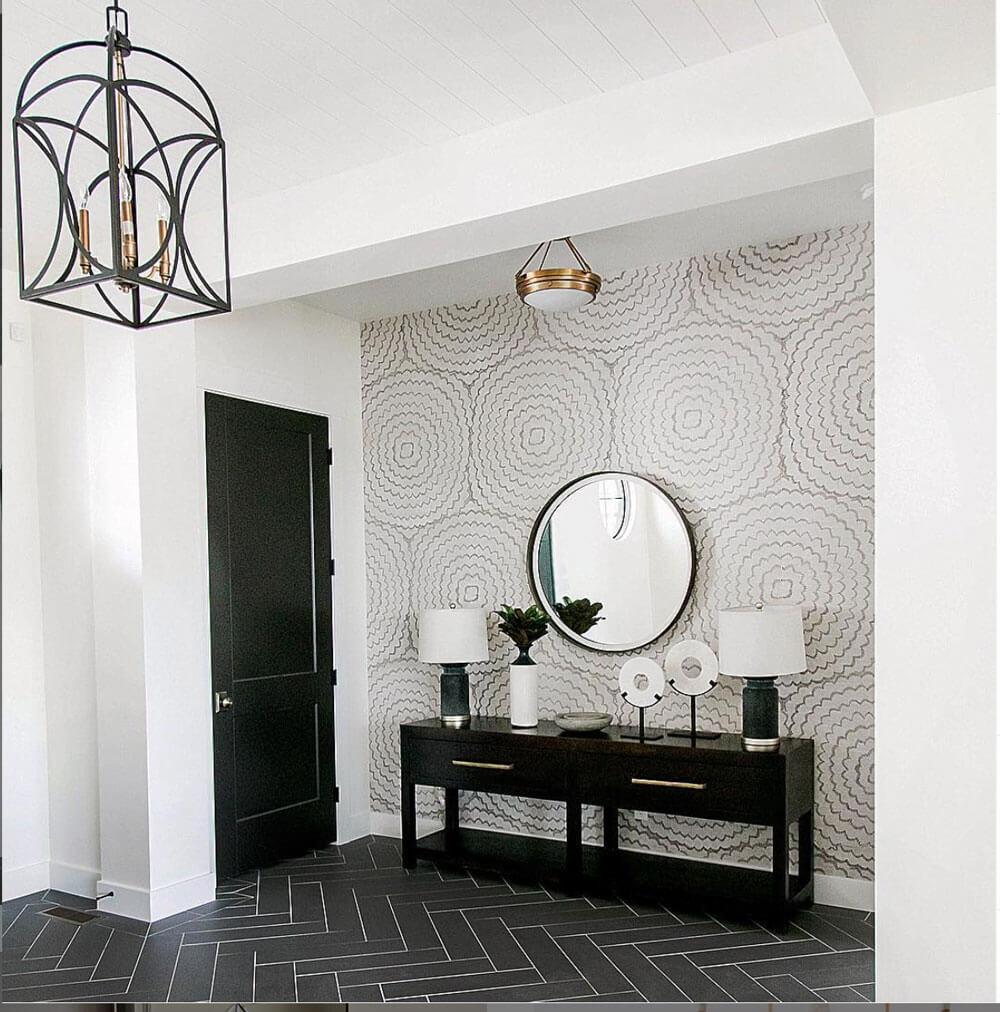 source: gabbyhome.com
You can wow your guests by opting for gorgeous looking monochromatic floor tiles or a black-white themed background walls. Love for monochrome will never fade and currently it is in trends. So find a way to incorporate this style and watch your guests gaping at the timeless classic. 
Mirror Effect: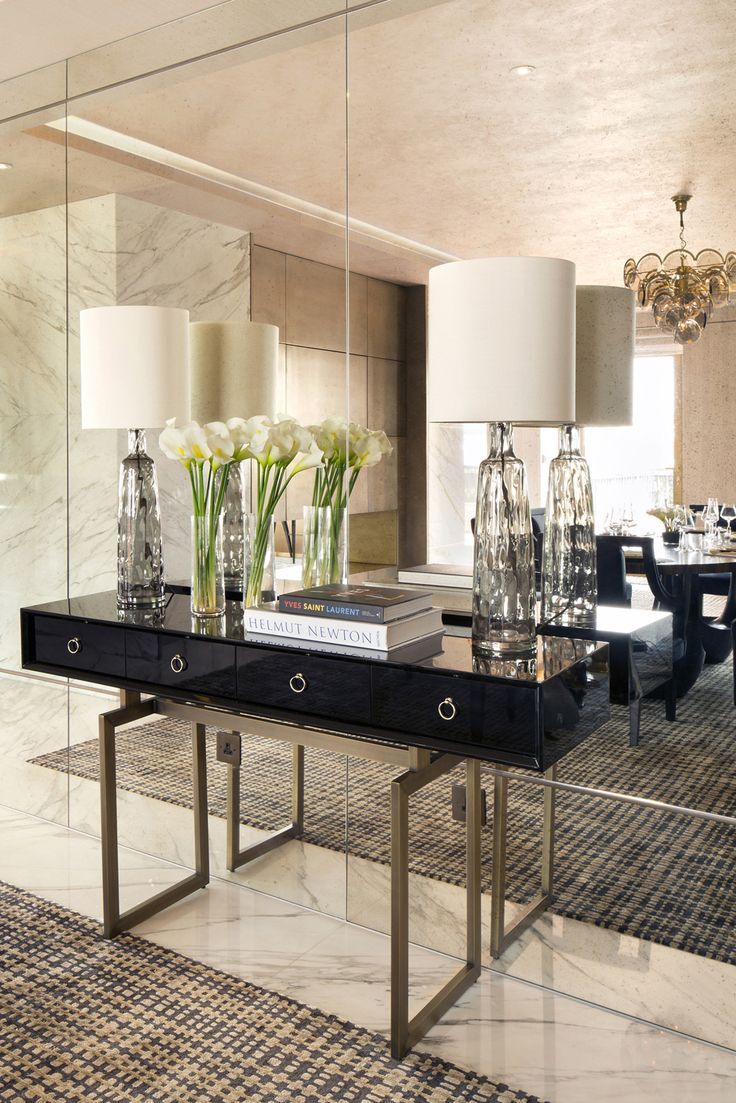 source: pinterest.com
Foyer design for your home can play a major role in enhancing the entrance to your abode. Hang a large mirror in your entryway to reflect light and make even a small space appear bigger. A mirror not only brightens your otherwise darkroom but also makes the space feel relaxed by adding finesse. 
Fragrance Quotient:
source: bostonmagazine.com
Add fresh flowers and indoor plants to your foyer and transform the space with the beautiful fragrance. Sometimes you might not encounter or detect odour of the place you are living in for a long time. But it will definitely catch the attention of your visitors. So the addition of fresh flowers and scented candles will create a whimsical foyer design idea and make a good first impression for your home. 
Gallery Wall: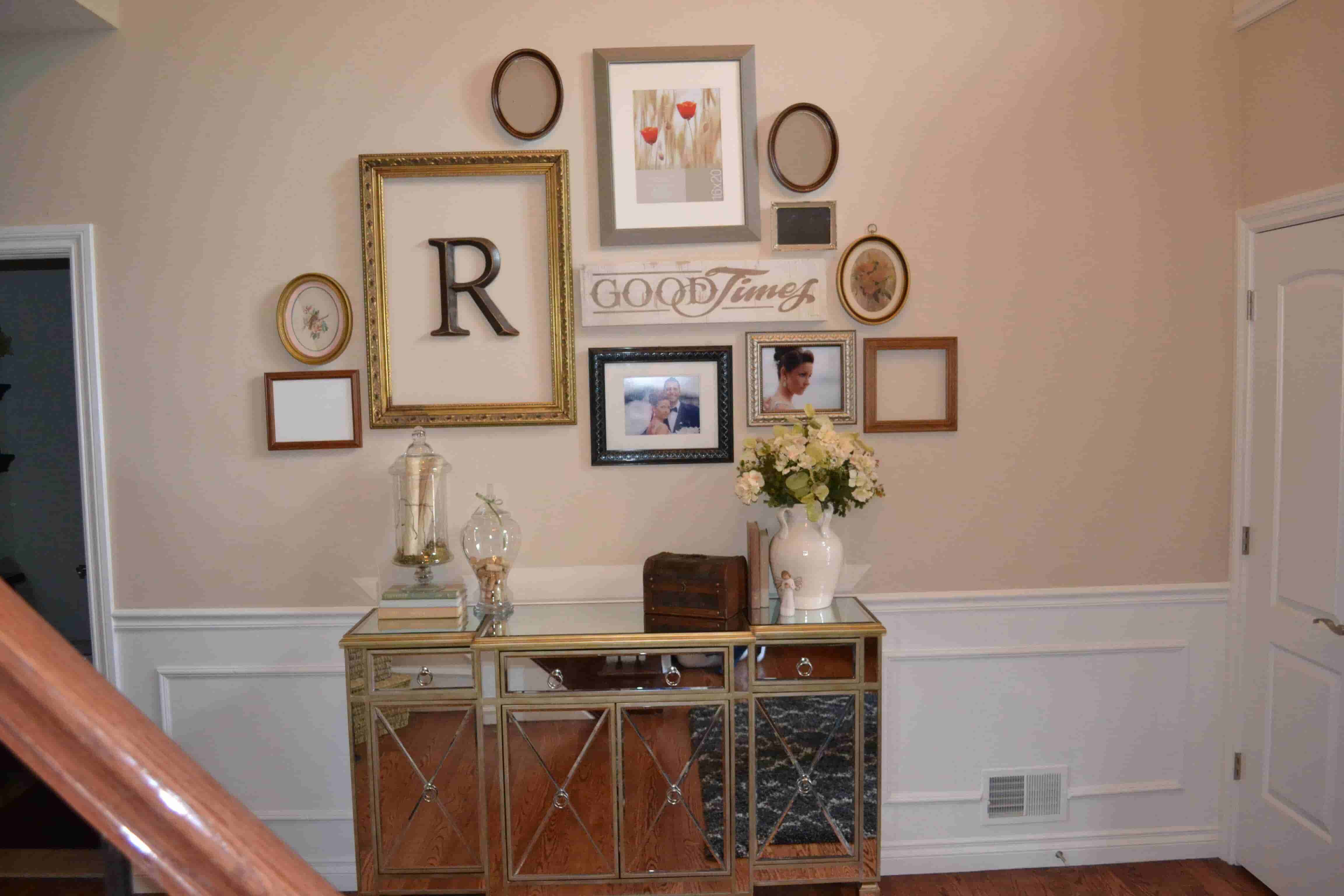 source: pinterest.com
Start personalizing your foyer by turning it into a memoir. Upscale it by adding beautiful pictures that depict fond memories of you and your family. Simplistic frames to bind the photos together will be a good foyer design option to impress your guests. 
Functional elements:
source: hearstapps.com
Combine functionality with style and find a solution to all your worries to create space for all your prized possessions as well as make it look appealing. Purchase a single piece of furniture -a shoe rack or a cabinet to store all the items that perform the work of storage and also double up as a seating. Add some vibrant cushions, a pretty key holder or a shelf to go with it. 
Lighting: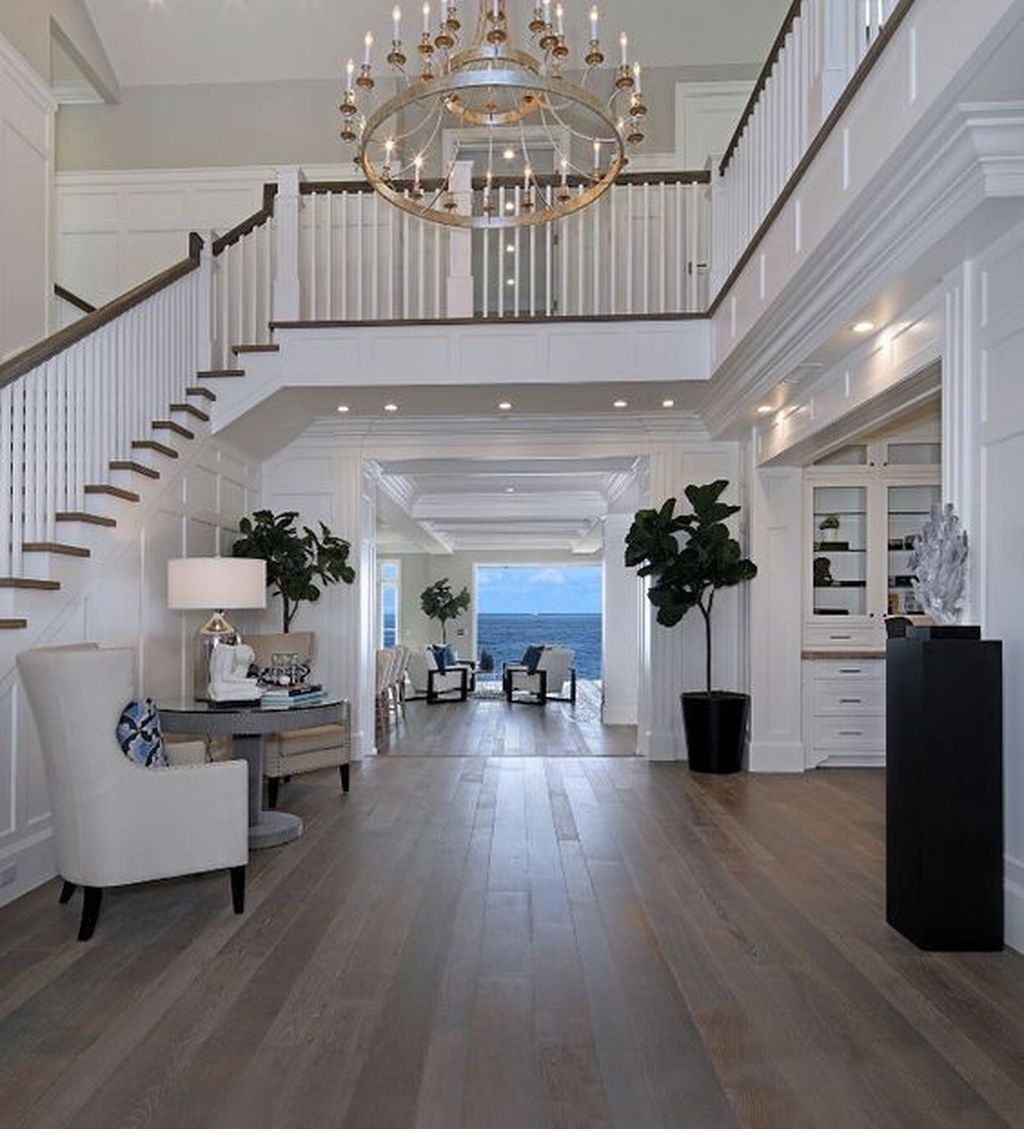 source: pinterest.com
According to most interior designers lighting is a crucial option to enhance your space. Whether your foyer space is wide or narrow, big or small- with proper lighting you can upgrade the look. Choose from a wide range of lighting options-spotlights, pendant lights, chandelier, or recessed lighting. 
Mix and match: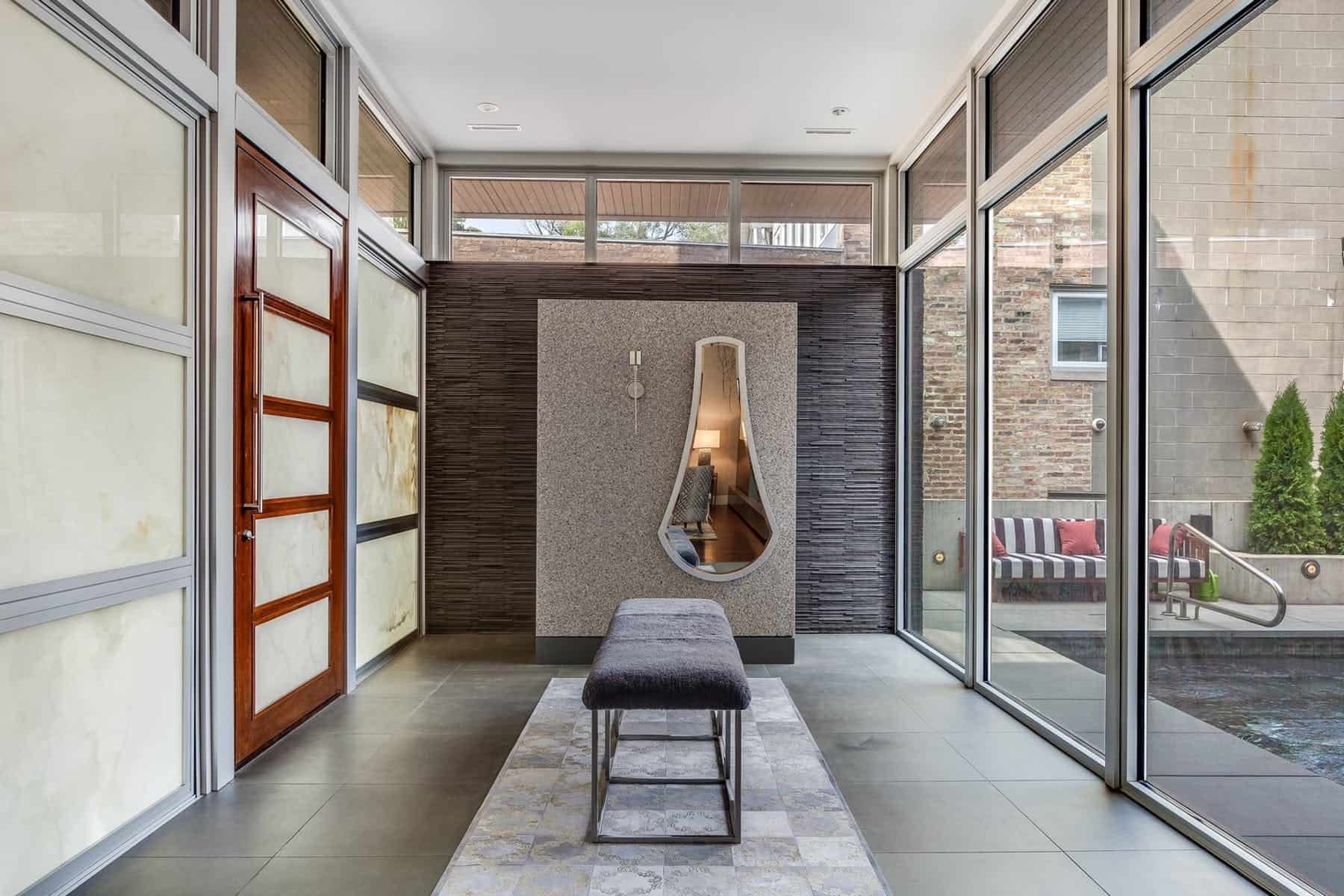 source: homestratosphere.com
Innovate with different design tricks and tips. Make your entryway breathe with modern, simple yet stylish decor. Add floral wallpaper or choose a geometric print, bring in a quirky rug, play with different fabrics. No matter whatever you choose, everything should blend in seamlessly with the rest of your house. 
With all the above-mentioned options and ideas, making a good impression with foyer design among your guests will no longer be a difficult task. Keep experimenting and customizing to suit your interests. A foyer is an introduction to your home, so let it shine with all your creativity and imagination ideas at Live Enhanced.