It doesn't matter what size your home is, whether it's a mansion, a studio apartment, or a bungalow, you will need to organize it. The truth is that we all have "stuff." And "things" may bog us down during the day and ruffle our feathers at night. 
Who wants clutter? "Stuff" rapidly becomes clutter. Clutter not only detracts from the appearance of your house, but it also contributes to the sense of overwhelming your experience on a daily basis. Once you get into the practice of arranging your home, it will become part of the routine. 
Check out these simple and affordable home organizing ideas if you have heaps of paperwork that don't belong anywhere, wild and chaotic mornings, or misplaced bags and vehicle keys!
Spices Organizer
When you're cooking, it might be difficult to figure out which spice you need. If that's the case, a step organizer for spices in deep cabinets is a good option. A tiered organizer gives you simple access to your spices while also allowing you to see the labels of all of them at once. 
Cloth Storage Bag Organizer

This Lifewit Large Capacity Clothes Storage Bag is fully transparent, allowing you to quickly recognize its contents. You'll also save a lot of time after it's all piled and stowed since you won't have to open and then go through each bag anytime you need anything. It's also quite easy to keep clean, especially when compared to cloth bags, which are more prone to collecting dust. Plastic is simple to clean; simply wipe it down and put it back in storage.
Add Shoes Organizer
Shoe boxes keep your shoe dust-free and protect them from being harmed by other shoes dumped on top of them. Purchase transparent shoeboxes for functional organizing so that you can quickly locate all of your shoes. Many of these boxes can even be opened from the front, so you don't have to move stacks of containers to get to the sandals you need.
Art Station Organizer
If your kids' crayons, coloring books, canvas, and paint are strewn throughout the house, make a portable art station for them. Purchase a wheeled shelving unit so you can relocate this station towards where your kids are working on their art projects. This also assists in teaching your children how to keep organized in the event that they are required to do so.
Organize Your Belongings 
You could feel more encouraged to participate in your favorite pastime if you organize the materials you require. Consider creating an orderly gardening station if you enjoy gardening. Use shelves to organize your gardening supplies, such as planters, a watering can, and tools.
Garments Drawer Organizer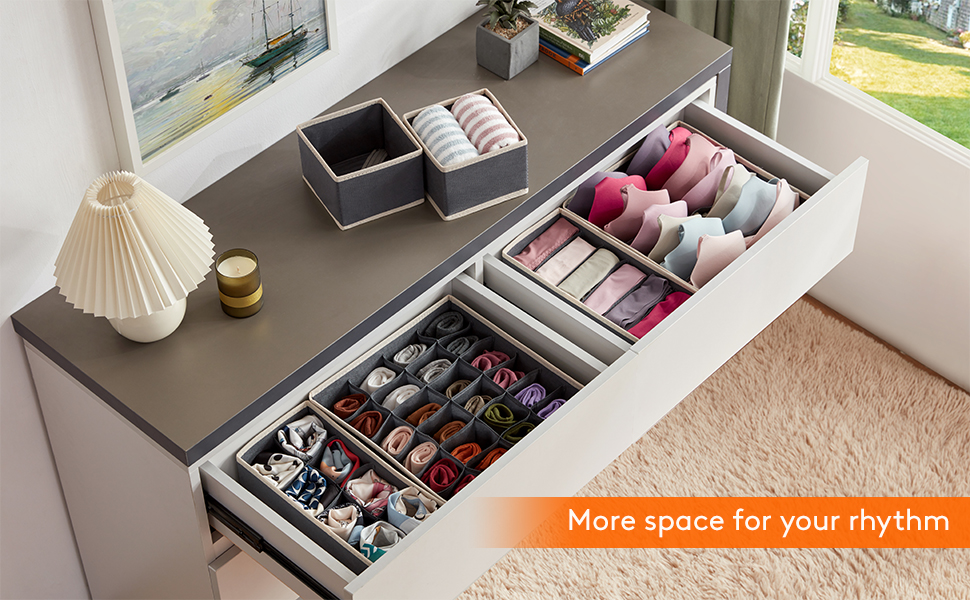 Whether you believe in the out-of-mind philosophy or like to have everything visible, these storage containers will work for you. There are several sizes available, including a shallow size for random goods that don't have a home and this large Lifewit Drawer Underwear Organizer ideal for folded-up garments. Each one is stackable and nestable while not in use, making them the most practical option we heard about.
Pet Treats Organizer
Don't forget to keep track of your pet's belongings. Because dry pet food bags can be heavy, emptying the food into a plastic container is a terrific way to keep things nice and orderly. Racks designed expressly for pet food frequently include features such as wheels and a scooper. Use a stylish container for goodies that you don't mind leaving out on display for quick access.
All In One Organizer 

This Lifewit 25-piece drawer organizer set defies the traditional form of storage boxes, which are generally ideal boxes, resulting in a collection of storage bins with a highly distinctive appearance. It includes 25 plastic organizers to help you arrange your makeup, jewelry, gadgets, and anything else you can think of.
Children Toys Organizer
Containers are a great method to keep all of your child's toys in one location. Large objects like furry animals, dolls, and sports equipment take up a lot of room and finding a good storage area for them can be challenging. However, because containers come in a variety of sizes, you should be able to find a place to store these products when they're not in demand.
Food Storage Container
Consider the oatmeal crumbs on the counter and the boxes of nearly-expired snacks in the cabinets: a kitchen is like magnets for a mess. Clear storage bins are perhaps the most useful for a kitchen since they make it easy to distinguish between grain and packaged goods.