Are you thinking about adding a swimming pool to your residential property? If the answer is yes, let us tell you that the construction and installation of a swimming pool involve major expenses and they are time-consuming tasks as well. With so much time and costs involved, you've got to pay attention to the processes every step of the way. From the home pool gold coast size and type that would suit your property to hiring the contractor – there's a lot to do, which means there's a lot to plan as well.
Feeling overwhelmed? Don't be! In this article, we'll make the task of planning ahead a tad easier for you. Read on as we take you through all the considerations you need to make to plan your residential swimming pool to perfection. So, without delaying things any further, let's get this article well and truly underway.
Fixed and running costs
source: pinterest.com
The most important consideration you need to make involves costs. Now, when it comes to the construction, installation, and operation of a residential swimming pool there are two types of costs – fixed and running.
Fixed costs refer to the expenses you'll need to incur for the swimming pool itself. If you're on a tight budget, we recommend prioritising an above-ground pool. Above-ground pools don't have to be built from scratch – they only need to be installed. This is what makes them economical. Splasher pools, the most fundamental form of above-ground pool, don't need any filtration equipment, making them the most economical above-ground pools. However, you can choose from more elaborate options as well, which will take your costs higher.
The other type of residential swimming pool you can consider is an in-ground pool. Due to their construction and design requirements, in-ground pools cost significantly more than above-ground pools. In-ground pools also need basic fencing and typically feature patio surroundings, which would only add to the costs. Additional fixed costs may be in the form of accessories, lighting, landscaping, and additional features like fountains and spas.
Now that we're done discussing the fixed costs, it's time to move on to the running costs. These costs are for the chemicals required to maintain pool water chemistry, various pool equipment, and periodic maintenance. Also adding to the running costs will be the utility bills owing to the use of electrical equipment like pool water heaters and pumps.
Conditions that will affect the construction and installation of the pool
source: pinterest.com
After you've thoroughly thought out the fixed and running costs, you need to assess the conditions of your yard. The best way to do this is to hire a reputed contractor who will take charge of the assessment. Contractors typically assess features such as the type of soil, the slope of the yard, and construction equipment accessibility.
If you have a level yard that's high on accessibility as well, you have nothing much to worry about. In such a scenario, the pool construction equipment can get inside and start the construction process without much fuss or bother. However, issues may arise if your yard isn't level. For instance, if your yard features steep slopes and/or is difficult to access, things can get tricky.
Fortunately, today's technology and machinery allow for pools to be built in almost any yard. However, special considerations in terms of installation and construction may have to be made if the conditions of your yard are severe. In this situation, expect costs to shoot up and the duration of pool construction and installation to get longer.
The size of the pool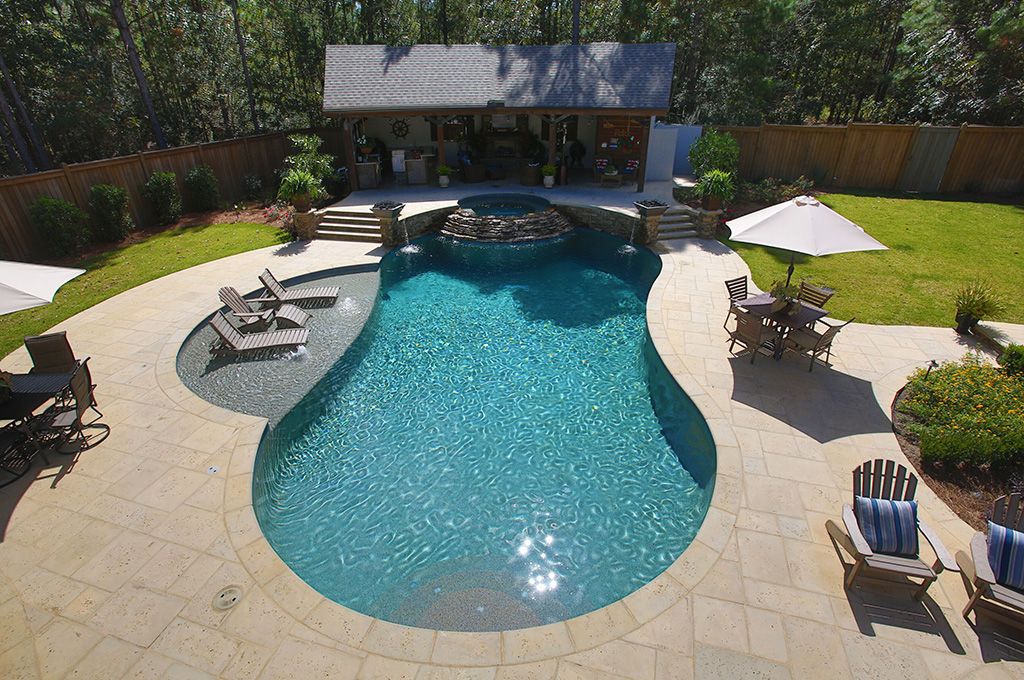 source: pinterest.com
Even though pool size is all about what you prefer, you've still got to check if your preferences work well in the context of your residential property. For instance, you could choose to include grass in the pool landscape or exclude it and just have a patio.
More serious considerations on the pool size front include building and zoning restrictions, which you need to talk about in detail with your contractor. You've also got to keep the permit processes in mind. Any violations may get you into legal trouble with your local authorities later on.
Zoning covers a variety of issues like the proximity of the pool to utility lines, set-backs, diving board and pool depth requirements, and barriers and fencing. To know about the ordinances in your area, either contact the local authorities directly or hire an experienced and reputed contractor, which brings us to the next point.
Contractor hiring
source: pinterest.com
The next consideration involves hiring a contractor to supervise the pool construction and installation processes. You should look for a reputed contractor – someone you can depend on. This will ensure that all the processes work out smoothly. Before deciding on a contractor, go through details such as:
Proof of contractor's bonds and insurance
How many years the contractor has been in business
Determine the status of the contractor by talking with suppliers
Meet homeowners and ask them about their experiences of working with the contractor
Figure out whether the contractor has his own team or subcontracts work
Find out if the contractor provides design services as well
Last but not least, try and steer clear of contractors who demand full upfront payments before any work is initiated. This is often a red flag.
Conclusion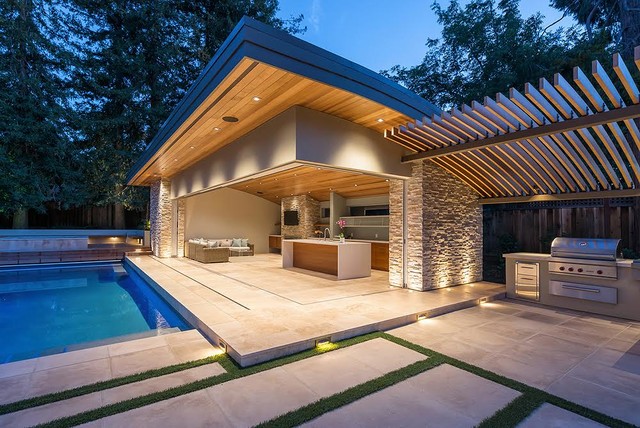 source: pinterest.com
Once you've considered all these aspects of pool installation, you should narrow your focus down to the pool's safety aspects. Making your swimming pool safe is vital, especially if you have kids. Some of the safety accessories you may have to invest in include pool floats, jackets, covers, and water alarms. Additionally, speak at length with your homeowner's insurance provider to find out if the insurance policy will cover your swimming pool.
So, that's about it for this article. We shared with you all the prime considerations that you must keep in mind ahead of getting a new pool built and/or installed on your residential property. If you have any confusion, be sure to go through this article again to know what you need to do before you finally own your swimming pool.