It is a great fortune to have the garden and open space at the front or the back of the house. And the most desired addition for this place includes the fountain as it can be functional and decorative and can be a true centerpiece. In addition to this, they do make sense in winter as well as enjoyable in warmer times. Take a look at our top picks of outdoor fountain designs taken from Pinterest. Visit Live Enhanced for more exciting design ideas.
Go for a cute centerpiece by adding this concrete cascade fountain. This is a simple and most popular fountain and it particularly blends perfectly with the surroundings and is great for the sitting area. Depending on the surrounding décor you can opt for the stone or the concrete fountain to blend well. This can also be kept anywhere without worrying about the spilling of water.
Give the outdoors a more luxurious and opulent feel by adding an interior rain curtain fountain. This fountain is the treat to watch with the rustic water wall that feels like the curtain of rain. It is built with copper to give it a rustic look and the surface is covered with the rocks and stones and pebbles to make it look more natural.
Pots and vases can be an authentic way to give a natural look to have modern outdoor fountains. The number of pots arranged in such a way that it creates a chronological effect and water flows from one to another. Instead of the pots you can also go for the beautifully decorated vases and give them unique texture or features.
Have a dedicated wall of water and give your outdoors an expensive and affluent look. This waterfall will steal the show being an attractive centerpiece and soothing atmosphere. The wall made up of stone and brick is a must when going for an authentic garden look. The water stream coming out of the wall gives a waterfall vibe and brings the beauty of nature to your home.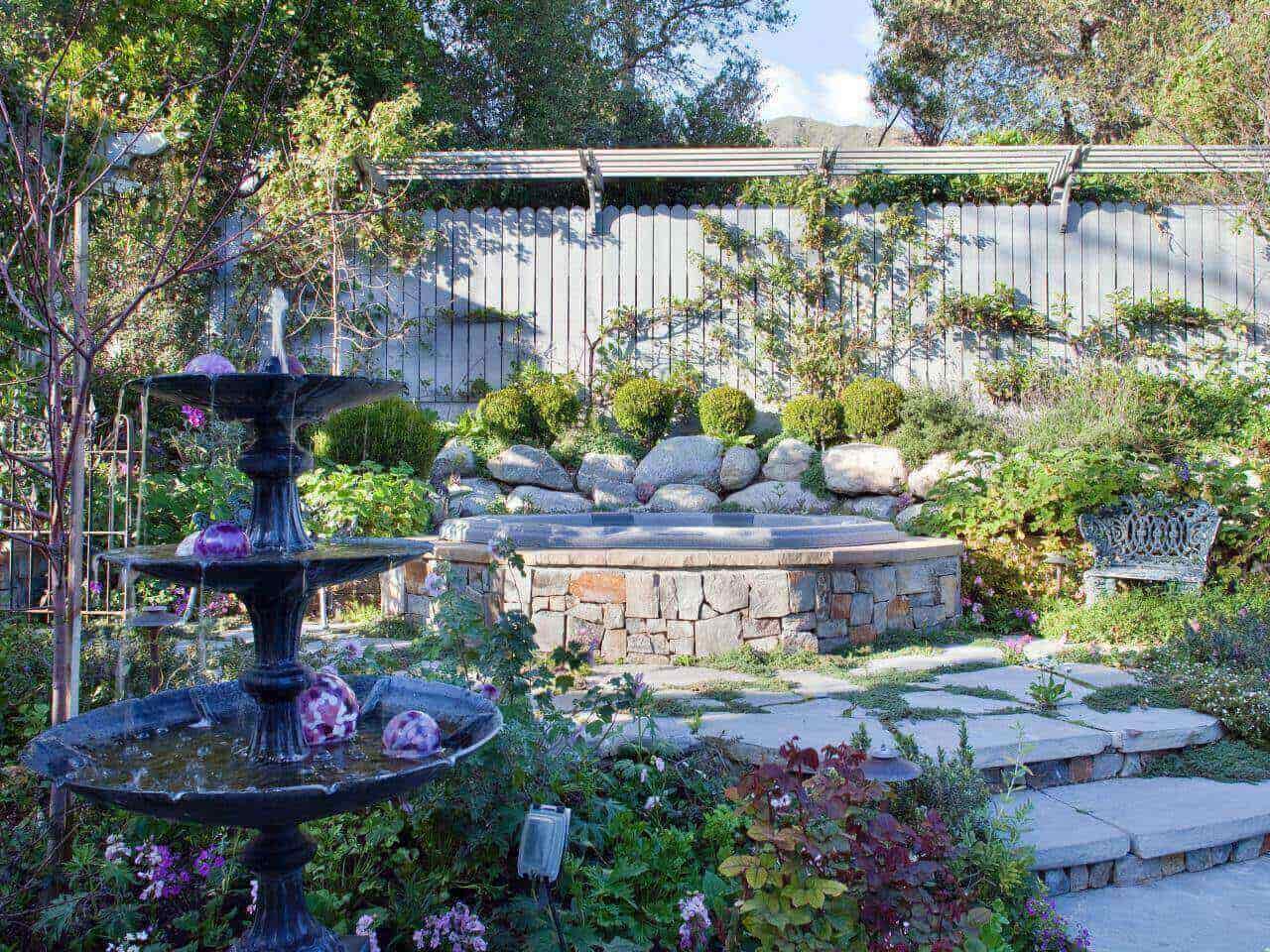 You can also have a modern outdoor fountain design with the help of a layered stone fountain having a polished look. Add some lighting or an LED feature to give more dimension to the fountain. There are numerous designs made up of stones and concrete that can give a touch of natural features to the fountain. Such as, going for the layered fountain having the large beautiful stone leaves of different size to give an appealing look. Cover this fountain with plants and flowers to make it more natural.
The outdoors will flourish if you can manage the space well and can have multiple features that can make the outdoors more fascinating. Keep it simple and natural with the exquisite pond having brick boundaries covered with a variety of plants having a small bench to witness this beauty. Add a simple layered fountain or the tall and upright birdbath style fountain at its side and enjoy your relaxing session.
Some funky shapes can make the fountain look more elegant and over the top. This might need some creative planning and shapes made of concrete having a decent waterfall. You can have a small pit at the surface so that the water can rotate or you can also go for some distinct design that can fool the viewer.
Go for some statement piece if you like to turn heads with some sharp designs. This can be possible by going with a fountain having a square pillar and edgy design having a small hole in the middle of it responsible for the continuous flow of water. Or you can take a step up by having a wall-mounted waterfall on a brick wall having a dedicated slot for continuous flow of water.
There is nothing more lavish than an engaging and heavenly central fountain that stands all tall in the middle of the small indoor pond. Make this look more attractive by pairing the surroundings with a variety of plants and flowers. If there is a comfortable space, you can also have a small sidewalk on the sides of this fountain and make a statement from this centerpiece.